5 Simple Steps to Start a Mom Blog and Make Money in 2023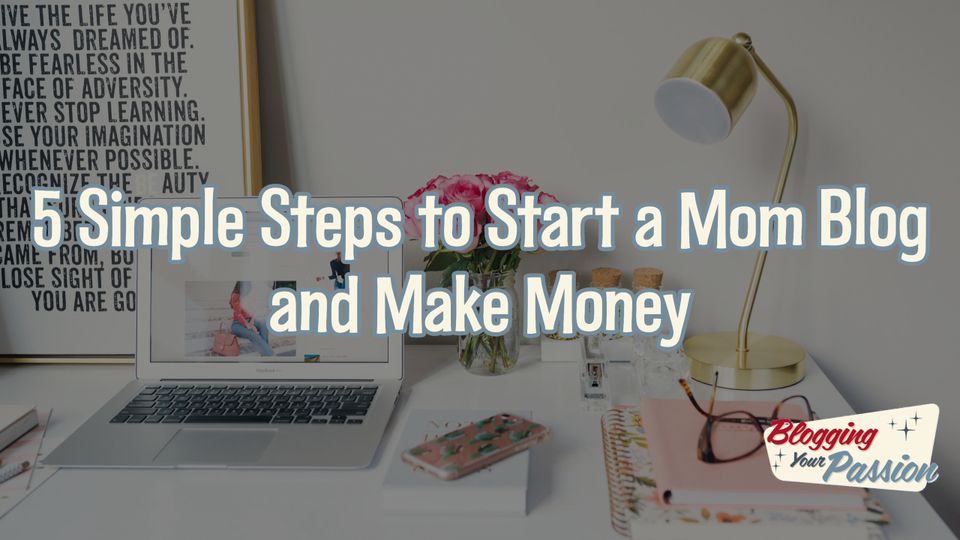 Are you thinking of starting a mom blog but not sure where to begin?
Don't Worry!
In this post, we will outline five simple steps you need to take today in order to launch one - from selecting a platform and creating content, through to promotion!
We have tips for the new mom blogger and the experienced blogger!
Let's dive into how to start a mommy blog!
Step 1. Choose the Right Platform to Start a Blog
Before embarking on your blog journey, it is crucial that you select an ideal blog platform. Popular choices among bloggers include WordPress, Blogger, Squarespace, and Ghost.
While a WordPress blog is often the most popular option, my personal favorite is the Ghost Blogging Platform. It's simple, user-friendly, and minimalistic. Perfect for a busy stay at home mom.
Here are some other factors to consider:
Ease of Use
When starting a mom blog, your focus should be on creating content and building relationships with readers rather than spending hours trying to navigate a complex blogging platform.
That is why ease of use must be one of your key considerations in selecting one.
Seek out platforms with an intuitive, user-friendly interface and navigation, making it easier for you to quickly locate features you require quickly while understanding their use.
Investing too much time in figuring out a platform may become cumbersome and frustrating, ultimately hindering productivity when creating and promoting your blog.
When choosing a platform for your mom blog, user-friendliness should be at the top of your priority list.
Search for one that allows updates or changes quickly and without hassle - this will lead to an enjoyable blogging experience!
Customization Options
When choosing a platform for your mom blog, it's important to consider how many customization options there are.
This means selecting one with flexible customization of layout and color scheme options as well as fonts and graphics right down to its overall look and feel.
By customizing your blog, you can establish a unique visual identity that reflects both your personality and that of its niche.
Your design and branding should reflect both content as well as target audience.
Select a platform that provides flexible customization of every aspect for optimal branding purposes; this can help establish a strong online presence while developing a professional and polished appearance - especially important when writing mom blogs!
Cost
Cost should always be an important consideration when selecting a platform for your mom blog.
Some platforms provide free plans while others require monthly or annual fees. Free plans may seem appealing but often come with limitations regarding customization and functionality that impede full use.
Paid plans typically offer more features and flexibility; however, they can also be more costly.
When making this decision, consider your budget and goals. If you're just getting started blogging without much cash saved up yet, opting for a free plan may be best.
Otherwise, if your blog's goal is to generate revenue organically over time investing in paid plans may provide greater return.
Take time before selecting one which offers optimal value to meet both budgetary constraints as well as objectives.
Step 2. Define Your Mom Blogger Niche and Target Audience
Deciding your niche and target audience are vital steps in building a successful mom blog. Here are some guidelines to get you going:
Identify Your Passions and Expertise
When choosing your niche for blogging, it's essential that the topics be ones in which you have deep expertise and are deeply passionate.
This will enable you to easily produce engaging and informative posts for readers while simultaneously becoming a credible authority within that space.
When selecting topics relevant to mother bloggers specifically, consider ones that speak directly to their hobbies, interests, experiences and memories as mothers!
Research Your Competition
Before writing your own mom blog, it's essential that you conduct in-depth research on other similar mom blogs in your niche.
Take note of their content, audience engagement, and success factors so you can identify gaps in the market and differentiate yours effectively.
Don't feel intimidated if other established blogs already exist - use their success as motivation to craft something truly original and worthwhile!
Consider Your Ideal Reader
As part of your efforts to craft content that engages with your target audience, it's vitally important that you identify their ideal reader.
Take into account their age, interests, hobbies, pain points and what they hope to gain from reading your content - this will allow you to craft posts that speak directly to their needs and resonate with readers.
Once you've established your niche and target audience, the next step should be creating content specifically targeted toward their interests and needs.
By following these tips, you can become an authority within your niche, attract loyal readers to your blog, and develop an impactful mom blog that resonates with its target demographic.
Choose an Awesome Domain Name for Your Mom Blog
Longing to nail down that killer domain for your mom blog? The domain name is your blog's handshake, the first impression.
So, let it shout your blog niche loud and clear.
Are you tackling teen tantrums or sharing toddler-friendly recipes?
Whatever it is, make sure it's spotlighted in your domain name.
Here's the good news: choosing a blog name isn't rocket science.
You got to keep it relatable and inviting. You're here to share and make money blogging. So your domain name needs some pizzazz that drives traffic to your blog.
Your domain should make folks sit up, click, and say, "This mama knows her stuff!"
Now, where to create this shiny new blog of yours?
WordPress or Ghost are my favorites. It's the perfect playground to launch your mom blog. Your domain will be like your own little corner on WordPress street.
Your mission is to monetize your blog and rake in some serious cash. Including specific keywords in your domain name is one smart cookie way to start making money.
This increases your visibility among the folks who want to read your blog, aka your ticket to making a good chunk of change.
Every blog post idea stashed in your brain is a potential money maker. The more people read your blog, the more money you'll earn.
Choose a domain name that gets clicked on, read, and shared.
That's the real secret here!
So there you have it.
The how-to on picking a domain name for your mom blog.
Now, let's talk about how to create engaging content.
Step 3. Craft a Winning Content Strategy for a Successful Mom Blog
Once you've determined your niche and target audience, it is time to start creating content. Here are a few suggestions:
Develop Your Content Strategy
The dream to make money online and start a successful mom blog may seem overwhelming, especially when you're unsure of what to do next. Friends, fret not. We've got you!
First things first, your roadmap to a successful blog is to create a foolproof content strategy. Wondering how to start? Dive in!
The golden rule of a profitable mom blog is writing blog posts that your niche craves for, the ones they are constantly searching for on Google. It's like cooking their favorite dish - you want them to come back for more, right?
It all boils down to the blog topic.
Getting the right one is half the battle won.
Consider it like this - you want to start a blog, you've started your blog and now what?
You can't go on a posting spree without a proper strategy, just like you wouldn't embark on a road trip without a map. The same applies to your new mom blog.
A content strategy is much like a recipe, outlining the ingredients (blog topics) and the cooking instructions (the frequency and type of your blog posts).
It illustrates when and what content will be posted, which takes the pain out of wondering how to keep your blog up and running.
So, before you tie your apron and fire up your laptop (or oven, if we're still on the food analogy), whip up a content strategy tailored to your niche, target audience, and personal strengths.
Whether you're a mom of three or just new to motherhood, this step is a pinch of necessary.
What kind of posts will stir up your blog - how-to guides, personal stories, or product reviews?
How often will you feed your readers and keep them coming back to the blog? Have these questions answered before your fingers hit the keyboard.
Let's not forget to make your blog look professional yet accessible.
Think of it as the plating process, the one blog post that would grab immediate attention among many.
A self-hosted blog grants a degree of credibility to your site while giving you full control of the blog name you chose and the media feed on your blog.
In a nutshell, creating a successful mom blog isn't rocket science.
If you do it the right way, it can be as easy as pie. The everything-you-need-to-start-a-blog is right here.
Make sure to read, implement, and watch your hard work bear fruit.  
It's a great idea to start a mom blog - there's a whole lot of love (and money!) waiting for you.
Let's get more specific on how to create amazing blog content.
Write Engaging Headlines
Engaging headlines are key to drawing in readers to your mom blog.
Your headline should pique readers' curiosity and draw them through to click through for your post, attracting people with numbers or lists which make the headline more tangible and specific.
To create engaging headlines that target your ideal readers effectively, focus on creating curiosity or urgency with words with strong emotional resonance or numbers/lists for greater impact and superior headline writing.
Example: "5 Simple Tips for Organizing Your Child's Closet" is more engaging than "Organizing Your Child's Closet".
Furthermore, try including keywords relevant to both the content of your post and the target audience in its headline - this will increase visibility in search engine results while making the post more interesting to readers.
Incorporating engaging headlines that draw in readers and encourage click-through will also lead to increased blog visibility overall.
Beyond the headline, your blog introduction is equally important. Learning how to start a blog post and draw readers in is a vital blogging skill.
Use Visuals to Enhance Your Blog Posts
Visuals can make the posts on a mom blog more captivating and shareable, helping readers stay engaged with your content while encouraging further sharing among readers.
By including images or videos to break up long blocks of text and make the content more visually appealing, adding visuals helps illustrate points more vividly, driving home your point more completely and adding depth and vitality to your content.
When selecting images or videos for blog posts, ensure they are high-quality, relevant to the post, and visually appealing. Select images which complement the content while effectively conveying its meaning.
Be sure to include images from your family vacations when writing about them - these may include shots of their location and any fun activities they took part in during their travels.
Be sure to optimize your visuals for web viewing so they won't bog down website loading times and provide an engaging and enjoyable experience for readers.
By strategically using visuals on mom blogs you can create more engaging experiences while making content creation simpler for yourself! Visuals help foster more engagement while simultaneously making content creation simpler!
Implement SEO best practices
Implementing SEO (Search Engine Optimization) best practices into your mom blog design is essential to increasing its presence in search engine results.
A key SEO tactic involves the strategic use of keywords within posts.
Keywords are phrases or words people search for when looking for information; using these keywords in your posts will help increase its rankings in search results and ultimately help bring in more visitors to your blog.
Google Keyword Planner and LowFruits.io provide effective tools for quickly identifying relevant keywords for your blog.
Once you find the keywords you want to target, here are some ways to SEO-optimize your blog posts.
Add the target keyword naturally and strategically into:
Each blog post's title
Meta description
Headings
And body text.
Avoid overusing keywords as this could result in keyword stuffing and harm the rankings of your blog.
Instead, focus on creating high-quality, informative posts which naturally incorporate keywords.
By employing SEO best practices you will get traffic to your blog in due time!
Need some inspiration for your first blog post? Check out these blog examples for beginners.
Step 4. Tips for Promoting Mom Blogs
Once you've created outstanding content, the next step should be promoting it. Here are a few strategies:
Utilize Social Media
Social media platforms offer mom bloggers an excellent opportunity to expand their reach and gain new readers for their blogs.
Sharing posts via popular platforms such as Facebook, Twitter, and Instagram will drive direct traffic directly to their blog site while deepening reader-blogger relationships.
Use captivating visuals and captions when posting to social media, combined with relevant hashtags to reach a larger audience.
Engage with followers by responding to comments, posting relevant content, and seeking their input.
Forming a community on social media will enable you to grow a dedicated following for your blog while broadening its scope.
Social media also serves as an excellent platform to display blog content without bombarding followers with repetitive posts.
Consistent quality posts should always take precedence when sharing posts via these channels, helping reach more readers, engage them, and drive more traffic back to mom blogs.
Combine Forces with Other Bloggers
Networking with mom bloggers in your niche is an effective way to broaden the scope of your blog and meet like-minded individuals.
Through building connections, you can collaborate on projects together, exchange ideas and learn from each other - so reach out and introduce yourself!
Some of my favorite ways to network include:
Engage on social media.
Join Facebook groups or forums.
Attend blogging conferences or events.
Collaborate on blog posts with fellow bloggers.
Guest posting on other mom blogs is another effective way of expanding reach and expanding readership for your own site.
Be authentic when networking with other bloggers: share their posts, give constructive criticism or collaborate on projects that benefit both of you.
Building relationships with fellow mom bloggers will help strengthen your niche blog while building an active and supportive network of fellow writers.
Publish Blog Posts on Other Mom Blogs
Submitting content for other blogs within your niche can help widen the audience for your blog, as you introduce its contents and yourself to readers who might have otherwise gone undetected.
Begin guest posting by searching out other mom blogs within your niche that share similar values to you and reaching out to them to introduce yourself, explain why you want to guest blog, and suggest topics of discussion for guest blogging.
Make sure your guest post adheres to guest posting guidelines, including word count, style and content requirements.
When writing your article for guest blogging purposes, aim for providing high-quality, informative posts that add value for readers of the blog.
Include a brief bio about yourself and link back to your blog for readers to gain more information about both yourself and the content that most intrigues them.
Guest posting on other mom blogs is an effective way to expand your audience, build relationships among bloggers and establish expertise within a niche field.
Utilize Email Marketing
Utilizing email marketing can be a powerful way of building long-term relationships with your target audience and keeping them interested in your mom blog.
Establishing an email list allows you to reach your audience directly with updates or newsletters, providing valuable content while simultaneously building trust among readers.
To increase email list growth, consider providing an enticing lead magnet such as an eBook, checklist or course in exchange for subscribers' emails.
Signup forms could be added to blogs and social media channels and promoted through posts or your homepage to expand email list growth.
Deliver newsletters or updates that provide true value to your subscribers, such as blog posts, exclusive content or promotions that resonate.
Organize your list based on subscriber interests for targeted messages more likely to engage.
Make sure that each email contains a clear call-to-action, such as inviting subscribers to comment on a blog post or follow you on social media.
By employing email marketing, you can cultivate a community of subscribers interested in what your mom blog provides them and keep them engaged over time.
Step 5. Start Your Mom Blog and Make Money
Now, talking about a new mom blog, the thought of 'Can mom blogs make money?' might have crossed your mind.
Oh, the amount of money mom blogs can make is astonishing.
It's not a mere hobby blog anymore, but a rewarding, profitable venture.
How to grow your blog and make money with your blog, you ask?
One tasty option is to start making money by promoting products.
You can also make money from your mom blog by creating worthy, relatable content consistently. The latter increases your blog traffic, encouraging guest posts on your blog, which opens different ways to make money.
By crafting an effective content strategy, you're not only putting your mom blog off the ground but also setting a firm foundation to create a mom blog that makes money.
So, dear friend, in your journey to start your own mom blog, always remember the wise saying - well begun is half done!
Curious about how much money mom blogs make? Well, the answer might surprise you!
The good news is there are a lot of ways to earn money with a mommy blog.
If you want to start making money blogging, here are a few strategies you could try:
Display Ads
Monetizing mom blog content using display ads is an easy and profitable way to generate passive income.
Ads appear on your site and pay you when someone clicks them - providing both readers with additional reading material while increasing overall readership of your work.
Start out with display ads by signing up with Google AdSense or Mediavine and following their instructions for placing them on your blog.
Strike a balance between user experience and number of ads by making sure not to overwhelm readers with too many of them.
Explore different ad placements and formats to determine what works best for your blog and audience.
Display ads are an effective passive income stream; however, for significant profits they often require significant traffic volumes on the blog itself.
As you launch a mom blog, it may be more effective to utilize other monetization strategies until your traffic grows.
Once established, display ads can become a great way of earning revenue while still offering readers value.
While display ads are one way to make money, it's not the only way.
Let's look at affiliate marketing.
Affiliate Marketing for Mom Bloggers
Mom bloggers often turn to affiliate marketing as a popular monetization strategy, whereby promoting products on your blog and earning commission from sales through an exclusive affiliate link provided.
Start affiliate marketing by enrolling in affiliate programs tailored to your niche and audience - such as Amazon Associates, ShareASale or Commission Junction.
Once approved as an affiliate, you'll receive a special link that can be used to promote products on your blog.
When readers click through and make purchases through that link, you'll earn commission.
To effectively promote affiliate products on your blog, create engaging posts that highlight their features while offering value to readers.
Trustworthy affiliate relationships will allow for meaningful endorsement of products and services that reflect your values.
Integrate affiliate marketing as part of your mom blog monetization plan in order to earn passive income while giving readers something worthwhile - product recommendations or reviews for instance.
Sponsored Content
Sponsored content is an innovative form of monetization where mom bloggers work alongside brands to produce material promoting their products or services.
Brands often pay bloggers to create sponsored content in their niche for them - this may include blog posts, social media posts or videos featuring their products or services to bloggers' audiences.
To start producing sponsored content in your field of expertise, reach out to brands in that space and introduce yourself and your blog.
Consider providing a media kit showcasing your blog's stats, reach, and engagement levels for maximum exposure.
When working with brands for sponsored content, always disclose it to your audience and select brands that fit within the values and niche of your blog.
Strive to produce high-quality and engaging content that provides readers with value while simultaneously showcasing the advantages of your partner brands' products or services.
By including sponsored content as part of your monetization strategy, you can earn income while simultaneously giving back to readers while aligning yourself with companies whose values mirror those of your niche market.
Create and Sell Digital or Physical Products
Create ebooks, courses, or physical products relevant to your niche that can be sold digitally or physically for sale.
When I started my blog in 2009, the first thing I did was create an online course. It gives you the opportunity to create passive income. It's my favorite way to make money blogging by far!
FAQs about How to Start a Mom Blog
Q: What is a mom blog?
A: A mom blog is a type of blog where moms share their personal experiences, tips, and advice on various topics related to parenting, motherhood, family life, and more.
Q: How can I make money from a mom blog?
A: There are several ways to make money from a mom blog. Some common methods include earning through sponsored posts, affiliate marketing, selling products or services, and display advertising.
Q: Do mom bloggers actually make money?
A: Yes, many mom bloggers make money from their blogs. However, it requires time, effort, and dedication to build an audience, create valuable content, and monetize the blog effectively.
Some of the most common ways mommy bloggers make money include display ads, affiliate marketing, sponsored posts, and digital products.
Q: How much money can I make from a mom blog?
A: The amount of money you can make from a mom blog varies and depends on various factors such as your blog's traffic, monetization strategies, niche, and the quality of your content. Some mom bloggers make a few hundred dollars per month, while others make thousands.
Q: How do I increase blog traffic to make more money?
A: There are several strategies to increase blog traffic, such as promoting your blog on social media, optimizing your content for search engines, guest posting on other blogs, engaging with your audience, and creating valuable and shareable content.
Q: Can I work from home and make money with a mom blog?
A: Yes, a mom blog can be a great way to work from home and make money. It offers flexibility and allows you to create your own schedule while sharing your experiences and knowledge with others.
Q: How do I start a mom blog in 2023?
A: To start a mom blog in 2023, you need to follow these five simple steps:
1. Choose a domain name for your mom blog.
2. Set up a self-hosted WordPress blog.
3. Decide on a blog niche.
4. Create valuable and engaging content.
5. Implement monetization strategies to make money from your blog.
Q: What is the best blog niche for a mom blog?
A: The best blog niche for a mom blog is one that aligns with your interests, expertise, and target audience. Some popular mom blog niches include parenting tips, family-friendly recipes, DIY crafts, home organization, and lifestyle.
Q: Do I need a domain name for my mom blog?
A: Yes, having a domain name for your mom blog is essential. It not only gives your blog a professional look but also enables you to have a unique web address that represents your brand.
Q: How do I choose a domain name for my mom blog?
A: When choosing a domain name for your mom blog, consider something that is easy to remember, reflects your blog's niche or theme, and is available as a .com domain. It's also a good idea to avoid using hyphens or numbers in your domain name.
Final Thoughts: How to Become a Mom Blogger
Starting a mom blog can be an immensely satisfying and fulfilling journey.
Simply follow these five easy steps, and soon enough you will have one that resonates with its target audience and helps meet your desired goals.
Step one is selecting an easy-to-use blogging platform that meets both your needs and goals.
Second, identify and create content tailored towards your target niche/audience.
Third, engage your readers by writing captivating pieces with high-quality writing.
Fourth, leverage social media and collaborate with other bloggers in order to promote and expand your blog's reach.
Finally, utilize display ads, affiliate marketing and sponsored content strategies to monetize your mom blog.
With hard work and persistence, you can build an impactful mom blog that meets its audience while meeting its goals - take action now to launch your own mom blog!