How to Come Up with a Blog Name | 19 Creative Tools and Ideas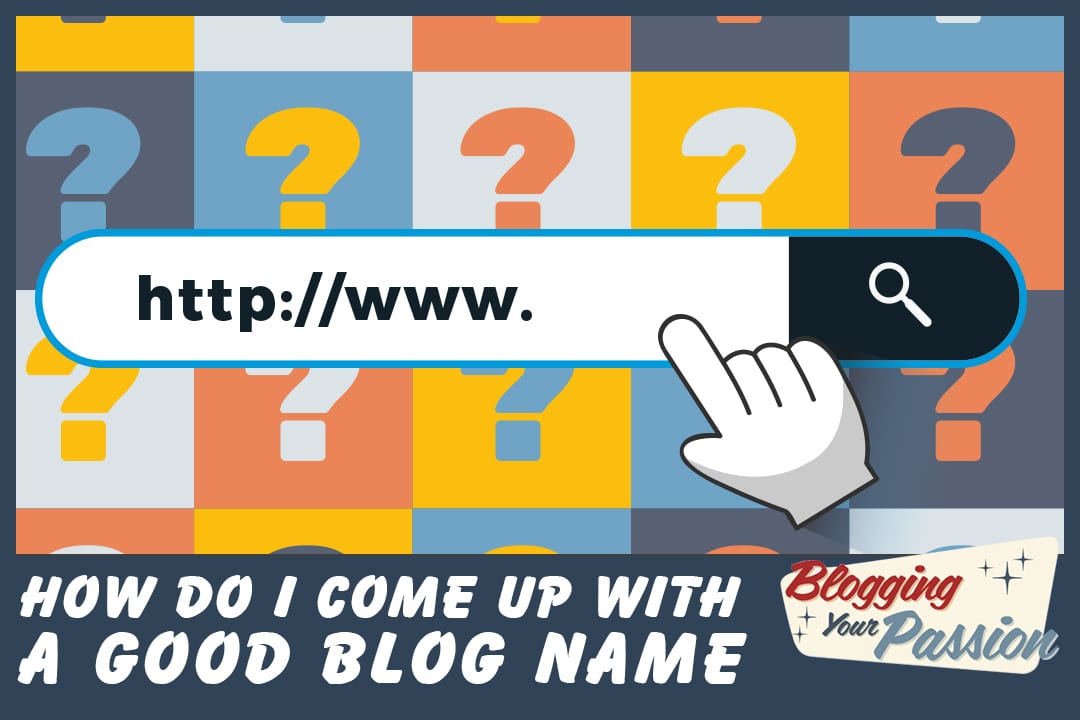 Interesting in starting a blog? Awesome! We live during an amazing time where anyone anywhere can influence anyone, anywhere. A blog is an incredible audience-building tool when used correctly.
But you might be wondering, "How do I come up with a blog name?" Well, we've got you covered.
How to Come Up with a Blog Name: 19 Tools and Ideas
In order to help you come up with some blog names, we've compiled some of the best tools and ideas you'll find anywhere.  Let's start with some proven blog name ideas, and then I'll share with you some of my favorite blog name generators.
1. Brand an animal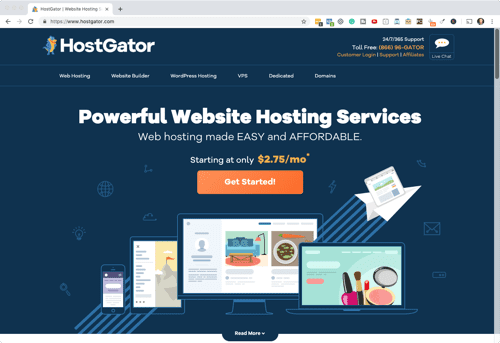 This might be a bit of an unusual recommendation to start, but if you are looking for creative names look no further than your local zoo. Many blogs, online services, and even companies have used an animal in their branding.
A few examples that come to mind include: HostGator (web hosting service), Jaguar (car company) and Resume Rabbit (career services company). If you are struggling with finding a domain name, then attach an animal to your topic. Ideally, you'll want to select an animal who carries the characteristics and values of your blog.
2. Use the Rip-and-Pivot method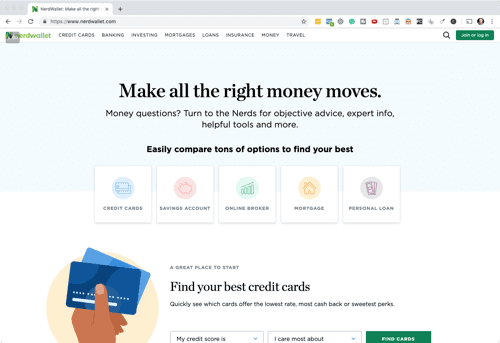 The Rip and Pivot Method is a marketing technique where you find something that works in an unrelated industry, then make it your own in your industry. If you are a blogger on parenting, you could do some research on the most popular blogs in the personal finance niche. You might find a blog named NerdWallet. Bring that idea over to your parenting niche go with NerdDad. You get the idea.
3. The Two Ideas Smoosh method
Are you a multi-passionate person? If you are thinking of starting more than one blog, then the answer is yes. Why not combine your passions into one cool business name? A great example is NerdFitness. Steve Kamb combined his passion for video games and fitness into one amazing blog name. Take two ideas and smoosh them into one brand.
4. Look at competitors
You can also get some great ideas by just doing a bit of research online in your niche. The goal is not to steal the names of others, but to get inspiration. Do a Google search on a topic in your niche and jot down the domain names that show up on the first page.
5. Thumb through a thesaurus
Don't forget about that great thesaurus lying around the house! You might be one synonym away from some cool business names. If you don't have a thesaurus at home, just use an online thesaurus.
6. Get inspiration from the bookshelf
Book publishers spend a great deal of time and effort on book titles. Walk over to your bookshelf (or your local library) and look for words or phrases you like. Or do a little browsing on Amazon. Then make your own combination.
7. Try a different language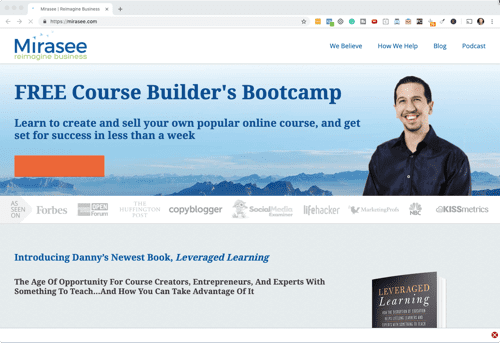 Another popular branding method is to use a word you like but in a different language. For example, Mirasee is a website dedicated to helping people grow an audience and make an impact. Mirasee is a Latin word meaning "vision" or "to see." Use a tool like Google Translate and try out a few words you like.
8. Build a personal brand
You can also keep the whole naming process simple by using your own name. If you are using your blog to position yourself as an expert or coach, for example, your name is your brand.
9. Use a blog name generator
If you're still struggling with how to come up with a blog name, then use a blog name generator. Basically, you input a few keywords you like and then hit "go." The name generator will return to you a list of ideas and phrases you could have never come up with on your own. In fact, the rest of this list is ten business name generators you can use.
10. DomainsBot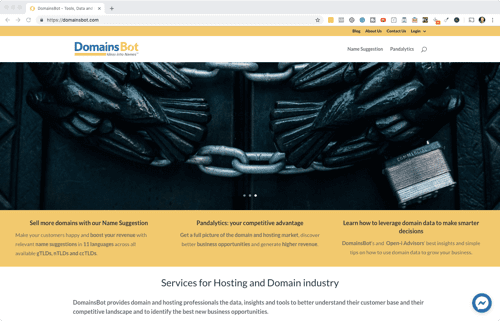 This one has been a favorite of mine for years. Just plug in a few words into DomainsBot and the system will return to you both blog name ideas related to your keywords and synonyms as well. This tool is also a domain name generator, meaning it will also let you know if your blog name idea is available as a .com, .org, etc.
11. Wordoid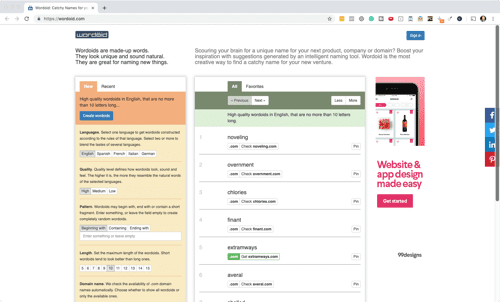 With Wordoid.com you don't even need to supply the tool with keywords. On the home page, you'll find some creative words you can explore to turn into a cool blog name.
12. Panabee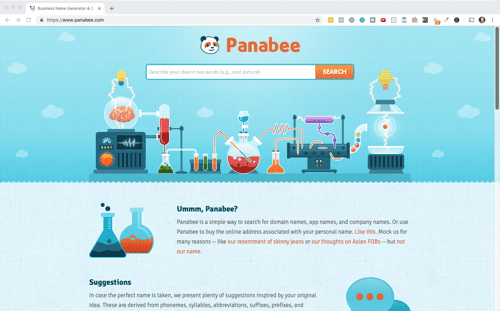 Panabee is another straightforward brand name generator. Just toss in some keywords and let it do its thing. Panabee will mostly just give you domain name suggestions, but it's still a neat tool.
13. Namemesh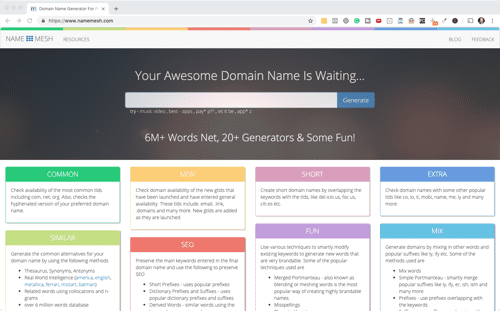 Namemesh might seem like just another website name generator, but it has a unique twist. This tool will display results into categories such as: common, similar, new, SEO, short, fun, extra and mix. Depending on the branding style you are going for, you can find blog name ideas in just a singular category like "fun."
14. Domain Wheel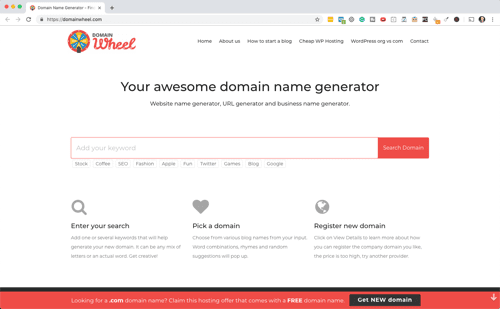 DomainWheel is a simple domain generator. When you use this generator, be sure to scroll down to find the creative name suggestions.
15. Nameboy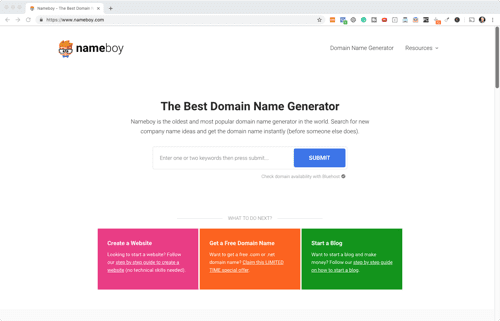 Nameboy boasts of being the oldest and most popular domain name generator in the world. They do tend to have more domain name variations and ideas than some of the other tools, so be sure to check them out.
16. 123Finder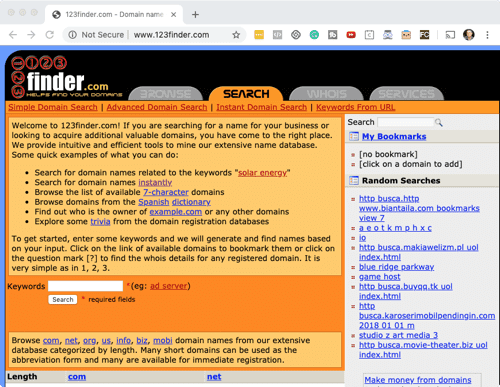 At first sight, 123Finder looks like a 1990's Alta Vista website. But upon closer look, they have some creative domain name suggestions. You can look up available domains based on the number of characters or even explore ideas in a French dictionary.
17. DomainIt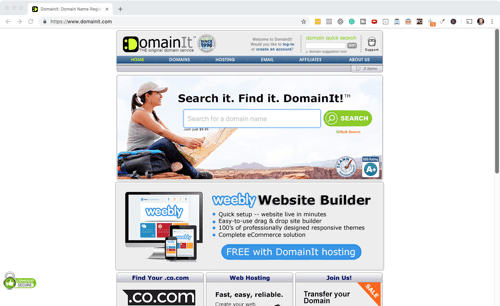 Nothing too special with DomainIt, but it might have a few good names for you to draw from.
18. Lean Domain Search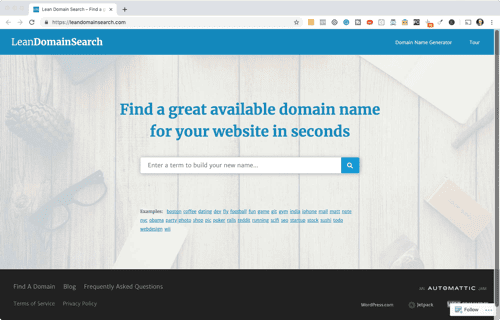 Lean Domain Search will return many creative ideas by adding words before or after your keywords. While this feature is not exclusive to them, they do a great job on this feature.
19. Shopify Business Name Generator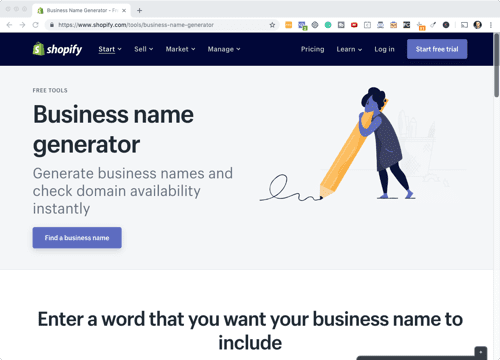 I'm sure you've heard of Shopify, but did you know they have a business name generator? This is a cool name generator because it returns many unique ideas we did find in other tools. Be sure to check them out.
Questions to consider before coming up with a blog name
Before you go running off to purchase that domain name, there are a few important questions you must consider.
Who is your audience?
Do you know who your audience is? What are their demographics? What interests and passions do they have? The more deeply acquainted you can become with the audience you want to serve, the better off you'll be.
What are their goals?
Do you know what their goals are? If so, you might be able to use their aspirations and turn them into a brand name. Take for example this blog. the brand name Blogging Your Passion was not by accident. We wanted to evoke a spark or desire in someone when they came across our brand.
Do they have an egoic label?
Egoic labels are the terms we might use to describe ourselves. Obvious examples include a golfer, entrepreneur, or geek. Jeff Goins used this strategy to name his blog, GoinsWriter.com.
What are their struggles?
You can also tap into your audience's struggles and turn them into a unique domain name. A great example is the blog ManVsDebt.com. Adam Baker found himself in over $100k in debt and used the blog to catalog his struggle and ultimate triumph to pay it all off in a short period of time.
When squished together in a domain name, does it read okay?
The last bit of advice on coming up with a blog name is to consider how the domain looks once it is squished together in a single word. It is possible to turn three words into one word, only to have it read entirely different than you intended. For instance, you can read the following domains, two different ways (look closely):
therapist.com
speedofart.com
Do you see it? If not, I'm not going to spell it out for you. The point here is to make sure to read over your blog name idea once it is all squished together in one domain name.
There you have it! Plenty of resources to help you come up with a creative name for your blog. Use the tools and tips above and get started blogging!
🚀
Free Video:
How to Build an Online Business as a Writer or Coach (The Low-Tech Way) That Creates Time and Financial Freedom
(Without Feeling Overwhelmed by Technology, Self-Doubt, or Too Many Choices)
Click Here to Watch Now