How to Finally Nail Down Your Target Audience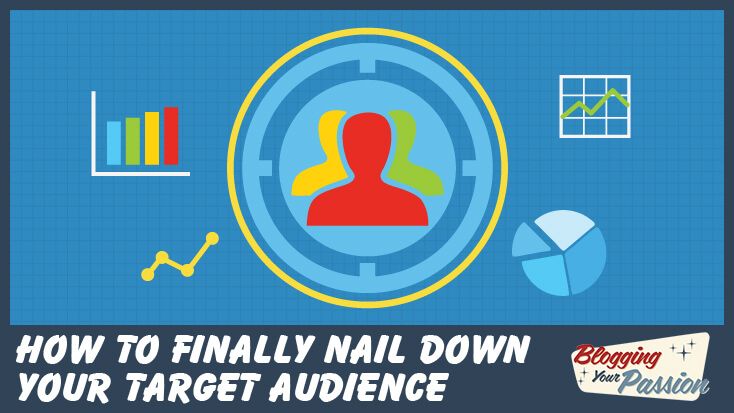 What if I choose the wrong niche? What if I choose the wrong topic to blog about? I hear these questions every week from new bloggers. I get it. No one wants to waste their time.
If you are struggling with the above questions, allow me to walk you through an exercise that will help. This exercise will make this whole process real to you.
A better question to ask is this:
Who do you most want to help?
Whenever I'm mentoring someone who is struggling with choosing their "niche," I offer them this simple analogy.
If you could fill up a room of fifty people who are eager to learn from you, what would they be like? Male, female or both? Young, old or both? Then we drill down until we make this whole process human again.
At the end of the day, you're not serving your passion, a niche or a market, you are serving people.
A successful business gets results for a specific person and then repeats that process over and over again.
💡
A successful business gets results for a specific person and then repeats that process over and over again.
This is why nailing down your target audience is so important. It simplifies your complex business model down to just helping another person get the results they are after.
The Ideal Customer Profile
Today I'm going to share with you an exercise worksheet that we use to teach our students how to discover the people they should serve.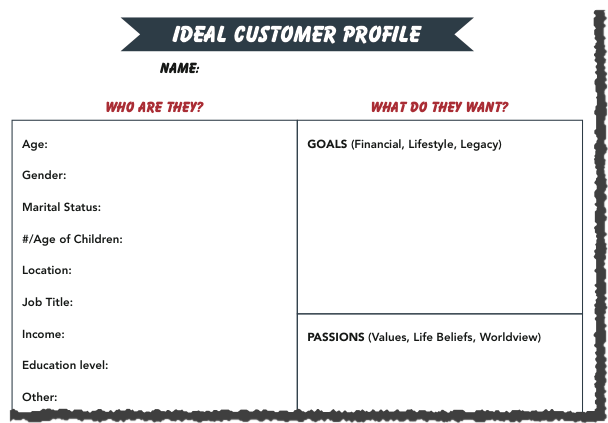 By filling out this one-page document you will:
Have walked a mile in your customer's shoes
Become more deeply acquainted with their goals, passions and struggles
Write better emails because you'll begin to write to a person and not a group of people
Create better sales copy because you understand where they are coming from
Know how to create better courses, products and services that people desperately need.
Now that you know the benefits and you have the Ideal Customer Profile nearby, we can walk you through the two steps.
Step 1: Who are they?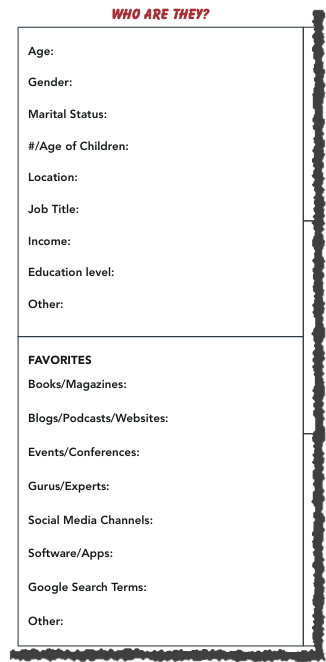 The whole document is divided into two parts. The left side is where we answer the question: who are they? This is the demographic information of your ideal customer.
Yes when first starting out, you may need to do a bit of guessing. However, it always surprises bloggers when their ideal customer surprisingly shows up once they begin speaking directly to them.
In this section you will also fill out information regarding their favorite things. You can add more items in the "other" section, but the purpose is to discover where your ideal customer is already hanging out.
Which magazines do they like to read most?
What blogs, podcasts or YouTube channels are they following?
What books do they like to read?
Which conferences do they like to attend?
If you struggle with getting traffic to your blog, then go to where they are already hanging out.
Step 2: What do they want?
Every person has a GPS. The people GPS guides their life, their values, and their goals. GPS is short for: goals, passions and struggles.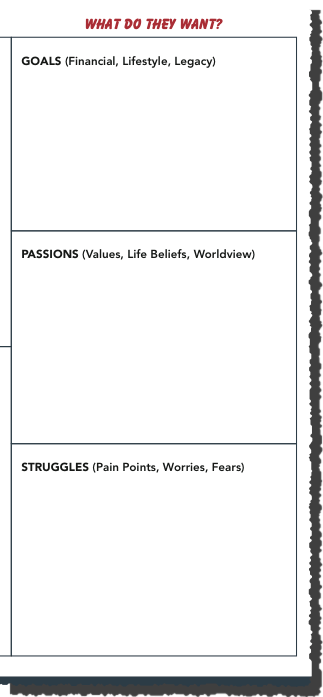 Many digital entrepreneurs fail because they have never fully thought through their audience's GPS. This is also known as the psychographic information of an audience.
On the Ideal Customer Profile, this is represented on the right side of the page.
By knowing their GPS, you will more fully understand:
What keeps them awake at night?
What is their worldview that shapes their decisions?
What values do they hold to?
What struggles are they trying to overcome?
Do you know your audience at that intimate of a level?
Once you understand the goals, passions, and struggles of your target audience online, you can then create a plan to start making money on your blog.
As you can see, this one-page tool can help shape your content strategy, email marketing strategy, product creation strategy, and sales strategy.
To me, that makes this simple exercise quite important.
🚀
Free Video:
How to Build an Online Business as a Writer or Coach (The Low-Tech Way) That Creates Time and Financial Freedom
(Without Feeling Overwhelmed by Technology, Self-Doubt, or Too Many Choices)
Click Here to Watch Now