How to Start a Blog in 2023
Before you go set up that blog, there are a few important questions you must answer first. It's great that you are passionate about your blog niche idea, but you need to vet it first before you waste time, money and energy. There's a reason you find many dead blogs online. Someone began it from … H
Before you go set up that blog, there are a few important questions you must answer first. It's great that you are passionate about your blog niche idea, but you need to vet it first before you waste time, money and energy.
There's a reason you find many dead blogs online. Someone began it from a place of passion only to discover months later there was no market for it. This is why it is vital you do a bit of research up front before you start a blog. In fact, I believe there are some important questions you must answer before launching a blog.
FREE BOOK: Your Message Matters
Inside this 267-page book you'll discover a simple four-part framework on how to turn your passion into a platform! Click below and we will send you the book (just pay shipping).
6 questions you must answer before you start a blog in 2023
In an effort to best help you, we will go in depth on each of the questions. Since this blog article is quite lengthy, here are some quick links to the six questions so you can quickly jump right to that section.
How do I choose the right topic to blog about?
Nailing down the right blog niche comes down to getting just three things right. Building a thriving online business is similar to starting a fire. For that, you need three elements: heat, fuel, and oxygen.
But what does starting a fire have to do with starting a business? Well, let's take a closer look.
Heat: Represents your purpose or calling
Fuel: Represents your passions
Oxygen: Represents the people you want to help
When all three of the above are there, you have a profitable online business model (see image below).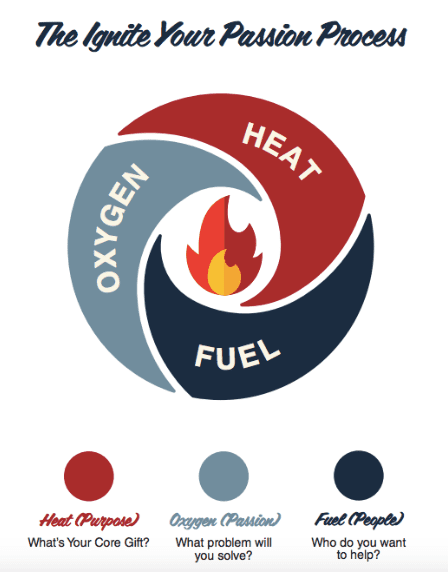 Your Blog's Success Depends on 3 Factors
Factor 1: Purpose–What's your unique ability? You should begin your search with looking inward first. What's your unique ability? Where do you show up best? Are you a writer? Are you better at speaking? Do you thrive best in coaching situations? Uncovering your core gift is the best place to start.
Factor 2: Passion–What can you best help with? What problem are you passionate about solving? Which topics do you love to learn about? Which topics make you mad, angry or frustrated? Find a passion you can attach yourself to for the next two to five years.
Factor 3: People–Who do you most want to serve? It's one thing to be gifted; it's another to make sure the gift is useful. It's great to be passionate, but does anyone else share in that passion? Attaching your abilities and passions to serving a group of people is what makes your business combustible. It ignites the spark, that fuels the flame. All three must exist to have a profitable online business.
How do I figure out who my audience is?
Maybe you are wondering, "Who ARE those people I want to serve in the first place?" In our Discover Your Blog Niche Course, we go in-depth on this topic, but let me share the highlights with you.
The GPS Audience System
Every day millions of people rely on a GPS device to help guide them while they are driving or walking. But did you know that people have a built-in GPS?
The GPS Audience System is a simple, yet powerful acronym. GPS stands for goals, passions, and struggles. Your best chance of success is to find an audience's goals, passions, and struggles that you want to serve. Let's take a closer look:
Goals: Whose goals are you the most qualified to help? Maybe they are goals you've personally accomplished and now you want to help others. Also, are people already consuming blogs, podcasts, and videos on this topic? Before you blaze a new trail, we want to find proof online that people care about this topic.
Passions: Is the audience you want to serve just a fad or is it evergreen? Some passions are just fleeting, while other passions have a proven track record. Only pursue an audience that has demonstrated five years or more of a consistent demand.
Struggles: This is where the gold is. Are people spending money on this topic to overcome their struggles? As an influencer, there's a great gain to be had in helping others overcome challenges.
How will I make money with my blog?
One of the most profitable online business models today is the information business. There are huge profit margins (with few hard costs) with digital products. Online courses, monthly membership sites, group coaching programs all have leverage and scale uniquely built in. Below are a few ideas to get you started:
Blog Income Model #1: Writing Income Streams
Have a passion for writing? It's never been easier than it is today to earn money writing.
Kindle Books – No need to wait for approval from a publisher. Write that book and list it for sale in Amazon's Kindle store for free.
Physical Books – Want a physical book? You can use a site like CreateSpace.com to list an actual physical edition of your book for sale on Amazon.
Audiobooks – If you have a decent microphone, you can convert your book into an audiobook. It will get listed for sale on Amazon right next to your Kindle book and physical book.
Note: I did all three of the above in just six months with my book, The 15 Success Traits of Pro Bloggers. Since 2015, I've received monthly royalty payments from all three income streams above.
Blog Income Model #2: Teaching Income Streams
Love to teach? Well, you can get paid to teach online. The best part is that you can do it from anywhere. Below are a few teaching models that have worked best for me:
Online Courses – I created my first online course back in 2010. Even with a small list at the time, I was able to generate $1455 in the first weekend. Ever since then, creating and selling online courses have been a fundamental strategy I've used to grow my blog business.
Membership Site – Starting a membership site can be one of the smartest business decisions you make. Getting customers on a monthly recurring payment strategy can help sustain a business long-term. I've run a membership site for over six years now and I'm so glad I made the decision to start one.
Paid Webinar Series – This was the very first income stream we created for Blogging Your Passion. The reason it's a good income model to start with is that it's easy to get off the ground quickly. You just need a good topic and a sales page. The content will be delivered live over 4-6 webinars.
Blog Income Model #3: Speaking Income Streams
Keynote Talks – Want to get paid to speak? There are conferences, workshops, and association meetings that are always looking for speakers.
Host Live Events – Why not create your own live event? People love to gather in-person around a shared passion.
In-Person Workshop – You can also create a more high-ticket workshop. I've charged $5000 for a 2-day workshop. The key here is to limit the number of attendees to a smaller group in order to make it more exclusive.
Blog Income Model #4: Coaching Income Streams
1-on-1 Coaching – This is one of the easier income streams to set-up. Publish a "work with me" page on your blog and have people pay you for your time. While not scalable, it is a fast income stream to get up and running.
4-6 Week Group Coaching – If you desire to coach others but are worried about scaling your business, then consider a short-term group coaching experience. You can limit the time to just one hour per week, but coach six to ten people all at once.
1-Year Mastermind Programs – This is one of the more profitable coaching income streams. People will pay tens of thousands of dollars to join in exchange for one year of mentoring with you.
As you can see, there are many ways to scale an information business. This is why it's one of my favorite types of businesses to start.
How do I stand out from the competition?
A common question I get is: "Jonathan, there's just so much competition out there. How do I stand out among all of the noise?"
Let me share with you two of the most powerful principles I have learned.
1. The more authentic you are, the more you stand out.
When I first began in the online business space, I was a copy cat. Secretly fearing that I had nothing of value to offer, I tried to be like other influencers. After all, if they were successful, it must be a style that works. I became a bad version of their style. The best way to stand out is to embrace your authentic self. The more authentic you are, the more you stand out. Others can't simply copy you. Decide to become a more genuine version of yourself.
2. Be a big fish in a little pond.
If you are struggling with how to stand out from the competition, maybe your market is too big. When I started my first blog, I labeled myself as a "life and career coach." I didn't want to narrow my audience. The problem was I was facing too much competition. I was one tiny fish in the big, scary ocean.
Realizing my mistake three months later, I niched down to being a career coach for accounting and finance professionals. My competition shrunk overnight. There were not as many career coaches focused on just accounting and finance professionals. I became the big fish in a little pond.
How do I know if my blog niche is too big or too small?
How do we find the sweet spot of being in a niche that is not too big or too small? Fortunately, there are some online tools that can help us answer this important question.
One of my favorite tools to measure niche size is Google Trends. With Google Trends, you are able to compare market sizes across different niches. The goal is to find niches where other people have been successful and then find a niche you want to serve with a similar demand.
Stay away from topics with too much demand like "fitness." Also, steer clear from topics with not enough demand like "kettlebell fitness." Below you will find an example of five blog niches that all hit the sweet spot.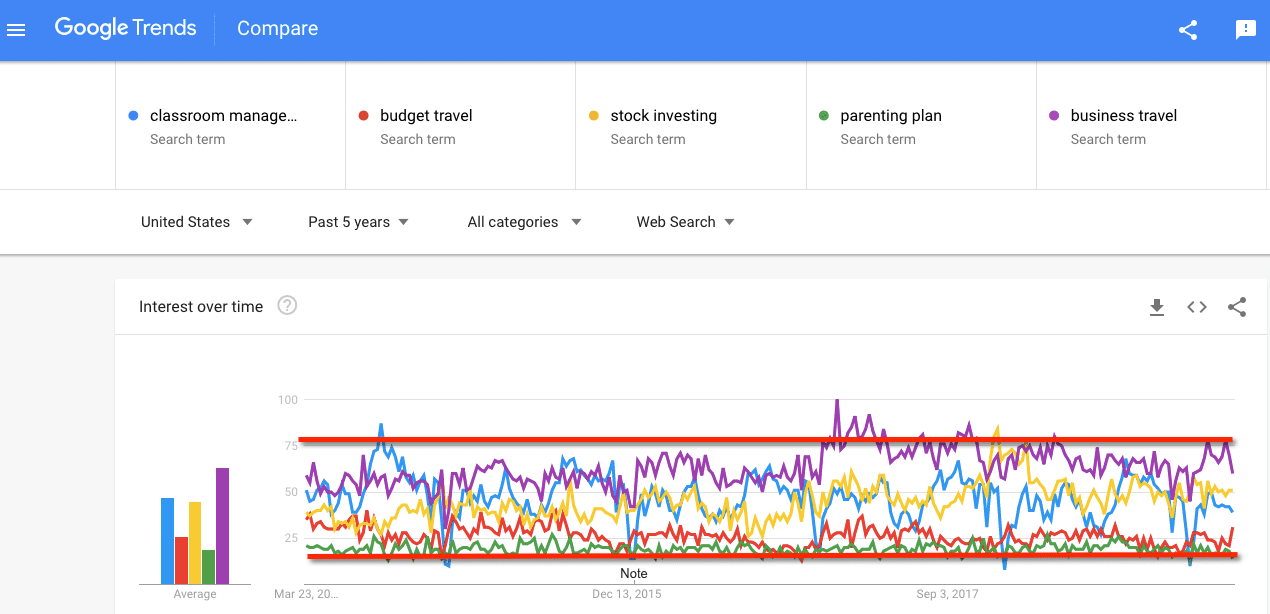 Which tools do I need to get started?
The good news is the tools available today for bloggers are way better than the options I had when I began. Below you'll find a list of both free and paid tools listed under two categories: discovering your blog niche and launching your blog.
Tools to Discover Your Blog Niche
Google for research: Free research on your topic anytime you need it.
Self-assessments: Personality tests and assessments can help us learn more about our strengths.
Amazon research: Use Amazon as a way to discover if people are making purchases and leaving reviews on your topic.
Google Trends: A great free tool to help you determine the demand of any niche.
Blog research: Search for other blogs in your niche as a source of ideas
Podcast research: Are there other podcasts in your niche and what topics are they covering?
YouTube research: Search for YouTube channels in your niche to see if people are subscribing.
Udemy research: Are people buying courses already on your topic?
Tools to Start a Blog
Conclusion
How did you do with answering the six essential questions? Like I mentioned in the beginning, there's more to starting a blog than just the technical setup. If you want to blog for a living, you have some essential questions to answer first. The good news is you are way ahead of others now. Go blog your passion!
FREE BOOK: Your Message Matters
Inside this 267-page book you'll discover a simple four-part framework on how to turn your passion into a platform! Click below and we will send you the book (just pay shipping).