My Kajabi Review | 10 Reasons I Love the Kajabi Platform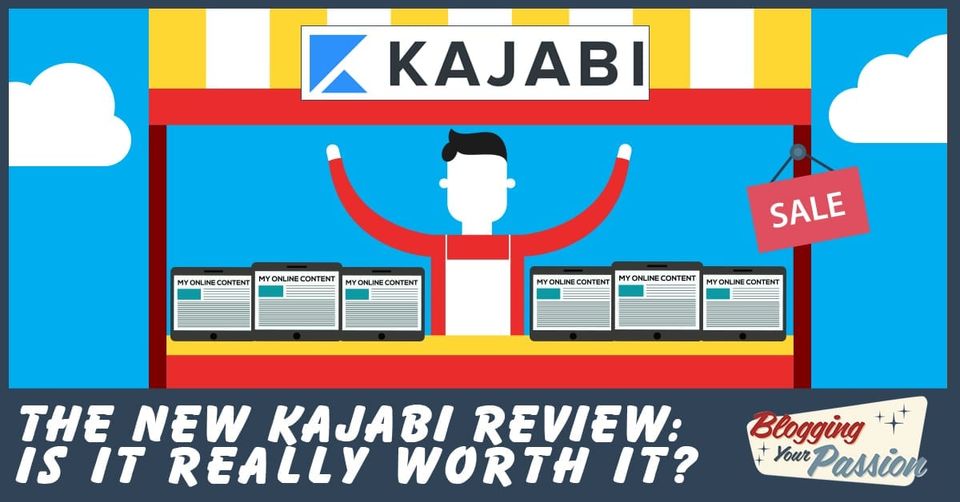 Back in early 2010, I was struggling with my blog.
I was posting at least three times a week back then and was beginning to see some traction.
I even made some decent money writing resumes and doing career coaching (my first blog was a career coaching blog).
But there was still a major problem…
I was worn out.
Still working a day job at the time, the money I was earning with my blog required my time, which I didn't have a lot of.
I was in the trading time for dollars trap.
That's when I came across the idea of creating an online course.
While I knew that it would take some serious effort upfront to create it, I loved the idea of being able to sell my course without trading my time for dollars.
So, I started researching how to put together an online course.
Back in 2010, this was no easy feat.
There were not so easy-to-use WordPress plugins and complicated payment scripts. The technology, quite frankly, was a nightmare.
I ended up taking payment through PayPal and password-protecting a WordPress page where my course lived.
Yep, every student had the same password, "Student109."
Thank goodness times have changed!
It's much easier today to create and sell an online course.
While the technology has come along nicely, we have a different problem today.
Which course platform is the best for me, my business and my customers?
If you're on the hunt for the "perfect" course platform, it doesn't exist. Instead, you should write down the essentials you need to succeed today and scale into the future.
When I sat down to write my list of essentials, I came up with:
A central login for all of my courses
An integrated system (video hosting, payment system, etc)
A built-in affiliate system
A flexible system that allows branding and coding
After creating this list, I came across the Kajabi platform. In the past I'd been a classic Kajabi user, and was always impressed with the quality of support I received. But when I saw the New Kajabi, I knew it was going to be something special.
My Kajabi Review: 10 Reasons I Love the Kajabi Platform for Influencers and Thought Leaders
If you are a serious blogger, solopreneur, speaker, or coach, then Kajabi is for you. While I could list many reasons why this platform has simplified my life, here are at least ten.
1. The ability to create an online course fast
Many bloggers, writers, speakers and coaches struggle to get an online course up for sale. The biggest challenge is often associated with technology hassles.
What I love about Kajabi is that if you know how to write and publish a WordPress blog, you can create a course with Kajabi.
I can simply choose a theme, add my brand elements and create the content. In fact, click here for my four-step process for how to create an online course over the weekend.
2. A central place for your online store
If you have more than one course, you probably struggle with having a central location online that displays all of your offerings.
With Kajabi, you can easily create a nice looking online store and decide which courses you want to make available for the public to purchase. This alone will increase your sales. Below is a snapshot of my online store dashboard.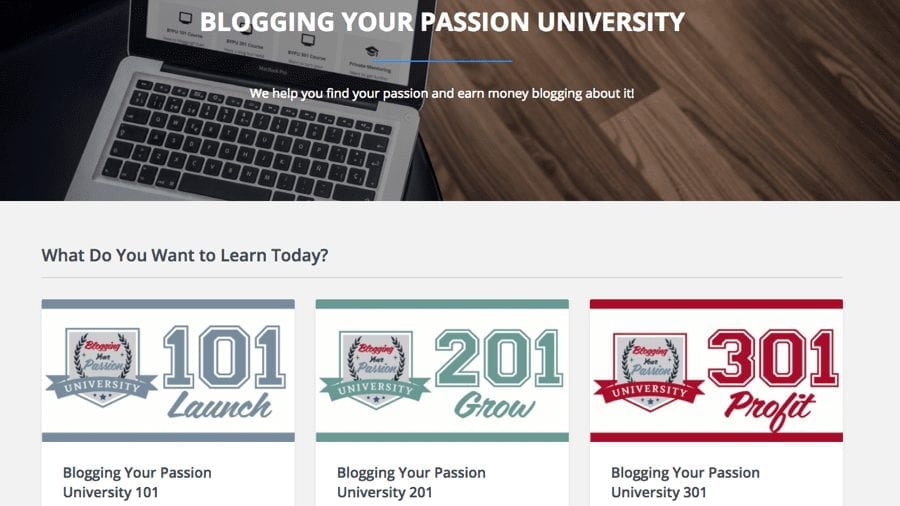 3. A fully integrated system
As content creators, we all want an all-in-one solution. The problem with software companies who try to be all things to all people is they move away from what they do best.
A far better approach is to build a system that partners and utilizes the strengths of other companies. For example, Kajabi has two key partnerships with Stripe and Wistia.
Once you set-up your Stripe account inside Kajabi, you have a full integration. You can set payment terms and pricing for your courses right inside Kajabi. You can also look up customer accounts in Kajabi.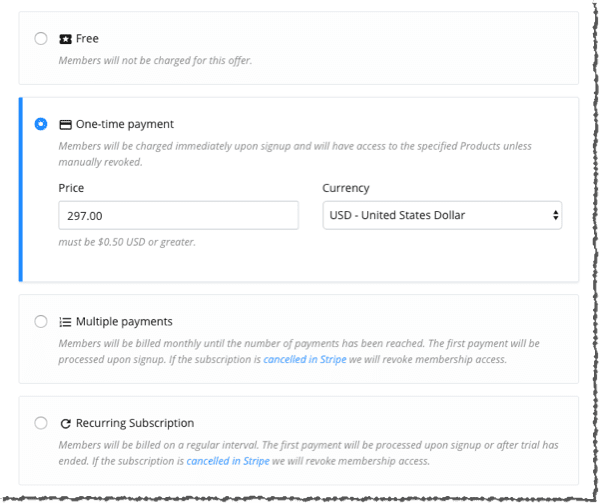 I also love the Wistia video hosting integration. Kajabi is so tightly integrated with Wistia that you don't even have to have an account with them. You can upload your videos right inside Kajabi (See the pic below).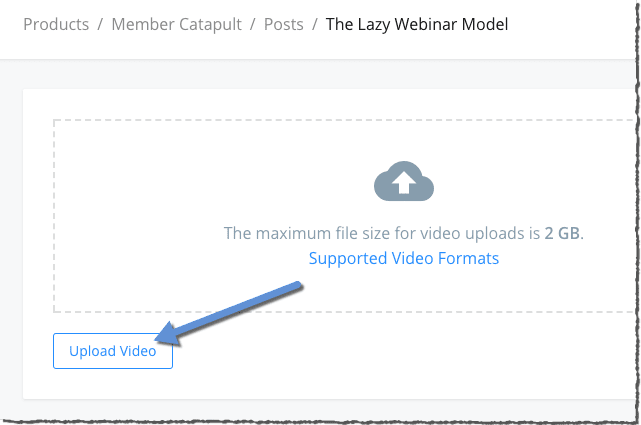 Each time you upload a new video for your course in Kajabi, you are using Wistia for no extra charge. In times past, I had to upload my video directly to Wistia, get the embed code and then go to my course software and embed the code, hoping it would work.
4. One central login for customers
After you create a few courses, you become aware of a serious problem (ask me how I know). You end up with multiple login pages for different courses. This leads to customer confusion as to where to login and what their password is for each course. It can quickly become a customer service nightmare.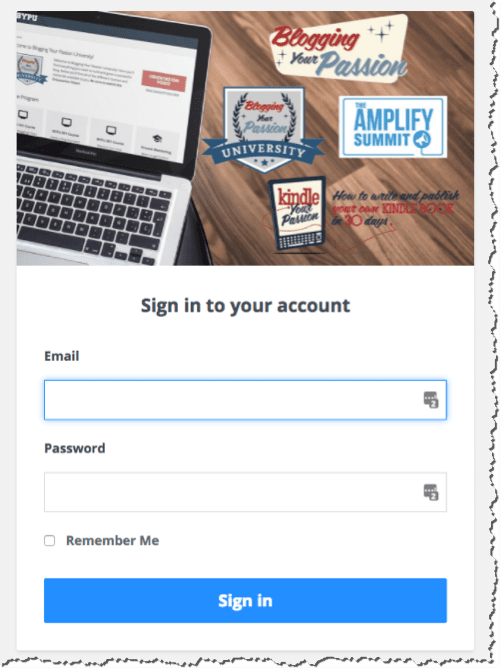 Kajabi has one central login page for all of your courses and membership sites. This feature alone cuts our support tickets in half.
5. Ability to create different offers
Inside Kajabi, courses and other product offerings are separated. At first, this confused me until I noticed the power of it.
One offer can include multiple combinations of your courses. You could even bundle all of your courses into one offer for a monthly fee of $197. The options are endless.
6. Run with new ideas fast
One day I had the idea to pull out a class from the Online Business Fast Track Class (a monthly membership site for bloggers) and sell it as a separate product to non-members.
In less than thirty minutes, my new course was ready to sell. That's the power of Kajabi.
7. Easily design new landing pages
Included in your Kajabi account is a section called "Landing Pages". These are ideal for email opt-in pages, product launch pages, thank you pages and even sales pages. Below is an email capture page I created using Kajabi's landing pages.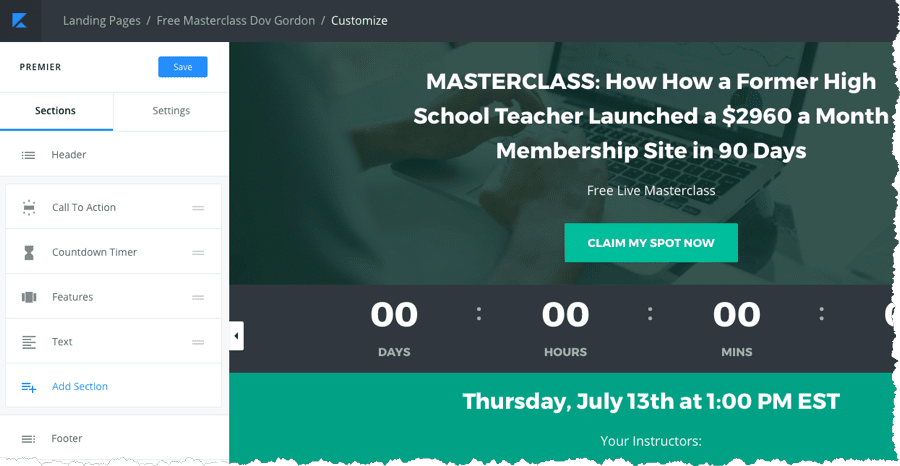 8. Quickly create an entire funnel
"Pipelines" is a new feature to the Kajabi platform. With one click of the button, Kajabi will create an entire funnel of pages for you.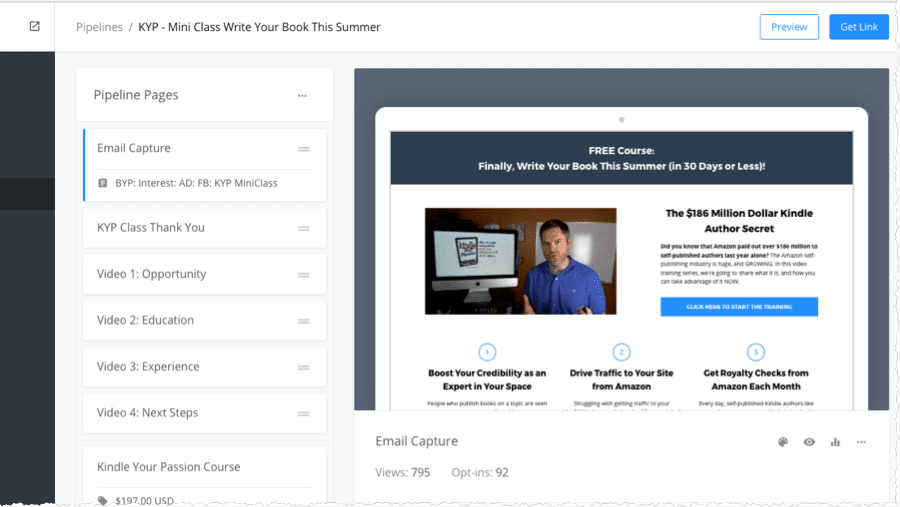 This saves you time from having to create each single page and making sure they are all connected together.
9. A built-in affiliate system
Want to deploy an army of raving fans who go out and sell your courses for you? Kajabi has an integrated affiliate system that is simple and easy to use.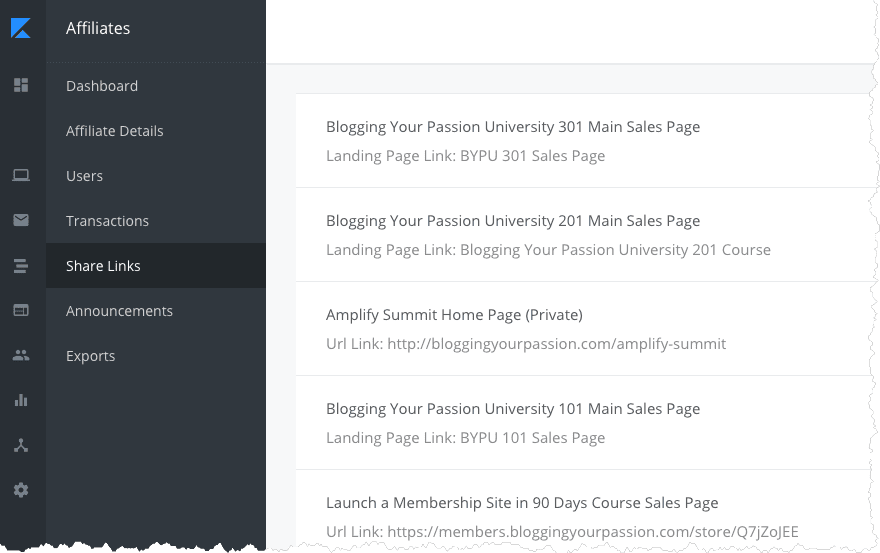 At the time of this writing, if there is one area I'd love to see them improve it's this feature. While all the basic features are present, I'd love to be able to assign affiliate links to partners without making them go sign up for the program and fetch their own affiliate links.
10. A central place for customer service
There is a whole section inside Kajabi that is labeled "People".  This is where you can look up any of your customers to see which products they have purchased, give access to new products, reset passwords, take notes, and even issue refunds.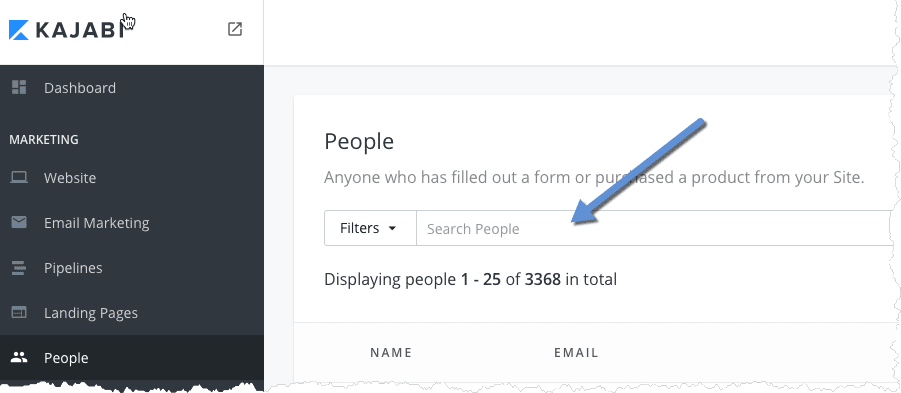 My overall rating of the Kajabi is a solid A. I'm happy with the platform and I truly believe I'll be able to scale my business without having to move to a different solution.
Click Here for a 30-Day Free Trial of Kajabi
🚀
Free Video:
How to Build an Online Business as a Writer or Coach (The Low-Tech Way) That Creates Time and Financial Freedom
(Without Feeling Overwhelmed by Technology, Self-Doubt, or Too Many Choices)
Click Here to Watch Now