My Kajabi Review 2023: Comprehensive Analysis for Bloggers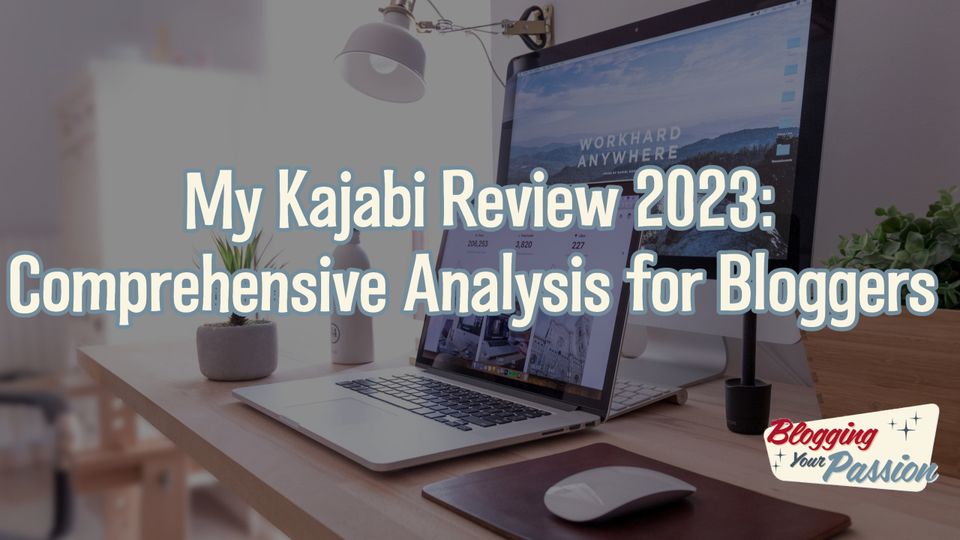 Picture this scenario.
You, a fervent writer or blogger, have an eagerness to spread your message to the world.
But you're struggling to find the perfect platform for your online courses and marketing campaigns.
You start a blog and then become quickly overwhelmed.
Enter Kajabi - an all-in-one solution that promises seamless integration of various tools for growing your online business.
I've been a Kajabi user since inception. I'll give you my honest review of this platform (the good, bad, and the ugly).
In this Kajabi review 2023 edition, we'll dive deep into its features, performance, and how it stacks up against competitors like Thinkific and Teachable.
So sit back, relax, and let's explore what Kajabi has in store for you in our comprehensive Kajabi review!
Kajabi Review: The All-in-One Platform for Online Courses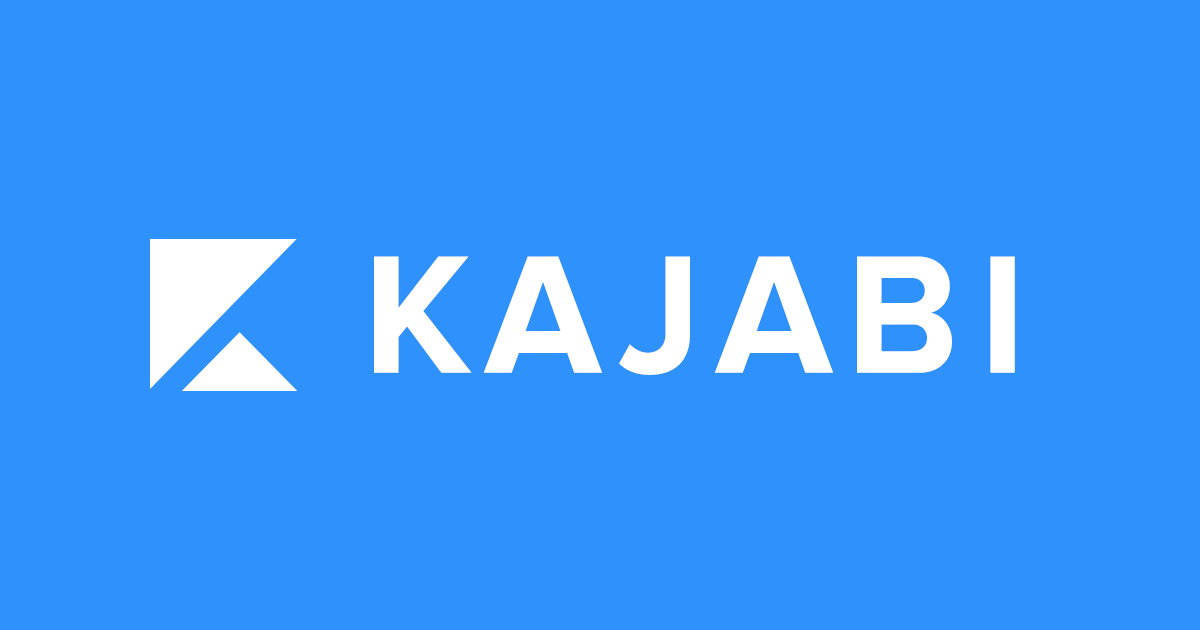 Meet Kajabi, the ultimate Learning Management System (LMS) that helps creators build, market, and sell digital products with ease.
Kajabi's user-friendly interface supports multiple languages and offers high-value product templates that streamline the course creation process.
But wait, there's more.
Kajabi also provides personal coaching from experts who can guide you through every step of launching your online course in record time.
Want to see a video walkthrough of everything Kajabi has to offer? Check out this video below:
User-friendly Interface for Course Creation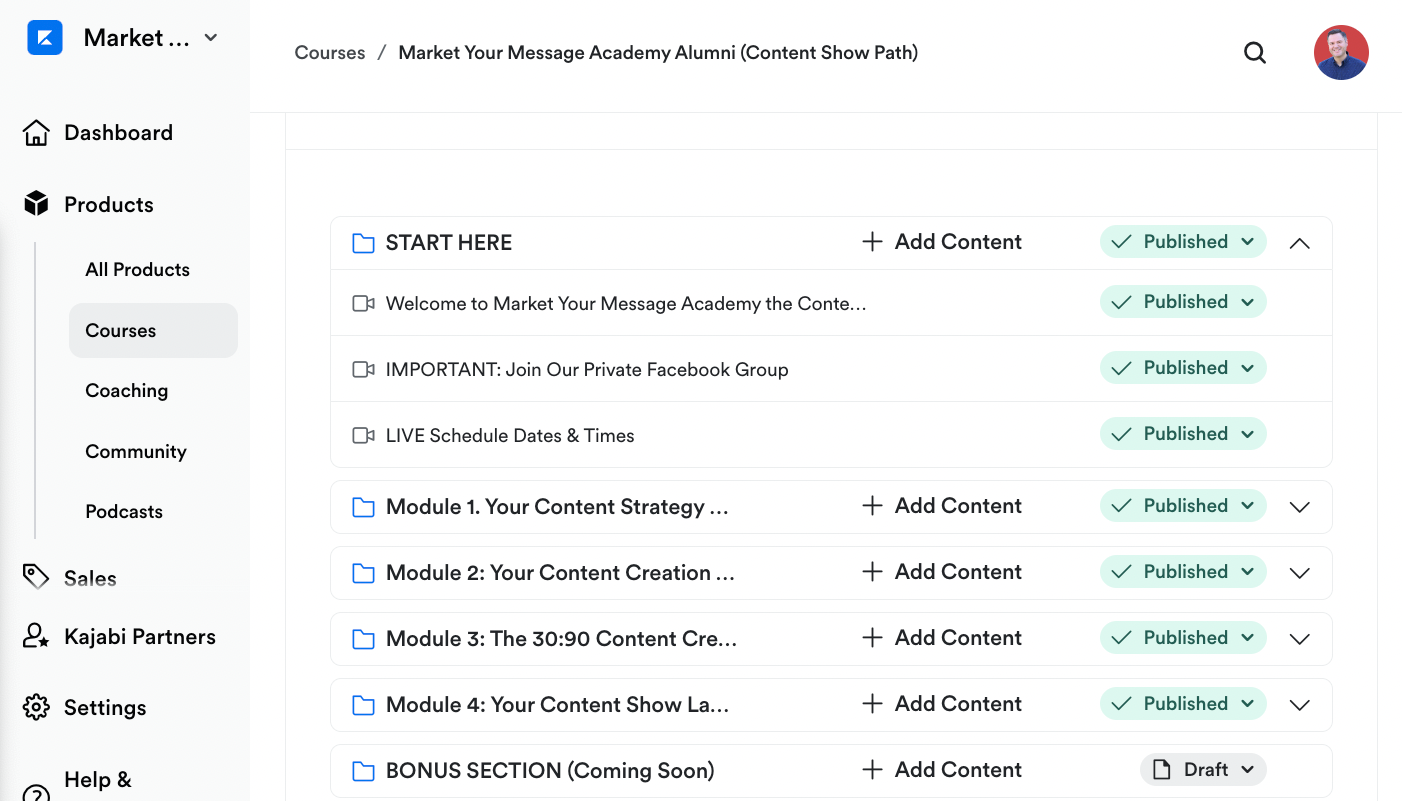 Say goodbye to complicated software and hello to Kajabi's intuitive platform that makes designing courses a breeze.
With features like drag-and-drop functionality, even beginners can create professional-looking content quickly.
High-Value Product Templates and Expert Coaching
No need to start from scratch - Kajabi offers pre-built templates tailored for different types of digital products, such as online courses or membership sites.
This means less time spent on design work and more focus on delivering valuable content to your audience.
Advanced Course Building Features
Creating an engaging online course is a breeze with Kajabi's state-of-the-art features.
Modules, quizzes, and assessments - Kajabi has it all to make your course a hit.
Kajabi courses can be used to create a mini-course, a flagship course, and even a membership site.
Bonus: Kajabi supports various content formats like text, downloadable documents, audio files, and video lessons for a well-rounded learning experience.
And, you can add downloads within the course materials to provide additional resources to your audience.
👍
Pro Tip: Use a mix of content types to cater to different learning styles and keep your students engaged throughout the course.
Quizzes and Assessments Within Modules
Incorporating quizzes in your modules not only keeps learners on their toes but also helps them retain information more effectively.
Kajabi provides customizable quiz templates that fit seamlessly within any module structure.
Support for Various Content Formats
No matter what type of content you want to include in your course, Kajabi has got you covered.
From text-based articles to multimedia presentations, Kajabi supports it all.
So, leverage these advanced features while offering value-packed lessons tailored specifically to your audience's needs.
Integrated Email Marketing Tools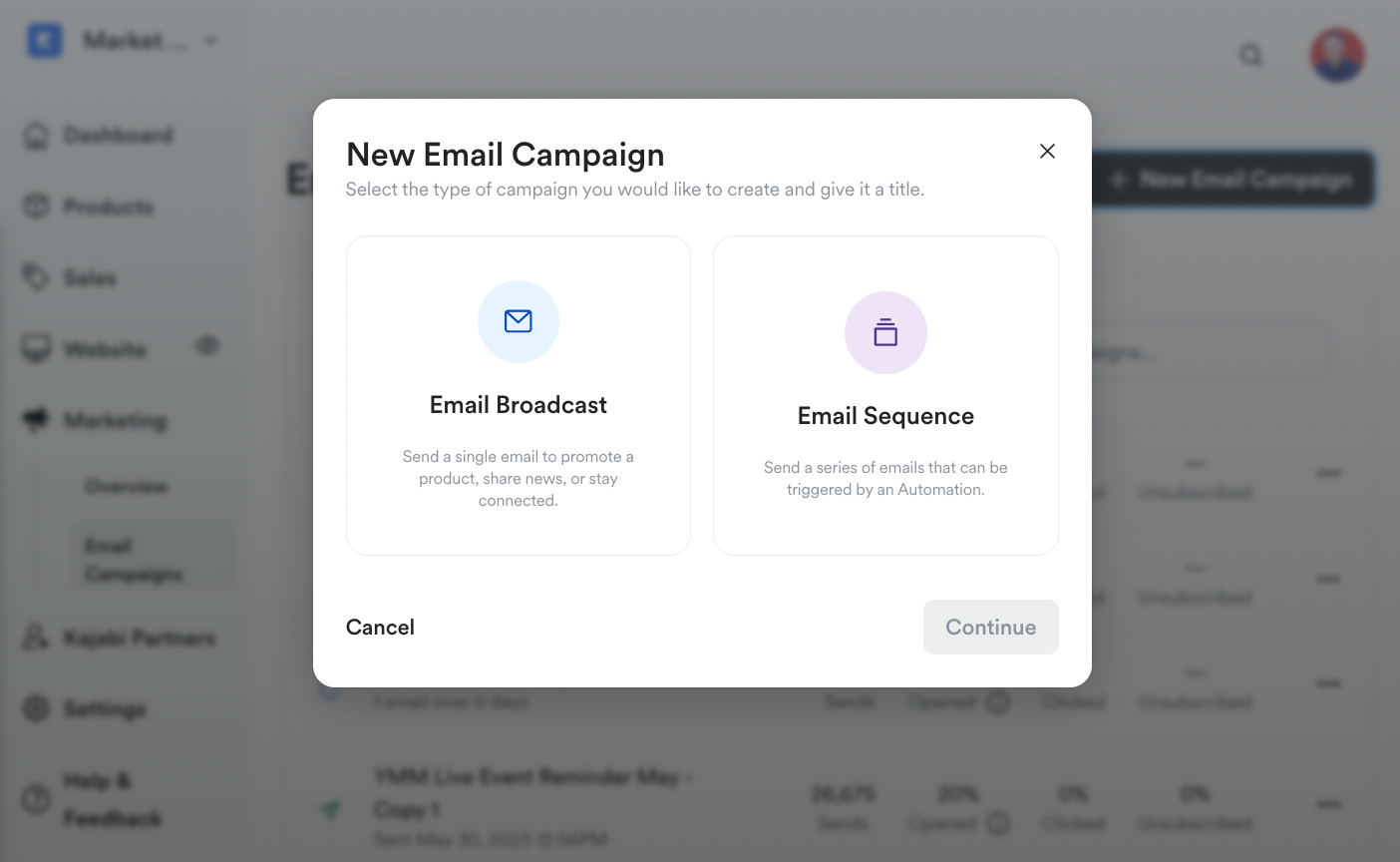 Next, in this Kajabi review, we are going to discuss email marketing.
Say goodbye to Mailchimp and hello to Kajabi's all-in-one solution for email marketing.
With granular data on churn refunds and a sales pipeline builder, you can streamline your online business operations while saving time and resources.
Create professional-looking email campaigns that resonate with your audience using Kajabi's built-in email marketing tools.
Segment your subscribers based on their behavior for personalized communication tailored to each individual's needs.
Even beginners can easily design effective marketing campaigns with Kajabi's pre-built templates and visual automation builders.
Email analytics: Track open rates, click-through rates, unsubscribes, and more to optimize future campaigns effectively.
A/B testing: Test different subject lines or content variations to determine what resonates best with your audience before sending out mass emails.
Kajabi also integrates seamlessly with popular third-party apps such as Zapier or ActiveCampaign if needed, giving you the flexibility of using other services alongside Kajabi's native functionalities.
For more information on Kajabi's email marketing capabilities, check out this link.
Customizable Website Builder and Hosting Options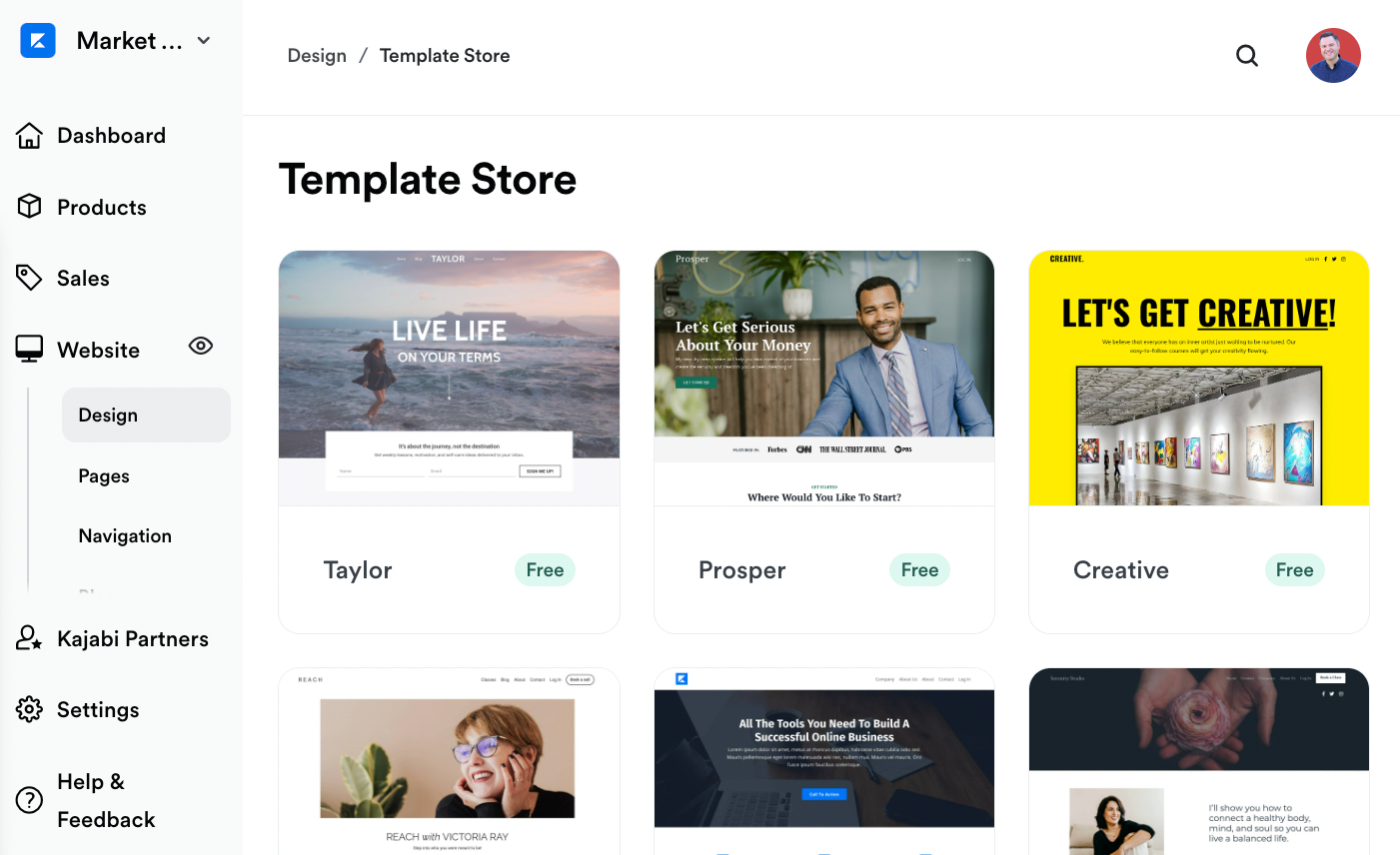 Building a visually appealing and functional website is crucial for the success of your online course, and Kajabi offers the perfect solution.
With four unique course player themes and over 40 preset sections, you can easily create professional-looking pages that represent your brand.
And the best part? Kajabi offers unlimited hosting options, so you never have to worry about running out of space or dealing with slow-loading content.
Plus, Kajabi ensures seamless integration with iOS and Android mobile apps, providing your students with an exceptional learning experience on-the-go.
Choose the Perfect Theme for Your Course
Premiere: A modern theme perfect for video-based courses.
Vault: An organized layout ideal for text-heavy courses or those requiring multiple downloads per lesson.
Momentum: A clean design suitable for various types of content such as videos, images, and quizzes.
Universe: A minimalist theme that puts the focus on your content, making it easy for students to navigate.
So, explore Kajabi's customizable website builder and hosting options today to create an unforgettable learning experience for your audience.
Creating and Selling Your Coaching Program with Kajabi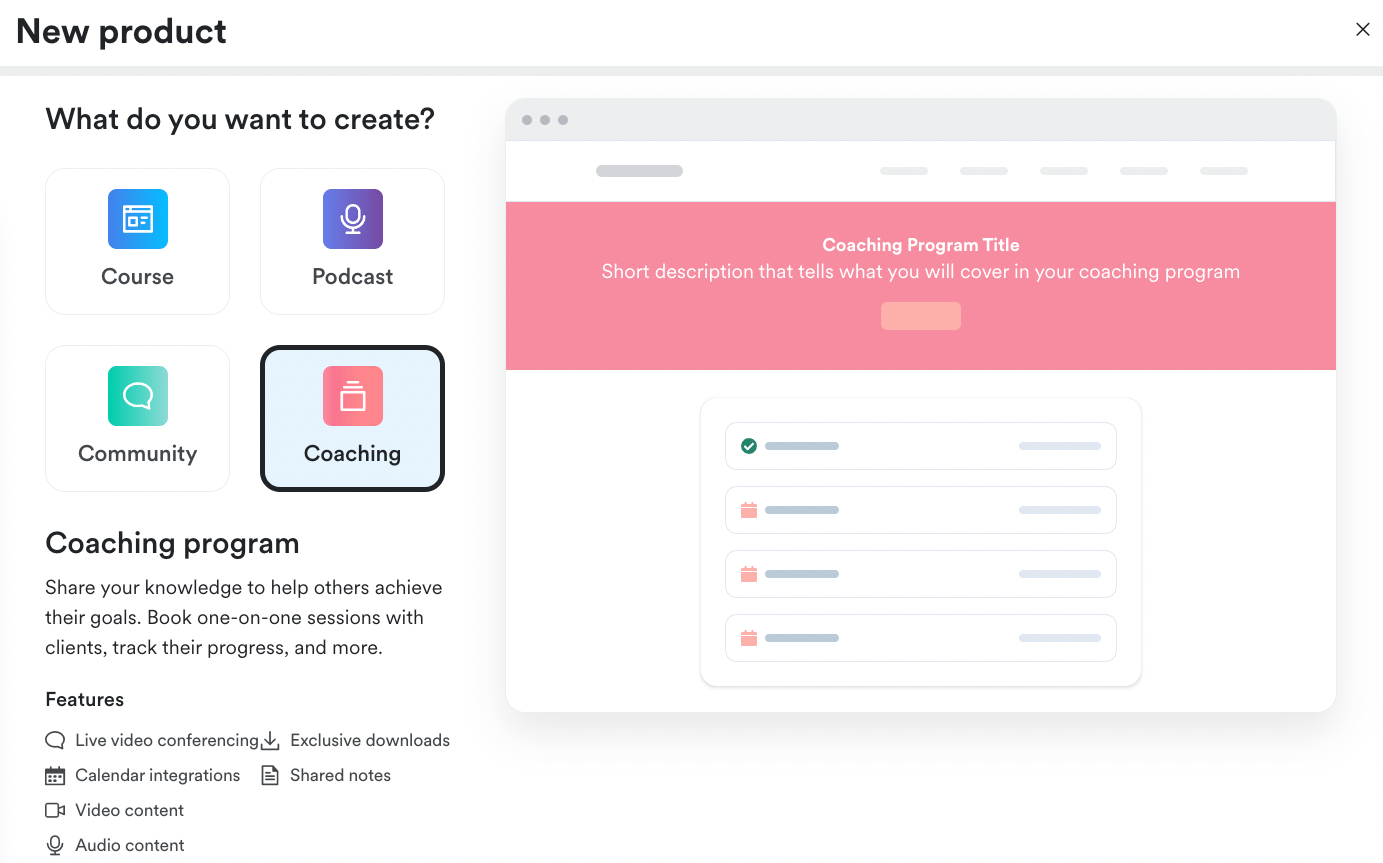 Are you a passionate expert in your field looking to share your knowledge and help others achieve their goals?
Launching your own coaching program can be an incredible opportunity to make a lasting impact while generating revenue. Here's how you can leverage the power of Kajabi to create and sell your coaching program with ease and effectiveness.
Kajabi makes it possible to create and sell a comprehensive coaching program with ease. Whether you're a seasoned professional or just starting out, Kajabi's intuitive platform is designed to simplify your journey from concept to finished product.
When it comes to selling your coaching program, Kajabi provides a robust suite of marketing tools. Its built-in CRM lets you manage your leads and customers efficiently.
You can create high-converting landing pages using their customizable templates, and their email marketing tool lets you connect with potential customers and nurture relationships with existing ones.
Kajabi's sales funnel builder, also known as "pipelines", makes it simple to guide potential customers through the buying process.
With a few clicks, you can set up a multi-step funnel, including landing pages, email sequences, and checkout pages, all within the same platform. This streamlines your sales process and improves conversion rates.
Start your coaching adventure with Kajabi today and unlock the limitless possibilities of sharing your expertise and transforming lives.
Kajabi Podcast Hosting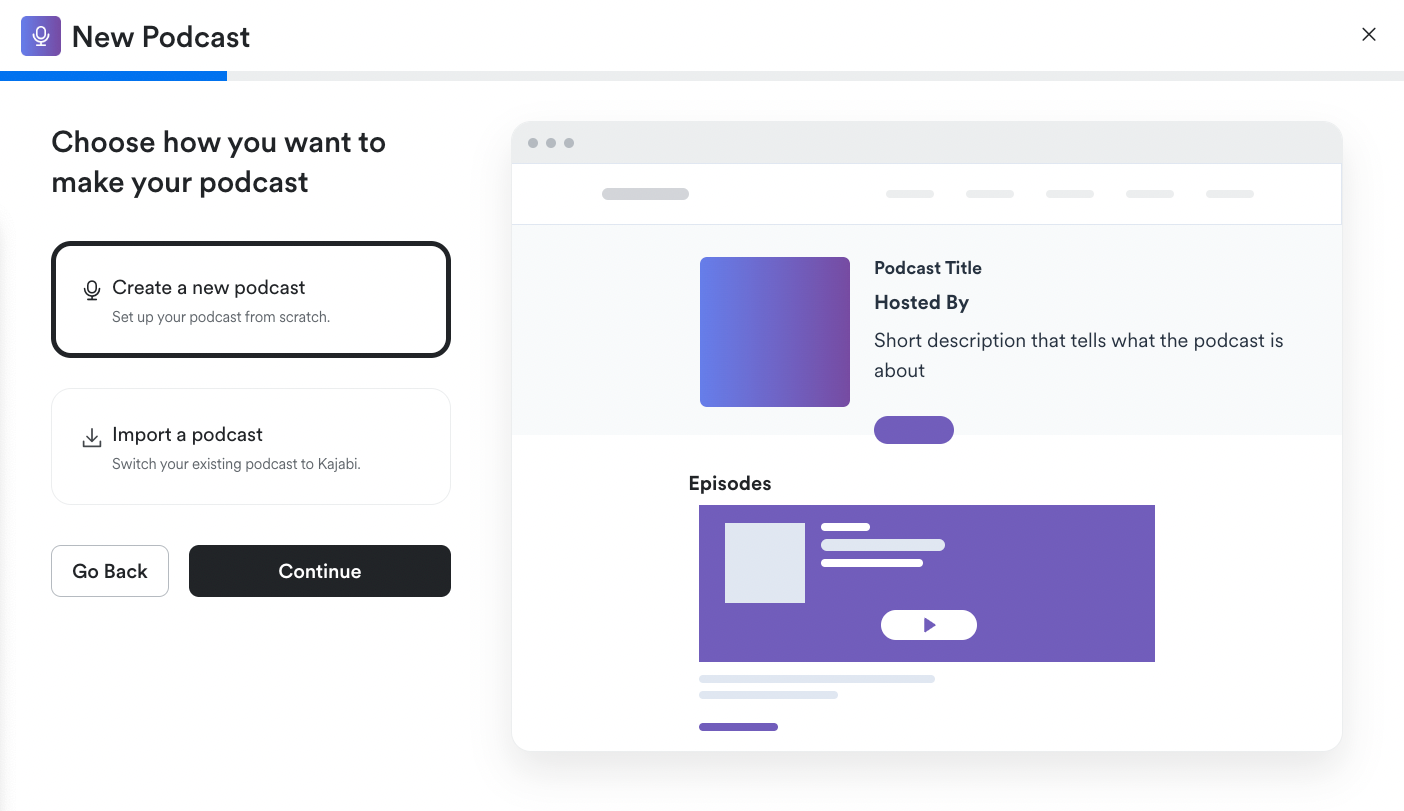 Kajabi's podcast hosting feature is a fantastic addition to the platform, allowing you to share your voice, knowledge, and expertise with a wider audience.
Not only does it empower content creators and thought leaders to expand their brand, but it also delivers an engaging listening experience for your audience without any hassle.
With Kajabi's podcast hosting, you get an all-in-one platform that handles everything from publishing and distribution to analytics and promotion.
You can effortlessly upload your audio files and create a visually appealing, customizable podcast page.
Kajabi automatically generates an RSS feed for your podcast, which simplifies the process of submitting your podcast to popular directories like Apple Podcasts, Spotify, and Google Podcasts.
One of Kajabi's standout features is the seamless integration of podcast hosting with the platform's other powerful tools.
This means you can easily promote episodes via email marketing, create follow-up sequences to retain listeners, and even offer exclusive content to your paid members or course students.
Furthermore, the podcast hosting feature's built-in analytics allows you to track your podcast's performance, including the number of listeners and downloads over time.
This valuable data helps you make informed decisions about your content strategy, tailoring your podcast to resonate more effectively with your target audience.
Kajabi's podcast hosting feature is a game-changer for content creators looking to diversify their offerings, reach new audiences, and streamline their podcasting journey.
As a comprehensive solution for hosting, promotion, and analytics, Kajabi simplifies podcast creation, allowing you to focus on what matters most – sharing your message and passion with the world.
Kajabi Communities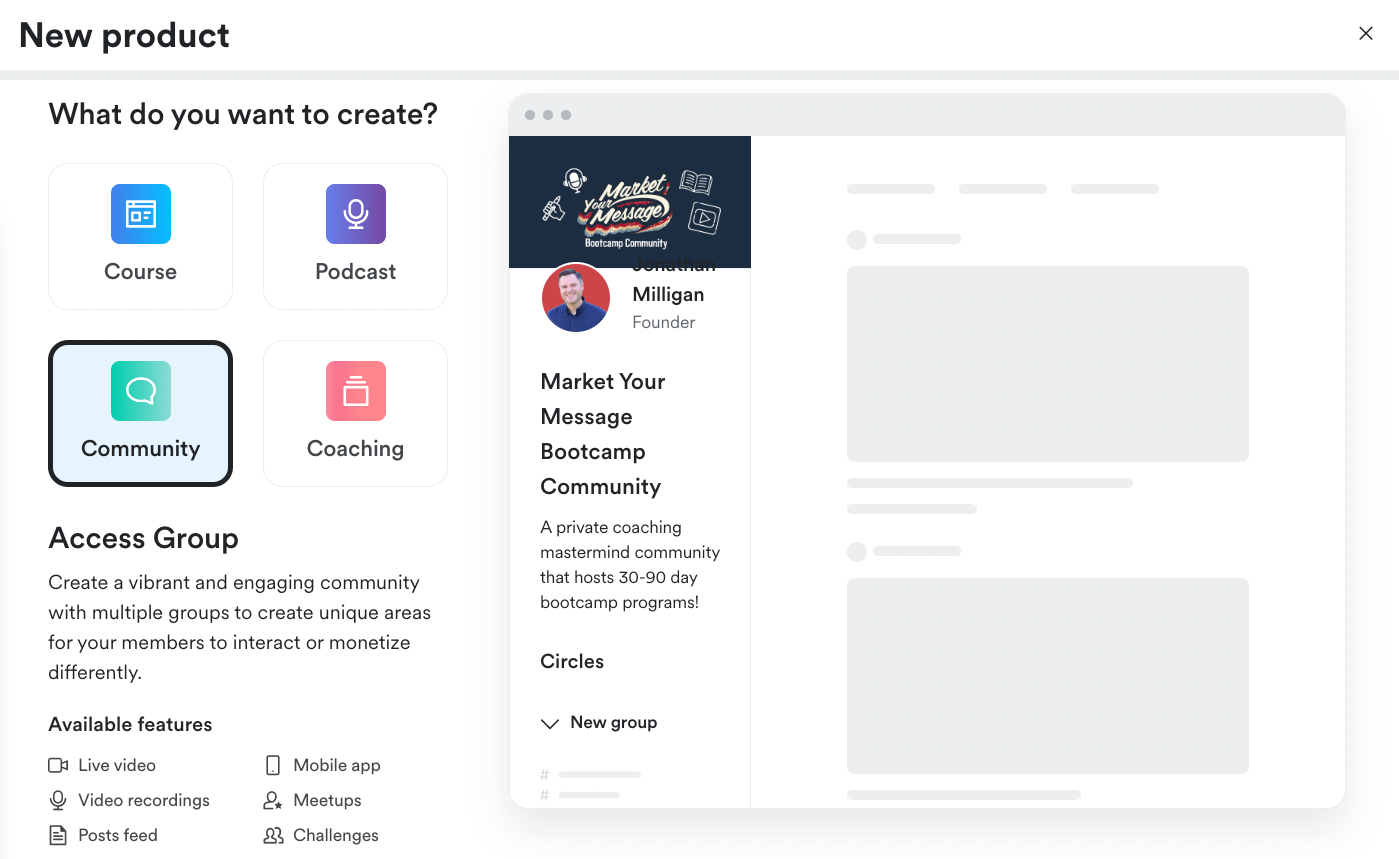 Are you looking for a way to connect with your audience and build a community around your brand? Look no further than Kajabi's new communities feature.
What are Kajabi Communities?
Kajabi Communities is a new feature that allows you to create an online space where your audience can come together, interact with each other, and engage with your content. It's like having your own private social network within the Kajabi platform.
How Can You Use Kajabi Communities in Your Business?
Create exclusive content: Use communities to offer exclusive content or courses only available to members of the community. This can help drive sales and increase engagement.
Foster engagement: Encourage discussion by asking questions, starting conversations, or hosting live events within the community. By fostering engagement, you'll keep members coming back again and again.
Gather feedback: Ask for feedback on products or services directly from customers through polls or surveys posted in the community. This will give valuable insights into what works well and what needs improvement.
The Benefits of Using Kajabi Communities
In addition to building a sense of community among your audience, using Kajabi Communities offers several benefits including:
Built-in analytics: See how many people are engaging with specific posts or topics so you can adjust accordingly.
No additional cost: You don't have to pay extra fees as it comes included in all plans offered by the Kajabi platform.
Mobile-friendly: Kajabi Communities is mobile-friendly, so members can engage with your content on-the-go.
Professionally designed: Kajabi offers professionally designed templates that you can customize to match your brand's look and feel.
If you're looking for a way to build a community around your brand and connect with your audience in a more meaningful way, Kajabi Communities may be just what you need.
Kajabi Pipelines (Also Known as Kajabi Funnels)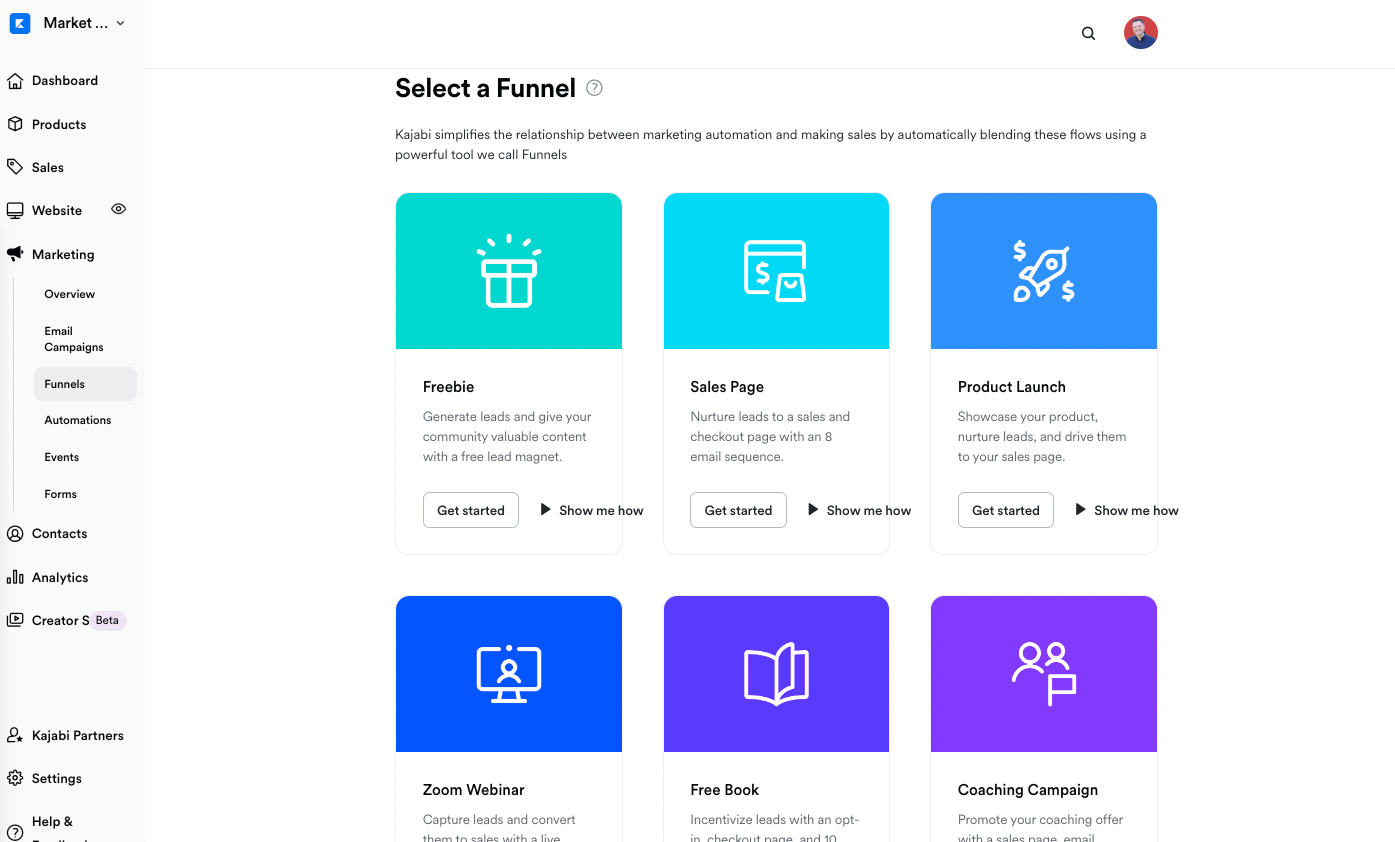 Kajabi Pipelines, also known as Kajabi Funnels, are a powerful feature that simplifies the process of creating marketing funnels on the Kajabi platform.
Designed to guide your prospective customers through their buyer's journey, Pipelines make it easy to convert leads into sales in a highly-efficient way.
Pipelines essentially map out your entire marketing funnel, from the initial landing page to upsells, downsells, and even post-purchase actions.
With a highly intuitive and user-friendly interface, creating a custom pipeline is a breeze. You can choose from several pre-built templates or construct one from scratch, tailoring it to suit the unique needs of your business.
One remarkable aspect of Kajabi Pipelines is the automation feature.
This allows you to set up triggers, rules, and conditions based on your leads' behaviors.
For example, you can create a sequence of follow-up emails that are sent out automatically when someone signs up for your webinar or downloads your lead magnet.
This helps you nurture and engage with your audience, driving higher success rates in achieving your conversion goals.
In addition, Kajabi Pipelines integrates seamlessly with the platform's other features, such as email marketing, analytics, and payment processing.
This integration ensures a smooth, cohesive experience for both you and your customers.
Plus, you can keep track of the performance of each phase within your funnel, allowing for easy optimization and informed decision-making.
In my experience, Kajabi Pipelines is a fantastic tool for online entrepreneurs who want to create effective marketing funnels with ease.
Its intuitive design, automation capabilities, and seamless integration with other Kajabi features make it an invaluable addition to anyone's marketing arsenal.
Payment Processing & Community Management
Kajabi offers a dedicated People section in the admin area, making it easy to track student progress and manage member interactions.
Integrate your Kajabi community with Facebook for seamless communication and engagement.
Payment processing is a breeze with Kajabi's native Stripe integration, ensuring secure payments and offering features like recurring billing and instant payouts.
Stripe is a popular choice among online businesses, and Kajabi's built-in affiliate program management makes growing your business through partnerships effortless.
Achieving Success Through Student Progress Tracking & Engagement
Keep students engaged and motivated with Kajabi's assessment tools, like quizzes or assignments within course modules.
Track individual progress via the People section and use automated email campaigns to provide personalized feedback based on performance metrics or milestones achieved by each student.
Kajabi vs Thinkific, Podia & Teachable: Which is the Best Online Course Platform?
Choosing the perfect online course platform for your business can be overwhelming, but Kajabi stands out as the most complete solution.
With a dedicated success manager, user-friendly website builder, and built-in email marketing tools, Kajabi streamlines operations while saving time and resources.
While pricing structures vary, Kajabi's comprehensive offerings often justify its higher price point, especially for those looking to scale their business rapidly.
For those who want a comprehensive platform that streamlines processes and provides superior features and assistance, Kajabi is worth looking into.
Kajabi Cost & Pricing Structure
Before we wrap up this Kajabi review, we need to talk about pricing.
One of the first things you'll want to consider when using Kajabi is its pricing structure.
Pricing Tiers
Kajabi offers three different pricing tiers: Basic, Growth, and Pro. Each tier comes with different features and capabilities at varying price points.
Basic: The Basic plan starts at $149 per month when billed annually. This plan includes website-building tools, unlimited landing pages, marketing campaigns, email marketing integration with Mailchimp or ActiveCampaigns, up to 10 products for sale on your site, and more.
Growth: The Growth plan starts at $199 per month when billed annually. It includes everything in the Basic package plus access to affiliate programs (for tracking commissions), quizzes/surveys creation tool for audience engagement as well as automation pipelines designed specifically for bloggers who need a little extra help growing their audience.
Pro: The Pro plan starts at $399 per month when billed annually. This is the most comprehensive option available on the Kajabi platform offering all features from basic + growth plans along with advanced customization options, including custom branding domains, a membership site management system allowing users to build their own communities around niche topics they are passionate about.
Finding What Works For You
To find out which pricing tier works best for your needs, take advantage of Kajabi's free trial offer where new users get full access without any payment information required!
During this time period, try out each feature offered by these packages so that you can ultimately choose one that will help grow your online business or blog.
With Kajabi, you can rest assured that you're getting a platform that is designed to make your life easier.
Whether you're just starting out or looking for more advanced features, there's a pricing tier available to meet your needs and budget.
If you are still not sure which plan works best for your needs, check out the Kajabi Pricing page. It provides detailed information on each package as well as additional resources such as video tutorials and customer support options.
Kajabi Customer Support
When it comes to Kajabi customer support, rest assured that you're in capable hands.
Their dedicated team is committed to being there for you whenever you need assistance. By providing a variety of ways to connect, Kajabi ensures you never feel lost on your journey.
To start, Kajabi offers a comprehensive Help Center filled with articles and tutorials in a straightforward, easy-to-understand language.
If you hit a roadblock, you can submit a support ticket, and their friendly team will get back to you in no time.
For those who prefer real-time assistance, their live chat feature allows you to get quick, reliable answers from Kajabi specialists ready to help you 24/7.
In short, Kajabi customer support is like a warm embrace, empowering you to make the most out of their platform with confidence and ease.
What are the Pros and Cons of Kajabi?
Kajabi is an all-in-one platform that allows you to create, market, and sell online courses, memberships, and digital products.
It offers a range of features such as website building tools, email marketing automation, analytics tracking capabilities, and more.
Pros:
User-friendly interface: Kajabi's drag-and-drop builder makes it easy for users to build their own websites without any coding knowledge or experience required.
All-in-one solution: With Kajabi's integrated system for course creation, marketing automation tools like email campaigns or webinars can be managed in one place, making it easier to manage your business operations from a single dashboard.
Course customization options: You can customize every aspect of your course with branding elements like logos or color schemes. This helps ensure that your content looks professional while also helping students identify who they're learning from at a glance.
Built-in payment processing: No need for third-party payment processors as Kajabi has its own built-in payment gateway which accepts credit cards through Stripe integration.
Cons:
Pricing: The cost may be prohibitive if you're just starting out with no revenue yet generated from your blog. However, there is a 14-day free trial period available so users can try before committing long-term investment into the software package offered by this company.
👍
Pro Tip: If the pricing of Kajabi is the only thing holding you back, then check out
Systeme.io
as a similar, cheaper alternative.
In conclusion, Kajabi is an excellent tool for bloggers looking to monetize their writing skills by creating online courses or selling digital products directly on their website.
Its user-friendly interface and all-in-one solution make it a great choice for anyone looking to streamline their business operations. However, the cost may be prohibitive for those just starting out with no revenue yet generated from their blog.
FAQs in Relation to Kajabi Review
Is Kajabi Legit?
Yes, Kajabi is a legitimate platform for creating and selling online courses, membership sites, and digital products. Many Kajabi users have given positive feedback related to their experience with Kajabi.
Where is Kajabi Located?
Kajabi is a platform that provides tools for online businesses, course creators, and bloggers to create and sell digital products. The company was founded in Irvine, California, in 2010 by Kenny Rueter and Travis Rosser.
Why Kajabi May Not Be the Best Choice for Everyone?
Kajabi may not be suitable for those who require multiple payment options, as it primarily integrates with Stripe, and its pricing might be prohibitive for some users.
Is Kajabi Worth the Investment?
Yes, Kajabi is worth the investment for individuals and businesses seeking an all-in-one solution for creating, marketing, and selling online courses, with its robust features and ease of use.
Is Kajabi Good for Building Websites?
Kajabi is excellent for websites focused on delivering online courses or digital products, with its various templates to create professional-looking sites that are mobile-friendly and easy to customize.
Is Kajabi Mobile-friendly?
Yes, Kajabi is mobile-friendly and provides a responsive design that ensures optimal user experience across different devices, including smartphones and tablets. Kajabi performs well on both desktop and mobile.
Can Kajabi Replace Mailchimp?
Yes, Kajabi can replace Mailchimp since it has email marketing and all of its features built-in to your Kajabi account.
How does Kajabi Do with Email Deliverability?
Kajabi has a good reputation for email deliverability, employing industry-standard practices to ensure that your emails reach your subscribers' inboxes effectively.
However, the success of email deliverability also depends on factors such as your email content, subscriber engagement, and the overall health of your email list.
Can You Integrate Kajabi with Other Tools?
Yes, Kajabi can be integrated with various third-party tools and services through its Zapier integration.
This allows you to connect and automate workflows between Kajabi and other applications, such as email marketing platforms, CRMs, payment gateways, and more.
Does Kajabi Have a Built-in Blogging Platform?
Yes, Kajabi provides a built-in blogging platform that allows you to create and publish blog posts directly on their platform.
This feature enables you to seamlessly integrate your blog with your other content and offerings on Kajabi. Your next blog post is just one publish button away!
Who Should Use Kajabi?
Kajabi is ideal for entrepreneurs, educators, coaches, or content creators looking to build an online presence in the e-learning industry by offering high-quality courses or digital products while leveraging integrated sales and marketing tools within one platform.
Final Thoughts
Looking for an all-in-one platform to create online courses? Kajabi offers high-value product templates and personal coaching from experts, plus a quiz creator and manual grading system for course creation.
But that's not all - Kajabi also integrates with email marketing and sales tools, providing granular data on churn refunds and Stripe payment processing integration, and offers customization and community building options like iOS/Android mobile apps integration and a community builder feature.
Compared to other platforms like Thinkific, Podia, or Teachable, Kajabi stands out in various areas, but one limitation is the lack of multiple native payment options.
I hope you've enjoyed this updated Kajabi review.
Overall, Kajabi is an excellent choice for bloggers and writers who want to create online courses with ease.
Open your Kajabi account today with a 30-day free trial! Click here to claim your free trial.
🚀
Free Video: How to Build an Online Business as a Writer or Coach (The Low-Tech Way) That Creates Time and Financial Freedom (Without Feeling Overwhelmed by Technology, Self-Doubt, or Too Many Choices).
Click Here to Watch Now