Affiliate Marketing for Bloggers: How to Make Money in 3 Easy Steps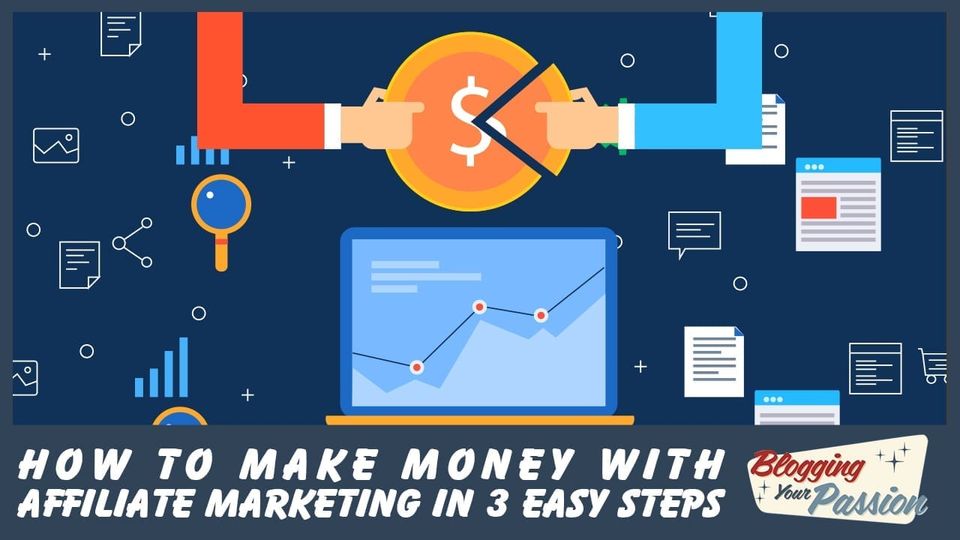 How long do you need to wait to make money with a blog?
At least weekly, I get asked that question in some form.
My answer?
Don't wait. 🙂
The biggest difference between a "hobby" blogger and a "full-time" blogger is the full-time blogger has a way to get paid.
Now, before you go hide in a cave and spend twelve months building an online course, I have something I'd rather see you do first.
It's called affiliate marketing.
Affiliate marketing is a huge income opportunity for bloggers.
When I started my career coach blog in 2009, the first thing I did to monetize was research and find affiliate programs in my niche.
Now, my niche at the time was accounting & finance professionals. So, my first thought was, "I doubt that there are any affiliate programs in my niche."
Boy, was I wrong!
After a little bit of research, I found:
A BIG 4 accounting hiring guide that earned me $12.50 for every sale
CED (Continuing Education Credit) online classes that earned me 50% of every sale
An online CPA certification prep course that earned me 50% per sale
An online job board that earned income every time someone clicked to view a job opening
All of the above (and more) allowed me to monetize my career coaching blog BEFORE I had created my own products.
Even if you just started a blog, follow these tips to build the right foundation.
Let's jump into how to do affiliate marketing with a blog.
The 3 Steps to Success: My Affiliate Marketing Strategy
The good news is learning how to make money with affiliate marketing for blogs is fairly simple:
Step 1: Register for Affiliate Marketing Programs
Step 2: Create Your Affiliate Marketing Library
Step 3: Promote your Affiliate Marketing Products
It really is that simple.
We will go further in-depth on each of the three steps in a moment, but first…
9 Reasons I Love Affiliate Marketing for Beginners
There are at least 9 reasons I LOVE affiliate marketing for beginners.
No barrier to entry: You can literally sign up today and start promoting offers.
No hidden costs: There's zero cost to sign up.
No risk: There's no huge investment of time.
No fulfillment: No customer support service needed.
Monetize now: You can start promoting today.
Serve your audience: You become a "resource" to your audience.
Learn what your audience wants to buy: You can create your own products and services once you know what they want help with!
Learn how to sell: Selling is part of operating a business and a skill you can develop.
Income is mostly passive: You can earn affiliate income today from a blog post you wrote several months ago.
I guess you can tell why I love affiliate marketing. 🙂
Before we get into our 3-step plan for affiliate marketing with a blog, let's answer a few common questions.
What is affiliate marketing?
What exactly is affiliate marketing to begin with? Is affiliate marketing an MLM (multi-level marketing) business model? Is affiliate marketing just a get-rich-quick scheme?
The answer is no to both. Affiliate marketing is when creators of products allow you to promote their product and, in return, you earn a commission when someone buys.
As you will see, affiliate marketing and blogging go well together.
The process is similar to you being a salesperson in the real world and earning a commission when other people make a purchase.
However, what makes affiliate marketing so attractive is that you can scale your promotion strategy beyond having to talk with each person you come in contact with.How does affiliate marketing work?
The great thing about affiliate marketing with a blog is there is zero startup cost to get started. All you need to do is get approved to promote the product (the process is easy).
You will then be given a special affiliate link that is specifically attached to you.
When other people click on your link and then make a purchase, you will get credit. You will receive your commission check either by Paypal, checking account deposit, or a check in the mail.
You can create content that offers honest reviews of products you use and earn money.
What are the different types of affiliate marketing?
For simplification, I'm going to break affiliate marketing into four different categories. Each of them has its own unique advantages.
1. One-Time Affiliate Program
This is the most common type of affiliate program, and it's been around since the dawn of the internet. You can find one-time affiliate commission programs all over the internet, including places like Amazon, Walmart, etc.
I'm calling it a one-time commission because you will receive a commission from each purchase made. Later, I'll share some of my favorite ways to promote these programs.
2. Recurring Affiliate Program
What if you could make one sale and receive an on-going commission each and every month? The recurring affiliate program is by far my favorite one.
You will mostly find these programs on products that have a monthly subscription. For example, I use and promote Kajabi as my favorite all-in-one online business tool.
Besides being a great tool, they currently offer a lifetime, recurring 33% commission on every person you refer.
In other words, you make one sale, and then receive a commission check each and every month for as long as that person is a customer of Kajabi.
3. Affiliate Launch Program
Affiliate launches have become powerful promotional tools over the last decade. These are usually related to online course programs that open once or twice per year.
They are such a powerful marketing tool because of the built-in scarcity involved. They often have a limited time enrollment period.
Also, you don't have to have a huge audience or mailing list to qualify to promote these programs. If this method interests you,
I'd encourage to sign up to Matt McWilliams' Affiliate Launch Notification List. You'll hear about upcoming launches you can promote.
4. Affiliate Webinar Program
To take advantage of this program, you'll need to attract at least 150 or more webinar signups to make money through affiliate marketing using a webinar.
The way you earn income with this strategy is to promote a webinar that someone else (your affiliate partner) will teach. They will handle all of the tech setup, running of the webinar, and even the promotional pitch.
All you are responsible for is promoting the webinar and getting people to register.
Best Affiliate Programs for Bloggers
You're about to dive into the world of affiliate marketing - one of the best ways to create a passive income stream.
This is your ticket to an awesome marketing strategy that can potentially make money while you sleep.
Sounds too good to be true, right?
But, successful affiliate marketers will vouch that this is no myth!
Our exploration today focuses on the best affiliate programs for bloggers.
As previously mentioned, affiliate marketing isn't a 'get rich quick' scheme.
Yeah, it does involve affiliate sales, but it also requires strategy and consistent work.
But hey, isn't it a great way to make money doing what you love?
Amazon affiliate program, often dubbed one of the best affiliate programs for newbies and seasoned bloggers alike, is a popular choice.
But that's just scratching the surface!
The affiliate marketing industry spans far and wide, with different affiliate programs each having its unique draw.
If you're just getting started with affiliate marketing, deciding which program to join can be overwhelming.
But hey, that's why you're here, right?
Below, I've compiled a list of the best affiliate programs for bloggers. This is your golden ticket to successful affiliate marketing.
Here's a list of some of my top affiliate programs for bloggers:
Sure, let's take a closer look at some top affiliate programs perfect for bloggers:
Remember, every piece of content you create is a possible avenue for affiliate marketing.
This isn't about just plastering your blog with random links, though. The top affiliate marketers know that the best way to make money from affiliate marketing is to offer genuine value to their readers.
It's important to strategically add affiliate links to your blog posts and ensure they align with your content.
For example, an affiliate marketing blog about cookware could include life-changing pasta recipes (Hello, dinner plans!), and have affiliate links to the pasta maker mentioned in the recipe.
Don't be shy to experiment with different affiliate marketing strategies on your blog.
Sometimes simplifying processes, like using popular email marketing software, can enhance your affiliate marketing efforts.
Know this – affiliate marketing is a great way to make money and has potential beyond imagination!
Remember, Rome wasn't built in a day, and successful affiliates weren't made overnight.
Be patient, keep learning, and keep earning.
Ready to join the affiliate marketing bandwagon and let your blog command some cash for you?
Adventure awaits, and the stakes (or should we say, 'steaks' if you're a food blogger), have never been higher!
How to Make Money with Affiliate Marketing in 3 Easy Steps
Affiliate marketing is a simple income model once you know the steps.
In order to be successful with affiliate marketing, you'll need to execute three vital steps.
Step 1. Register for Affiliate Marketing Programs
For the majority of affiliate programs, you'll just need to register an account. There is no approval process needed except for providing the right information.
Every program will ask you to provide a social security number or an EIN (Employer Identification Number) during registration.
I'd recommend that you apply for a Free EIN Number so you're not sharing your social security number all over the web. Check out our blog post on how to easily apply for your free EIN Number.
Secondly, you'll also need to provide a way to get paid. Many affiliate programs pay via Paypal so it will be a necessity that you get a Paypal account.
All you'll need to share is your Paypal email address. Still, other programs will want to pay via direct deposit into a checking account.
This is why it's also a good idea to register for a free business checking account.
While it would be impossible to share all of the affiliate programs out there.
Out of the list I shared earlier, below is a short list of some of my favorite places to register to get started in affiliate marketing.
Later in step three, I'll share what to do with your affiliate links in order to start making money.
Affiliate Marketing Directories
Individual Affiliate Programs
In all of the programs shared above, you get access to promote products from many different companies. However, there are many companies who simply use their own affiliate program. The best way to find these programs is to:
Go to their home page
Scroll down to the bottom of the page
Look for "Affiliate Program" or "Partner Program"
Below you'll see an example from Shopify.com.
If the company's page doesn't have an obvious affiliate or partner link, you can also Google the company name with the phrase "affiliate program" or "partner program."
Step 2. Create Your Affiliate Marketer Library
If you haven't noticed by now, you'll discover soon enough that it's easy to become quickly scattered.
Each affiliate marketing program has a unique login, a certain pay structure, etc. In order to keep your sanity, I'm going to recommend that you create a spreadsheet directory where all your programs will live.
The Affiliate Marketing Library Spreadsheet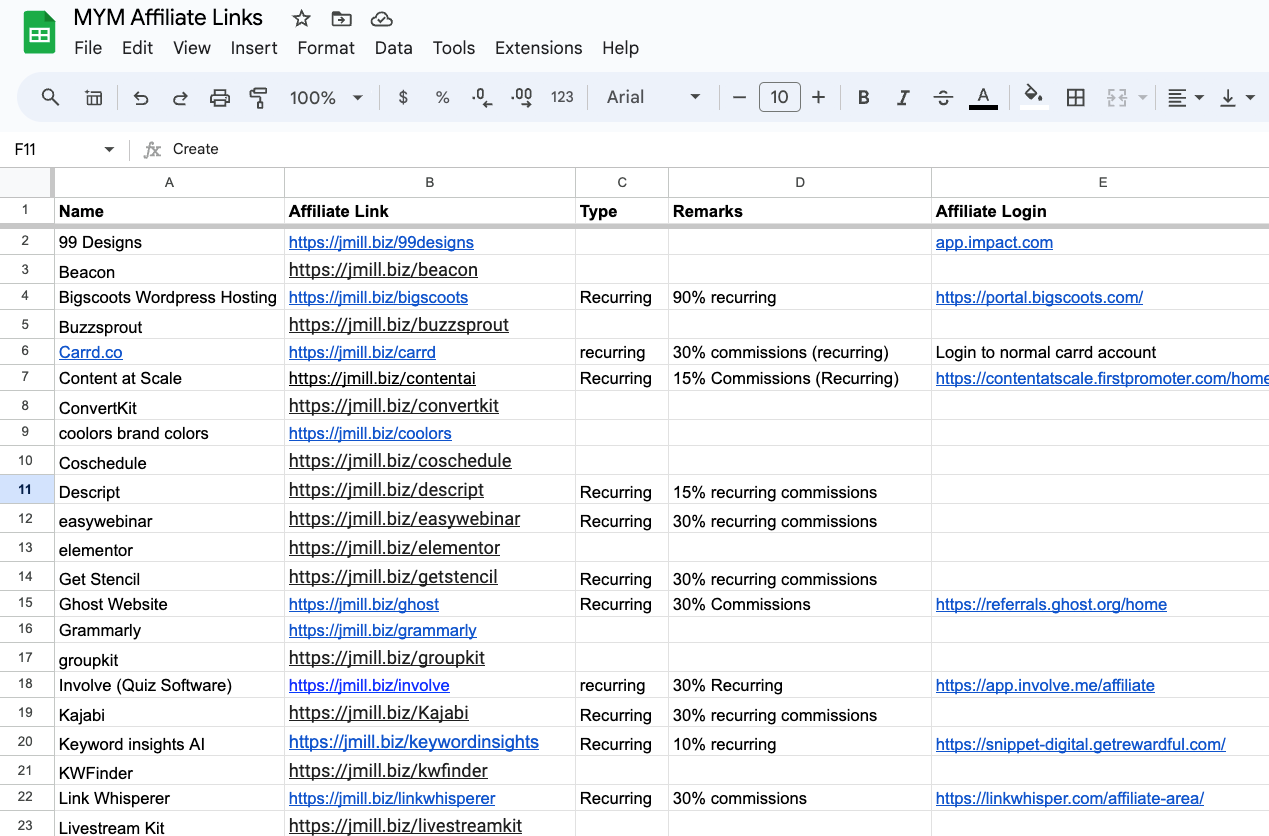 I created a simple spreadsheet that helps keep me organized (see the image above). With this spreadsheet, I'm able to quickly find my affiliate links at a moment's notice and be reminded of the commission structure.
I have four columns on my spreadsheet to keep me organized: Name, Affiliate Link, Type, Special Notes.
Name – This can be helpful when you need to find your affiliate link fast. You can sort the column by alphabetical order saving you precious time.
Affiliate Link – This should be the "pretty" link you've set up NOT the raw affiliate link you were given. Sometimes affiliate programs switch the affiliate software you use. If you've created your own link using a plugin like Pretty Link Plugin, you'll be able to easily change the target URL without changing your link.
Type – Some affiliate programs pay instantly, lifetime recurring, or a certain percentage. This is where you can easily recall the terms.
Special Notes – You can place anything you'd like in this column that would be helpful to remember.

Step 3. Promote your Affiliate Links to Earn Affiliate Income
Now that you've registered and organized your affiliate links, it's time to start promoting! I'm going to share with you my top eight affiliate promotion strategies.
Strategy #1: Blog Post Review Promotion
An easy and evergreen way to get started is to do blog post reviews. Of course, you'll need to launch a blog before you can use this strategy, which probably goes without saying.
Write a blog post where you share the good, bad, and ugly about the product. The goal is not to "sell" the product but to share either how to use it or your own personal experience with it.
As you write the post, you'll share your personal affiliate link throughout the post.
Here's an example of one I did for my review of Kajabi: The Kajabi Review: Is It Really Worth It?
What's the cool part?
Months from now, you could receive a commission check from a blog post you wrote a long time ago.
Strategy #2: Website Recommended Tools Promotion
If you're doubting whether or not your niche has affiliate programs, then at the very least you should follow this strategy. Set up a page on your blog called "Recommended Tools."
You can then share the products and services you use to run your own blog or online business.
You can share affiliate links for web hosting, email marketing, social media scheduling, etc.
Once you have it all set up, be sure you have a link to this page in the navigation menu from your home page
While this may sound similar to the first strategy, it is different. As you write blog posts, you'll inevitably mention a product or service that has an affiliate program.
Even though the focus of the blog post is not about that product, you have two choices.
You can either place your affiliate link in the post or create a link that points back to your blog post review of that product.
This is a great way to sprinkle in affiliate links throughout your entire blog.
Strategy #3: YouTube Video Mention Promotion
Do you ever record videos for YouTube?
If so, you should absolutely include affiliate links in the description area below your videos.
I've done video tutorials showing how I use a software or tool and then mention my link that is displayed below the video.
This can be a great evergreen strategy to set up in your online business.
Below is an example of how I do affiliate marketing with YouTube videos.
Strategy #4: Podcast Mention Promotion
If you have a podcast, you can also share affiliate links on your podcast episodes. There are two effective ways to do this.
First, you can create a 15-30 second commercial about the product. You can say something like, "This podcast episode is brought to you by…" Then share the link where they can go to learn more.
The second way you can share affiliate links on a podcast is to mention them in the content of the podcast itself.
So, if I have a podcast about email marketing, then I might mention my affiliate link for ConvertKit since it's my email marketing tool of choice.
Strategy #5: Webinar Promotion
If you love to teach, then you'll love this strategy. Promote a free webinar on how you use a certain tool, product, or service.
Spend 90% of the webinar on just showing how you use the tool. The other 10% of the webinar share your affiliate link as an easy way to get started.
Strategy #6: Facebook Live Promotion
If you have a mobile phone and a Facebook account, then you can do this strategy.
Go live on Facebook and share your own experience or review of the product, then share your affiliate link in the comments.
Strategy #7: Email Marketing Promotion
Whether you have a small or large list, if done correctly, you can earn affiliate commissions by sending emails. You should disclose your affiliate relationship in the email.
This often works best if there is a time-sensitive discount or flash sale happening. You can also get effective results by sending an email that lists the benefits you've received by using the product.
Honestly, you can promote affiliate products in many more ways, but these are my favorites.
If you follow the three steps above, you'll begin to set up an evergreen system for obtaining affiliate commissions.
Again, this is not a get-rich-quick scheme, but you can definitely earn some solid income over time.
FAQs About Affiliate Marketing with a Blog
What is affiliate marketing?
Affiliate marketing is a type of online marketing where an affiliate promotes a product or service on behalf of the merchant and earns a commission for every sale or lead generated through their referral.
How does affiliate marketing work?
In affiliate marketing, an affiliate promotes a product or service using their unique affiliate link.
When a customer clicks on the affiliate link and makes a purchase or completes a desired action, the affiliate earns a commission.
How can I make money with affiliate marketing?
To make money with affiliate marketing, you need to follow these three steps:
1. Choose a niche or topic you are passionate about.
2. Find affiliate programs or products that align with your niche.
3. Promote the affiliate products using your blog, website, or social media platforms and earn commissions for every sale or lead generated through your referral.
What is an affiliate program?
An affiliate program is a marketing program offered by companies or merchants that allows individuals or affiliates to promote their products or services in exchange for a commission.
How do bloggers benefit from affiliate marketing?
Bloggers are able to monetize their blogs by promoting affiliate products or services relevant to their content. By becoming affiliates, bloggers can earn commissions for every sale or lead generated through their blog.
What are the best affiliate programs for bloggers?
Some of the best affiliate programs for bloggers include Amazon Associates, ShareASale, and Commission Junction.
How can I become an affiliate marketer?
To become an affiliate marketer, you need to sign up for affiliate programs, select products or services to promote, and start promoting them using your unique affiliate links.
What is an affiliate network?
An affiliate network is a platform that connects publishers or affiliates with merchants or advertisers. It helps affiliates find suitable affiliate programs and provides tracking and reporting tools.
What is a marketing platform in affiliate marketing?
In affiliate marketing, a marketing platform refers to the medium or channel through which an affiliate promotes the affiliate products or services, such as a blog, website, or social media platforms.
How does email marketing relate to affiliate marketing?
Email marketing can be used as a strategy in affiliate marketing. Affiliates can build an email list and promote affiliate products or services to their subscribers through email campaigns, earning commissions for every sale made through their referral.
Final Thoughts: Affiliate Marketing for Bloggers
Remember, the first step is often the hardest - so get started. This isn't just about securing an affiliate link to paste on your blog - it's about creating a comprehensive marketing strategy that brings top affiliate income.
On your journey to becoming a successful affiliate marketer, remember to choose an affiliate program that aligns well with your niche.
It can be daunting, especially as a beginner, but don't worry!
There are enough resources and enthusiastic communities out there to help you navigate through.
Trust us when we say that affiliate marketing with a blog can be a great way to make money and give your blog the financial backing it deserves.
Don't just focus on becoming the best affiliate marketer overnight.
Mastering affiliate marketing takes time, practice, and loads of patience.
Your content marketing strategy must evolve, and you need to adapt your strategies as per your affiliate network's norms.
Keep learning and testing various types of affiliate marketing till you hit the right chord.
Remember to track affiliate performance and adjust your strategies accordingly.
Affiliate marketing works for those who understand it's more than just pasting an affiliate link.
Join an affiliate program that truly resonates with your readers, and echoes your brand voice.
Affiliate marketing on your blog is a super smart strategy. You can earn passive income over time as your new affiliate posts begin to rank in the search engines.
Again, affiliate marketing blog posts is by far my favorite method to earn money in affiliate marketing.
The best affiliate marketing programs are a combo of high commissions, trusted brands, and resources to help you succeed.
Whether it's Amazon or niche-specific affiliate programs, evaluate each based on your audience's preferences.
It's not always about which affiliate marketers make the most money, but about how they offer genuine value to their audience.
Becoming an affiliate and signing up for the best affiliate programs for bloggers can simplify your money-making strategies.
It's a huge opportunity in the hands of many affiliate marketers which they use to lay a financial bedrock.
Get started in affiliate marketing and explore the potential it holds. You might well be on your way to adding a significant stream of passive income through your blog.
Affiliate marketing as a beginner can be challenging, but it's worth the effort!
Bloggers can make a great living with affiliate marketing as well as combing other revenue streams.
So gear up, choose the right marketing platform, become an affiliate, and watch as your blog transforms into a virtual cash machine!
Now it's your turn! Combine blogging and affiliate marketing and start building that business of yours!