Magai Review (2023): A Game Changer for Bloggers?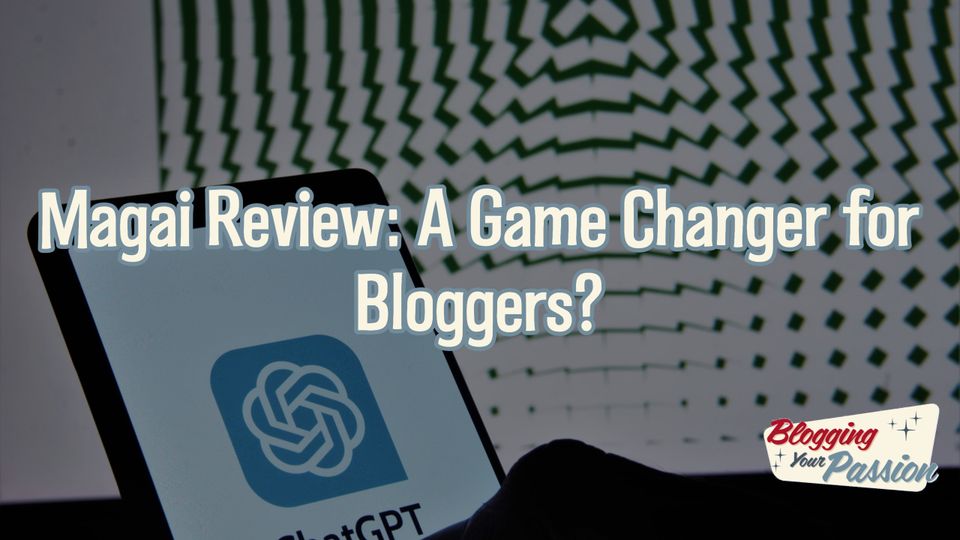 Content production has become a vital component of blogging in today's digital era.
Producing high-quality content that engages an audience is vital for engaging and keeping its members.
As AI technology develops, so do tools and platforms designed to streamline content creation processes. Magai stands out as an all-in-one AI writing tool that takes ChatGPT one step further.
Using AI is a skill that bloggers today need to use effectively.
Magai brings the power of ChatGPT and a suite of tools to help you be a better blogger!
Let's dive in!
What is Magai and how does it differ from ChatGPT?
Magai: An All-in-One AI Writing Tool
Magai's AI technology can make an immense difference in today's digital environment, from automating processes to supporting real-time operations and more.
Maga is similar to ChatGPT but brings with it additional tools which extend its functionality beyond that offered by its core.
As an AI software, ChatGPT leverages its super assistant technology to offer you a more tailored and individualized experience that meets all of your specific needs.
No matter if it's for work or pleasure use; tools like long-form text compiler and single account management make less work for you without breaking up your workflow.
Magi unlocks the power of multiple AI platforms over just using ChatGPT.
AI image generation capabilities stand out as one of the stand-out features - capable of creating eye-catching pictures to accompany any content perfectly.
Magai's revolutionary AI tools are led by product developers.
Dustin Stout provides top-of-the-line quality and performance products and comes complete with user feedback systems to guarantee continual enhancements and improvements.
Magai offers you an expansive word limit to satisfy your long-form content craving while remaining concise and on point with your work.
So what are you waiting for?
Get on board now with Magai's groundbreaking technology by signing up for their free SaaS trial!
ChatGPT vs Magai: Understanding Their Differences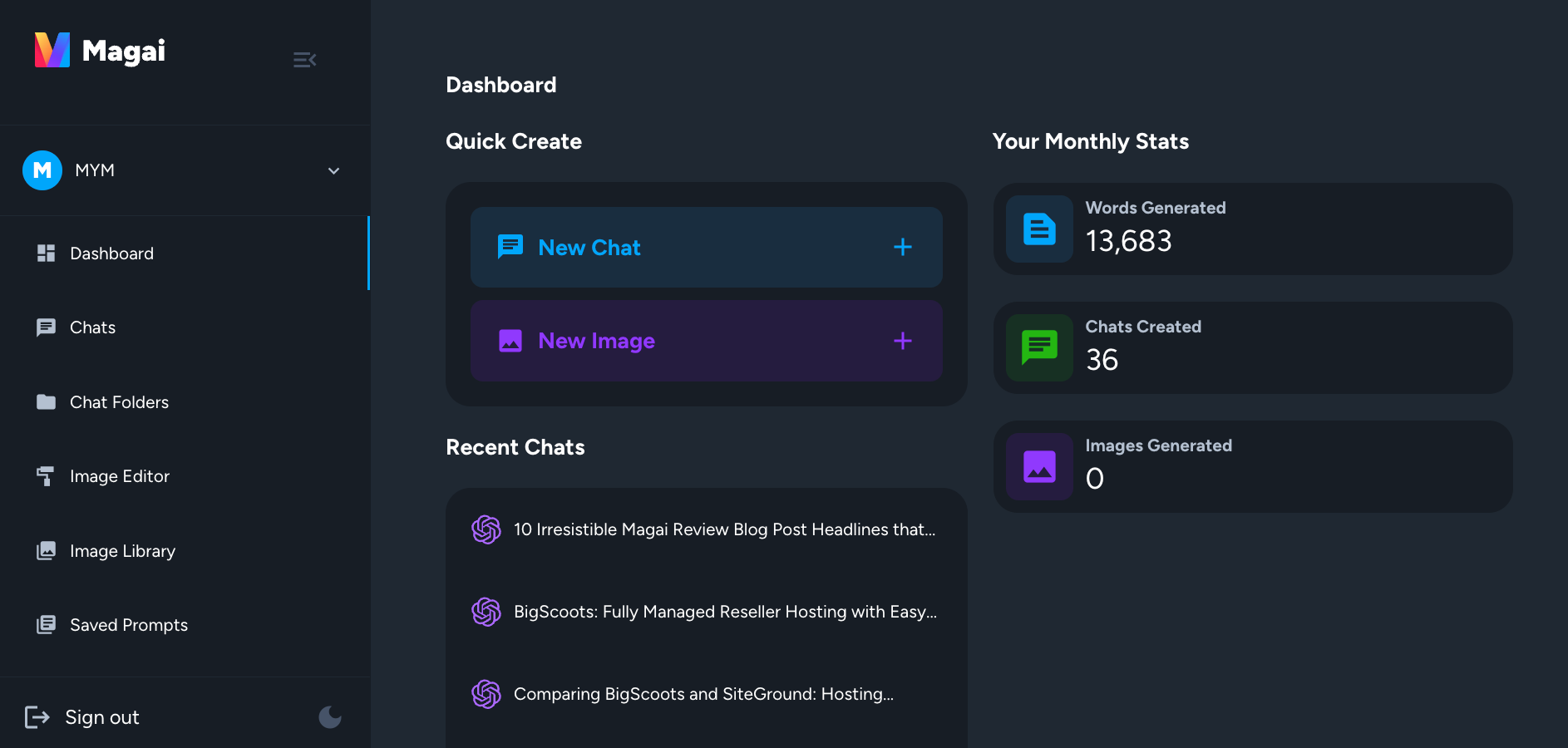 Magai takes ChatGPT a step further with its AI model that allows users to:
Generate text through interactions with a generic virtual assistant, providing an intuitive user interface
Customizable chat personas
And folder system for organization that allows bloggers and content creators an effortless AI text generation experience and boost productivity.
Magai.co: An Innovative Content Production Platform
Magai.co serves as an indispensable platform for bloggers and content creators looking to speed up their production processes.
Utilizing Magai's suite of AI-powered tools, users can:
Access saved prompts quickly while creating in the chat interface
Save time with folder and chat history features
Enjoy a hassle-free content creation journey that allows for top-quality pieces easily!
How Can Magai Help My Content Creation Process?
Magai Can Help Streamline Content Creation
Magai was developed to simplify content creation for bloggers and content creators.
Through its user-friendly interface and intelligent AI-powered chat system, users can produce text effortlessly and effortlessly - freeing their minds to focus on creative concepts without being distracted by technicalities - making the entire content creation workflow more efficient and enjoyable.
Stay Organized with Magai's Folder and Chat History Features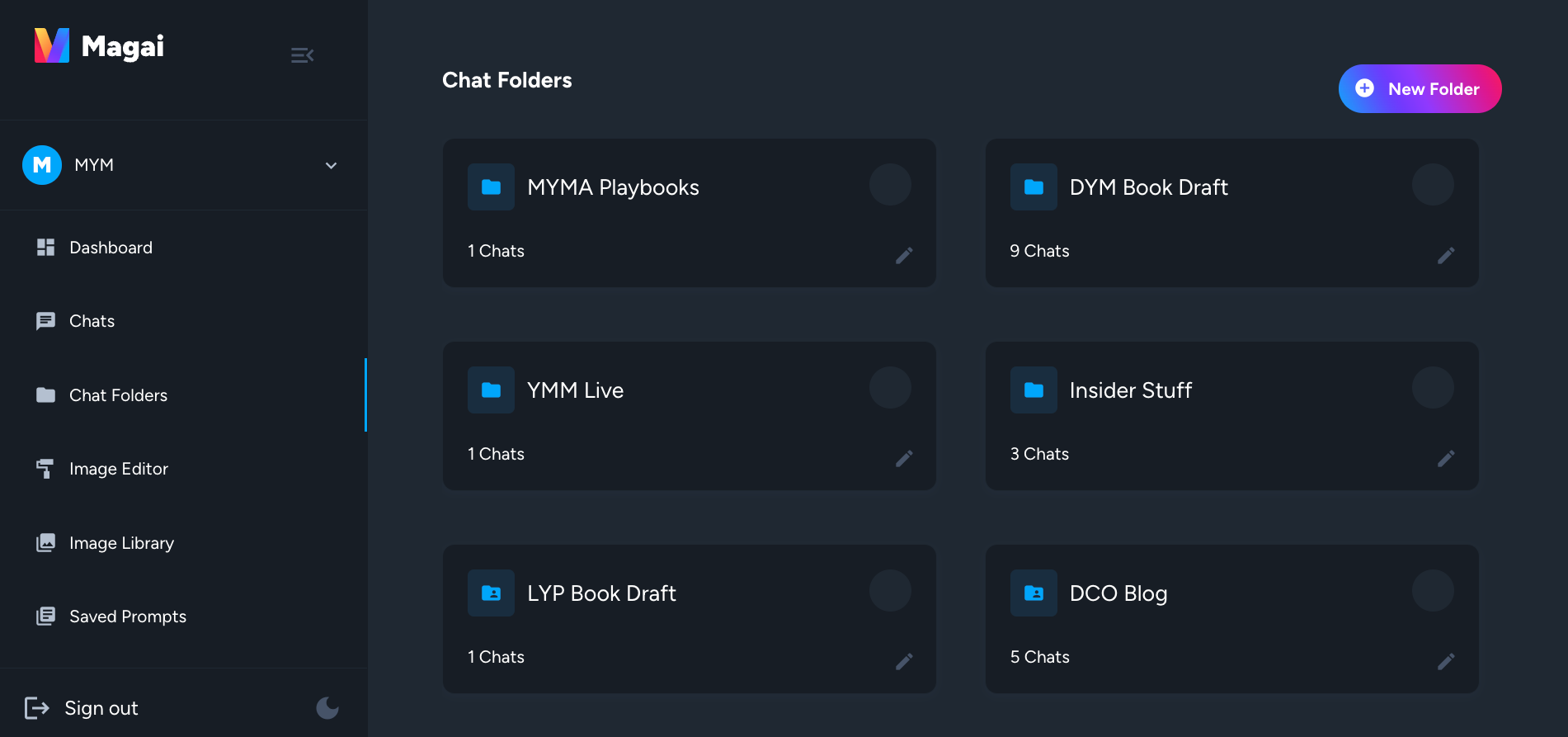 Magai stands out as an outstanding solution with its folder and chat history functionality, enabling users to categorize and store conversations, ensuring no vital ideas or information gets overlooked in the process.
Magai allows you to create multiple folders to better organize your outputs. Users can easily access past conversations from within Magai and refer back to previous discussions to keep track of content ideas and revisions more efficiently.
Customize Your Writing Experience with Magai's Chat Personas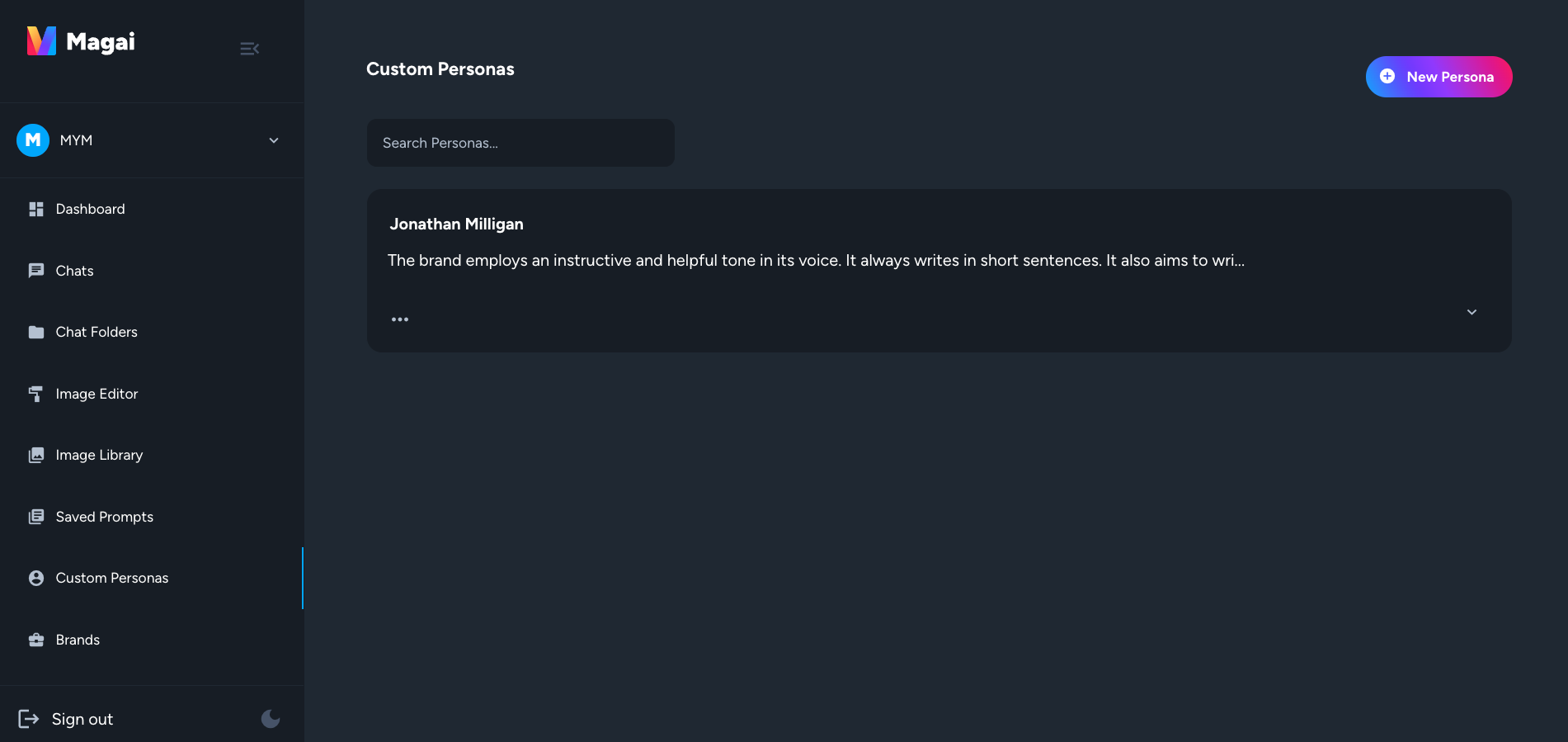 Magai allows users to personalize their AI writing experience by creating and using custom chat personas.
This feature enables bloggers and content creators to match the tone and style of their writing to ensure an enhanced writing experience.
Users can even create separate personas for different types of content to ensure consistency and authenticity in their writing experience.
What features does Magai offer bloggers and content creators?
Save Time with Magai's Quick Library Search Feature and Side-by-Side Document View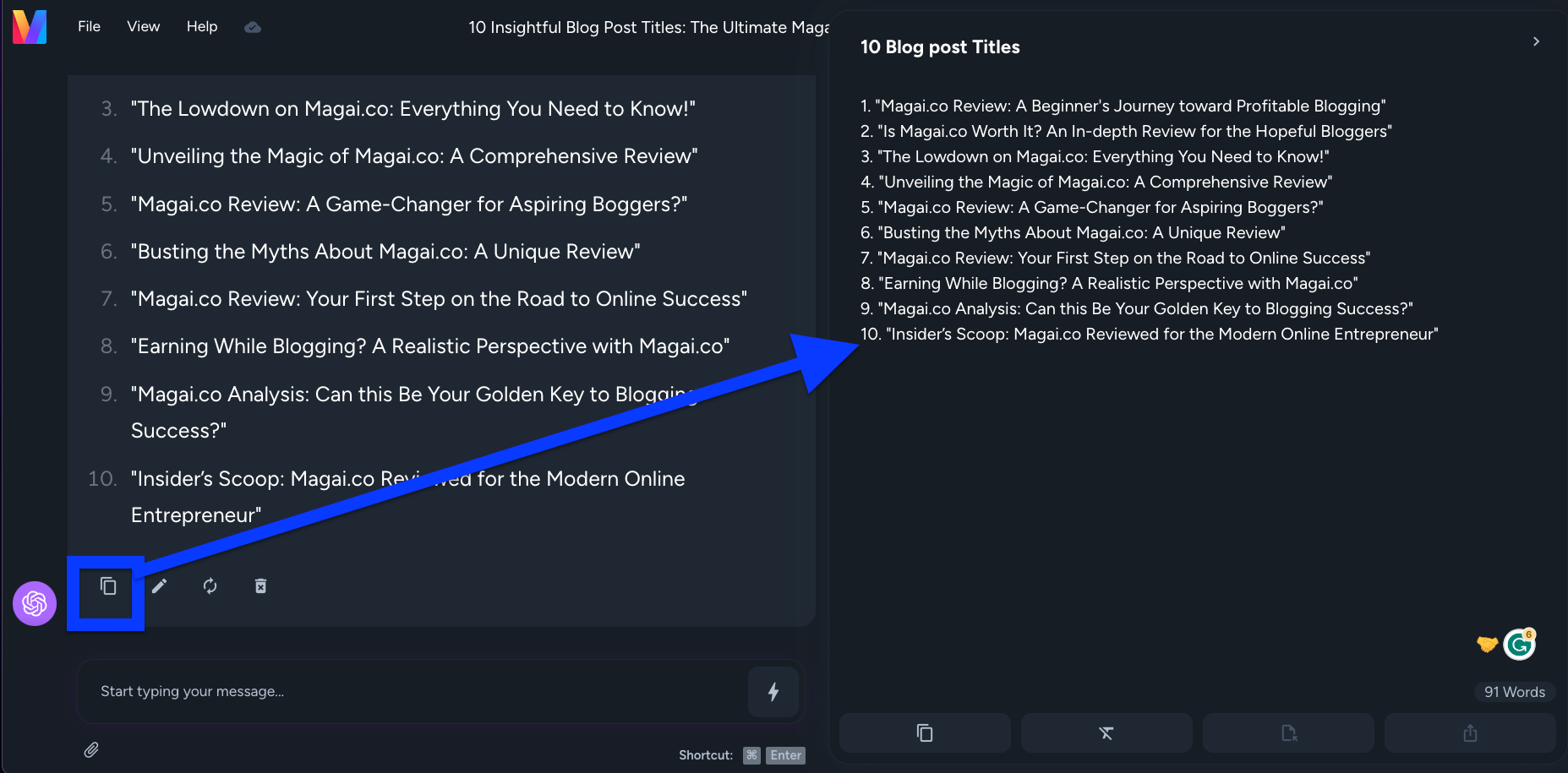 Magai provides users with a prompt library that enables them to store and retrieve frequently-used prompts, eliminating the need to type the same information repeatedly and saving valuable time during content creation.
Furthermore, Magai's side-by-side document view enables users to compare and edit multiple documents simultaneously thereby improving productivity and efficiency.
Magai's Image Generation Capabilities Enable You to Produce Engaging Content
Visual content plays a significant role in captivating readers and drawing them in.
Magai acknowledges this fact by offering image generation capabilities directly within its AI-powered chat interface, so users can generate relevant and eye-catching images quickly without the need for external image editing software tools.
This feature helps bloggers and content creators produce visually attractive posts effortlessly.
Unleashing AI's Power: How Magai Enables You to Launch Multiple Brands
Magai recognizes that bloggers and content creators frequently manage multiple brands or projects simultaneously.
That's why its AI chat persona feature allows users to create multiple virtual personas representing individual brands or projects; this helps organize content creation while maintaining each brand's distinct voice - making managing multiple brands effortless and efficient with Magai!
Why should bloggers and content creators try Magai?
Experience the Future of AI Writing with Magai's Free Trial Version
Magai offers an exciting free trial experience to ChatGPT users or anyone curious about AI writing tools, allowing them to experience AI writing for themselves with all its advanced features and capabilities.
By trying Magai you'll experience first-hand just how AI revolutionizes content production processes.
Staying Ahead: Magai and the Promise of GPT-4
Magai is more than just another AI writing tool; it represents cutting-edge AI technology at its finest, constantly adapting and growing to meet content creators' demands.
By taking advantage of Magai now, bloggers and content creators can stay ahead of the game by being well prepared for future AI advancements such as GPT-4 - such as being ready for this revolutionary change!
Integrate Magai into Your Content Creation Process Efficiently
Magai was designed to seamlessly fit into your existing content creation process.
From bloggers creating solo posts to larger teams collaborating on creating high-quality articles, Magai can seamlessly fit into your workflow without any disruptions to its creators' production of high-quality material.
Its intuitive user interface and flexible chat personas help ensure smooth transitioning without disrupting production of quality posts.
How Can Magai Help Improve Customer Support?
Enhance Your Customer Support With Magai's AI-Powered Chat Interface
Magai's AI-powered chat interface goes beyond content creation: it also facilitates customer support.
Businesses can leverage Magai to provide personalized assistance to their customers by integrating it with their support system, with its AI capabilities understanding and responding to customer inquiries efficiently and effectively - creating more efficient support services overall.
Deliver Personalized Assistance by Establishing Custom Chat Personas
Magai's custom chat personas can go beyond content creation to offer personalized assistance and support to customers.
By developing personas that reflect a business's voice and values, businesses can provide more engaging customer support experiences - Magai being an ideal tool for both purposes.
FAQs Regarding Our Magai Review
How Does Magai Work?
Magai is powered by ChatGPT, an innovative AI model. It offers an intuitive chat interface where users can engage directly with its AI assistant to generate and refine content.
What are the key characteristics of Magai?
Magai offers multiple features that facilitate communication such as chat folders, side-by-side document view, prompt library and the option to save prompts.
Furthermore, Magai supports working with multiple brands and generating content using custom personas; additional additional benefits.
Can I save prompts in Magai?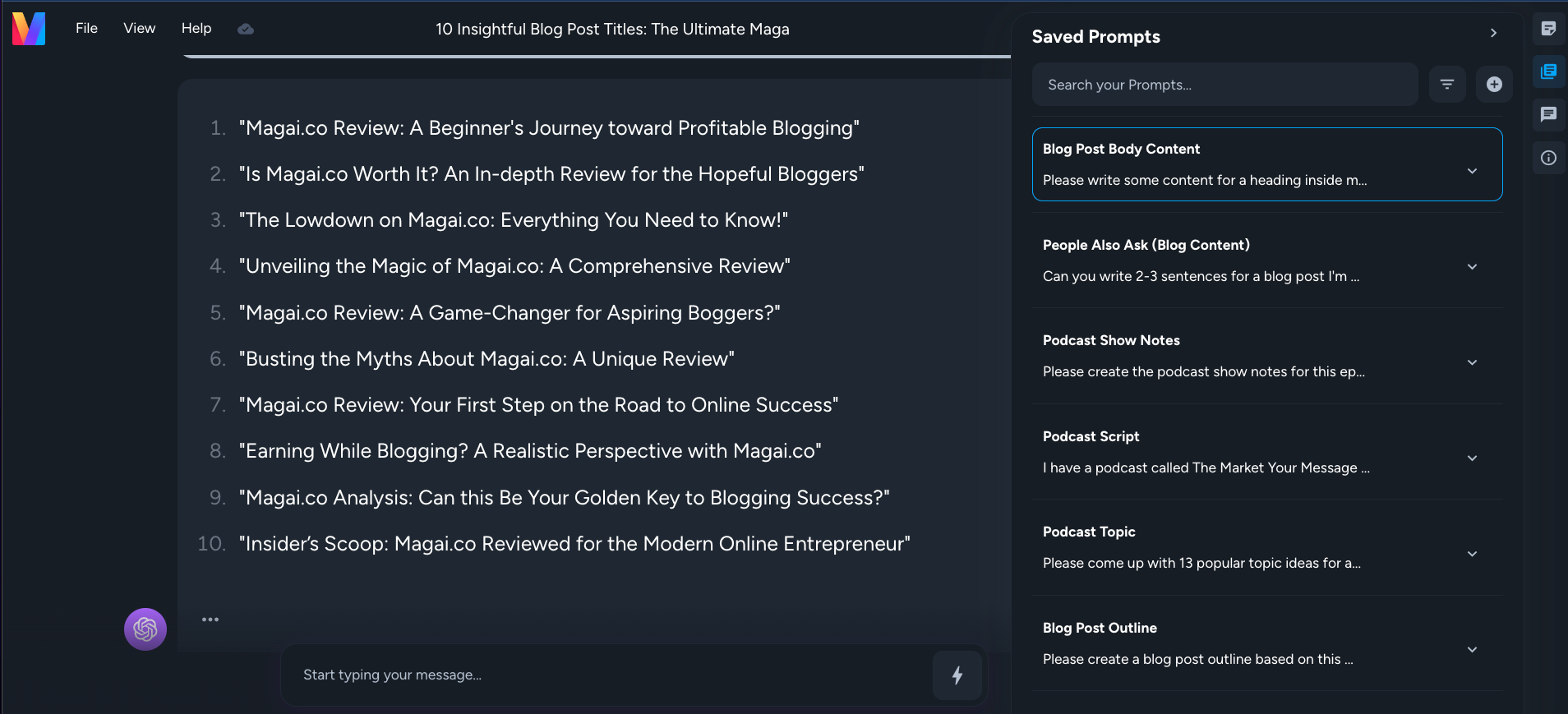 Magai allows you to store prompts easily and access them when needed in the future, making it possible to quickly retrieve any previous content ideas you had and continue working on them.
How does Magai's side-by-side document view work?
Magai offers a side-by-side document view for efficient content creation and editing. You can easily compare and work on multiple documents at the same time using its convenient interface.
Can Magai support multiple brands?
Magai makes it easy to manage multiple brands. Simply switch between various accounts easily, creating content tailored to each brand account.
Can Magai help me generate content via artificial intelligence (AI)?
Absolutely! Magai is powered by ChatGPT, an advanced AI model. This can assist in producing high-quality and effective content for blogs or any other writing needs.
Does Magai offer a free trial period?
Yes. Magai offers new users a 7-day free trial period during which you can sign up and explore its features and functionality. During this trial period, users are free to explore Magai's features and functionalities as they explore its features and functionalities.
What differentiates Magai and generic assistants?
Magai was designed specifically to support content generation, powered by ChatGPT. It offers enhanced capabilities and functionality to help bloggers and writers produce engaging and impactful material.
Can I access my saved prompts once my free trial ends?
Yes. If you choose to continue using Magai after the free trial ends, your saved prompts can still be accessed and used in creating content. Your chat history or any saved data won't be deleted either.
Final Thoughts: Magai Review (ChatGPT-powered Super Assistant)
Magai is an AI-powered game-changer for bloggers and content creators.
By taking advantage of its all-in-one AI writing tool, users can streamline their content creation workflow, stay organized, produce engaging posts more quickly, improve customer support, and streamline customer care efforts more efficiently.
Magai offers advanced AI features such as customizable chat personas and image generation abilities to enable efficient creation of high-quality posts more quickly - now is an opportune moment to experience AI writing with Magai!
Start your free trial of Magai today to experience its amazing capabilities!
🚀
Free Video:
How to Build an Online Business as a Writer or Coach (The Low-Tech Way) That Creates Time and Financial Freedom
(Without Feeling Overwhelmed by Technology, Self-Doubt, or Too Many Choices).
Click Here to Watch Now