Why Do People Blog? 8 Powerful Reasons Why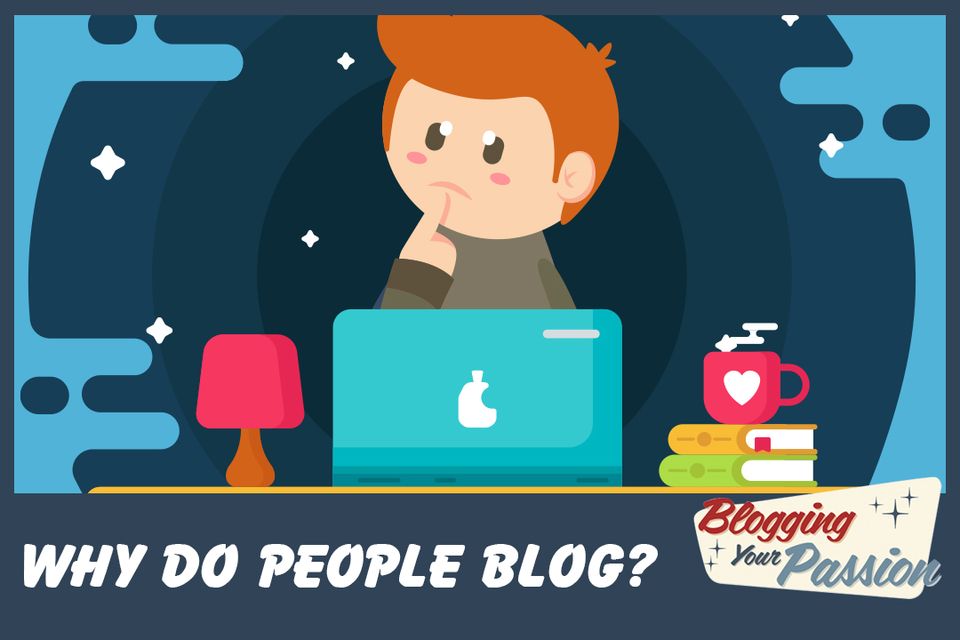 Why do people blog, anyway?
With so much content being created every day, and so many blogs already online, is there anything left to write about? Is blogging worth it?
According to various sources, over 500 million websites are considered "blogs." And between 5-6 million new blog posts are published every day.
Hasn't it all been said before?
Not even close!
Each blogger brings their own perspective, experiences, and style to the blog posts they write.
More importantly, each blog reader is looking for content that resonates with them personally.
In other words, there is plenty of room for those who still want to start a blog!
As blogging (and the number of bloggers) continues to grow, there are many reasons why people start blogging. Here are just a few:
Blogging About Their Passion
Many bloggers feel strongly about an issue or topic, and they are motivated to write about it to bring attention to a need.
This might be a social issue or cause, a problem that needs to be fixed, a belief or value that they hold strongly, or just a desire to help people.
Bloggers who blog their passion are more likely to stick with it for the long term, too. Starting a blog and getting the first posts up can feel pretty lonely, until you start to attract an audience. Feeling strongly about your blog topic can sustain you through that phase.
Blogging to Share Expertise
For bloggers who have some knowledge of a subject and the heart of a teacher, they may blog to share that know-how with others. Posts may often be in the form of a tutorial or "how-to" for these bloggers.
There is no shortage of topics to write about here from travel tips to DIY projects to medieval history to
And just because one blogger is writing about a specific topic doesn't mean no one else can. Think of all the food bloggers writing about the same type of recipes or fitness bloggers sharing how to do a certain kind of workout.
Again, each expert approaches their subject with a unique perspective and style, and each reader needs to hear from someone who resonates with them.
Blogging to Share Experiences
Some bloggers use their blog as a way to document their own progress while learning something new. Whether it's trying new business ideas, learning a martial art, or building a house from scratch, these bloggers share the ups and downs and lessons learned with their readers.
Other writers might treat their blog almost like a diary, if they are living a unique lifestyle or are on some form of a journey (whether physical or emotional.) As they write, these bloggers bring their readers along with them.
Blogging to Express Oneself
There might be simpler reasons for why people blog, too. A blogger may just use their blog to practice their writing with an actual audience, honing their craft in public. This is a great way to try different writing styles and formats, and to be as creative as you wish.
This can include those who blog for pure entertainment. They might be humorous posts, or just thoughtful essays on life in general. Readers often enjoy these blogs just because they are a "good read."
Blogging to Process Your Own Thoughts
According to author and business coach Michael Hyatt, "thoughts disentangle themselves passing over the lips and through pencil tips."
For many of us, our thoughts are a jumbled mess until we "get them down on paper." Or in our case, as bloggers, type them out.
Sure, we can do this in a document on our laptops, but sometimes our thinking and ideas aren't really solid until we've shared them for an audience. Our readers can give us feedback, alternatives, and even push back to really strengthen our own ideas.
Blogging to Write a Book
This is a very specific purpose for blogging, but many authors first create and share their content in shorter form blog posts. Later, they will compile and edit these into a book manuscript.
The advantage to this is similar to processing your thoughts. When we share pieces of what may become a book, we get immediate feedback that we can implement into our writing. Authors can float ideas, try different phrases or metaphors, and see what clicks (and what doesn't) with their readers.
A more famous example of this is Julie and Julia, a book about one New Yorker's attempt to cook all the recipes in a Julia Child's cookbook. Her blog, where she recorded her attempts (and failures), was later turned into a book.
Blogging to Find the Others
One of the many benefits of blogging about a topic on a regular basis is that it will attract others who are interested in the same thing. Over time, you can start to be seen as a "thought leader" in your field.
As you attract other people to your work and writing, you begin to build a community made up of your ideal reader. Some of these will become loyal fans, too.
Along with readers, the thoughts and ideas you share in your posts will put you in the same circles with others doing similar work. Rather than see these other bloggers as competition, you can begin to form friendships with them. Opportunities will open up to share each other's work, collaborate on projects, and learn from each other.
Plus, as you connect with others, your posts will be shared on social media and other bloggers will link to your work. This is great for search engines, too, and you'll begin to have "your people" find you because they are searching for the things you write about.
Blogging to Make Money
One popular myth is that you can't make money blogging.
Blogging is certainly not a get-rich-quick method, but there are many bloggers who are making a nice side income or even a full-time living at it.
Earning an income from a blog is a huge topic, but here's a snapshot of some of the more common ways bloggers can make money online through their blogs.
Advertising — As a blogger, you could sell ad space directly to companies to advertise related products on your site. You can also use ad networks, like Google Adwords and others, who will pay you for every click or view of the ads they show to your readers.
Affiliate programs — If you promote a product or service on your blog, you can sometimes earn an affiliate commission if someone clicks on the link and buys through your site. Think of it as a "finder's fee."
Content marketing — If you have a physical or digital product for sale, or if you offer coaching or consulting, your valuable blog posts can often be a natural starting point to introduce those opportunities to your audience. Bloggers like this approach compared to more "sales-y" techniques.
Teaching courses — Blog posts can often be just the beginning of a topic. Creating and offering courses that do deeper with your blog content can create another stream of income.
So, there you have it! People blog for a lot of different reasons. It's important to note that your purpose for putting the effort into a blog may change over time. Also, many bloggers would list a variety of reasons behind their blogging.
If you are already a blogger, why do you blog?
🚀
Free Video:
How to Build an Online Business as a Writer or Coach (The Low-Tech Way) That Creates Time and Financial Freedom
(Without Feeling Overwhelmed by Technology, Self-Doubt, or Too Many Choices)
Click Here to Watch Now