BigScoots vs SiteGround (2023): Which One is Better?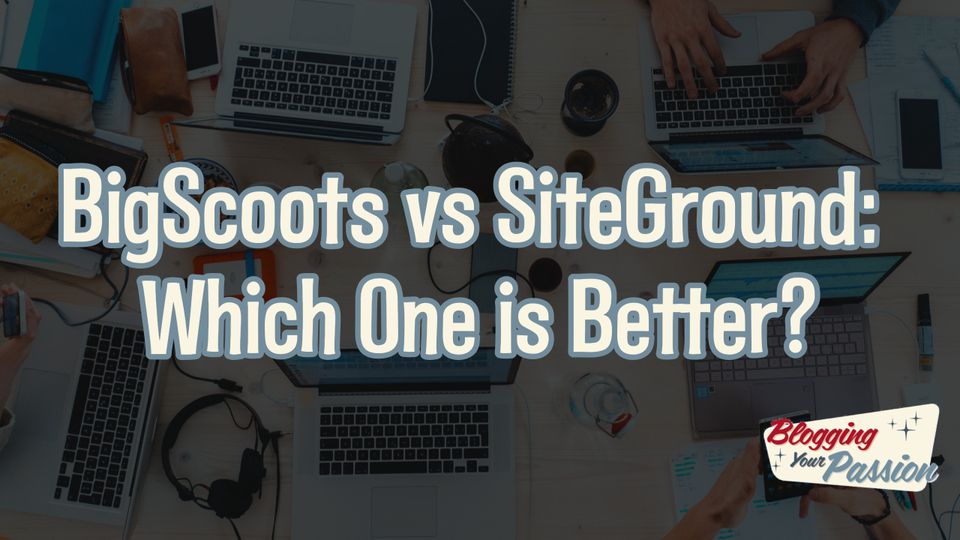 All right, let's get right down to it.
We're here to talk about two big names in hosting platforms: BigScoots and SiteGround.
Each has its unique strengths that make them a popular choice among bloggers.
But which one is best for you?
Whether you are just starting a blog or want to migrate to a new hosting provider, we've got you covered.
Let's break it down.
BigScoots:
BigScoots offers personalized site speed optimization through their WordPress hosting service. They've kept their pricing steady over 13 years - no price hikes or hidden renewal fees here. Plus, they don't have resource limits like some other providers do.
SiteGround:
In contrast, while SiteGround does hit resource limits faster than others might prefer, they offer similar features at competitive prices. Their customer support shines with quick responses via a live chat option from trained professionals who understand your concerns thoroughly.
Navigating each platform's interface also plays a significant role in user experience; hence comparing interfaces becomes crucial, too, while deciding which fits better into your workflow pattern.
While some find Bigscoot's interface straightforward yet comprehensive enough for all essential tasks related to domain management and website setup, others appreciate Siteground's intuitive design that makes navigation easy even for beginners starting out on their blogging journey.
Beyond just functionality, though, there are aspects like security measures implemented by each provider and how well they catered towards improving site speed - factors of paramount importance for every blogger looking to optimize SEO ranking and overall performance of their online presence.
To sum up, choosing between these hosting companies comes down to personal preferences and specific business needs.
Understanding both offerings is essential to guarantee that you develop and monetize your blog productively.
So now we know the basics of BigScoots' WordPress Hosting packages and their respective providers.
Let's go beyond the basics and explore further.
Ready to dive deeper?
Unpacking BigScoots WordPress Hosting
Let's talk about BigScoots Hosting, one of the key players when it comes to reseller hosting.
With BigScoots, you'll enjoy the benefits of a fully managed service, relieving you of all the technical work so you can focus on growing your blogging empire.
So you're seeing a thrilling spike in your blog traffic? That's fantastic!
But what do you do when the time comes, and you need to upgrade to a higher capacity service to meet your growing needs?
Here's where BigScoots shines - they offer smooth transitions to Virtual Private Servers (VPS) that can handle your increased traffic demands without a hiccup.
One thing you'll appreciate about BigScoots also is their transparency when it comes to fees.
You won't be getting any surprise bills as you won't have to pay overages for sudden traffic spikes.
They offer an estimated monthly cost, so you can budget effectively.
Here's the best part - they offer all these top-notch services at a cheaper price than most other providers.
Yup, excellent service without breaking the bank!
How's that for a winning score?
The Benefits of BigScoots Web Hosting
Buckle up. Here's what you need to know about this service:
Exceptional Speed: BigScoots boasts lightning-fast servers that can greatly improve your website loading times. This is crucial as slow loading times can negatively impact user experience and search engine rankings.
Reliable Uptime: With BigScoots' robust infrastructure, you can expect high uptime for your website. This means your site will be available to visitors with minimal downtime, ensuring that your online presence remains consistent.
Excellent Customer Support: BigScoots takes pride in its exceptional customer service. Their team is available 24/7 and is highly responsive to any queries or issues you may encounter. They are known for their personalized approach and dedication to assisting customers promptly.
Secure Hosting: BigScoots prioritizes the security of your website. They offer a range of security features such as SSL certificates, DDoS protection, malware scanning, and automatic backups. These measures help safeguard your website from potential threats and ensure the integrity of your data.
User-Friendly Control Panel: BigScoots' intuitive control panel makes managing your web hosting account easy. It provides a user-friendly interface that allows you to easily make updates, manage domains, and access various features and settings.
Scalability Options: As your online presence grows, BigScoots offers scalable hosting solutions to accommodate your expanding needs. Whether you require more storage, bandwidth, or additional resources, they have flexible plans that can be tailored to your requirements.
WordPress Optimization: If you use WordPress as your website's CMS, BigScoots offers optimized hosting specifically tailored to enhance the performance and security of WordPress sites. They utilize advanced caching techniques and server-side optimizations to provide optimal speed and reliability.
Free Website Migration: If you already have a website hosted elsewhere, BigScoots offers free migration services. Their expert team will assist in seamlessly transferring your website to their servers, ensuring minimal disruption to your online activities.
Overall, BigScoots is an attractive web hosting option that combines exceptional speed, reliability, security, and scalability with top-notch customer service, making it an ideal choice for businesses and individuals looking for a comprehensive hosting solution.
Understanding BigScoots Customer Service
You might be wondering how good really is BigScoots' ticket-based support system.
Users have found them effective despite being slower than live chat options offered by competitors, such as SiteGround's live chat option.
But where they truly shine through is the level of expertise provided by their small team specializing exclusively in WordPress-related matters, unlike generalist teams found at larger companies.
This specialization ensures any issue encountered on WordPress-powered blogs receives accurate diagnosis leading towards swift resolution, minimizing downtime impacts user experience SEO ranking potential.
This combination of features makes it easy to recommend BigScoots' managed WordPress hosting, particularly if high-quality customer service and a robust feature set are key decision factors.
A Closer Look at SiteGround Hosting Services
Alright, let's break it down.
We're focusing on SiteGround now - a name that rings bells in the hosting industry.
They provide a variety of services to meet different requirements. But here's something you need to know: users can quickly hit SiteGround's resource limits.
This could potentially impact your blog performance if you experience high traffic or require more resources for complex tasks.
However, don't be too quick to write them off just yet. Despite this little hiccup, they provide similar features as other hosting providers, such as free daily backups and unlimited databases.
The Benefits of SiteGround Web Hosting
Here are the main benefits of hosting with SiteGround:
Speed and Performance: SiteGround is known for its superior speed and performance. They use the latest technologies, such as SSD drives, NGINX web servers, and SuperCacher, to ensure fast loading times and optimal website performance.
Reliable Uptime: SiteGround guarantees a 99.99% uptime for your website, ensuring that it is accessible to your visitors at all times. They have multiple data centers globally, and their advanced monitoring system proactively detects and fixes any issues.
Top-notch Security: Website security is a top priority for SiteGround. They offer a range of security features, including a free SSL certificate, daily backups, and advanced server monitoring. Their systems are also regularly updated to protect against malware and other threats.
Excellent Customer Support: SiteGround provides 24/7 customer service via live chat, phone, and ticketing systems. Their support team consists of highly skilled professionals knowledgeable about web hosting and can promptly assist with any website-related issues.
Easy Website Management: SiteGround offers a user-friendly interface and tools that make website management easy, even for beginners. They have a custom-built control panel (cPanel) and provide a one-click installer for popular applications like WordPress, Joomla, and Magento.
Free Website Migration: If you are moving your website from another hosting provider to SiteGround, they provide free website migration services. Their experts will transfer your website seamlessly, ensuring minimal downtime and no data loss.
Scalability and Flexibility: SiteGround offers various hosting plans, including shared, cloud, and dedicated hosting options. They also provide scalable resources, allowing you to upgrade or downgrade your hosting plan as your website needs change.
Developer-Friendly Features: SiteGround offers a range of developer-friendly tools and features, including staging environments, Git integration, and SSH access. They support multiple programming languages and provide a developer toolkit for easy website development and management.
Overall, SiteGround is an excellent web hosting provider that offers a combination of speed, reliability, security, and excellent customer help.
Whether you have a personal blog or a large e-commerce website, SiteGround can provide the hosting solution you need.
SiteGround's User Interface and Customer Support
Moving onto their user interface - simplicity is key with SiteGround.
Their dashboard design has been lauded for its ease of use, even by beginners navigating through website management tools or settings without getting lost in complicated menus.
In terms of customer service?
Well, there are mixed reviews but overall positive feedback from users regarding SiteGround's customer service people via the live chat option, which is available 24/7, providing prompt responses while dealing with technical issues on time.
In addition, they also have a ticket-based support system where response times may vary but proved helpful when dealing with intricate problems requiring detailed solutions.
Evaluating SiteGround's Service
This exclusive feature sets apart SiteGround (Yes. You read it right) from many competitors who do not offer bespoke site speed enhancements within their package, thus proving beneficial especially if your blog relies heavily on visuals or media content consuming higher bandwidths leading to slower loading times otherwise.
SiteGround's cloud hosting is a reliable and secure option for hosting websites and applications.
They offer scalable and flexible solutions, allowing businesses to easily manage their resources and adapt to changing needs.
In terms of performance, SiteGround's cloud hosting is optimized for speed and reliability.
They leverage the latest technology and utilize SSD storage to deliver fast page load times and smooth user experiences.
Overall, SiteGround's cloud hosting is a comprehensive and dependable solution for businesses looking to host their websites and applications in the cloud.
With these points painting quite an impressive picture about what you get when choosing SiteGround, we'll further explore the comparison between BigScoots vs SiteGround based upon key parameters like Speed Performance & Pricing plans offered by both platforms respectively later...Stay tuned.
💡
Key Takeaway: SiteGround, a well-known name in the hosting industry, offers diverse services, but users can hit resource limits. Despite this, they provide features like free daily backups and unlimited databases. Beginners praise their user-friendly interface, while their customer support receives mixed yet generally positive reviews.
Comparing Speed Performance Between SiteGround and BigScoots
Let's dig into the details.
We will compare the speed performance of two major players in the hosting game: BigScoots and SiteGround. Now, why is this important? Because the speed of your site can make or break your blog. It affects user experience and SEO ranking - that's a big deal.
Bigscoots Pricing vs Siteground Pricing Plans: Which One is Better?
Let's dive into the details.
The cost is a huge consideration when choosing between Bigscoots offers and SiteGround offers. So, we're going to break down their pricing structures for you.
Bigscoots Pricing Plans
Kick-starting with BigScoot's web hosting services - they have three main packages:
Starter ($34.95/month)
Professional ($98.95/month)
and Business ($248.95/month).
Sure, these prices might seem higher at first glance but remember what I said about value?
These guys offer personalized speed improvement optimizations without any hidden charges or overages.
That's worth its weight in gold.
SiteGround Pricing Structure
Moving on to SiteGround - They've got:
StartUp (from $14.99 per month)
GrowBig (from $24.99 per month)
And GoGeek (from $39.99 per month) as part of their shared hosting services.
You'd think that sounds more affordable right off the bat...but hold your horses.
Those introductory rates increase upon renewal - something budget-conscious bloggers should bear in mind before signing up long-term.
Pricing Vs Features - A Balanced Viewpoint
A straight-up comparison isn't just about price points; it also brings features under scrutiny.
If top-notch managed WordPress Hosting and comprehensive support from seasoned experts rank high on your priority list, then shelling out slightly more each month for BigScoop may be well worth considering...
Siteground vs BigScoots: Making Your Choice - Which One Suits You Best?
Alright, let's get down to it.
Here's a side by side comparison table:

Sure! Here's a comparison table between BigScoots and SiteGround, two popular web hosting providers:

Sure! Here's a comparison table between BigScoots and SiteGround, two popular web hosting providers:
| Feature | BigScoots | SiteGround |
| --- | --- | --- |
| Hosting Types | Shared, VPS, Dedicated, Reseller | Shared, Cloud, WordPress, Dedicated |
| Performance | High-performance hosting | Solid performance with SSD storage |
| Uptime Guarantee | 99.9% | 99.9% |
| Customer Support | 24/7/365 via ticket and live chat | 24/7/365 via ticket, chat, and phone |
| Data Centers | Multiple locations worldwide | Multiple locations worldwide |
| Free Website Transfer | Available | Available |
| Money-back Guarantee | 45-day | 30-day |
| Website Builder | Not included | Included with some plans |
| WordPress Optimized | Yes | Yes |
| Control Panel | cPanel (customized) | cPanel (customized) |
| Storage | SSD-based storage | SSD-based storage |
| Bandwidth | Unmetered | Depends on the plan |
| Free CDN | Included | Included |
| Free Backups | Daily backups with some plans | Daily backups with some plans |
| Security | Free SSL certificates | Free SSL certificates |
| Scalability | Easy to upgrade resources | Easy to upgrade resources |
| Price Range (per month) | Starts at $34.95 | Starts at $14.99 |
In the world of blog hosting platforms, two names that stand out are BigScoots and SiteGround. How can you determine which blog hosting platform is the best for your individual requirements? Let me break it down for you:
The Role of Customer Support in Your Decision
Critical Factor #1: Your choice could hinge on customer support. BigScoots' ticket-based support system might take longer than SiteGround's live chat option but they make up for this with their team dedicated solely to WordPress expertise. On the other hand, if instant responses matter more to you, SiteGround may be your pick.
Evaluating Hosting Services Based On Speed Performance
Critical Factor #2: Next comes each platform's site performance improvements. This can directly impact SEO ranking and user experience - crucial aspects when considering blogging success. Both claim significant enhancements here through features like SG Optimizer plugin (in the case of SiteGround) or bespoke optimizations (for Bigscoots).
Pricing Considerations: Initial Costs vs Long-Term Value
Critical Factor #3: If we talk about pricing comparison, while initial costs might appear lower with SiteGround due to introductory offers, the long-term value should also be considered before making a choice since there are no overages or renewal fee hikes with Bigscoots' truly managed hosting plans, unlike others who increase rates upon plan renewals.
By weighing these critical factors against what matters most to your unique blogging requirements, you will find yourself well-equipped to decide between purchasing BigScoots' managed WordPress hosting service or opting for SiteGround's quasi-managed services. Remember, the key lies not just in starting a blog but in growing it successfully too. So choose wisely.
💡
Key Takeaway: When choosing between BigScoots and SiteGround, consider customer support responsiveness, and pricing structure. Weigh these factors against your unique blogging needs to make an informed decision. Remember, successful blogging isn't just about starting but growing too.
FAQs in Relation to Bigscoots vs Siteground
Which is better SiteGround or WordPress?
This depends on your needs. WordPress might be ideal if you want a more hands-on approach with customizable options. However, if you prefer an easy-to-use platform with strong support services, consider SiteGround.
What does BigScoots do?
BigScoots provides managed WordPress hosting services, including personalized site optimizations and no resource limits. They offer features like backups, SSL certificates, and DDoS protection and have not increased pricing in over 13 years.
Which hosting is best for WordPress?
The choice of hosting largely depends on individual requirements, but both BigScoots' Managed Service and SiteGround's Hosting Services are highly recommended due to their specific features tailored toward optimizing WordPress sites.
Final Thoughts: BigScoots or SiteGround?
When it comes to hosting platforms, BigScoots and SiteGround both have a lot to offer.
BigScoots shines with its managed WordPress service, no hidden fees or overages, and an impressive uptime guarantee.
SiteGround counters with user-friendly interfaces and quasi-managed services that include speed optimization plugins.
BigScoots might be slower in customer support, but they boast a knowledgeable team, while SiteGround offers efficient live chat options.
The battle of speed performance is tough, too - both aim to boost your blog's SEO ranking and user experience!
Pricing plans? They differ significantly. SiteGround may seem cheaper initially, but remember, Bigscoots doesn't spring surprise renewal rates on you.
Your choice between these two will depend on what you're looking for in terms of features, pricing, and overall fit for your blogging needs.
🚀
Free Video:
How to Build an Online Business as a Writer or Coach (The Low-Tech Way) That Creates Time and Financial Freedom (Without Feeling Overwhelmed by Technology, Self-Doubt, or Too Many Choices).
Click Here to Watch Now