The 5 Types of Blog Traffic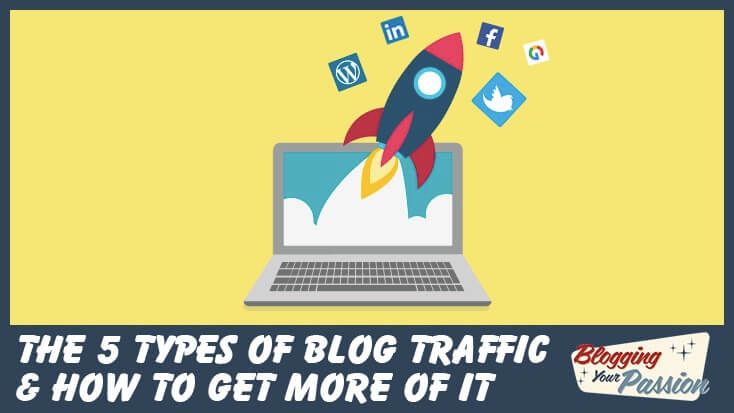 "I want more traffic!"
I think every blogger has made that statement at some point. Who doesn't want more blog traffic?
You spend precious time and energy crafting your blog posts.
If only more people knew about them, right?
While the purpose of this post is to share with you the 5 types of blog traffic, I need to dispel a myth.
More traffic shouldn't be your only priority.
Start by better monetizing the traffic you already have. That is where you will find hidden gold.
I will write a post on this soon, but I have to ask…
"How are you with optimizing and monetizing the traffic you do have?" I don't want you to think that a flood of traffic is the only thing stopping you from success.
I had my first $1,000 month blogging with less than 2,000 visits to my blog and less than 500 on my email list.
Now that we've established this truth, let's do a deep dive into five ways you can get that traffic.
The 5 Types of Blog Traffic
While we can argue that there are more than five ways to get web traffic to your site, I think you'll find they all fit under five umbrellas (or categories) of traffic.
Traffic Source #1: Search Traffic
When I first started blogging back in 2009, SEO (Search Engine Optimization) was all the craze. That was until Google began to mystify and change the way it served up search results.
That's not to say that you should ignore SEO today, but it's a very different game.
I use a tool called Ahrefs to quickly analyze a good keyword phrase to target in a post.
I spend minutes, not hours, doing keyword research.
Here's a simple breakdown:
Brainstorm keyword phrases I would use in Google to find my post
Look for keywords with low keyword competition scores (under 35 is ideal)
Craft a title with the chosen keyword phrase
Plug the keyword phrase into the Yoast SEO plugin to optimize for the search engines
Traffic Source #2: Direct Traffic
This is often referred to as TOMA traffic, which stands for "top of mind awareness."
In the beginning, you will not have much direct traffic, but the longer you stay in the game, the greater the chance people will type in your domain in order to come visit you.
Traffic Source #3: Social Traffic
We all want more social media traffic. But don't make the mistake of trying to be everywhere all at once. Instead ask, "Which social media channel does my ideal target audience hang out on the most?" Then, go deep, and get heavily involved in that one channel.
Another method for more social media traffic is to be creative in promoting your blog posts. You need a checklist to follow after you hit the publish button.
Traffic Source #4: Referral Traffic
One of the fastest ways to get traffic to your blog when you are first starting out is referral traffic. To be successful at this traffic stream you need to answer this powerful question: "Where does my target audience go right now for information on my topic?"
Once you compile a list of places, apply one of these three strategies:
Be A Guest Expert – Write a guest post, do a podcast interview, or offer a video testimonial.
Do A Joint Venture Webinar – Teach what you know in a webinar format to someone else's audience.
Host A Virtual Summit – Host an online conference where you interview experts from the places where your ideal audience is already hanging out.
Traffic Source #5: Paid Traffic
Want more blog traffic by the end of the day? Go buy some. Today more than ever, we have easy-to-use advertising platforms.
While there are many ways to do advertising, there's no need to over-complicate it. Here's a simple Facebook ad strategy I recently used:
Recorded a five-minute Facebook Live video.
Boosted the video for $30.
Targeted a specific, popular Facebook fan page to display my new video.
Received over 2,897 engagements on the video.
The point is, you don't have to spend big sums of money to begin advertising and drive more traffic to your site.
🚀
Free Video:
How to Build an Online Business as a Writer or Coach (The Low-Tech Way) That Creates Time and Financial Freedom
(Without Feeling Overwhelmed by Technology, Self-Doubt, or Too Many Choices)
Click Here to Watch Now