Which Blogging Platform is Best for Making Money?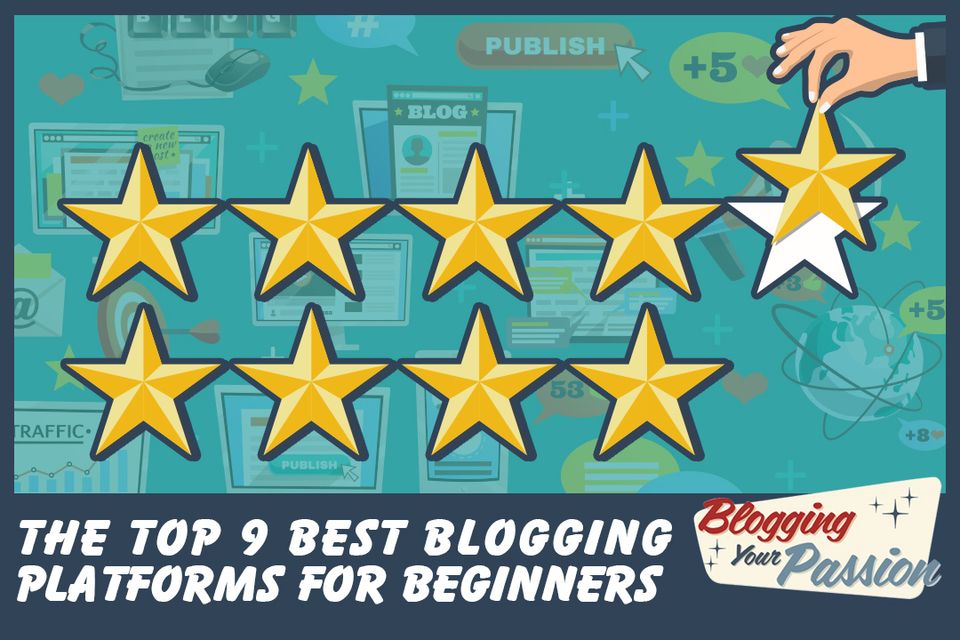 Maybe you've decided to start a blog, but now you have no idea which of the blogging platforms to use. What is the best option for you to build your new blog?
Fortunately, there are many options for bloggers now. In the early days of blogs, bloggers needed to know HTML and code their own sites from scratch.
Today, whichever option you go with, you won't need to be a programmer to get a blog up and keep writing great content week after week. Most platforms let you build blog sites with easy-to-use design tools and features.
Which blogging platform is best for making money?
Before we take a look at some of the more popular choices for bloggers, it helps to think about some of the criteria you may want to consider as you look at all the possibilities
Ease of setup
Some blogging services are relatively simple to set up: just create an account and start posting! Others require a little more technical know-how. For example, to set up some platforms, you'll need to purchase hosting (a service where your blog "lives") and then install the software on your hosted server.
(It's not a difficult as it may sound. Many hosting providers have services to help you get up and running.)
Ease of day-to-day use
Despite how easy or challenging setup is, it is even more important to look at how easy it is to get a post up, change basic visual elements, add images, etc. Set up is a one-time hurdle, but you don't want the tool to be so difficult to use that you hesitate to publish anything.
Control
The potential problem with some of the free blogging platforms is that you don't always "own" the content you publish. You also may be giving up some control over what is done with your posts, who actually sees them, and if the platform suddenly decides to change the rules on you.
Also important is whether you can migrate all your content to another platform, should you decide to change later.
Customization
Like control, you may want to ask how much you can customize the platform. Do you want to be able to easily change colors, themes, layouts, fonts, and other graphic elements? Are there features or elements you'd like to be able to add or hide?
Customization also includes the use of plug-ins or add-on tools that expand and personalize the tool itself, both for your readers and for you, as the admin. Without these options, you are left with whatever features the platform already includes
Integrations
Some blogging platforms allow integration with third-party apps and services. These may include "carts" for selling products directly from your blog, connections to audio and video services, and social media sharing tools.
Probably the most significant app is the email service provider you plan to use (ex. MailChimp, ConvertKit, Aweber, etc.) You want to make it seamless for the reader to read your post then sign up for your newsletter or a free pdf. You also want to make it easy for you to set this up each time.
Cost
Some blogging platforms are free (though you lose features and options with most of these) and others cost a monthly or annual fee. Look carefully at what you get for your investment. If there are different levels of service, pick the one that fits your needs the best
Monetization
If your goal (right away or later) is to make money from your blog, look at whether you can sell products or display advertising or affiliate links. Some free platforms won't let you do this, which will make monetization difficult later on.
Best Blogging Platforms 2023
As you look for the best blogging platform for you, there is no shortage of options. Here are just a few of the more popular tools bloggers use.
WordPress
One of the most popular blogging platforms, WordPress is an open-source blog site creator with a lot of features including flexibility and support. Both my Blogging Your Passion blog and jonathanmilligan.com blog run on WordPress hosting.
It's important to know that there are actually two versions of WordPress: wordpress.com and wordpress.org.
WordPress.com is a free version that is hosted by WordPress itself. It's essentially a free plan to blog online. It is easy to get started with this version, but it has some significant limitations. You can not add plug-ins (which is one of the most powerful benefits of using a WordPress blog.)
There is much less customization, the analytics are very basic, and you are subject to their rules. You also cannot run ads on the .com version, though they will run ads on your site (sorry, you don't get a share of this!)
WordPress.org, often referred to as "the real WordPress" or self-hosted WordPress, is the better way to go if you ever want to do anything serious with your blog. Now, there is a bit of a learning curve with WordPress when you are first getting started. But here's how to get started.
You will need to purchase a hosting package through a site like Bluehost or HostGator. Then, you install WordPress onto this host. Fortunately, many hosting services offer easy ways to do this setup, if you aren't really techy.
You'll have to pay an annual fee for hosting, as well as a domain name, but WordPress itself is still free. Doing it this way opens up all sorts of powerful features and flexibility.
With self-hosted WordPress, you have access to thousands of free themes and plugins (software "add-ons") that allow you to run an eCommerce store, create a membership site, integrate with hundreds of other apps, and add little features to make your blogging life easier.
To see all the differences between the free and self-hosted versions, check out WP Beginners' post comparing the two.
Blogger
Blogger is Google's version of a free blog platform, and it's been around for a while.
Unlike many of the free blog site tools, Blogger does allow you to display Google Adsense ads on your blog. It also lets you use Google Analytics, so you can see what kind of engagement and page views your posts are getting.
The free domain that comes with the account is your blog name followed by .blogspot.com, so it's a less professional look. There is no "premium" option with Blogger to upgrade features or allow for a customized design. As a result, a lot of blogs built with Blogger have a similar, recognizable look.
One advantage to Blogger is its ease of integration with all things Google. As you can imagine, it's easy to bring in pictures from Google Photos, for example.
Medium
Also in the completely free category, Medium lets you create a kind of online magazine. You can include a biography that shows at the end of every article, and it's very easy to connect with other writers on Medium. Medium also allows you to easily embed content from other third-party sources, like YouTube or Instagram.
As for creating a complete blog, you can't create any static pages (like About Me or Resources, for example) You also can't include any kind of ads, and monetization is nearly impossible. You also don't own your audience, and it's a little tricky to migrate your content to another platform (like WordPress) in the future.
Tumblr
Tumblr is a popular space for bloggers who are very big on visual content. More of a social media platform than a blogging site, Tumblr definitely has a younger user base.
Tumblr's strength is in the ability to connect with other creators and easily share and promote each others content. Many Tumblr users post just as much in the way of images and videos as they do text. You can pay a little more to purchase your own domain name, too.
Among its limitations, though, Tumblr allows for very little customization of features or design. This makes it difficult to make money from the content itself. Like most free platforms, you don't own the content, and it's a tedious manual process to back up and migrate what you've created to another platform.
Wix
Wix is an easy-to-use website builder, but you can also run a blog on it. Building a site is drag-and-drop and quick to learn, and you have many visual elements to choose from. There is a free version, but it's fairly limited, so you'll need to upgrade to get better features
While there are some third-party integrations, there are not as many as WordPress and others. You can build an online store, though you'll pay more for the eCommerce features (business plans start at $23/month.) You are also unable to migrate content to a new host, if you decide to switch later.
Squarespace
Squarespace is another popular web hosting service because it's so easy to use and friendly for beginners. Like Wix and others, you don't need to know how to code to create a beautiful online presence with Squarespace. While it's made to create a full website, you can easily use it for blogging as well.
The personal plan starts at $12/month and covers hosting and a domain name. You'll need to pay for a business plan (starting at $18/month) to get additional features that allow you more customization and the ability to sell products on your site.
Weebly
In the same family as Wix and Squarespace, Weebly is probably one of the easiest drag-and-drop website building platforms. You can easily create a blog alongside your static pages, too.
Weebly has a free version, but to get a custom domain and remove the Weebly branding, plans start at $12/month. To get full eCommerce features to sell your products and services, they offer a business plan starting at $25/month.
A nice feature in the paid versions of this blogging tool is Weebly Promote, which allows you to captures email addresses of your visitors. You can create great-looking emails and newsletters to send to your subscribers right from within your Weebly dashboard.
While Promote lets you segment your subscribers, it doesn't have all the features of better stand-alone email service providers (like ConvertKit, MailChimp, or Aweber.) Still, it's pretty slick to have the email function built into the blog platform itself.
If you start with Weebly, you may quickly run into limitations since it doesn't offer much in the way of plug-ins or add-ons, and you can't do much customizing of your own. Fortunately, it is fairly easy to migrate content from Weebly into a WordPress site
Ghost
Ghost is a popular open-source blogging platform designed for writers, publishers, and content creators.
Launched in 2013, it is a modern, minimalist platform that focuses on simplicity, ease of use, and fast publishing.
One of the main features of Ghost is its intuitive and clean user interface, which makes it easy for users to manage their content and customize their blogs.
The platform also offers a range of tools and features for creating and publishing content, including a built-in editor, tags and categories, SEO optimization, and social media integration.
Additionally, Ghost provides a range of themes and templates that users can customize to create a unique look and feel for their blog.
Overall, Ghost is a great option for bloggers who value simplicity, ease of use, and a streamlined workflow.
Whether you're a beginner or an experienced blogger, Ghost offers a range of tools and features to help you create and publish great content, while keeping things simple and easy to manage.
Kajabi
If you know you want to blog and sell courses, memberships, or other products, you may want to consider Kajabi. As a blogger, you can run a blog, create static web pages, and get analytics on how your blog is doing.
Kajabi will also let you capture email addresses and send out email to your list. You can even tag subscribers like you can in ConvertKit, Aweber, or other popular email service providers.
Related: My Kajabi Review: 10 Reasons I Love the Kajabi Platform
You will also be able to build "pipelines", or sales funnels, that lead to your products and courses. Kajabi allows you to build complete membership sites as well as community forums. Payment processing is included in the platform, too, as are many third-party integrations.
As you can guess, the monthly investment for all these features around your blog is not cheap, with plans starting at $149/month. And beginners may not be ready for all that Kajabi lets you do.
However, if you know this is the direction you want to go with your blog and business, (and you don't want to pay for a whole bunch of other tools separately,) it may be worth starting right away with a more powerful tool like Kajabi.
The most important feature of a blogging platform
As you consider these nine blogging platforms, you can see that they each offer a different variety of features, pros, and drawbacks. So what is the most important feature?
Ask yourself: Which platform will meet my needs for where I want my blog to be in the future?
Think ahead a year or two. What do you think you'll need then? Which platform will meet your needs when you have some content up and you are getting some traffic.
Are you okay with just having a hobby blog? Do you plan to sell online courses, services, or a membership site? What features and add-ons will you probably want as your business grows?
Ultimately, it's up to you, your skill set, your budget, and your willingness to do work on the back-end of your blog.
So, which blogging platform will you use?     
🚀
Free Video:
How to Build an Online Business as a Writer or Coach (The Low-Tech Way) That Creates Time and Financial Freedom
(Without Feeling Overwhelmed by Technology, Self-Doubt, or Too Many Choices)
Click Here to Watch Now