The Best Travel Blog Platform: Our Top 9 Picks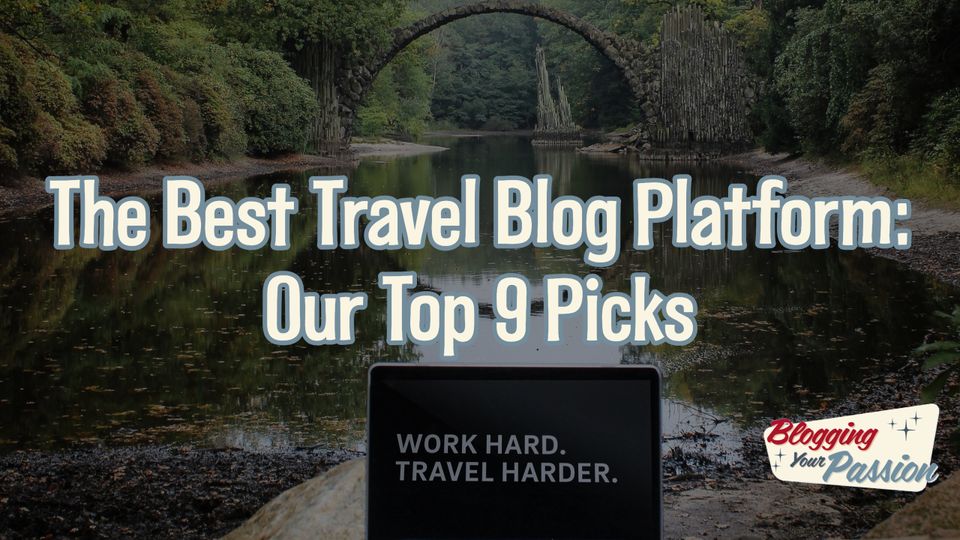 Ever dreamed of being the next Blonde Abroad, sharing your travel experiences with a captivated audience?
Finding the best blog platform for travel is your first step to turning this dream into reality.
This guide will walk you through everything from choosing that perfect platform, starting your blog, creating engaging content, and growing an audience.
You'll learn how to capture stunning photography and deliver useful travel tips just like top travel blogs do.
We'll also delve into social media strategies used by successful travel bloggers and vloggers.
And of course, we'll discuss monetizing your efforts because who wouldn't want to earn while doing what they love?
So buckle up as we navigate through the exciting world of travel blogging on the best blog platform for travel!
Comparing the Best Travel Blog Platforms
Let's explore some of the best travel blog platforms available. Each platform comes with its own set of pros and cons, so understanding these can help you make an informed decision.
1. WordPress
Regarded as the most popular and widely used content management system, WordPress powers more than 60% of websites worldwide.
Pros
Highly customizable with a vast array of plugins and design templates
Affordable and easy to set up
Regular software updates for enhanced security
Strong support community and learning resources
Cons
Can be slightly challenging for beginners
Costs can add up with premium plugins and templates
2. Squarespace
Known for its user-friendly interface and unique design features, Squarespace is a popular choice for many travel bloggers.
Pros
Offers more than 140 design templates and blog layouts
Integrated SEO tools and analytics
Handles photo and video content well
Cons
Less flexibility due to its closed-source nature
Monthly payment fee
3. Wix
Wix is a closed-source platform that provides a simple and intuitive blog-building experience.
Pros
Highly customizable with a wide array of templates and third-party apps
Good website builder with drag and drop functions
Cons
Ads and Wix branding on your blog unless you choose a paid account
Cannot change design/templates once chosen
4. Blogger
As one of the earliest blogging platforms owned by Google, Blogger is a simple platform ideal for non-tech-savvy users.
Pros
Completely free and integrated with Google services like analytics and AdSense
Easy to use and intuitive
Cons
Basic blogging tools and features
Limited customization and design options
5. Medium
Medium is a unique platform that allows bloggers to share their expert knowledge and earn a commission based on the number of readers.
Pros
Easy to use with no setup or development needed
Access to an existing online community of readers
Cons
You don't own the domain or have control over the design
Limited features
6. Ghost
Ghost is a newer, minimalist alternative to traditional blogging platforms, focused entirely on creating content.
Pros
Made specifically for bloggers
Offers an all-in-one solution for running a blogging business
Cons
Limited customization and flexibility
More expensive than its competitors
7. Weebly
Weebly provides an easy way to create a professional blog without any technical knowledge of web development.
Pros
User-friendly interface with drag and drop functions
Wide range of templates and themes
Cons
Limited flexibility and customization
Requires payment for advanced features
8. Kajabi
Kajabi is an all-in-one platform offering comprehensive online course creation, marketing, and blogging tools.
Pros
Integrates blogging with other business-building features
Professional design options for a polished blog
Advanced marketing and email automation capabilities
Cons
Higher price point compared to other platforms
May have a steeper learning curve for beginners
9. Systeme.io
Systeme.io is a marketing platform that provides various tools for creating and managing a successful online business, including blogging capabilities.
Pros
User-friendly interface with drag-and-drop website builder
Offers automation features and sales funnels
Affordable pricing plans, including a free option
Cons
Limited design templates compared to other platforms
May require additional third-party integrations for advanced features
Key Takeaway:
When starting a travel blog, it's important to choose the right platform that suits your needs. Consider factors like customization, ease of use, design aesthetics, SEO capabilities, mobile responsiveness, social sharing options, customer support, multimedia content support, and cost when selecting a blogging platform.
Setting Up Your Travel Blog
Find a domain name that stands out and is unforgettable, just like the most remarkable trips you've taken.
GoDaddy or Google Domains are good places to start your quest for the perfect domain name.
Once you've found your dream domain, it's time to pick a hosting provider that will keep your blog safe and sound, like BigScoots Blog Hosting.
Your hosting provider will keep all your blog documents, guaranteeing they are open to everybody on the web.
Next up, install WordPress on your host server, the superhero of blogging platforms known for its flexibility and user-friendliness.
Follow this detailed guide by WordPress Support to conquer the installation process.
Once WordPress is up and running, it's time to dress your blog to impress with a theme that screams, "I'm a professional traveler."
You can choose from thousands of free themes within WordPress, or if you're feeling fancy, check out premium themes on ThemeForest or Elegant Themes.
Once your theme is picked out, it's time to customize and refine the design with colors, fonts, and layout changes.
For an extra boost of design power, try out Elementor, the drag-and-drop page builder plugin that'll make your blog look stunning, even if coding isn't your thing.
Learn how to use Elementor like a pro with their official tutorials on the Elementor Documentation Page.
But wait, there's more. Don't forget about the technical stuff, like installing essential plugins for SEO and social media integration, setting up Google Analytics, and ensuring your site is mobile-friendly.
If these terms sound like gibberish, fear not. Check out resources like WPBeginner for comprehensive guides on tackling these tasks.
Last but not least, set up an email subscription form from the get-go, so you can start building an audience even before you hit publish on your first post.
The best email list-building service is MailerLite. They have a very generous free version to help you build your email list.
Key Takeaway:
In this section, you will learn how to set up your travel blog by choosing a unique domain name and finding a reliable hosting provider. You will also discover the power of WordPress as a blogging platform and how to customize it with themes and plugins. Don't forget about the technical aspects like SEO, social media integration, and mobile optimization. Lastly, start building an audience from day one by setting up an email subscription form on your blog.
Creating Engaging Content for Your Travel Blog
The success of your travel blog depends on creating quality travel content that keeps readers hooked - let's dive into how to create captivating posts that'll make 'em come back for more.
Step #1: Start with a killer title that grabs attention like a travel bug on a mission - use CoSchedule's Headline Analyzer to test its awesomeness.
Step #2: Unleash the power of storytelling - transport readers to exotic lands and thrilling adventures, and watch 'em eat it up like a buffet of wanderlust.
Step #3: Infuse your writing with personal experiences and anecdotes - give your travel blog an authentic voice that resonates with readers like a harmonious symphony.
Step #4: Sprinkle in high-quality images from your travels - visuals capture the essence of a place, making it more enticing for visitors planning their own epic journeys based on your recommendations.
Step #5: Break up the text with subheadings, bullet points, or numbered lists - these babies structure info and make it easier for readers to scan through without feeling like they're drowning in a sea of words.
If you're dishing out tips about a specific destination, go for a list format like "Top 10 Things To Do In Paris" - people love searching for these gems when planning their dream vacay.
In addition to blog posts, travel vloggers add videos to their blog posts to increase on-site time for their visitors.
Check out our two comprehensive blogging guides:
Growing Your Audience Through Social Media
Regarding travel blogging, social media is your BFF (Best Friend Forever). It's the perfect platform for showcasing your adventures and connecting with like-minded individuals.
First things first, you need to choose the right platforms. Instagram and Pinterest are particularly popular in the travel niche due to their visual nature.
Instagram, with its stunning visuals and engaging stories feature, allows you to share snapshots of your travels in real time.
On the other hand, Pinterest is a great place for sharing blog posts and creating inspirational boards related to travel destinations or tips.
The key here is consistency. Regular posting keeps your audience engaged and helps increase visibility through algorithms favoring active users.
Next up: engagement. Maintaining relationships with followers and other bloggers/influencers and engaging in relevant discussions or groups is key to ensuring your content reaches its intended audience.
This can be achieved by responding promptly to comments on your posts, participating in relevant discussions or groups, collaborating with others for guest posts or joint ventures, and so on.
You've got amazing content - let's ensure people see it.
To do this effectively requires understanding each platform's unique features and optimizing accordingly.
Captivating captions paired with high-quality images work wonders on Instagram, while keyword-rich descriptions are crucial for Pinterest SEO success.
If Facebook is part of your strategy, consider utilizing its live video feature, which has been shown to significantly boost engagement rates.
Influencer marketing can be incredibly effective for reaching new audiences, especially authentically.
A collaboration could involve anything from featuring each other's blogs on social channels through shout-outs all the way up to hosting joint giveaways that encourage follower interaction and participation.
User-generated content (UGC) provides authentic testimonials from satisfied customers - what better endorsement could there possibly be?
This might include reposting photos taken by followers at locations recommended in one of your blog posts or sharing user reviews and experiences based upon advice given within articles.
With these strategies under your belt, start seeing growth in the size and quality of your following.
Remember, though, patience is key. Constructing a genuine society necessitates energy and patience, but the final outcome is worth it. Promise they'll keep coming back for more.
Key Takeaway:
Social media is essential for travel bloggers to grow their audience, with Instagram and Pinterest being popular platforms. Consistency in posting and engaging with followers and influencers is important, along with utilizing unique features like live videos on Facebook and collaborating through influencer marketing or user-generated content.
Monetizing Your Travel Blog
Several strategies are worth exploring if you're looking to monetize your travel blog.
Promoting products or services on your blog and getting a commission for every sale generated through your referral link is one of the most common strategies bloggers utilize to generate income.
Affiliate marketing involves promoting products or services on your blog and earning a commission for every sale made through your referral link.
This method works well for travel blogs because you can promote countless travel-related products and services - from hotels and flights to tours and travel gear.
Pick affiliates that align with your audience's interests. Promoting luxury resorts might not be the best fit if you write about budget traveling.
Always disclose affiliate links to maintain trust with your readers.
Create high-quality content around the product/service you're promoting - this could be in-depth reviews or how-to guides.
Moving on to sponsored posts, these are another great way to monetize a blog. Companies pay bloggers like yourself to create content featuring their products or services.
Contact companies directly, offering them a detailed proposal outlining what they'll get from sponsoring a post on your site.
Remember: Always disclose when posts are sponsored - it's required by law in many countries.
The last strategy we'll cover today is advertising opportunities such as display ads (like Google AdSense), where advertisers pay per click or impression of their ads displayed on your website.
To maximize earnings from display ads, ensure they don't interfere with user experience. Overloading pages with too many ads can deter visitors from returning.
You may also want to explore direct ad sales, where businesses buy ad space directly from you, bypassing middlemen like Google AdSense, thus potentially earning more revenue.
All three methods mentioned above have proven successful for numerous bloggers, but remember, each has pros & cons, so choose wisely based on what fits best for your brand and audience.
Key Takeaway:
Monetizing a travel blog can be done through affiliate marketing, sponsored posts, and advertising opportunities like display ads. Choosing affiliates that align with your audience's interests is important, as disclosing sponsored content and ensuring that ads don't interfere with user experience is important. Each method has pros and cons, so choose wisely based on what fits your brand and audience best.
FAQs About Best Blog Platform for Travel
What's the best platform for a travel blog?
The WordPress platform is the ultimate choice for a travel blog, offering endless customization options and SEO-friendly features.
Are travel blogs still popular?
Yes, travel blogs are still all the rage, providing unique insights and information to wanderlust-filled travelers worldwide. Just check out the stats.
Are travel blogs still profitable?
You bet. Travel bloggers can rake in the dough through affiliate marketing, sponsored posts, and advertising opportunities galore.
Is WordPress good for travel blogs?
WordPress is the bomb for creating content-rich sites with dynamic interactive maps essential for a successful travel blog. Trust me, it's a game-changer.
What is the best free travel blog platform?
If you are looking for the best free travel blog platform, our pick is Systeme.io. It has a forever-free plan for blogging and hosting.
Conclusion
Choosing the best blog platform for travel is crucial to your success as a travel blogger. WordPress and Blogger are popular options that offer customizable designs and user-friendly interfaces.
Once you've set up your travel blog, focus on creating engaging content that captures the essence of your adventures. Utilize social media platforms to grow your audience and connect with fellow travelers.
🚀
Free Video:
How to Build an Online Business as a Writer or Coach (The Low-Tech Way) That Creates Time and Financial Freedom (Without Feeling Overwhelmed by Technology, Self-Doubt, or Too Many Choices).
Click Here to Watch Now