How to Promote a Membership Site: 6 Key Strategies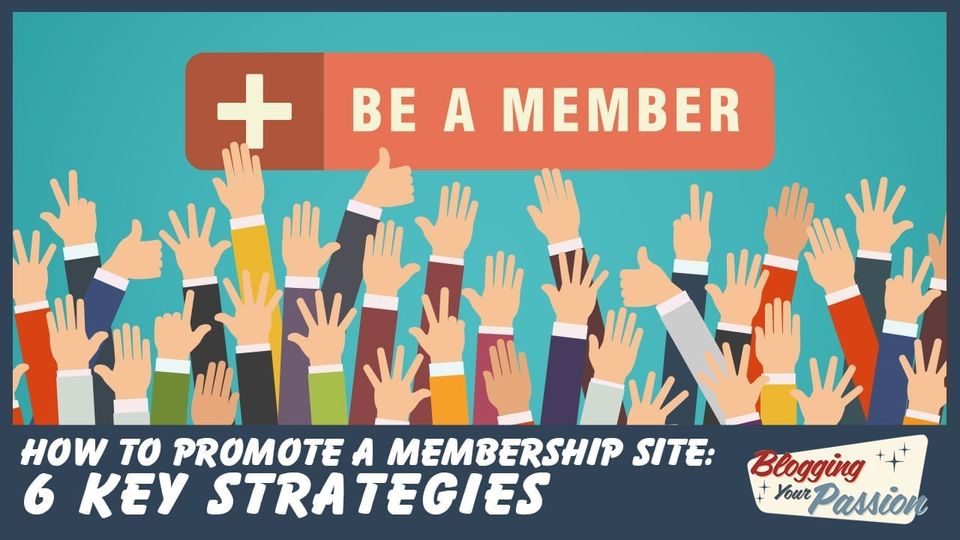 While the prospect of recurring monthly income is exciting, many content creators are still unsure about how to promote a membership site. Simply opening the doors to a new membership site is no guarantee of success.
If you are looking to launch a membership site, then check out our blog post: How to Launch a Membership Site: 8 Simple Steps.
If you want to grow an existing membership site, you need to get creative about how you market it all year long. We use six powerful promotional strategies that work together to add new monthly members on a consistent basis.
How to Promote a Membership Site: 6 Key Strategies
We'll start by walking you through the front door (public enrollment) promotion campaigns we use to get new members. Then we will share a few of our favorite back door (private enrollment) strategies that have worked well.
Strategy 1. The Seasonal Public Launch
By far, one of the most effective promotional strategies for a membership site is the seasonal public launch. To use this strategy, you'll need to publicly open and close your membership site a few times per year.
Here at Blogging Your Passion, we have both a spring and fall launch. Typically, we will have a week of creating buzz, followed by a week of open enrollment. At the end of the promotion, we will publicly close enrollment.
Does this strategy work? The numbers don't lie.
A few years ago, I decided to leave our membership site registration open all year long. I wanted to allow new subscribers to join at any time and not have to wait. I thought for sure that over the course of a year we would add many more members.
But the results told us otherwise.
We added more new members in fourteen days of open enrollment during a "launch" than we did keeping the membership site open all year long.
The reasons this strategy works are simple:
Excitement – You create anticipation for enrollment by creating buzz the week before
Urgency – The open and closed cart creates an immediate buying decision
Exclusivity – The opportunity to be part of a private community is attractive
If you do nothing else, use this promotion strategy with your membership site.
Strategy 2. The Free Trial Downsell
A free trial downsell is ideal for people who showed interest in your public launch, but they did not enroll. One of the best ways to execute this promotion is to offer it the day after you close your public launch.
We either make the offer a 7-day free trial (we have them add their payment method to get access) or offer a one dollar 30-day trial. We also make this offer only available for 24 hours.
Below is an example of the marketing email we send. Again, this email is only sent to people who visited the sales page but did not enroll.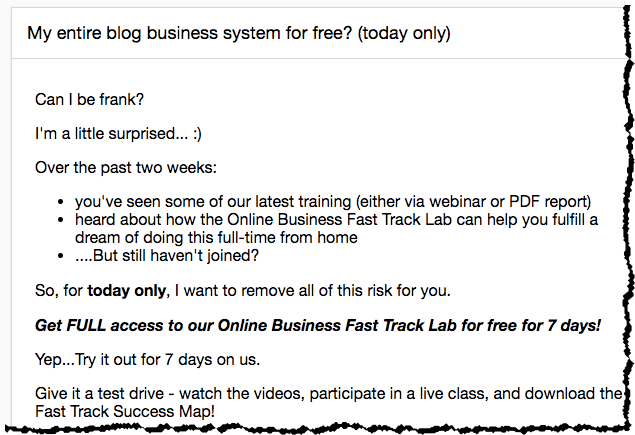 We've added 76 additional members so far using the above email and downsell strategy.
Strategy 3. The Early Notification List Funnel
Once your enrollment period is closed, you can change your sales page into an "early notification" page. This will allow you to collect email addresses of people who are interested in joining your membership site the next time it is open.
If you don't want to wait to allow them to join, then you have two promotional opportunities:
Do an email promotion just to the early notification list allowing them to join through a private launch. This would typically last one week.
Set up an automatic funnel for your early notification list. You can schedule an automatic email to be sent out a few days after they join the list.
Strategy 4. The Splinter Class & Upsell (Internal Promotion)
One of the beauties of running a membership site is that you're always creating new, valuable content for your existing members. Why not strategically sell some of this content to non-members? It gives them an opportunity to test out your training.
For example, inside my membership site (Online Business Fast Track Lab) I host a 60-minute training each month called: Fast Track Class. We cover topics like email list building, social media traffic, and audience-building techniques. Every few months, I then take one of the training videos and set it up as a separate product inside Kajabi (see below for an example).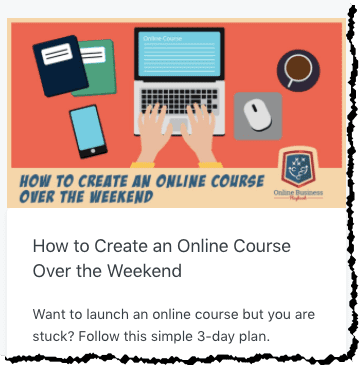 Now I'm able to sell the training separately from my membership site to non-members. Even better, I will do a one-week flash sale to my list and offer a training similar to the one shown above for just $7.
After a non-member makes their purchase, they are then presented with a 7-day free trial to the membership site. Every time we execute this strategy, we not only convert many more new customers but we add new members during our closed enrollment period.
5. The Facebook Ad Splinter & Upsell (External Promotion)
Want to grow your membership outside of your existing membership site? The Facebook Ad Splinter & Upsell strategy is similar to the last method except for two critical points:
We will be promoting to a colder, but targeted audience on Facebook (people who are primarily unaware of us).
We will start by offering a free lead magnet.
So the customer journey looks like this:
New subscriber opts in to receive the lead magnet
They are shown the $7 class special on the thank you page
Offer is made for the free 7-day trial of the membership site
When done correctly, this Facebook Ad campaign has three primary benefits:
Builds your email list with new subscribers wanting your lead magnet
Lowers your ad budget costs by making $7 sales through impulse purchases
Adds new members to your membership site during the closed enrollment period
If you are able to dial in this strategy and make it work, it can be an extremely effective promotional campaign–even for those who have a small email list.
Strategy 6. The Product Upsell Private Invite
Do you have other online courses to sell? If so, you should consider offering a one-time free 7-day trial as an upsell when they buy a course. We use Kajabi to deploy the upsell, so setting it up is fairly easy.
When a customer buys a course, they'll also see a two-minute video that shows the inside of the membership site. We also state in the video that even though it is currently closed, for today only you can get a free trial (see below for an example).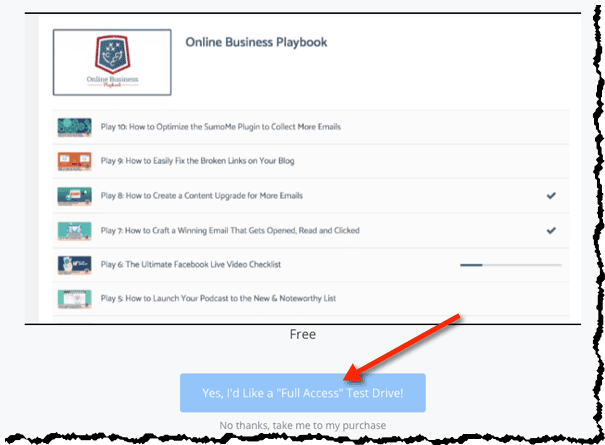 Every week we see new people join our membership site through this strategy. Think about the other products or services you are already selling and add a simple upsell to a free trial to your membership site.
What I love about the above six promotional strategies is that you can incorporate all of them into your yearly marketing calendar. By doing so, you will add many more members throughout the year than if you just simply left your membership site enrollment open all the time.
🚀
Free Video:
How to Build an Online Business as a Writer or Coach (The Low-Tech Way) That Creates Time and Financial Freedom
(Without Feeling Overwhelmed by Technology, Self-Doubt, or Too Many Choices)
Click Here to Watch Now