How to Start a Membership Site in 8 Simple Steps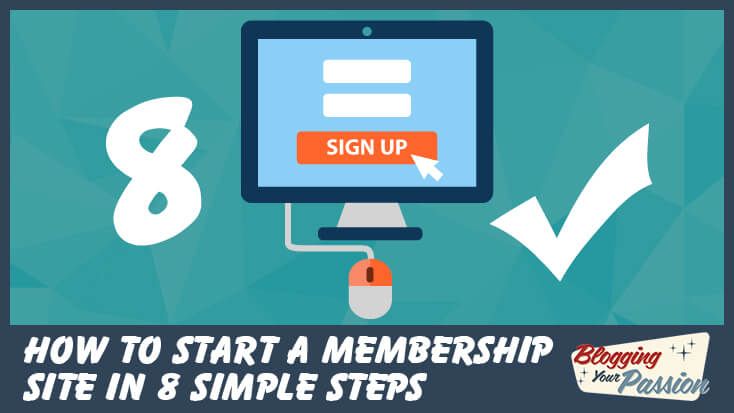 One of the best investments I've made in my online business was learning how to start a membership site.
Now, there are many different ways you can get paid blogging, but I'm amazed at how many people are against the idea of having a membership site.
They are often afraid it will run their life, they won't have time for anything else, and they can't live up to everyone's expectations.
But I have found the opposite to be true.
I certainly don't think everyone can or should have a membership site, but I think everyone should explore the possibility of having one.
How to Start a Membership Site in 8 Simple Steps
Here are a few of the benefits:
Consistent, steady income month to month
Less dependent on big product launches
Keep a pulse on the goals, passions, and struggles of your audience
Allows you to test new ideas, topics, and courses
"That sounds great Jonathan, but where do I start?"
Step #1: What problem are you solving?
Many bloggers love the idea of having a membership site, but they never take some time to think about what problem will their membership site solve.
They usually begin by investigating how much they should charge, which membership site plugin should they use, and how they will get monthly paying members.
Before you investigate all those options, you want to first uncover what problem your membership site will solve.
Before I launched out into building my membership site, I was able to get some valuable feedback from my audience.
I jumped into a Google Hangout with some of my customers and asked them a few important questions.
What's missing from my existing online courses?
What's the single biggest problem you are currently facing?
What would you love to learn and implement in the next 12 months?
By asking these questions I discovered some specific problems that a membership site model could solve. For example, many bloggers feel isolated and alone.
With a membership site model I could bring other bloggers together into an exclusive community. Take a few moments and either write down the problems you know your audience is facing or get some direct feedback from them by asking.
Step #2: Who are you solving it for?
"Jonathan, my membership site idea is perfect for everyone!"
We want our membership site to appeal to everyone because we think it will make us the most money. But I have found the opposite to be true. If you try to appeal to everyone you will interest no one.
You need a membership site idea that instantly connects with a specific, targeted group of people. They need to think that you created this just for them. They need to believe that your product will solve their specific problem.
For example, let's say you want to create a portable, lifestyle business. What you want more than anything is to be able to work from anywhere.
Your problem comes to figuring out how to build an audience and scale your business without having a brick and mortar business. You scour the internet and you find two possible solutions.
Solution #1: Start Your Own Business Membership Site. We will help you discover your business idea whether it is purchasing a franchise, opening a restaurant, launching a landscape business, start a coaching business and more. We will also help you explore finance options and structure your business.
Solution #2: Profit from Anywhere Membership Site. We will help you explore profitable, lifestyle business opportunities that require no inventory, no employees, and no permanent location.
Learn from others in our insider community who run and manage lifestyle businesses from anywhere. Which one would you jump on? I think you get the point. You need to solve a specific problem for a specific group of people.
Step #3: How do you solve the problem?
You might already know the answer to this question, but it is still important to ask. Asking this question forces you to stay narrow in your content delivery.
Writing down specific answers to this question will also help you later on in this process when you are determining what types of content (text, audio or video) you will be delivering and how often.
You can also ask your audience to get insights on this as well. When I first opened the doors to my membership site, I immediately polled the charter members and asked them to rank some of the content ideas I was going to be delivering over the next several months.
This helped me to see what the hot buttons were and which problems my audience was most interested in solving first.
Step #4: What makes it unique?
This is always a difficult question for us to answer. What makes your membership site unique? To answer this question you will need to do some research on what other similar offerings are out there.
Before I launched I did some Blue Ocean Strategy research. The idea comes from the book Blue Ocean Strategy, but let me try to sum it up here. Many companies operate in a Red Ocean Strategy environment. In other words, they operate in a shark-against-shark mentality.
They try to compete on price since their services are basically the same. Cell phone companies are a great example of this. They either try to differentiate by price or by the breadth of mobile coverage. They are swimming in the same ocean.
Blue Ocean Strategy is when you step in and meet a need that's not currently being met in the marketplace. A great example is Cirque Du Soleil. They are not at competition with Barnum and Bailey's Circus. They offer something unique and different than your traditional circus.
See the difference?
Use a whiteboard and create categories that are important to your target audience such as price, community, support, etc. and then rate 1-10 how you believe each of your competition is doing in those areas.
When you find an area that all the other competition is doing poorly in, make an emphasis in your offering. Zappos and their approach to customer service is a great example of Blue Ocean Strategy.
Step #5: What type of content will you deliver and how often?
Now it's time to build out our membership site. You'll need to answer two important questions:
What type of content will you deliver?
How often will you deliver it?
What type of content will you deliver? Some of the more common forms of content are text, audio and video. Text could be in the form of exclusive member-only blog posts, PDFs, checklists, and special reports.
Audio could be in the form of coaching calls, downloadable audio lessons or even expert interviews. Video could be recorded training videos, live member-only webinars or coaching sessions.
The answer to which content is best goes back to the problem you are trying to solve. Based on the solution to that problem will lead you to what type of content is best. You will also need to decide your content delivery schedule.
Don't make the mistake of putting out too much content too fast. You will end up burning out or even worse frustrating your monthly members.
When monthly members feel like they can't keep up with the amount of new content being delivered, they will cancel. They cancel because they think they don't have enough time to keep up. If you confuse, you'll lose.
Step #6: Which tools will you use to run your membership site?
Now we will answer the question most people want to answer in the beginning. What will you use to run your membership site? Let me offer three solutions. I've personally used all three and think they are great.
Wish List Member Plugin – If you want to add a plugin to your WordPress and run your membership site on your own site, then this plugin is the most widely used one. For a one-time purchase, you will be able to password protect pages and issue usernames and passwords. They also integrate payment processors so you can collect monthly payments as well.
Optimizepress and Optimize Member – I love Optimizepress for many different reasons. They can help yo provide great looking membership site pages and run your membership site all from a WordPress Plugin. They integrate with Stripe, Paypal and other payment processors.
Kajabi – I run my entire membership site (along with other courses) on the Kajabi platform. I wrote a more detailed post on all the reasons I love Kajabi. What I love about the New Kajabi is that it brings everything under one roof. It will provide a single login for all your products, it is integrated with Stripe and Wistia video, and more.
Step #7: How will you promote your membership site?
How do you get monthly members? That's probably a question you are asking. Let me give you a brief overview.
Open the doors to just 50 charter beta members – By keeping it narrow in the beginning you will receive several benefits. It allows you to test your membership site model with a limited group of people. People love to be apart of something small and intimate. People will jump in because of the built-in scarcity.
30 Days later open the doors for 50 more members – If done correctly, you will have created buzz and even have a waiting list. Share the successes of your beta members and encourage others to quickly get in.
At the 90 day mark, do a one-week public launch – Once you get three months in you should have plenty of content created, a vibrant community established and a content delivery rhythm you are comfortable with. At this point, go big and let people know they have one week to get in
Step #8: How will you retain your members month-to-month?
Once you get monthly paying members how do you keep them around? Here are a few retention ideas to help you.
Tease the upcoming month's content – Let your members know what is coming next. You can either do this by having a sidebar graphic in your member's area, mentioning it on your homepage or by sending an email to your members.
Mention it in your content the month before – Whether you are doing live webinar classes or coaching calls, mention what's coming next.
Offer monthly challenges – What kind of challenge can you promote to get members excited? In the past we did a writing challenge and gave a $100 Amazon Gift Card to the member who published the most blog post in a single month. Get creative!
Now you know how to start a membership site! You have a plan. Congratulations!  By answering these eight questions you can have monthly, recurring income coming into your business.
🚀
Free Video:
How to Build an Online Business as a Writer or Coach (The Low-Tech Way) That Creates Time and Financial Freedom
(Without Feeling Overwhelmed by Technology, Self-Doubt, or Too Many Choices)
Click Here to Watch Now