How I Added 191 Email Subscribers in 24 Hours with a Single Blog Post
I was on a mentoring call recently with one of my blog students and he asked: "If I only have 6 hours available to work on my blog, where should I place my focus? If you were me, where would you spend your time?" I told him that right now my single area of focus … How I Added 191 Email Subscribers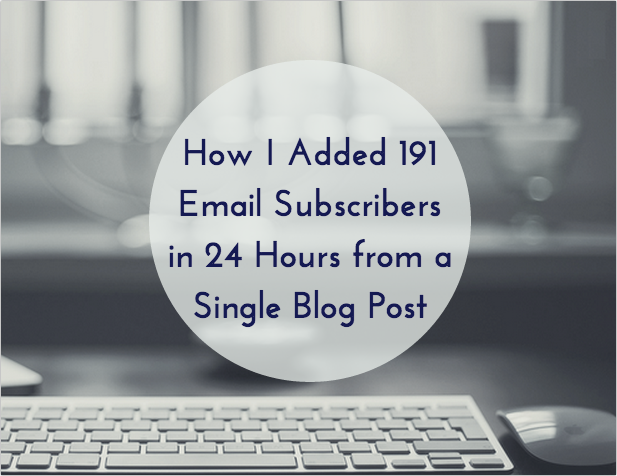 I was on a mentoring call recently with one of my blog students and he asked: "If I only have 6 hours available to work on my blog, where should I place my focus? If you were me, where would you spend your time?"
I told him that right now my single area of focus is building my email list.
To be honest, I don't even pay much attention to my traffic stats in Google Analytics any more. The main question I ask myself is this:
"Is my email list growing month to month?"
I want to share with you a new strategy I am testing out. It does take some extra work, but well worth the extra time in my opinion! The idea is simple: create bonus content for your blog post and give it a way as an email lead magnet.
Think about it. If someone is reading your blog post, they probably had to "click" to read it. Meaning, they have an interest in that topic or headline.
By offering a "targeted" email incentive, you'll get more opt-ins. I've been using this strategy for the past few weeks with great success. In fact, my recent one resulted in 191 email subscribers in 24 hours from a single blog post.

Step 1: Create Your Bonus Content
What resource can you offer that will help your reader either better understand your post or take action on what your post is all about? Bonus content can be:
A quick video you record
A PDF you put together
A one-page worksheet
An MP3 audio bonus
Step 2: Tease Your Bonus Content
At the top of the post, I placed a teaser about the bonus content (see pic below).

More than anything, this is creating anticipation before they really get into the article. Some might go ahead and grab the bonus others will grab it at the end of the article.
Step 3: Strong Call to Action at the End of the Post
At the bottom of the post, I have a stronger call to action for the reader (see pic below).

I have a button at the bottom of the post that makes a clear call to action. By giving away value added bonus content you will attract more opt-ins. I'm using GetResponse email subscription service and LeadPages to pull off all of the logistics.