14 Amazing Book Blog Ideas That Will Skyrocket Your Readership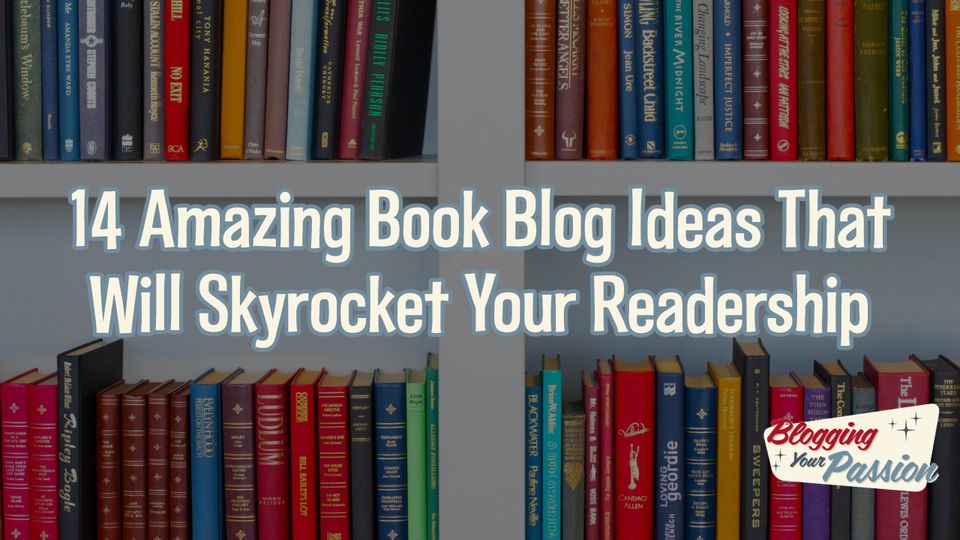 You're a book lover with a passion for sharing your favorite reads.
You ponder starting a book blog, yet you're uncertain of the first step.
What should you write about?
How can you make your content engaging and unique?
We've got the answers!
In this post, we'll provide an array of book blog ideas that will help spark creativity and inspire meaningful content.
No more writer's block or struggling to find the right topic.
We'll cover everything from finding your niche, crafting compelling reviews, spotlighting authors, making stellar recommendations, and much more!
Your journey into the world of book blogging is about to get exciting. Stay tuned!
Why Start a Book Blog?
Ever finished a book and wished for someone to share your thoughts with?
A book blog can be that platform.
As an avid reader, you can start a blog to express your opinions, engage in discussions, and even influence reading trends.
Connecting with others who share your enthusiasm is what blogging's all about.
Your blog becomes a hub where readers worldwide gather to discuss their favorite books and authors.
The more you write blog posts about books on your blog, the better you become at expressing yourself through words - practice makes perfect in action.
Publishing companies often approach popular book bloggers for reviews or promotions, and you might even land opportunities as a freelance writer or editor.
Finding Your Book Blog Niche
Embarking on a book blogging journey starts with finding your niche, the specific genre or type of books you're passionate about.
Rather than simply picking between fiction and non-fiction, you should consider a more specific area of focus that aligns with your interests and expertise.
Focus on a genre that speaks to you, whether science fiction, old-timey tales, kid's lit, self-improvement texts, or something else.
Your chosen niche should reflect your reading preferences and expertise because authenticity attracts readership.
Reflect on what types of books you naturally gravitate towards - these are likely the ones you can write most passionately about.
Consider what genres or topics are underrepresented in current book blogs - an untapped audience might be waiting for someone like you.
Analyze popular book blogs to understand their strengths and weaknesses - this will help identify potential gaps in content which your blog could fill.
The key here is to choose a niche where your passion meets demand from readers who share similar interests - this combination creates a successful blog platform.
Book Review Blog Ideas: Turning Pages into Posts
Book reviews are the bread and butter of your book blog, but don't just summarize the plot.
Instead, try writing a review from the perspective of one of the characters or create an imaginary interview with the author.
You could also compare and contrast the book with its movie adaptation or host guest reviewers to contribute their own reviews.
These ideas provide variety and make your blog more interactive and appealing to visitors.
If you're stuck on how to structure these unique reviews, check out some guidelines on writing effective book reviews.
Enliven your book blog with some creative flair.
Author Spotlight Blog Ideas: Shining a Light on Your Favorite Writers
Spotlighting authors is an exciting way to add variety and depth to your book blog.
You're not just reviewing books; you're exploring the minds behind them.
This approach can help foster a deeper connection between your readers and the authors they love.
Book Blog Post Idea #1: Conduct interviews with authors of popular books and special editions. If you're feeling adventurous, this could be in written format or a podcast episode.
Book Blog Post Idea #2: Write detailed author profiles highlighting their journey, inspirations, writing process, and more.
Book Blog Post Idea #3: Create lists of little-known facts about popular authors.
Book Blog Post Idea #4: Discuss an author's entire bibliography - this can give readers insight into how their work has evolved over time.
Book Blog Post Idea #5: Share your favorite book quotes from books you've read.
Book Blog Post Idea #6: Take a topic and create a top 10 books post and share your affiliate links in the post.
Book Blog Post Idea #7: Read books and then write up a book summary for your blog readers.
You can reuse these book blog post ideas again and again.
Collaborating with Authors for Spotlights
To create engaging content, consider contacting authors directly for collaboration opportunities.
The Benefits of Author Spotlights
A unique perspective on literature that goes beyond simple reviews.
The opportunity to engage directly with creators within the literary world.
An additional draw for potential visitors who are fans of specific writers.
In-depth knowledge about favorite writers, which adds value to your blog posts.
Potential collaborations that may boost visibility for both parties involved.
Book Recommendation Blog Ideas: A Quick Guide
Running a book blog and need fresh content ideas? Why not explore the world of book recommendations?
A recommendation post can range from basic to intricate, depending on your preference.
Book Blog Idea #8: Create a "Top 10" list, like "Top 10 Mystery Novels You Must Read".
Book Blog Idea #9: Try seasonal lists such as "Best Summer Reads" or "Cozy Winter Books."
Book Blog Idea #10: Or go thematic with posts like "Books With Twist Endings That Will Blow Your Mind."
Personal Touches Matter
Add personal anecdotes about why you love each book - it adds authenticity and helps readers connect with your choices.
Engage Your Readers
Create interactive elements like polls where readers can vote on their favorites from your list. Invite your readers to make their own suggestions in the comment area.
Book Club Blog Ideas: Creating a Virtual Hub for Book Lovers
Starting a book club blog is exciting - it brings together readers from all walks of life.
Your blog can be the virtual meeting place where everyone gathers to discuss their latest reads, favorite authors, and more.
Book Blog Idea #11: Create monthly reading challenges based on genres, authors, or themes like Goodreads Monthly Challenges.
Book Blog Idea #12: Host live discussions or Q&A sessions with members about the book of the month - tools like Zoom or Google Meet are perfect for this.
Book Blog Idea #13: Feature guest posts from members reviewing books they've read recently.
Book Blog Idea #14: Organize author interviews - readers love getting insights directly from their favorite writers.
Share resources like discussion guides, reading lists, and printable bookmarks to engage your book club blog.
Encourage active participation among members through comments and social media shares - it paves the way for lively conversations around books and fosters a sense of community among your readership.
You can even create a paid membership and earn money blogging about books.
Engaging with Your Book Blog Audience
Building a strong relationship with your audience is crucial for the success of your book blog.
Determine your blog's readership and what they expect from you - Google Analytics can benefit from this.
Respond thoughtfully to comments on your posts to show you value their opinions and encourage further interaction.
Host Q&A sessions or live chats to give readers a chance to ask questions or share their thoughts.
Use a newsletter to keep in touch with your audience and share exclusive content or run giveaways.
Interact with your readers on popular social media sites like Twitter, Instagram, and Facebook groups.
Gather direct input from your readers by conducting surveys or polls, allowing them to be a part of determining the direction of your blog.
Remember, engaging with your audience isn't just about increasing traffic - it's about building a community around shared passions.
Promoting Your Book Blog
Want to make your book blog a success? Time to spread the word and amplify your book blog.
Don't let your unique voice go unheard - let's make some noise.
Book Blogging Tools and Resources
Maintaining a book blog may seem challenging, but tools are available to assist you.
Ghost.org is an excellent platform for starting your blog - it's user-friendly and offers various themes to suit your style.
Need help creating eye-catching graphics? Canva is your go-to resource - it's easy to use and provides numerous templates.
Manage all those books you'll be reviewing with Goodreads - it allows you to keep track of what you've read and lets readers see your reviews and ratings.
Don't let typos distract from your great content - use Grammarly, an online grammar-checking tool.
Earn commission on book sales generated through your site links by joining affiliate programs like Amazon Associates or Bookshop.org's Affiliate Program. Affiliate marketing is one of the most common ways book bloggers earn revenue.
Avoid being overwhelmed by social media management with tools like SocialChamp.io, which allows scheduling posts across different platforms at once.
Keep subscribers updated about new blog entries or book recommendations with email marketing services like ConvertKit.
FAQs in Relation to Book Blog Ideas
What to Write on Your Book Blog
Stick to book-related topics, like reviews, author interviews, reading lists, and literary analysis pieces. Be sure to create a reading routine so that you always have something new to share in your blog.
How to Write a Book Blog
Create engaging content that appeals to readers by reviewing books objectively, sharing insights into characters and themes, and encouraging discussion.
Best Articles for Book Blogging
The most effective articles provide value to readers, like in-depth reviews, insightful analyses, and helpful recommendation lists tailored to specific reader interests.
Your First Book Blog Post
When it comes to writing your first blog post, here are a few pointers to keep in mind:
Introduce yourself
Explain why you started the blog
And invite readers to suggest books for you to review.
What to Avoid on Your Book Blog
Avoid irrelevant topics, going off-topic, discussing controversial books or authors, talking about the process of writing a book, and referencing illegal activities.
Conclusion
Starting a book blog is exciting and rewarding for book bloggers and writers. In this post, we covered book blog ideas to create engaging content for your audience.
Find your niche
Review books
Spotlight authors
Recommend books
Run a book club
Engage with your readers
We also discussed how to promote your blog using different online tools and resources. Following these tips, create interesting content that keeps readers coming back for more.
🚀
Free Video:
How to Build an Online Business as a Writer or Coach (The Low-Tech Way) That Creates Time and Financial Freedom (Without Feeling Overwhelmed by Technology, Self-Doubt, or Too Many Choices).
Click Here to Watch Now