How to Find a Blog Niche That is Profitable from the Start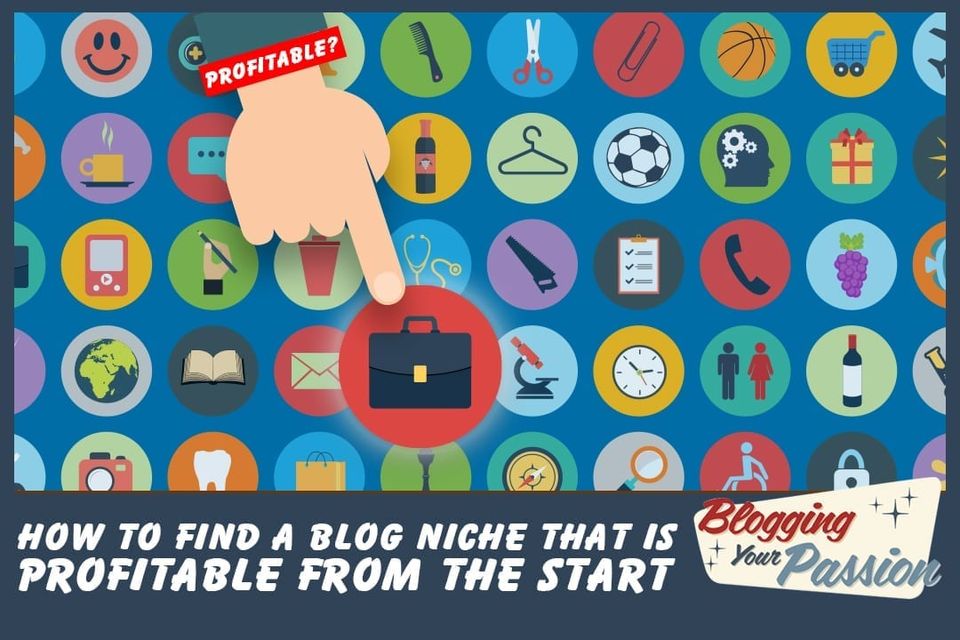 There is much confusion on the topic of blogging. What exactly is a blog after all? Is it a daily journal of one's life? Is it a place to share our hobbies? Is it a marketing tool to attract our ideal audience in order to make a profit?
As you can see, there are many purposes behind why someone might start a blog. Here at Blogging Your Passion, we are dedicated to helping people use the medium of blogging to increase their influence, impact, and income online.
But, that leads us to a real question. How do you find a blog niche that is profitable from the start? After all, who wants to waste all their time and energy on a failed idea from the start?
Inside the Discover Your Blog Niche Course, we teach a very detailed process called the 11-Point Audience Discovery Checklist. Today, I want to share with you three of the most thought-provoking questions you must answer to confirm your blog niche will be profitable before you ever begin.
Does Your Audience Have Worthy Goals?
We tend to put time and attention toward our goals. A profitable blog supports an audience in pursuit of a goal. While passion is an indicator, we can't depend on passion alone. Just because I'm passionate about eating pizza, doesn't mean I can make money blogging on that topic. Is it attached to a worthy goal?
The best way to figure this out is to ask this question: Is my ideal audience already consuming content on this topic?
If the people you want to serve are searching for articles, podcasts and YouTube videos on your topic, this is a positive indicator. In fact, here are three practical questions to ask:
Are there other popular blogs with shares and comments on this topic?
Are there other podcasts with a decent number of ratings on this topic?
Are there other YouTube channels with active subscribers on this topic?
Is Your Audience Passionate?
You also need to find a blog niche that is deeply passionate about their topic. Shared passions are the fuel that ignites a tribe and a movement. The challenging thing is nailing down a profitable passion can be difficult to gauge.
Remember the "fidget spinner" craze. You couldn't go anywhere in public without finding someone with a fidget spinner. Today is just the opposite. Below are three questions to get you started:
Is this topic just a fad or is it evergreen?
Is there evidence of real, lasting enthusiasts?
While this may be difficult to gauge, a great tool to consider using is Google Trends. Just put in "fidget spinner" and you'll see why that would have been a bad topic to pursue. Then, put in a topic like "start a blog" and you'll find a consistent, steady demand for the topic.
Is Your Audience Spending Money on This Topic?
Many aspiring bloggers see competition as a threat. They mistakenly think if no one is making money with their idea it must be a great niche to pursue. Nothing could be further from the truth.
We want to find evidence of profit being made with our idea online. While there are many ways to make money blogging, I believe the most profitable is an information business. This type of business makes money through teaching, writing, speaking, and coaching. It's all about creating your own products. Which leads us to this set of questions:
Is there evidence of money being made in writing? Look on Amazon for books and audiobooks on your topic.
Is there evidence of money being made teaching online? Are there courses and membership sites on your topic?
Is there evidence of money being made speaking? Are there conferences and events on your topic?
Is there evidence of money being made coaching? Are there paid coaches online who have programs and offerings?
Just be doing a bit of market research online, you can find a blog niche that will be profitable from the start.
🚀
Free Video:
How to Build an Online Business as a Writer or Coach (The Low-Tech Way) That Creates Time and Financial Freedom
(Without Feeling Overwhelmed by Technology, Self-Doubt, or Too Many Choices)
Click Here to Watch Now