How to Start a Beauty Blog Successfully: A Step-by-Step Guide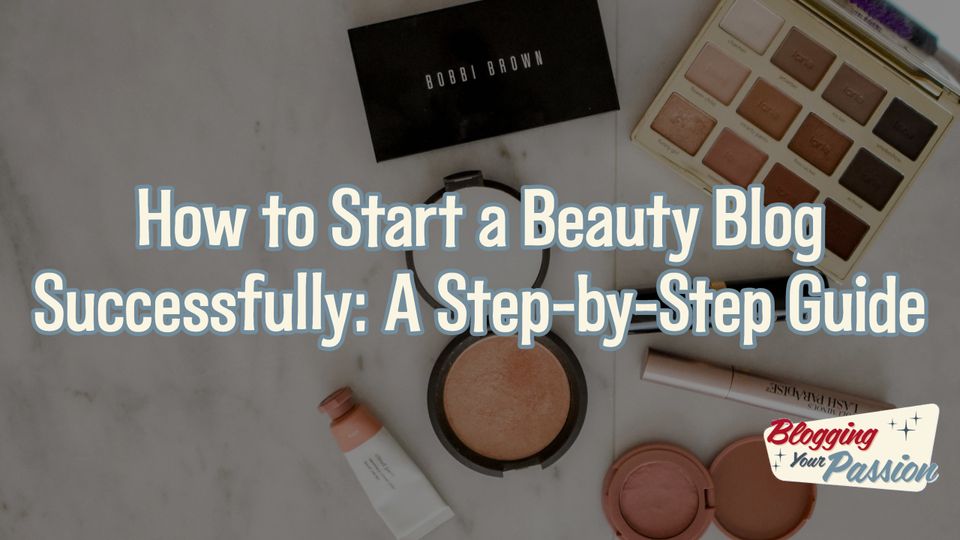 You're a beauty enthusiast with a flair for writing.
You've decided to combine your passions and learn how to start a beauty blog.
But where do you begin?
This guide will help demystify the process of starting a successful beauty blog.
We'll walk you through securing an appropriate domain name, finding affordable web hosting, and why we recommend NameCheap as your content management system.
We'll also look into how to put Ghost in place, determine the right theme (free or premium), and set up ways to get paid.
Plus, we'll share tips on creating an engaging content strategy, including guest posts.
If you're ready to plunge into the beauty blogging world, let's dive in and show you how to start a blog!
1. Choose the Right Domain Name for Your Beauty Blog
The perfect domain name could be as simple as using your own name or something more creative like 'BeautyGuru' or 'MakeupMaven' - just make sure some other beauty queen does not already take it.
Remember, this will become part of your brand identity, so choose wisely.
2. Find Affordable Web Hosting
Once you've secured a killer domain name, it's time to find reliable web hosting services.
Here are the four options I recommend:
By the way, if you want to learn how to start a beauty blog for free, check out our guide on how to begin a blog for free.
Why Ghost Reigns Supreme for Blogging
If you want to start a beauty blog, one of the first decisions you'll need is which content management system (CMS) to use. While WordPress may be the most popular option, it's not necessarily the best fit for everyone.
The Benefits of Using Ghost.org
One CMS that's been gaining popularity in recent years is Ghost.org. Here are just a few reasons why:
Simplicity: Unlike WordPress, which can feel overwhelming with its endless customization options and plugins, Ghost focuses on simplicity. Its minimalist design makes navigating and creating beautiful posts easy without getting bogged down in technical details.
Built-in SEO optimization: It sets Ghost apart from other CMS platforms' built-in search engine optimization (SEO) features. With things like automatic XML sitemaps and canonical tags already taken care of for you, your site will be better optimized right off the bat.
Faster page load times: Ghost has faster page load times by default because it's designed specifically for blogging rather than being a more general-purpose platform like WordPress or Drupal. This means your readers won't have to wait as long for your pages and posts to load - something that can make all the difference in user experience!
A growing community: While still relatively new compared to other platforms, Ghost has been steadily growing in popularity over the past few years, thanks partly to its focus on quality content creation. As such, plenty of resources are available online if you ever need help or inspiration.
Getting Started with Ghost.org
Getting started is easy if you're sold on the idea of using Ghost for your beauty blog. Here's a step-by-step guide:
Sign up for an account: Head to Ghost.org, create an account, and choose a pricing plan that suits your needs.
Select a theme: Once you've signed up, it's time to select a theme. Plenty of free and paid options are available - just browse the selection until you find one that speaks to you!
Create content: With your site set up and looking good, it's time to start creating content! Whether you want to write blog posts about the latest beauty trends or review products in-depth, there are endless possibilities regarding beauty-related topics.
Promote your posts: Writing great content is only half the battle - if nobody sees it, what is the point? Promote your posts on social media channels like Instagram, Twitter, and any relevant forums or groups where potential readers might hang out.
Grow your audience over time: Building a successful beauty blog takes time. Keep at it consistently over months (and even years) while engaging with other bloggers in the industry will eventually pay off!
If you're looking for an alternative CMS platform for starting a successful beauty blog instead of WordPress, then Ghost may be worth considering.
Its simple features include built-in SEO optimization tools, faster page load times, and a growing community. Follow the above step-by-step guide to get started with Ghost today!
3. Choose the Perfect Theme for Your Beauty Blog
Starting a beauty blog? Selecting the proper theme for your Ghost blog is critical to ensuring its visual appeal.
A theme is like the skin of your website, dictating its design and layout.
How to Start a Makeup Blog: Choosing the Right Theme
The theme you choose can significantly impact user experience on your site, so make sure it aligns well with the aesthetics of a beauty blog.
Visually attractive, easy to traverse, and mobile-friendly - these qualities your theme should possess.
Premium vs. Free Themes
While plenty of free themes are available on Ghost, investing in a premium one could give you access to more customization options and better support from developers.
Premium themes offer unique designs that can set your beauty blog apart from others in terms of look and feel.
Don't be afraid to invest in a premium theme to make your beauty blog stand out.
Remember, there are blog themes in the beauty niche. Don't spend all your time trying to figure out how to make a beauty blog theme.
Grab one that has already been created.
4. Create High-Quality Content for Your Beauty Blog
Crafting a content plan is essential for producing captivating material that your followers will connect with and keep them coming back to your beauty blog.
Research trending topics using tools like Google Trends or social media platforms to understand what your readers want, and create a list of potential post ideas based on these trends.
Remember, quality over quantity always wins when it comes to blogging, so focus on delivering value through informative and entertaining articles.
Developing an Engaging Content Strategy
Identify the topics that interest your audience most and create original pieces around them.
Incorporating Guest Posts in Your Content Strategy
Invite experts from the industry to contribute guest posts on specific topics related to beauty trends or product reviews to add variety and bring fresh perspectives and expert insights into certain subjects.
These guidelines can help you devise an effective content plan to captivate your readers and make them return for additional information.
5. SEO Strategies for Your Beauty Blog: A Must-Know Guide
SEO isn't just a buzzword - it's the key to driving organic traffic to your beauty blog.
But how do you implement effective SEO strategies? Let's break down how to optimize blog posts for SEO.
Why SEO Strategies Matter
Good SEO practices are crucial in making your beauty blog visible on search engine results pages (SERPs).
This means more people find and read your content without you having to spend extra on advertising.
Creating SEO-Friendly Content
Start with keyword research using tools like LowFruits.io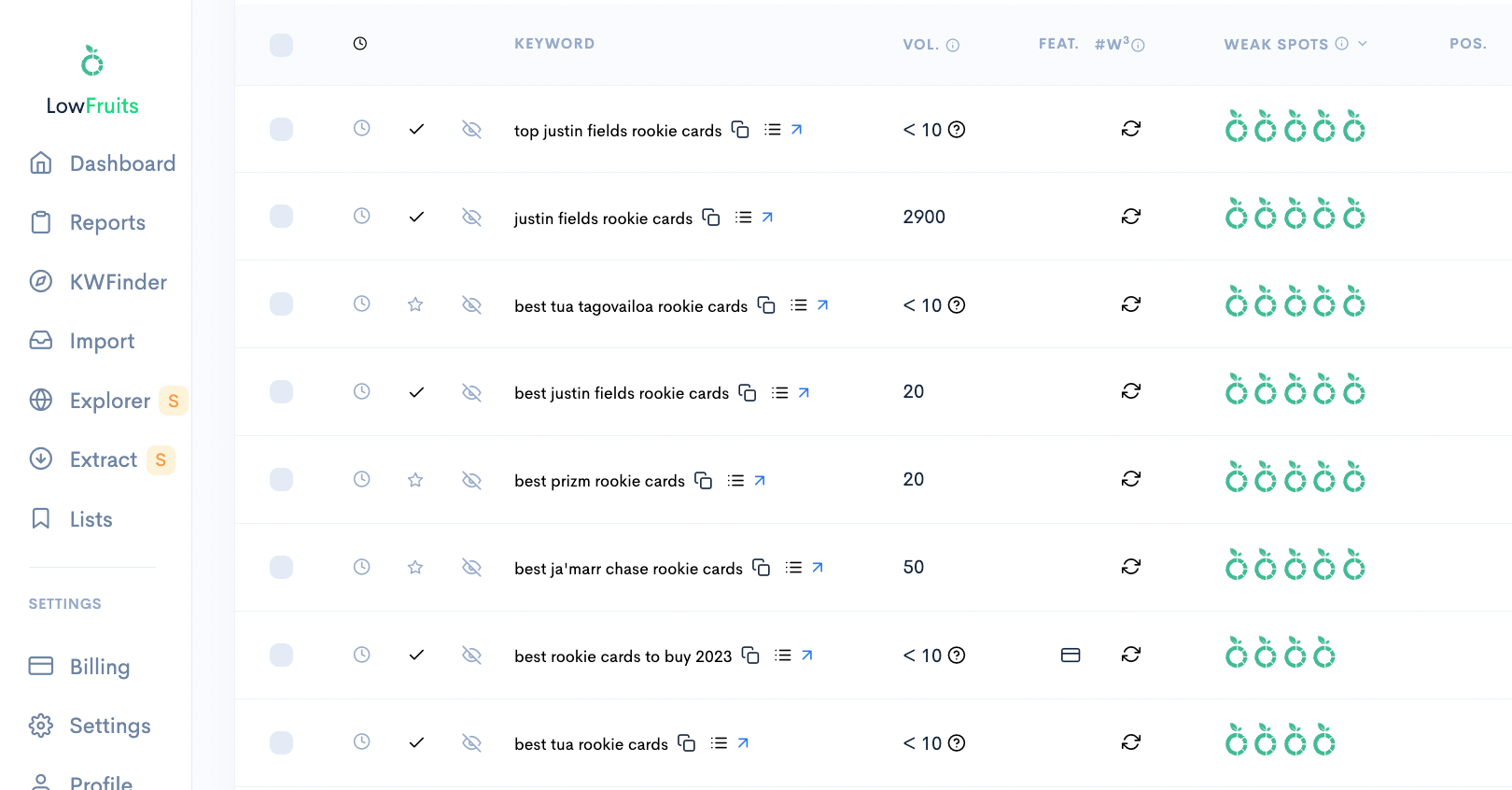 Find relevant keywords with high search volumes and low competition - these are golden opportunities.
LowFruits.io makes this easy. The tool searches the top ten results for your keyword to let you know how many "weak spots" there are.
The more fruit icons you see in the tool, the easier the keyword would be to rank for in Google.
Here is the step-by-step process I would use:
Create a list of potential keywords related to beauty trends or product reviews.
Analyze their competitiveness and search volume using an online tool like LowFruits.
Pick out the most promising ones and incorporate them naturally into your blog posts. Remember, overstuffing can lead to penalties from Google.
By understanding the importance of SEO and learning to create optimized content, you're on your way toward boosting the visibility of your beauty blog.
6. How to Start a Beauty Blog YouTube Channel
If you want to take your beauty blog to the next level, starting a YouTube channel can be excellent.
Let's shift gears and talk about how to start a beauty blog and make money.
You can review beauty products on your channel and make money blogging. The beauty industry is growing every year. To be a successful blogger, you must stay updated with the beauty niche.
Not only does it allow you to showcase your personality and connect with your audience on a more personal level, but it also gives you another platform through which to share content and reach new viewers.
The Benefits of Starting a YouTube Channel
Increased Visibility: With over two billion monthly active users, YouTube is one of the world's most popular social media platforms. By creating video content that complements your blog posts, you can increase visibility for both channels and attract new followers who prefer watching videos over reading articles.
Better Engagement: Videos are inherently more engaging than written content because they offer visuals and audio that help bring topics to life. When people watch videos from creators they enjoy, they often feel like they know them personally - this kind of connection can lead to better engagement rates across all channels.
New Monetization Opportunities: If done right, YouTubers can earn significant amounts of money through ad revenue-sharing programs or sponsored partnerships with brands. This means that by expanding into video creation alongside their blogging efforts, bloggers have additional opportunities for monetization.
Tips for Creating Successful Video Content
To create successful video content as part of your beauty blogging journey, there are some things worth considering:
Create High-Quality Videos: No matter how good your ideas may be, viewers won't stick around long enough to appreciate what's being said if the quality isn't up-to-par. Ensure that the lighting, audio, and camera quality are good (use natural light if necessary). You don't need to invest in an expensive camera or microphone to get started - a smartphone can be sufficient for beginners (click here to see a list of my tools for YouTube and Livestreaming).
Be Consistent: To grow on YouTube, you must post content regularly. This doesn't mean you must upload every day, but creating a schedule and sticking with it will help keep viewers engaged. Try starting with one video per week, then gradually increasing frequency as your channel grows.
Collaborate With Other Creators: Collaborating with other beauty bloggers or influencers can be a great way of simultaneously growing both channels' audiences. Reach out through social media platforms such as Twitter or Instagram, asking if they would like to collaborate on content ideas.
Promote Your Videos: Finally, ensure you promote your videos via all available social media channels so people know when new ones are up. Sharing links across various platforms (Facebook, Twitter, etc.) helps increase visibility among potential followers who may not yet follow either channel.
Starting a YouTube Channel alongside blogging efforts has the potential of driving more traffic back toward blog posts while also opening up additional monetization opportunities by partnering with brands.
By following these tips for successful video creation; high-quality visuals/audio, consistency in posting schedules, collaborations, and promoting videos across multiple social media platforms - any blogger looking to take their beauty blog journey further should consider incorporating YouTube into their strategy.
FAQs About How to Start Up a Beauty Blog
How Much Do Beauty Blogs Make?
Beauty blog earnings can vary greatly, with some generating a few hundred dollars a month and others generating thousands. The income depends on traffic, monetization strategies, and brand partnerships.
How Do I Start a Beauty Blog on Instagram?
Starting a beauty blog on Instagram involves creating a visually appealing profile, consistently posting high-quality content showcasing your makeup or skincare skills, and engaging with your audience to build a loyal following.
How Do You Write a Good Beauty Blog?
To write a good beauty blog, focus on providing valuable content that addresses your readers' needs, maintain a consistent and authentic voice, and utilize visually appealing images or videos to support your content and capture the audience's attention.
What Are the Top Beauty Blogs?
1. Huda Beauty Blog: Makeup tips, skincare advice, and engaging video tutorials from beauty influencer Huda Kattan.
2. Into The Gloss: Industry insider interviews and in-depth articles on beauty trends from Glossier founder Emily Weiss.
3. Caroline Hirons: Expert skincare advice, product recommendations, and detailed reviews from skincare specialist Caroline Hirons.
Conclusion
Now you know how to start a beauty blog.
Creating high-quality content that resonates with your audience is key, but don't forget to implement SEO strategies to increase visibility.
Securing your domain name and joining blogging communities can help expand your reach and build brand awareness.
Partnering with influencers is another great way to generate revenue and engage readers.
Remember, a successful beauty blog is about finding the perfect balance between creativity and strategy.
Start blogging today!
🚀
Free Video:
How to Build an Online Business as a Writer or Coach (The Low-Tech Way) That Creates Time and Financial Freedom (Without Feeling Overwhelmed by Technology, Self-Doubt, or Too Many Choices).
Click Here to Watch Now