Blogging Books: 7 Books Every Blogger Should Read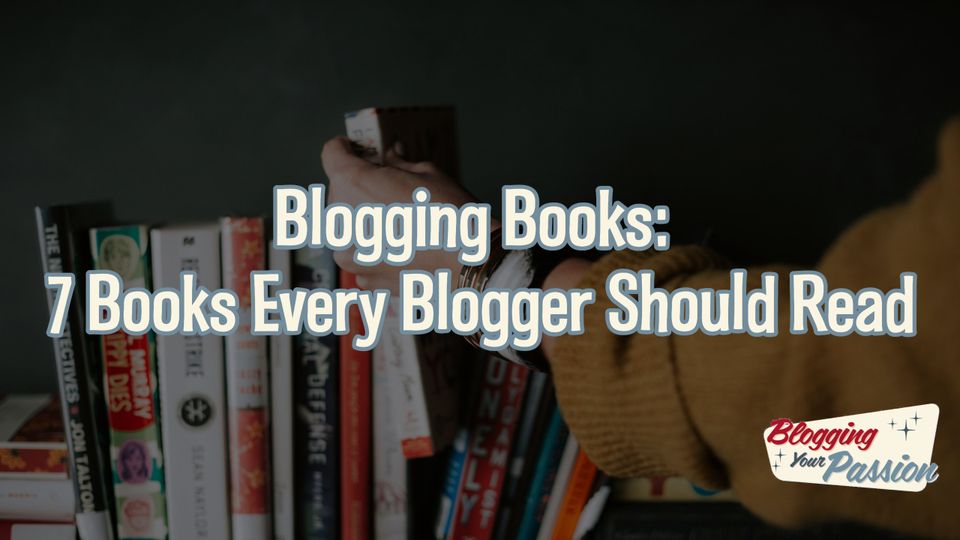 I know, I know, isn't it ironic to think about reading an actual book about something that is done completely online?
Well, it is, but there are still some of us who like to read actual paper books (and even if you don't, there are some electronic blogging books listed as well).
I will start with the books I have read and give my thoughts on them, and then I will share some other books about blogging that may be good ones to consider.
Book 1. Your Message Matters: How to Rise Above the Noise and Get Paid for What You Know
In my book "Your Message Matters," I present a compelling guide for individuals who aspire to make a lasting impact through their words and ideas.
I firmly believe that each of us possesses a unique message within, and by harnessing its power, we can create a meaningful and influential life.
Throughout the book, I emphasize the importance of identifying and refining our message, developing effective communication skills, and leveraging various platforms to reach a wider audience.
By sharing practical advice and drawing from my own personal experiences, I aim to provide readers with a roadmap to discover their message, gain confidence in sharing it, and ultimately make a difference in the world.
I offer insights into utilizing various platforms, including social media, blogging, podcasting, and public speaking, to amplify our message and connect with a broader audience.
By combining theory, practical tips, and real-life examples, "Your Message Matters" equips readers with the tools and inspiration to communicate their unique message effectively and leave a lasting legacy.
👍
Free Book:
Want a free physical copy of Your Message Matters sent to your home address? For a limited time, you can get a free book (just pay $4.95 for shipping).
Click Here to Claim Your Free Book
Book 2. ProBlogger: Secrets for Blogging Your Way to a Six-Figure Income
This was the first book about blogging that I read. I read it after I had been blogging for about 2-3 years and was already doing it full-time.
So it wasn't of much help to me. But, I think the book does a great job of covering the basics of what new bloggers need to know in a very simple and easy-to-understand format.
It lacks a lot of concrete specifics, but as a general informational book, it is great. I often recommend this book to new bloggers who I can tell are serious about it.
Click Here to Learn More About This Book
Book 3. The Huffington Post Complete Guide to Blogging
I bought this book around the same time, and I personally thought it wasn't very relevant at all.
If you are familiar with the Huffington Post, you know that they have a big business that is really a news site and has few similarities to what most pro-bloggers are doing with their blogs.
For that reason, the book offered little helpful information. I would pass on this one.
Book 4. Blogging For Dummies
I don't think I own this book (can't find it if I do), but I have read through it a bit and know someone who has it.
Like most Dummies books, it does a pretty good job of simplifying things to their simplest forms.
It covers a lot of the basics, but I would make sure you are getting one of the newest editions as all this information changes so quickly. It also has great ratings on Amazon.com.
Click Here to Learn More About Blogging for Dummies
Book 5. WordPress Explained: Your Step-by-Step Guide to WordPress
This book has pretty good reviews and seems to cover a lot of the WordPress basics. These are some of the topics included:
How to Attract Readers with Your Writing
Find The Right Topics that Work for You
SEO Made Easy
Power Plugins that Work for You
How to Make Your Readers Want to Comment
Get Traffic to Your Blog for Free
Glue Your Readers to Your Blog Posts
Where to Get Cheap Help
Click Here to Learn More About WordPress Explained
Book 6. Create Your Own Blog: 6 Easy Projects to Start Blogging Like a Pro
This book has a 4.0-star rating with several reviews on Amazon – which is good enough to make me want to purchase it. The cover, on the other hand, makes me not want to purchase it. 😉
These are a few of the topics covered:
Setting up your blog the right way–in just minutes!
Writing blog posts, people want to read
Handling blog comments–even nasty ones!
Creating a conversation and building a community
Publicizing your blog
Choosing the right free or low-cost blogging tools
Avoiding beginner mistakes
Earning cash from your blog!
Click here to check out Create Your Own Blog
Book 7. Content Rules: How to Create Killer Blogs, Podcasts, Videos, Ebooks, Webinars (and More)
This one isn't specifically about blogging, but rather content creation in general.
I personally think it is important to think about these alternative methods of creating content because blogging is just a current method of creating content – but who knows what the world will look like in 10 years. So thinking beyond blogging is always a good idea.
The book is also a very well-reviewed book on Amazon, and these are a couple of things it helps readers with:
Understand why you are generating content—getting to the meat of your message in practical, commonsense language, and defining the goals of your content strategy
Explore ways to integrate searchable words into your content without sounding forced (or sounding like "Frankenspeak")
Write in a way that powerfully communicates your service, product, or message across various Web mediums
Create a publishing schedule that allows you to create different kinds and types of content at once
Click here to check out the Content Rules book
🚀
Free Video:
How to Build an Online Business as a Writer or Coach (The Low-Tech Way) That Creates Time and Financial Freedom
(Without Feeling Overwhelmed by Technology, Self-Doubt, or Too Many Choices)
Click Here to Watch Now