A Very Cool WordPress Plugin If You Sell Anything Online
I love to share products with you that have helped me to save time, money or resources. Today is no different. I have many weaknesses when it comes to blogging and one of those is adding and editing graphics to my blog. In particular, I have struggled in the past with making my sales pages … A Very
I love to share products with you that have helped me to save time, money or resources. Today is no different. I have many weaknesses when it comes to blogging and one of those is adding and editing graphics to my blog.
In particular, I have struggled in the past with making my sales pages look sharp. If you have money to outsource it then great for you! However, when I was starting out, I didn't always have the extra cash to outsource "sales page creation" as it can be a bit expensive.
Short Codes Deluxe WordPress Plugin
I have been using an awesome plugin called Short Codes Deluxe WordPress Plugin that adds 15 different graphic elements to my Visual Editor inside WordPress. These 15 buttons can quickly and easily "jazz up" your blog in a few clicks!

Once you click on a button, you have several options to choose from. Each option can be easily customized. For example, if I were to click on the green check mark button to the left, I am offered to insert many different styles of arrows, check marks, and numbers (see picture below).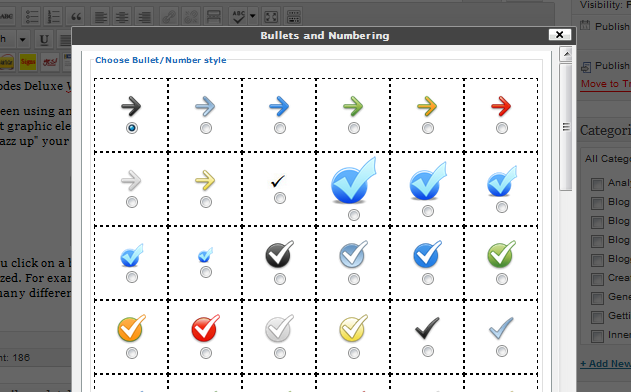 As you can see it is easy to insert graphics onto a blog post or sales page with this plugin. But adding arrows, check marks, and numbers is not the only thing this cool plugin can do. Here are a few other features:
Easily Insert Add to Cart Buttons (Just Insert Paypal Link)
Add Different Popular Phrases
Add Various Banner Headings (Change the text!)
Include Sharp Testimonial Boxes
Header Fonts
Highlight Any Text You Want
Add a Pricing Table to a Product or Membership Site
Wow, isn't that cool? I can do this all inside my visual text editor in WordPress! I didn't even show you every single thing this WordPress plugin can do. You can also create Johnson Boxes, Popular Graphic Phrases, Guarantee Box and Order Form Graphics, Cool Line Breaks, Special Hyperlinks, Delay Content Feature, and more!
At this point in time, I have yet to find anything easier to use when it comes to adding graphics to WordPress. I am slowly converting all of my sales pages by using the Short Codes Deluxe WordPress Plugin.
If you want to watch a 10-15 minute video on how to use this plugin go here. Right now, you can pick up the Short Codes Deluxe Plugin for only $37.
By the way, there is a "Free Option" if you just want to try it out first. The free option gives you just one button (the testimonial button mentioned above). In order to get the free button, go to the main page, and then navigate away from the page and you will be taken to the free option.
I hope this helps you create and sell more products this year!