5 Quick Blogging Tips You've Probably Not Heard About
It is always fun to come across some little known tip or trick as a blogger. I always enjoy discovering those one-time blogging tips you can add that make a difference. We can all use tips that: Simplify things we are already doing Save time on tasks we do on a regular basis Improve the … 5 Quick B
It is always fun to come across some little known tip or trick as a blogger.
I always enjoy discovering those one-time blogging tips you can add that make a difference. We can all use tips that:
Simplify things we are already doing
Save time on tasks we do on a regular basis
Improve the quality of our search results
Make our brand look more professional
I want to share with you 5 blogging tips you may not of heard of yet. You can implement everyone of these tips right now in the next 20 minutes.
1. Get your name for your Google Plus Profile URL
Even If you are a casual user of Google Plus, I would encourage you to do this right now. Currently, your profile page is identified by a bunch of numbers, like https://plus.google.com/112563894869687827911/
This is not very attractive when trying to share your profile with others. You can solve that by hoping over to http://gplus.to/
From there you can create your own Google Plus Profile URL with your name or brand. Check out mine at http://gplus.to/jonathanmilligan
One more thing, go ahead and circle me while you are there!

2. Add and verify your blog to your YouTube Channel
If you have a YouTube account, Google wants to associate your blog or site to your YouTube Channel. In other words, your YouTube Channel becomes the official site for your blog.
There is no telling what Google will do with this info in the days ahead, but for now they explain this benefits this way: "This will help us improve the quality of our search results and verify your channel as the official representation of your brand on YouTube."
To add your blog to your YouTube Channel, just go to Channel Settings —> Advanced —> Associated Website.

3. Add Google Analytics to your YouTube account
While you are in the advanced YouTube Channel settings, go ahead and link up your Google Analytics with your YouTube Channel. This will allow you to view your YouTube Channel stats in Google Analytics.
Just go to Channel Settings —> Advanced —> and scroll down to the bottom of the page.

4. Use colors of famous brands on your own blog
Want to use familiar brand colors on your blog, product, or order buttons? I like to use familiar brand colors for various items on my blogs.
For example, I have often used the familiar orange Amazon color for my order buttons. It gives a familiar feel to many who are used to ordering products on Amazon.
Bookmark the following page BrandColors.net that has a long list of popular brand colors so you can review it over and over again.
Here is another example. I am creating an Evernote Course for Bloggers, Writers, Speakers, and Entrepreneurs. I want the design to have a similar color scheme so I used the page mentioned above to find the hex color number for Evernote.

5. Make instant, awesome quote graphics
Sharing favorite quotes on social media outlets can be a great way to get more likes, shares, and comments. But how do you create these graphics when you don't have PhotoShop?
Just hop over to Quozio and the process is a cinch. First, start by adding your quote and the author of the quote. Then, flip through your different choices until you find a design that works for you.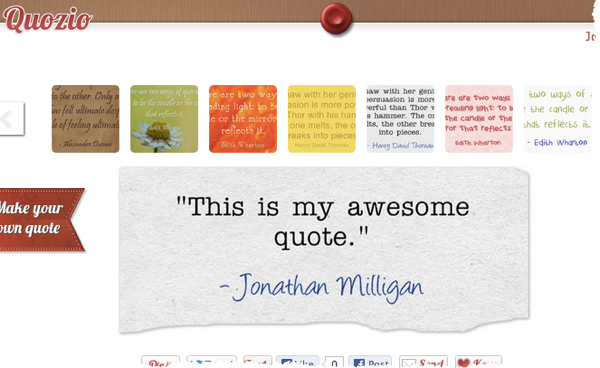 Question: Do you have any quick tips related to blogging or social media? Comment below…