Boosting SEO with WordPress Cornerstone Articles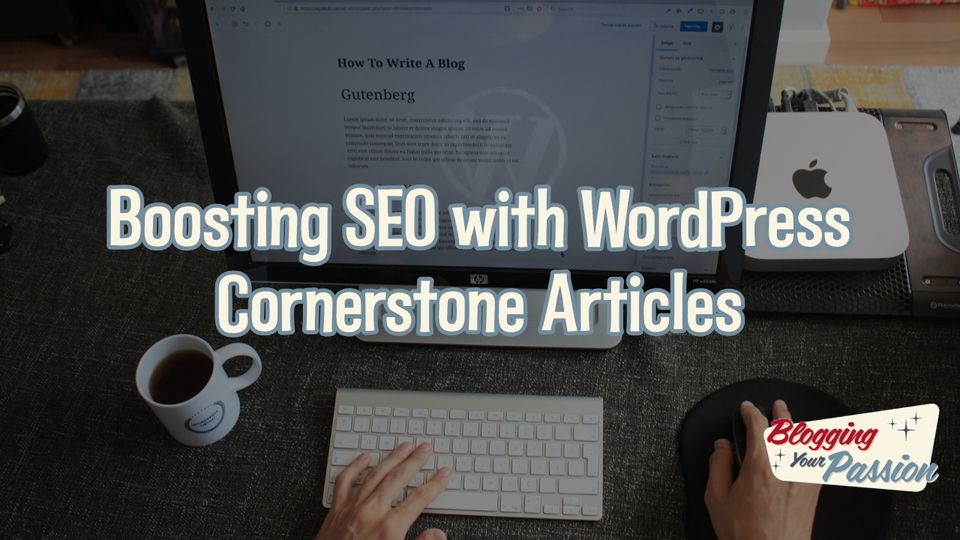 Picture this.
You've just published a fantastic blog post on your WordPress site.
It's packed with valuable information and engaging visuals and optimized for all the right keywords.
You're certain that this is one of your best pieces yet. Despite your hard work, the piece appears to have been swallowed up by the immense amount of content on the internet.
This is where WordPress cornerstone articles come into play!
In essence, these are high-quality individual blog posts that serve as the chief foundation of your content strategy and help search engines understand what your site is about.
But how do you create these important blog posts?
And what is cornerstone content to begin with?
This guide will take you through everything from understanding what cornerstone content is to leveraging Yoast SEO to create compelling posts and optimize the internal linking structure.
We'll also delve into promoting these critical posts externally via social media, participating in roundups hosted by other bloggers, and even exploring monetization possibilities once traffic starts pouring onto your website, thanks to these WordPress cornerstone articles!
Understanding Cornerstone Content in WordPress
Let's get on the same page with a cornerstone content definition.
Cornerstone blog content is:
The best, most informative content on your blog.
Evergreen content that stays relevant all year long.
Foundational content to understand your niche.
And typically, the longest articles on your site.
These long-form pieces provide comprehensive information on a specific topic relevant to your blog or business and, when done right, can significantly engage visitors and increase their stay duration on the site.
Cornerstone content plays a critical role in enhancing your website visibility and authority by improving SEO ranking through valuable and informative resources for readers, resulting in more organic traffic flowing toward your site. It's a smart SEO strategy.
Consider cornerstone articles as a blog post overview of a broad topic. They carry prominent words and give a big-picture overview of a topic. Meanwhile, other shorter blog posts can do deep dives on specific topics and link back to the cornerstone blog post.
As you can see, cornerstone content has many practical benefits, including highlighting important posts, creating good site structure, providing excellent content, and becoming known as an authoritative resource.
Cornerstone Content Examples
To see a few cornerstone content examples, take a look at the following articles:
Yoast SEO: Your Secret Weapon for Killer Cornerstone Articles
Did you know Yoast SEO is the ultimate tool for crafting compelling cornerstone articles?
With features like a text link counter and internal linking suggestions, Yoast SEO makes it easy to create comprehensive posts that boost your site's authority in Google's eyes.
Features of Yoast SEO that benefit your cornerstone articles:
The text link counter ensures your article has the optimal number of inbound and outbound links.
Internal link suggestions help you create a web-like structure within your site, boosting its authority.
Linking to related content at the bottom of each blog post is also a good practice.
But that's not all.
Yoast SEO also helps you identify potential cornerstone content by making the analysis criteria stricter than usual, ensuring only top-notch important content gets the green light.
Identifying potential cornerstone pieces using Yoast SEO:
To flag an article as 'cornerstone,' simply check the "This post is cornerstone content" box under the "Yoast SEO Meta Box".
Your selected cornerstones will appear at the top of all relevant search results within your website, ensuring they get maximum visibility.
You can find some of your WordPress cornerstone articles by looking through your existing content.
And don't forget that basic keyword research is another way to create important articles from the target keywords you find.
In short, if you're serious about creating compelling WordPress cornerstones that boost traffic and engagement on your blog, start leveraging Yoast today. It's an instrument that can genuinely effectuate a transformation.
Ideal Number and Topics Selection for Cornerstone Articles
So, how many cornerstone articles does your blog really need? Just 4-5, that's it (although you can have more)!
But don't make them just any random posts; they need to be well-crafted, informative pieces that stay relevant over time.
Keep your posts current and pertinent by regularly refreshing them in the ever-evolving digital world.
Selecting Appropriate Topics Based on Keyword Popularity
Choosing topics for these essential posts isn't rocket science; it's all about understanding your audience's interests and search habits.
So, pick topics based on high-volume keywords that are popular among your target audience.
And if you need help, tools like Ahrefs can be a great resource.
Optimizing Internal Linking Structure with Cornerstone Content
Creating top-notch cornerstone content is only half the battle - you also need to link it effectively within your site.
Cornerstone articles are the foundation of your blog and should be linked back to every post relevant to their topic area across all categories.
This creates an interconnected web-like structure within the site architecture, distributing page authority evenly throughout all pages.
Importance of linking back from related posts
Each internal link is like a vote for that page's importance on your website.
The more votes (or links) a page has, the higher its perceived value in search engine algorithms like Google's.
Distributing page authority through strategic interlinking
Identify all posts that can naturally link back to your cornerstone pieces using SEO tools like SEMrush or Ahrefs' Site Audit tool.
Start by linking posts that provide additional information or context on the topic being discussed in the original post.
A simple rule for effective interlinking:
Your links should provide additional information or context on the topic being discussed in the original post.
Tips for efficient internal linking:
Add anchor text that accurately describes what readers will find when they click on it.
Create natural transitions between topics so readers don't feel jolted by sudden changes.
Avoid overloading any post with too many internal links - quality over quantity.
External Promotion Strategies For Your Key Posts
Your cornerstone articles are the cream of your content crop, so don't keep them hidden in the shadows.
Promote your cornerstone posts through social media platforms such as Facebook, Twitter, LinkedIn, and Pinterest to maximize visibility.
Social networks like Facebook, Twitter, LinkedIn, and Pinterest can be powerful platforms for promoting your cornerstone posts.
A well-crafted tweet or a compelling Facebook update can draw attention to your cornerstone content and drive more traffic toward it.
The trick here is to share and engage with your audience on these platforms.
Respond to comments and participate in discussions related to your topic area - this will help you build relationships and establish authority in your niche.
By researching and understanding the nuances of effective social media strategy, you can maximize your engagement with your audience.
Tips for Sharing Cornerstone Content on Social Media
Create enticing headlines: The initial element that individuals come across when they encounter a link shared on social media is usually the headline, so it should be captivating enough to draw them in right away. Make sure it's catchy enough to grab their attention right away.
Add visuals: Images and videos tend to perform better than text-only posts. Consider adding relevant graphics or short video clips highlighting key points from your article.
Promote multiple times: Don't limit yourself by only sharing once. Schedule several shares over time (but avoid spamming.), as different users might see each one depending on when they're active online.
Monetization Possibilities With High Traffic On Your Site
High traffic is the golden goose of blogging, and monetizing it can be your path to financial freedom.
So how do you convert those page views into dollars?
Option #1: Google AdSense - earn money by displaying targeted ads next to your online content.
Option #2: Affiliate marketing - promote someone else's product or service on your blog and get paid when a visitor clicks through your unique link and makes a purchase. Check out Amazon Associates.
Option #3: Sponsored partnerships - get paid by brands to write about their products or services on your blog, but make sure it aligns with your brand and audience interests.
Exploring different monetization models
The best part? You don't have to stick with just one method. Mix and match based on what works best for your audience and niche.
If ad revenue starts slowing down, ramp up affiliate marketing efforts or seek more sponsored opportunities.
In essence, successful monetization requires strategic planning alongside consistent execution - but remember always prioritize quality content above all else as this will drive sustainable growth long term.
FAQs About WordPress Cornerstone Articles
What is Cornerstone Content in WordPress?
Cornerstone content is your website's most important and comprehensive article that serves as the foundation for other related posts.
How Long Should a Cornerstone Article Be?
Aim for at least 1,000 words, but many successful cornerstones exceed 2,000 words to cover their topics thoroughly.
Why is Cornerstone Content Important?
Cornerstone content improves your visibility in search engines and enhances user experience by providing valuable resources that attract and retain readership.
What Are the Negative Aspects of Using Cornerstone Content?
Cornerstone content can become outdated quickly and may not be suitable for all types of websites.
What Are Some Irrelevant SEO Strategies Not Related to Cornerstone Articles?
Keyword stuffing, buying links, and using irrelevant meta tags are some irrelevant SEO strategies that can harm your website's ranking.
Where Can I Find Credible Sources to Backup Claims?
You can find credible sources from academic journals, government websites, and reputable news outlets.
Conclusion
Cornerstone content is crucial for improving website visibility on WordPress, and Yoast SEO can help identify potential cornerstones based on keyword popularity.
Strategically interlinking topics is important for optimizing internal linking structure, and external promotion strategies like social media sharing and blogger roundups can boost post value and strengthen domain authority.
Monetization possibilities should be explored with high traffic on your site, and following these guidelines for WordPress cornerstone articles can effectively improve your website's online presence.