The 89 Profitable Blog Niche List for 2023 | Find the Right Blog Niche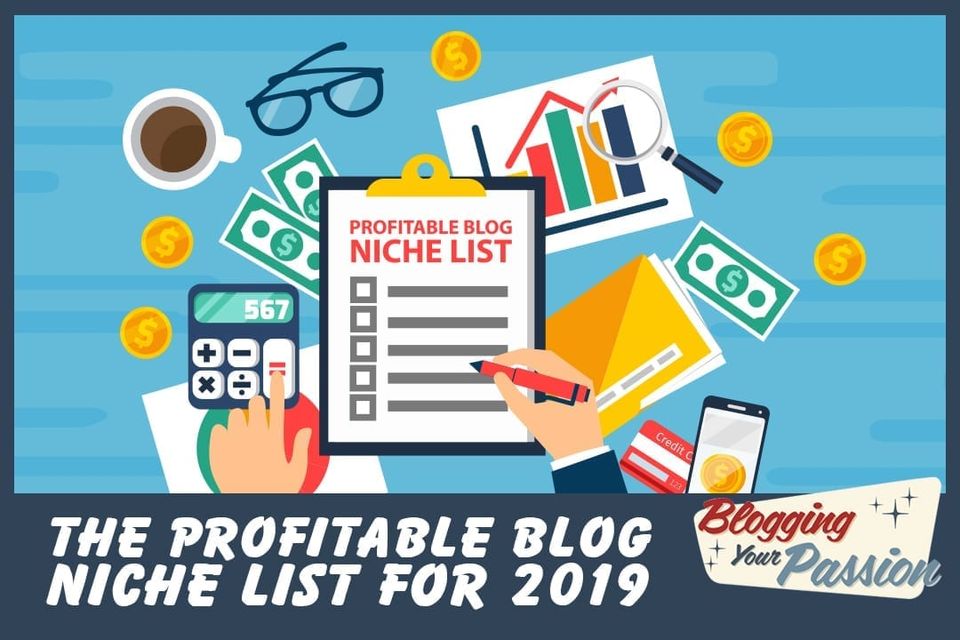 What's working right now? What's a profitable blog niche I should consider going into? These are common questions that new bloggers often ask.
Choosing your blog niche is one of the biggest challenges new bloggers face. Who wants to waste their time, energy, money, and effort on a losing niche?
In a recent survey of the Blogging Your Passion community, discovering your niche was the biggest challenge that bloggers are facing.
Before you start a blog you need to know who the audience is.
Can you identify with any of these:
How do you choose the right topic to blog about?
I have many passions. How do I narrow it down to just one?
How do I evaluate the profit potential of a niche?
Can you just write about anything and make it sell?
What demographic should I focus on?
How do I know if my niche is too big or too small?
How do I know if I can make money with my idea?
The Profitable Blog Niche List for 2023
Recently, we compiled hundreds of blog niche ideas and then ran them through our "profitability filter." In order to qualify as a viable blog niche, they had to pass the following criteria:
Not too much competition
Not too little competition
Plenty of evidence of people consuming content on this topic
Steady customer demand for more than five years (not a fad)
Other blogs have already proven to make money with this topic
Active reviews and products exist on Amazon
LinkedIn and Facebook Groups have life and activity
After we ran hundreds of blog niche ideas through this filter, we narrowed down the blog niche list to 89 profitable ideas for 2023. Below you will find the entire list of blog niches we approve.
The 89 Profitable Blog Niche Ideas for 2023
Without further ado, here are our top 89 blog niches for 2019. Be sure to align your own gifts, knowledge, and experience with the niche you choose. Remember, you don't have to be an expert to start a blog on the topic, but you do need to be a leading learner.
Personal Finance
Health and Fitness
Food
Beauty and Fashion
Special Education (Parents & Teachers)
Real Estate Investing Education
Homesteading
Survival Planning
Home/Outdoor Decor
Organization
Travel
Gardening
Personal Development
Crafts
Art for Teachers
Pet Care & Training
Writing
Freelance Business
Automotive DIY Upholstery
Sewing
Parenting
Frugal Living
Newborn
Christian Living
Music Lessons Education
Video Game Reviews
App Reviews
E-commerce
Hand Lettering
Tech Gadget Reviews
Photography
Learning a Language
Relationship Advice
Painting
Photoshop Tutorials
Psychology
Trading Stocks
Virtual Reality
Web Development
Vegan Cooking
Travel Photography
Building Websites
Bodybuilding
Audio Production
Men's Lifestyle
Video Editing
Eco Living
Yoga
Public Speaking
Golf Tutorials
Software Development
Productivity Tips
Life Hacks
Learning New Skills
Astronomy & Space
Personal Style
Family Life
Video Game Strategies
Marathon Running
Hiking Trails
Copywriting Tips
Home Cooking
Self-defense Training
Asian Food Recipes
Cryptocurrency
Car Repairs
Gaming
Drawing
Interior Design
Restaurant Reviews
Scuba Diving
Keto Diets
Home Exercise Workouts
Wedding Planning
Personal Development
DIY Home Projects
Web Design
Healthy Food Recipes
Motorsports
Holistic Healing
Fishing
Art & Culture
Organic Food Recipes
Dating Advice
Business Consulting
Sustainable Living
Cars
Book Reviews
College Planning
Find any that pique your interest? Remember, don't just pursue a blog niche because it looks profitable. You need to find a blog niche that meets three criteria (see: 3 Things You Must Know Before Starting a Blog Business). Once you pass this test, you're ready to go make your mark on the world!
🚀
Free Video:
How to Build an Online Business as a Writer or Coach (The Low-Tech Way) That Creates Time and Financial Freedom
(Without Feeling Overwhelmed by Technology, Self-Doubt, or Too Many Choices)
Click Here to Watch Now