How to Start a Photography Blog (2023): The 5 Critical Steps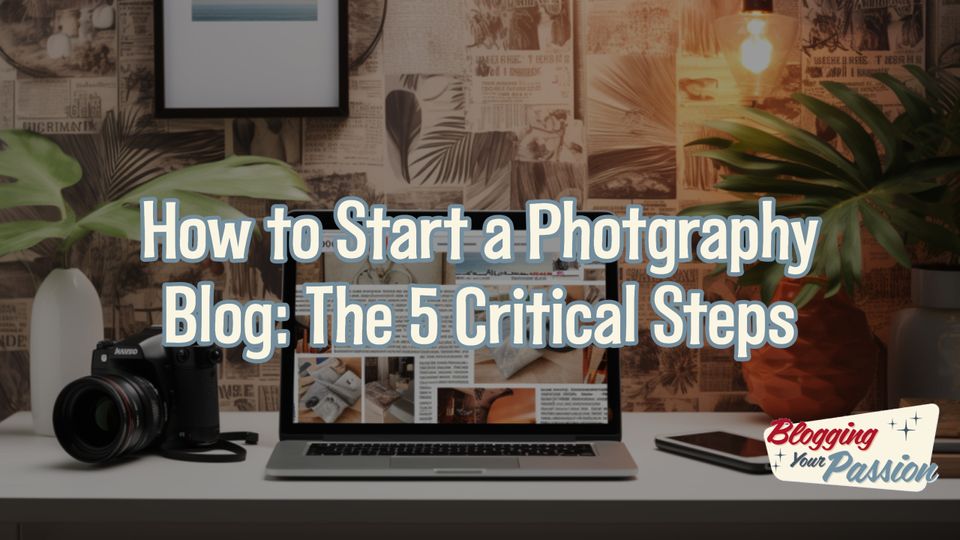 How to start a photography blog: the question may have circled your mind ever since you snapped that perfect sunset shot with your DSLR.
You've always had an eye for capturing life's beautiful moments, and friends have often marveled at how well you frame each shot. "You should start a blog," they say, and so here we are.
But where do you begin?
You know all about ISO settings and shutter speeds, but things get fuzzy when it comes to SEO or WordPress themes.
No worries!
Just as mastering manual mode didn't happen overnight, learning how to start a photography blog will take some time - but trust me, it's worth every second!
Over the years, I've had the fortunate opportunity to meet several aspiring photography bloggers. Blogging piqued their interest because they were looking for ways to scale their business beyond trading time for dollars.
While earning that initial income from wedding photography, senior pictures, and the like is great, it's even better once you add some recurring income to your photography business.
Later in this comprehensive guide, you'll learn the 5 essential steps on how to create a photography blog.
To make it easy, here's a basic overview:
Step 1. Choose the Right Blogging Platform for Your Photography Blog
Step 2. Create Engaging Content for Your Photography Blog Niche
Step 3. Master SEO to Grow Your Photography Blog
Step 4. Monetize Your Photography Blog to Start Making Money
Step 5. Know the Legal Aspects of Running a Photography Blog
We will cover all that and more, but first, let's tackle an important question: Why start a photography blog?
Why Start a Photography Blog?
Creating a blog could be the ideal platform for those with an eye for photography and a desire to share their work. However, it's not just about showcasing your work; it can also be a powerful tool for growing your business.
A successful photography blog does more than display photos; it tells stories that connect viewers on a deeper level. This narrative aspect of blogging engages readers and keeps them coming back for more, potentially converting them into clients or followers.
Fueling Your Photography Business Growth
Blogging is no longer optional for professional photographers; it's essential. Regularly posting high-quality content related to your niche helps attract potential customers who may need services like wedding photography or landscape image capturing.
Plus, every post serves as proof of expertise while giving prospects insights into what working with you might look like, a winning combo when attracting new clientele.
Elevating Your Authority Within The Niche
Your photo blog isn't merely another platform to showcase pictures but rather an opportunity to establish yourself as an authority within the field.
Consistently creating quality posts on specific topics (like tips on taking better shots) positions you as knowledgeable. This recognition brings people back time after time and potentially hires you too.
Keeping A Fresh And Modern Website
In today's fast-paced digital world, where trends change rapidly online, regular updates ensure freshness, an important factor appreciated by both existing visitors and newcomers alike.
Maintaining frequent posts relevant to developments in the industry or genre covered by their blogs makes money opportunities possible beyond traditional client bookings alone.
Step 1. Choose the Right Blogging Platform for Your Photography Blog
The journey to start blogging about your passion in photography begins with selecting an appropriate platform. Among various options, WordPress has gained immense popularity among professional photographers and newbies alike.
Why? Because it seamlessly blends user-friendliness with a wide array of features that are ideal for running successful photography blogs.
Also, its integration capabilities make it compatible with several blog hosting services, making the setup process smooth even if you're just starting out.
Laying The Foundation: Setting Up Your WordPress Site
To kickstart your photo blog on WordPress, choose a plan tailored to meet your needs. Once done purchasing this plan, it guides you through setting up web hosting and initiating the installation of WordPress itself.
In addition, ensure activating SSL as part of the setup steps, which is critical towards securing data transfer between site visitors' browsers and yours. It also boosts search engine ranking since Google prefers HTTPS over HTTP websites.
You can customize the look and feel using free or premium WordPress themes from the vast collection available within the WordPress Theme Directory.
These range from minimalist designs perfect for showcasing landscape images to vibrant layouts apt for wedding photographers wanting their work to stand out online.
The last but not least step involves adding essential plugins via the WordPress dashboard after having successfully installed WP.
These enhance functionality like SEO optimization, loading speed improvement, e-commerce capabilities, etc., enabling you to sell prints directly off your photo blog.
An Alternative Route: Free Blogging Platforms
If budget constraints hinder opting for paid solutions such as Hostinger alongside premium WordPress themes initially, there exist alternatives too.
Consider beginning on platforms like Blogger or Tumblr, offering basic functionalities needed at the onset. However, they lack customization flexibility compared to what WP provides.
Hence, in the long term, upgrading becomes inevitable when serious about maintaining thriving photography blogs.
My Preferred Blogging Platform: Ghost.org
If WordPress intimidates you, then consider starting your blog with Ghost.org. In fact, you are on it right now! I love Ghost due to its ease of use and simplicity.
💡
Key Takeaway: Starting a photography blog begins with choosing the right platform, like WordPress, for its user-friendly features and integration capabilities. After setting up your site, customize it using themes from the WordPress directory and add essential plugins to enhance functionality. If budget is an issue initially, consider free platforms like Blogger or Tumblr but be prepared to upgrade later for more
Step 2. Create Engaging Content for Your Photography Blog Niche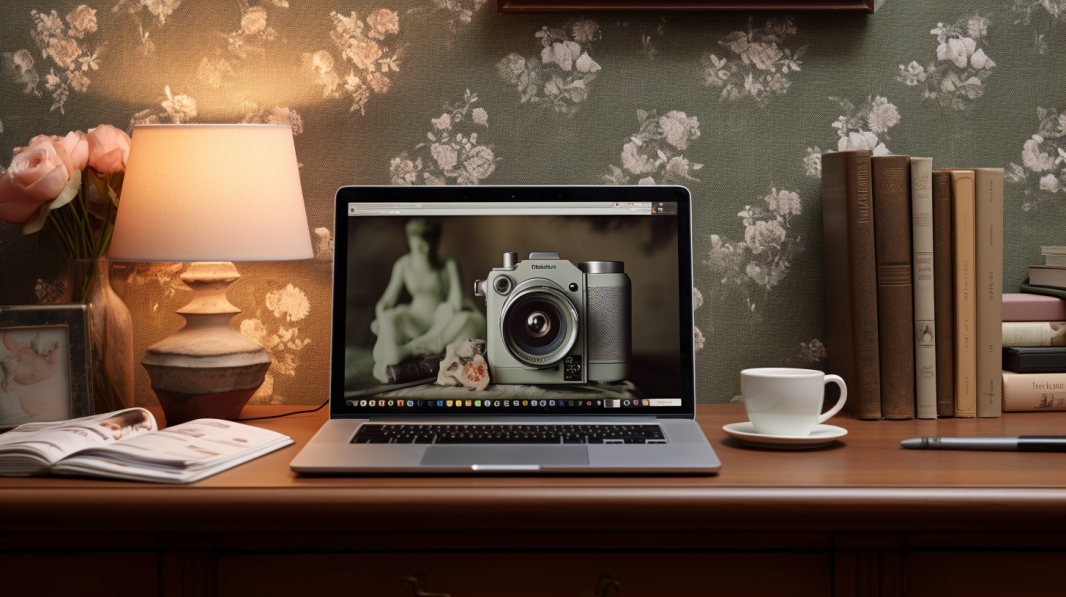 A successful photography blog relies on the quality and relevance of its content. This includes behind-the-scenes peeks at photo shoots, tutorials, gear reviews, and even selling prints.
Selling Prints Through Your Blog
One way to engage readers is by offering high-quality prints for sale directly through your blog. This monetizes your site and provides value for visitors who admire your work enough to want a physical copy.
To effectively sell prints via your photography blog's money system, ensure that images are top-notch representations of what customers will receive upon purchase.
Also, streamline the purchasing process as much as possible - complex or confusing checkout procedures can deter potential buyers.
Tutorials and Gear Reviews
In addition to selling prints, consider creating tutorial-based posts or conducting gear reviews specifically related to the needs of professional photographers. Here's an example of some great online tutorials.
This type of engaging content helps establish you as an authority within the niche and builds trust among readers, which could lead to increased traffic and sales conversions over time as they start promoting their own work based on these tips.
Backtracking slightly - writing style matters too. Ensure that all posts adhere strictly to correct grammar usage. There are many tools available online that can assist in maintaining good grammar.
☝️
Remember: engagement stems from consistently delivering valuable information, so keep experimenting until you find what resonates most with YOUR audience.
Step 3. Master SEO to Grow Your Photography Blog
To maximize the visibility of your photography blog on search engines like Google, it is essential to master SEO. This technique enhances your site's visibility on search engines like Google and can be achieved by implementing a few key strategies.
Digging Into Keyword Research
The cornerstone of effective SEO lies in identifying relevant keywords that resonate with your photography niche.
Utilize a keyword research tool like LowFruits.io, which aids in discovering high-search-volume terms pertinent to your content.
Incorporate these identified keywords into various parts of your content - titles, headers, meta descriptions, and image alt tags.
However, avoid keyword stuffing as it could lead to penalties from search engine platforms.
Note: The goal here isn't just about attracting any traffic; it's about attracting the right kind - those genuinely interested in your blogging.
Prioritizing Quality Content Consistently
Producing content of superior quality regularly is essential for the successful operation of a photography blog.
This means creating engaging and informative articles, showcasing your best photographs, and providing valuable insights and tips to your readers.
Make sure to update your blog regularly with fresh content to keep your audience engaged and coming back for more.
This will also signal to search engines that your blog is active and relevant, improving your chances of ranking higher in search results.
Optimizing Your Blog's Design and User Experience
Aside from making excellent material, enhancing your blog's design and user experience is indispensable.
This includes choosing a visually appealing and responsive theme, organizing your content in a user-friendly manner, and ensuring fast loading times.
Ensure your blog is straightforward to get around, with understandable menus and classifications that permit guests to rapidly discover the data they need.
Use high-quality images and optimize them for web use to enhance the visual appeal of your blog.
💡
Key Takeaway: Boost your photography blog's visibility by mastering SEO, focusing on keyword research relevant to your niche. Prioritize creating consistent, high-quality content and optimize the user experience of your blog. Remember, it's not just about attracting traffic but the right kind.
Step 4. Monetize Your Photography Blog to Start Making Money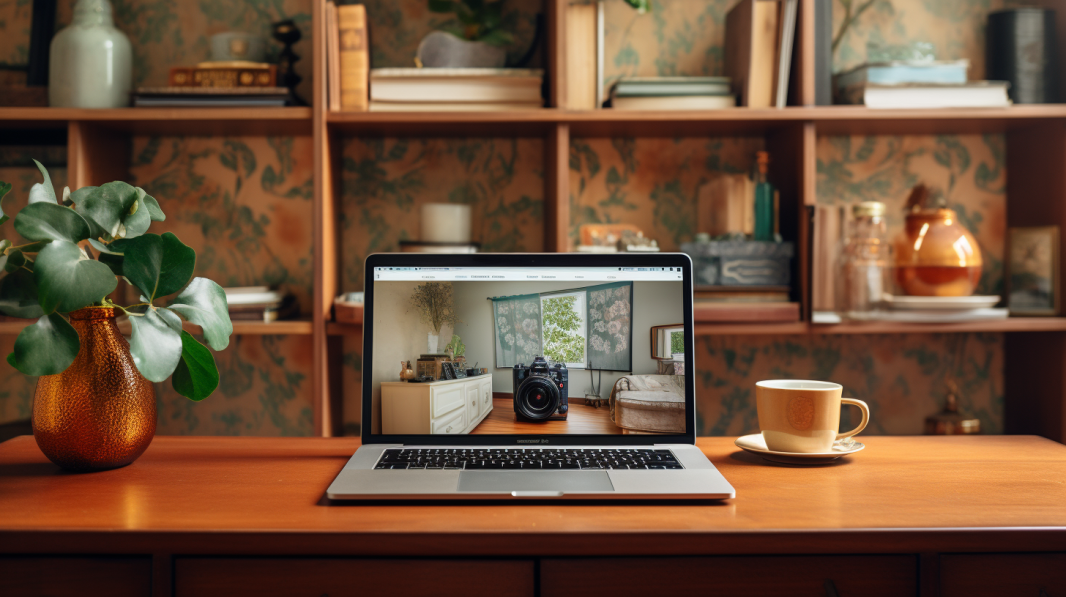 The journey to start making money from your photography blog can be thrilling yet complex. By employing the right tactics, you could potentially turn your enthusiasm into a source of revenue.
Leveraging Wedding Photography Through Blogging
Blogging offers an exceptional platform for wedding photographers to exhibit their work and attract prospective clients.
An eloquently written post about a recent wedding shoot displays your current shooting style and provides future couples insights into how you function behind the lens.
In addition to attracting new clientele, blogging opens doors for monetization opportunities such as sponsored posts or affiliate marketing.
For example, if there's particular gear that has notably enhanced your shoots, consider partnering with those companies for sponsorship deals or join their affiliate program if available.
You could pen detailed reviews of these products on your blog and include affiliate links where readers can purchase them directly.
Whenever someone makes a purchase utilizing one of these links, you will gain some commission without it costing them anything extra.
Selling Prints Directly From Your Photo Blog
An additional profitable avenue is selling prints through SmugMug, a popular choice among many successful photography bloggers because it integrates seamlessly with WordPress sites, allowing easy management of print sales without requiring third-party services.
You need good ideas regarding pricing structures, presentation, and shipping logistics to maximize this revenue stream effectively.
You should ensure that all images available are displayed professionally, alongside brief stories about what inspired each shot. This adds value and creates personal connections, which often encourage purchases.
Remember, the key here is quality over quantity; it's better to offer fewer but exceptional prints than numerous average ones.
Finally, it's important to keep exploring other ways like online courses, e-books, and even paid memberships depending on what suits you and your audience.
💡
Key Takeaway: Monetizing a photography blog is an exciting journey that can transform your passion into profit. Blogging showcases your work, attracts clients, and offers monetization through sponsored posts or affiliate marketing. Selling prints directly from your blog adds another income stream, with quality trumping quantity. Keep exploring other avenues like online courses and paid memberships.
Step 5. Know the Legal Aspects of Running a Photography Blog
In the journey to running a successful photography blog, it's crucial to focus on creating captivating content and be aware of and respect certain legal aspects. Let's delve into these considerations.
Understanding Copyright Laws
Your photos are your intellectual property. The moment you capture an image, it is automatically copyrighted in your name according to U.S Copyright Law. This means that others cannot use them without obtaining permission from you first.
If someone uses one of your images without consent, they're infringing upon your copyright rights. In such cases, you have every right to either request its removal or ask for compensation if used commercially.
The Importance of Essential Pages on Your Site
Beyond safeguarding what belongs to us as photographers through copyright laws, we must ensure our websites comply with other regulations too.
It's mandatory for all sites, including blogs, to create essential pages like 'About' and 'Contact'. These allow visitors to get acquainted with who we are and how they can reach out when needed, respectively.
Taking Photos With People: Model Release Forms
An important aspect often overlooked by many bloggers is getting consent before publishing pictures where people appear prominently - especially if recognizable.
Model release forms, which document this agreement, protect both parties involved from potential disputes down the line.
Navigating Private Property Concerns
Certain scenarios may require written permission, particularly when shooting at private properties. For instance, you might need approval from owners before photographing their buildings.
When taking advantage of internet liberty, it's essential to be aware of the limits of others' rights. Staying informed helps prevent unnecessary conflicts while ensuring the smooth operation of our blogging ventures.
💡
Key Takeaway: Running a successful photography blog isn't just about snapping stunning shots; it's also about navigating the legal landscape. This includes understanding copyright laws, creating essential website pages, obtaining model release forms for people in your photos, and seeking permissions when shooting on private property. It's not only respectful but keeps you clear of unnecessary conflicts.
FAQs About How to Start a Photography Blog
How do I start a photography blog?
To start a photography blog, you will need to follow several steps.
What is the first step to start a photography blog?
The first step to start a photography blog is to choose a blog name that reflects your photography niche.
Can I use a free domain name for my photography blog?
Yes, you can use a free domain name for your photography blog. However, it is recommended to use a custom domain name for a more professional look.
Which blogging platform should I use for my photography blog?
WordPress is a popular choice for photography blogs because it offers a wide range of themes and plugins specifically designed for photographers.
How can I sign up for WordPress?
To sign up for WordPress, you can visit their official website and follow the steps to create a new blog.
What is a photography blog niche?
A photography blog niche is a specific subject or theme that your blog will focus on. It can be nature photography, portrait photography, or any other type of photography.
How can I monetize my photography blog?
There are several ways to monetize your photography blog, such as displaying ads, selling prints or digital products, offering photography services, or participating in affiliate marketing programs.
How can I promote my photography blog?
You can promote your photography blog through social media, guest posting on other photography blogs, participating in online photography communities, or using search engine optimization techniques.
What are the steps on how to make a photography blog?
Making a photography blog includes choosing a blog name, signing up for WordPress, selecting a niche, customizing your blog, creating content, promoting your blog, and monetizing your blog.
How can I customize my photography blog?
You can customize your photography blog by choosing a WordPress theme that suits your style, adding your own logo and branding elements, customizing the layout and color scheme, and installing plugins to enhance the functionality of your blog.
How can I grow my photography blog?
To grow your photography blog, you can focus on creating high-quality and engaging content, networking with other photographers and bloggers, promoting your blog through social media and online communities, and continuously learning and improving your photography skills.
Final Thoughts: 5 Steps to Start a Photography Blog
Now you know how to start a photography business blog!
Remember, starting a photo blog is not just about clicking great shots.
It can grow your photography business, bring traffic to your blog, and potentially pave the way for a grand online entrepreneurship adventure.
Roll up your sleeves, and let's get to work!
Your passion for photography deserves an audience, beginner or not; it doesn't matter. You should never diminish your initial steps; setting up a blog might seem like a handful, but it's also the first step in your blogging journey.
Remember, each blog post you publish and every photography content you create adds to your blog and helps you build authority in your chosen niche.
If you're a beginner, stick around, and soon you'll be a pro guiding newbies on creating their own blogs. Your photography blog or website may just be the ticket to the dream lifestyle you always wanted.
By now, you are equipped to start your photography blog, from name selection to the legal aspects. This guide is structured to help you start, grow, and monetize your blog regardless of the type of photography blog you wish to create.
Just take it step by step.
Rome wasn't built in a day, and neither will your blog. Keep going!
Whether you're a beginner with a burning passion for photography or a seasoned professional wanting to share your expertise and experience, there's a place for everyone in this dynamic blogging world.
One step at a time, you're going to make your blog the go-to place for all things photography!
Alright, go on now, start your photography blog, and make sure you share the magic you create!
Just remember, you've got this, and I'm here to help.
🚀
Free Video:
How to Build an Online Business as a Writer or Coach (The Low-Tech Way) That Creates Time and Financial Freedom (Without Feeling Overwhelmed by Technology, Self-Doubt, or Too Many Choices).
Click Here to Watch Now