How to Turn Your Blog Posts into a Book That Publishers Will Love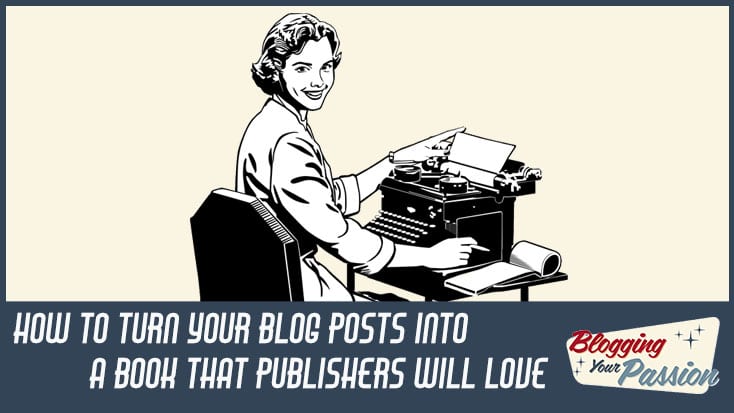 This is a guest post from my friend Chad R. Allen. Chad is a writer, speaker, entrepreneur, and creativity coach. He also serves as an editorial director for Baker Publishing Group, a mid-sized indie book publisher in Grand Rapids, Michigan. Author of Do Your Art, Chad blogs regularly about writing, publishing, life, and creativity at ChadRAllen.com. Connect with him on Twitter or Facebook.
As editorial director for a major trade book publisher, I regularly receive questions like this:
Is it okay to blog content that I want to use in my book?
Will publishers mind if my blog content ends up in my book?
If my book proposal is for a book based on my blog, will publishers give it a chance?
I can't speak for all publishers, but I can tell you my take on these questions and offer some advice to bloggers who want to work with a traditional publisher. The truth is you can use your blog posts to write a book that both publishers and readers will love.
What Publishers Like
Publishers love to work with authors who have a platform. That's good news for bloggers. Your platform is your way to promote and sell a book once it's been published. These days a blog is one of the most accessible ways to build a platform.
I know literary agents who have built their entire business on bloggers with an audience. It's getting to the point where if you don't have a platform, you can't get published because you're in competition with writers who do.
What Publishers Don't Like
Publishers want to publish original content. A lynchpin of any book contract is a clause that goes something like this: "The author warrants this is original content…"
So publishers don't like to publish books that are facsimiles of blogs. In fact, if your intention is to lift your blog content verbatim from the web to your manuscript, you could end up in breach of your publishing contract.
5 Ways Bloggers Can Work Successfully with a Publisher
Bloggers have a platform, which publishers love, but publishers don't want to publish blog content verbatim. So how can bloggers work productively with a publisher? Here are some ways:
Poll your blog readers about the best book for you to write. Ask them which concept they're most likely to purchase. Bring that concept to a publisher, letting them know that your concept is exactly what your readers have requested.
Use your blog to test ideas, but use your book for your most refined ideas. In other words, if I've been a reader of your blog and then I read your book, I ought to notice a difference. The book's content, while it may build on your blog's content, ought to be a cut above—more refined, better articulated, fleshed out better.
Use the long form nature of a book to offer value to your readers. One of the great things about a book over and against a blog is it offers a continuously immersive experience in a way that blogs can't. Use this to your reader's pleasure and advantage. Go deeper in your book that you can on your blog. Get more practical. Point your readers to additional research.
Think of your book as a movement and create a long-term plan. Think strategically, carefully, and thoroughly about how to leverage your blog to promote your book. Think about how you can leverage your blog before your book launches, during launch, and throughout the first twelve months after the launch. Then let the publisher know what you plan to do.
Coordinate your marketing efforts with those of a publisher. Publishers have email subscribers too, to say nothing of the audiences to whom they advertise. How can you serve your publisher's tribe with your content? Try developing a content marketing strategy for each potential channel in collaboration with your publisher's marketing team.
Bloggers are in a unique position to work successfully with traditional publishers. When we combine the nimbleness of digital media with the credibility of traditional media, the results can be impressive!
Special Gift for Blogging Your Passion Readers
I've put together a resource kit for Blogging Your Passion readers just because Jonathan Milligan is a dear friend, and I want to help you out! If you click here and enter your email address, I will send you:
An infographic on how to come up with a great book concept. I worked with a designer to create a visual map for how to go from a few scattered ideas to solid book concept.
A book proposal template. This template has helped countless authors secure book deals because it takes the mystery out of what goes into a book proposal.
Grab it all here.
🚀
Free Video:
How to Build an Online Business as a Writer or Coach (The Low-Tech Way) That Creates Time and Financial Freedom
(Without Feeling Overwhelmed by Technology, Self-Doubt, or Too Many Choices)
Click Here to Watch Now