Start Your Own Podcast: A Simple 7-Step Guide
Do a quick search on "start your own podcast" and you'll find many confusing diagrams. While there is no doubt some really cool equipment you can use in podcasting, you don't need to start with an expensive studio to launch a successful podcast. Here is a simple guide to follow: FREE BOOK: Your Mess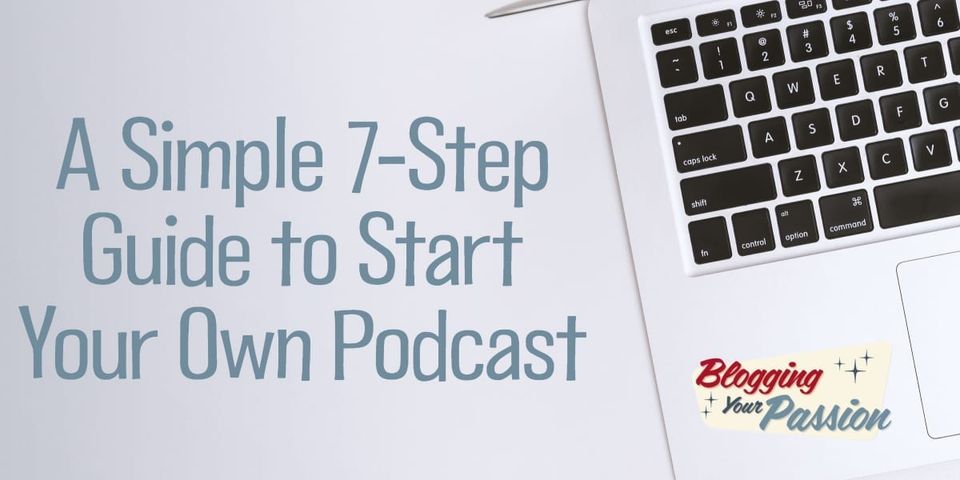 Do a quick search on "start your own podcast" and you'll find many confusing diagrams. While there is no doubt some really cool equipment you can use in podcasting, you don't need to start with an expensive studio to launch a successful podcast. Here is a simple guide to follow:
FREE BOOK: Your Message Matters
Inside this 267-page book you'll discover a simple four-part framework on how to turn your passion into a platform! Click below and we will send you the book (just pay shipping).
Step 1. Choose your title and get your artwork.
You may already know the title of your show, but if not, you want something memorable. Many podcasters choose either their personal name or blog name.
However, it's also okay to go with a completely unique name if you'd like. For example, Michael Hyatt has a blog at MichaelHyatt.com, but his podcast is named This is Your Life. The artwork features his profile pic along with the name of his show.
If you are not an artist, you can get your artwork done for your podcast for a low cost online. I know of several people who used a graphic artist at Fiverr.com and paid anywhere between $5-$15 for their artwork.
Step 2. Purchase an affordable, high-quality microphone.
There are many great choices of podcasting microphones. You can quickly become overwhelmed by features and costs if you are not careful. If you are just getting started, all you need is a quality mic at an affordable price.
Two of my favorites are the Blue Yeti USB Microphone and the Audio Technica Dynamic USB Microphone. Both of these microphones produce a high-quality audio for under $100.
Step 3. Record your podcast episode on your computer.
Another reason I like both of the previous-mentioned microphones is they are USB and will plug into almost any computer. There are podcast experts who don't advise recording your audio directly into your computer due to the fact that your recording software might crash in the middle of recording your podcast.
While I am sure that is possible, I've been recording two weekly podcasts for three years and have yet to have that happen. If you are looking for recording software, you can use a free program called Audacity. I record all of my podcasts with either Audacity or ScreenFlow. I can record both audio and video with Screenflow so it serves dual purposes for me.
Step 4. Learn how to tag your MP3 file.
If you have never tagged an MP3 before, it may feel a bit technical. But once you walk through it one time, you'll be good to go moving forward. I once taught my virtual assistant how to tag an MP3 and she was able to pick it up after the first time even with no previous technical experience.
Tagging an MP3 is what allows iTunes to extract the information they need such as the title of the podcast episode, the name of the author, the show notes, and the cover art. There are free software programs you can download to add this info to your MP3, or if you are familiar with iTunes you can right click on your MP3 and select "get info" to add all of the info there.
An even simpler way is to use a service like BuzzSprout.com, which not only hosts your audio but allows you to upload any audio file. They will convert it into an MP3 for you and then tagging the file is as easy as filling out a quick form online.
Step 5. Purchase a starter package for audio hosting.
Just like you've purchased Web hosting for your blog, you'll need to purchase audio hosting for your podcast. Even though it appears that your podcast episodes live on iTunes, the truth is all of the files are hosted on your own audio hosting account.
The good news for those of you starting out is the monthly cost is either free or low cost. The audio hosting provider I recommend is BuzzSprout.com which I mentioned earlier. You can even start off with a free hosting account and upgrade later as you grow.
Regardless of which provider you select, once you upload your MP3 file and hit publish, your show will appear in iTunes.
Step 6. Submit your new show on iTunes.
Once you have completed all of the above steps, you'll need to submit your new podcast to iTunes for approval. This is a one-time action that needs to take place.
The easiest way to do this is to go to the iTunes store and on the right sidebar you'll see a link called "Submit a Podcast." Walk through the steps and hit submit. It will take a few days to hear back from them, but then your podcast will be live.
Step 7. Get on a consistent publishing schedule.
This is something I've had to learn the hard way. At times in the past, I've been guilty of being too ambitious with my time. This has caused me to be inconsistent with publishing my podcast.
It's not a good thing when your listeners are e-mailing you asking if they are doing something wrong because they don't see any new podcast episodes. Decide whether your show will be daily, weekly, bi-weekly, or monthly and stick with it. Your listeners want to hear from you.
If you want to start a podcast, these are the minimalistic steps you'll need to take. If I had any other advice, it would be for you to not forget the purpose of your podcast. While you should be adding value, your main purpose should be to get them to subscribe.
Subscribing to your podcast is good, but subscribing to your e-mail list is great. End each podcast with a call to action that leads them to signing up to your list.
Question: How about you? Have you ever wanted to start a podcast?
FREE BOOK: Your Message Matters
Inside this 267-page book you'll discover a simple four-part framework on how to turn your passion into a platform! Click below and we will send you the book (just pay shipping).