The Top 7 Blogging Tools I Use Daily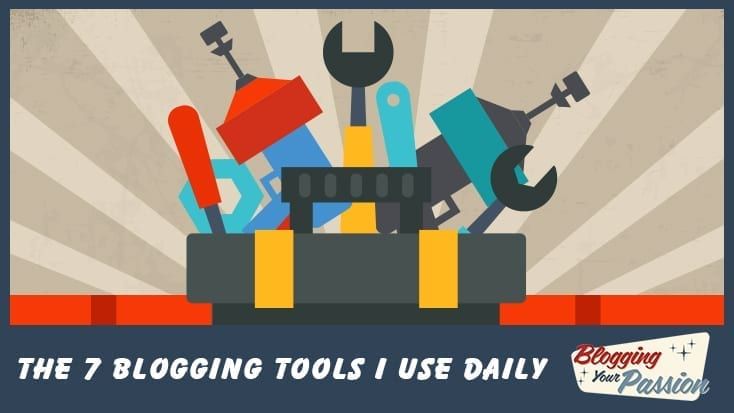 When I first started blogging in 2009, we had very few blogging tools and apps to choose from. Even installing WordPress to your hosting provider was a big ordeal. You had to install WordPress by uploading a whole host of files via the FTP.
In fact, I remember watching a tutorial video where the instructor advised you to "go make a pot of coffee" because it took more than a few minutes to fully install WordPress. Times have certainly changed.
Today, we can run our entire blog business "in the cloud." We can work from anywhere on any computer. But today, we have a different problem. I call it "distraction attraction."
The Top 7 Blogging Tools I Use Daily
There are so many blogging tools and marketing apps today, it can be overwhelming. I want to share with you the top seven blogging tools I use every day. Each of them serve a specific purpose in my business. Here's a quick snapshot of each of them (see pic).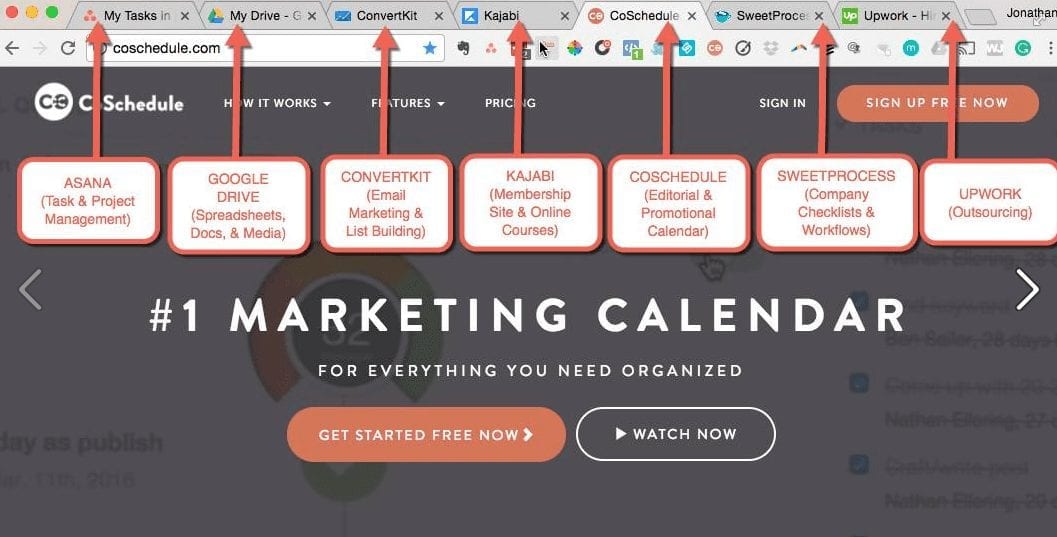 1. Asana (Task & Project Management)
When it comes to personal productivity, I manage my day and week using more of an analog approach with the Full Focus Planner. This helps me to avoid having important things from falling through the cracks. However, if you ever hope to outsource (and you should), then you are going to need an online solution for tasks and projects.
With Asana, I'm able to quickly assign and delegate tasks to other team members in an organized and efficient way. It also works great for your top projects as well. If you don't have one, it's a good idea for your projects to come from your overall blog business plan.
Having a central place to store tasks and projects will keep any virtual team members on the same page.
2. Google Drive (Spreadsheets, Docs & Media)
For a few years, I used Dropbox as the place to store images, files, logos, podcast recordings, and videos. At the same time, I was using Google Drive to create spreadsheets and documents. To simplify my day, I made the switch to just using Google Drive. I transferred all my media files and organized them in Google Drive. This change has saved me time from having to look in two different places for things.
3. ConvertKit (Email Marketing & List Building)
This is my go-to tool for email marketing. I've been around the block when it comes to email marketing software.
Over nine years of blogging, I've used five different email marketing platforms in the following order: Aweber, MailChimp, Get Response, Ontraport, and ConvertKit.
ConvertKit is by far my favorite for many different reasons. Many of the other platforms cater to traditional small business and ignore many of the needs of a blogger, influencer or online business owner.
ConvertKit is the email marketing platform that I would have built for myself. Through the power of segmenting your audience and automating your marketing funnels, ConvertKit just works.
4. Kajabi (Membership Site & Online Courses)
Technology challenges can be the biggest hurdle most bloggers face. It's one thing to have an awesome idea for an online course and another thing to host the course, issue passwords for the course, password protect the course and even receive payment for the course.
When I moved to Kajabi back in 2016, I left my "duct taped" system behind. Finally, technology could get out of the way and allow me to do what I love most: teach. If you have not heard about Kajabi, check out my post on 10 Reasons I Love the Kajabi Platform.
5. CoSchedule (Editorial & Marketing Calendar)
If you are serious about turning your blog into a business, then you must get better organized. The main way I do this is through an online marketing calendar program called CoSchedule. This online-based calendar allows me to be organized in the following ways:
Editorial Calendar – I will schedule out my blog posts, podcast episodes, and even new YouTube videos.
Marketing Calendar – I also use CoSchedule to schedule out all my social media posts across Facebook, Twitter, LinkedIn, Pinterest and Google Plus.
Email Promotional Calendar – This platform also works great to plan, and even draft, your upcoming emails to your list.
Bottom line is that I'm able to go to one place to view all my marketing efforts. While that may seem like a very busy calendar, you are able to filter out items you don't need at the moment. CoSchedule is a daily go-to resource for me and my business.
6. Sweet Process (Company Checklists & Workflows)
Before you can outsource, you need to document. Trust me, I learned the hard way. The better you can be at taking the time to document the recurring tasks in your business, the sooner you'll be able to free up your time for other things. Sweet Process allows me to quickly create an internal checklist, along with video and images, so I can delegate a task to a member on my team.
You are the biggest bottleneck in your online business. If everything is in your head and must go through you, your blog and business will stagnate. Before you blog, create your online business plan. Before you ever outsource, begin documenting your steps with a tool like Sweet Process.
7. UpWork (Outsourcing)
UpWork is my favorite outsourcing tool at the moment. Once I document procedures, I can go to UpWork to find qualified help. It's free to post a job and you can always find a qualified worker that fits your budget. What I love most about UpWork is the built-in messaging app. This allows me to quickly delegate a task to the right team member and discuss it if need be.
Most of my team members are paid hourly. UpWork will deduct the cost on Mondays based on total amount of hours worked by my team. It's also a great way to scale up and scale down your outsourcing as needed. If structured correctly, you only pay your team members for hours worked.
Whether you are a beginner blogger or more seasoned, UpWork is a terrific platform to outsource your work.
There are many other blogging tools that should, and could, be on this list. At the end of the day, don't be married to a tool, but to the value a tool can bring to your business. These are the top seven blogging tools that help me grow, automate and outsource my online business.
🚀
Free Video:
How to Build an Online Business as a Writer or Coach (The Low-Tech Way) That Creates Time and Financial Freedom
(Without Feeling Overwhelmed by Technology, Self-Doubt, or Too Many Choices)
Click Here to Watch Now