How to Setup an Editorial Calendar Inside WordPress
Need a simple way to capture blog post ideas? Want to have a better overall content strategy? Then your answer is to run an editorial calendar. There are several ways that you can do this. You can always buy a wall calendar and write in your topic ideas. If you do go this route, be … How to Setup a
Need a simple way to capture blog post ideas? Want to have a better overall content strategy? Then your answer is to run an editorial calendar. There are several ways that you can do this. You can always buy a wall calendar and write in your topic ideas. If you do go this route, be sure to use a pencil so you can easily move your drafts around a bit easier.
I personally want my editorial calendar to be more portable so I can use it no matter where I am. Many people use Google Calendar and this is certainly an effective tool for doing so. My personal challenge is that I already use Google Calendar for other personal and work appointments that blog posts ideas get "lost" among all the other stuff.
What I am currently using is a slick WordPress plugin called WordPress Editorial Calendar (creative name, right?). If you have looked at this plugin in the past, I'd encourage yo to take another look. They have added some new features that makes this little plugin dyn-o-mite (as JJ would say).
Easily capture blog post ideas
The WordPress Editorial Calendar allows you to capture blog post ideas. Just click on the "show unscheduled drafts" button in the top right hand corner and a new column will appear.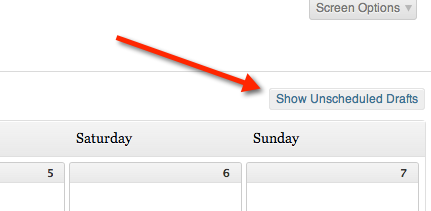 Now, you will be able to see a listing of any blog post ideas you have collected in the past. This is a great place to start when you find some time to write your next blog post, but not sure about what to write.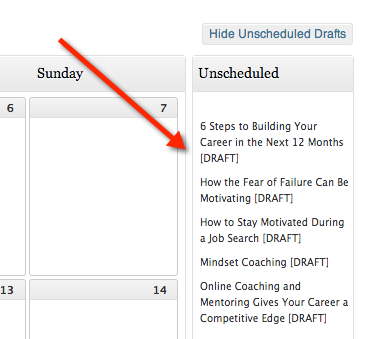 With this new column, you can do one of three things.
1. You can click on "edit" and add any thoughts, ideas, or comments to go along with your blog post title.
2. You can drag and drop a title from the unscheduled drafts column directly on to any date on the calendar.
3. You can have a brainstorming session and add any new blog title ideas quickly. Just click the "new draft" link at the top of the column and add as many new title ideas as you can think of.
Drag and drop blog post to new dates
I also like that the calendar makes it easy to drag and drop scheduled drafts to new dates. Sometimes after I get a few blog posts written, I want to switch around the order. The drag and drop function makes this a real breeze.
I'd encourage you to give the WordPress Editorial Calendar a shot and see if it helps you better manage your content. Here is a short video showing you how we use this slick plugin to manage our content.
If you want to learn the ins and outs of using an editorial calendar, consider joining the Blogging Your Passion University 201 Course.
Question: What tools do you use to manage your content and blog post ideas?