How to Change Your WordPress Theme
One of the great benefits of using WordPress is that anyone can quickly change the look and feel of your site. Days gone by, a new website design would put you out a few thousand dollars. It required manpower to take your content and plug it into the new design. It was painstaking work. With … How
One of the great benefits of using WordPress is that anyone can quickly change the look and feel of your site. Days gone by, a new website design would put you out a few thousand dollars. It required manpower to take your content and plug it into the new design. It was painstaking work. With WordPress changing your theme is really a piece of cake.
How to Change Your WordPress Theme
The first thing you will want to do is select a new theme. You can see what free WordPress themes are available right inside your admin account inside WordPress.  So, do not bother with trying to search on the internet for free wordpress themes. If you do not want a free theme, but you want a more professional image that has lots of customization options and features then consider purchasing a WordPress Premium Theme. all a premium theme means is that you have to purchase it to use it. Also, be sure to pay attention as to whether the license is good for multiple site or just to use on one site. The theme that Bob and I recommend is called the Thesis theme. Not only is the theme very search engine friendly, but it is easy to customize the look and feel of it.
In order to change your theme click on appearance in the left hand side like seen below.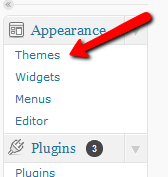 Once you click on themes, you will see an "install themes tab" this will give you several options, whether you already have a theme or you want to find a new theme.

If you already have a theme that you have either purchased or downloaded somewhere else, just his the "upload" button and you can search for the file location where it is stored on your computer. Be sure to upload your theme as a .zip file.
If you need to find a theme, you can search by categories or select some of your desired features further down the page. Just select the one that you like and it gets added to your themes directory.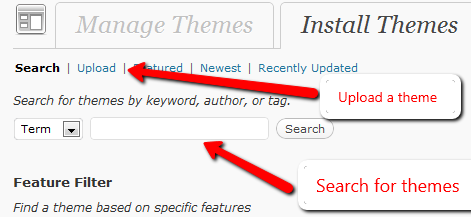 Finally, once your theme is either added or uploaded, you will need to activate the theme to make it live on your site. Before you do that, you can hit preview and a preview box will pop up allowing you to get a feel for how it looks before it goes live to everyone else. If you are ready for it to go live, click "activate." What is great is that all of your old content will still appear even once you switch to a new theme.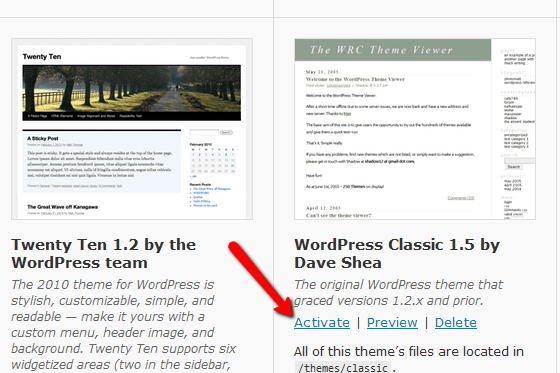 Then you are all set! Now, you can focus on building content and adding value to your blog followers. It really is a cinch once you know what you are doing.
Question: Do you have any tips about installing new themes that might be a benefit to someone else?