How to Blog Consistently: The 3 Bucket Writing System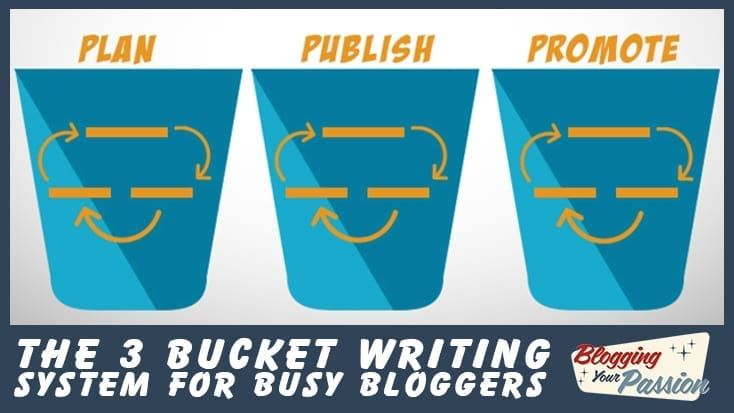 Do you struggle to publish blog posts on a regular basis? Do you secretly wish you knew how to blog consistently?
Join the club.
As bloggers, influencers, and marketers, we know showing up more regularly for our audience can create momentum in our business. Yet, publishing blog posts almost always takes a back seat.
I am going to change that for you today.
It's Not About Time Management
I love this quote from Zig Ziglar:
"Lack of direction, not lack of time, is the problem. We all have 24-hour days."
[Tweet ""Lack of direction, not lack of time, is the problem. We all have 24-hour days." Zig Ziglar"]
The biggest reason you are not publishing more has nothing to do with how busy you are. Think about all the bloggers you admire. Are they less busy than you?
The single reason you don't publish consistently?
You lack a system that works.
You sit down to work on your blog, open a new post, and…nothing.
It's the curse of the blinking cursor.
You have a million ideas on what you could write about, or even worse, you have no idea what to write about.
After a few minutes, you give up and decide to do something else. With that, another day goes by where you are not actively sharing your passion.
I would like to propose that you use a 3-bucket writing system to get more done.
My 3-Bucket Writing System for Busy Bloggers
When it comes to blog post writing, I work in three different stages or buckets. I don't attempt to plan, write, optimize, publish and promote in one sitting. By working in different "buckets", it allows me to set myself up for success.
For example, when I sit down to write, I already know the topic I'm going to write about. This saves me at least twenty minutes every time I sit down to write. This is where a plan comes in handy.
Bucket #1. Plan
To publish on a consistent basis, you need a plan in place way before you decide to write.  Here's how I break down my planning process:
Collect – The best way to never run out of blog post ideas is to remember the ABC's (Always Be Collecting). You need a system that allows you to collect ideas no matter where you are. I use Evernote for this since I have it on my phone, laptop and computer. I have an Evernote folder just for blog post ideas.
Schedule – The next step is to schedule your blog post ideas in an editorial calendar. I use CoSchedule since it integrates with both WordPress and Evernote. I can see my blog post ideas that I placed in Evernote inside my CoSchedule calendar. From there, I will drag and drop my ideas into my editorial calendar.
Define – In this step I will accomplish two things. First, I will do some basic keyword research to find an easy-to-rank keyword phrase. Second, I will write out ten-to-twenty blog post headline ideas.
Bucket #2. Publish
I set aside certain times during the week to write. This is what Cal Newport has coined "deep work".
When I sit down to write, I know the topic and have my blog post headline defined. When working in the "publish" bucket, my goal is to accomplish three primary things:
Write – When you first sit down to write, it's important to focus only on writing a rough draft, not on editing. If you try to write and edit at the same time, you will lose momentum. Just write.
Edit – Once the first draft is completed, you can begin the editing process. You can begin to clean up your sentences and correct your spelling and grammar.
Optimize – For this final step, focus on SEO, converting notable quotes into "click to tweet" quotes, adding images and optimizing keywords.
Lastly, to take your productivity to a whole new level, consider outsourcing these last two steps. You will publish more if all you focus on is writing the first draft.
Bucket #3. Promote
As a blogger, you may think your job is over once you hit the publish button.  But that's only the beginning. Once your post is live, you must promote your content. The single biggest mistake most bloggers make is not promoting their content enough.
You may not be sharing your content enough because you don't want to come across as "spammy." If all you ever promote is the headline of your post, you will come across as spammy. But if you use a system of pulling out quotes, statistics, questions and alternate headlines, you can promote the same post multiple times.
Push – The first step after you hit publish is to get the word out via email and social media. I have a 30-day social media push template we use internally with CoSchedule.
Syndicate – If you have an idea worth sharing, then you need to share it in multiple ways. Take your blog post and syndicate it via podcasts, YouTube videos, Periscope, Instagram Live, LinkedIn Articles, and Medium, to name a few.
Recycle – One of the smartest marketing moves you can make is to set up a perpetual sharing system for your blog posts. You can use tools like CoSchedule, Meet Edgar or even Buffer to set this up.
Your system may end up looking vastly different than mine. But the bottom line is, you need a system if you hope to publish on a consistent basis. Once you do, you'll have a writing system that supports your creativity and adds more value to the world.
To find out more tools I use to blog efficiently, check out the Top 7 Blogging Tools I Use Daily.
🚀
Free Video:
How to Build an Online Business as a Writer or Coach (The Low-Tech Way) That Creates Time and Financial Freedom
(Without Feeling Overwhelmed by Technology, Self-Doubt, or Too Many Choices)
Click Here to Watch Now