Hoppy Copy Review (2024): Amazing AI Email Writing Tool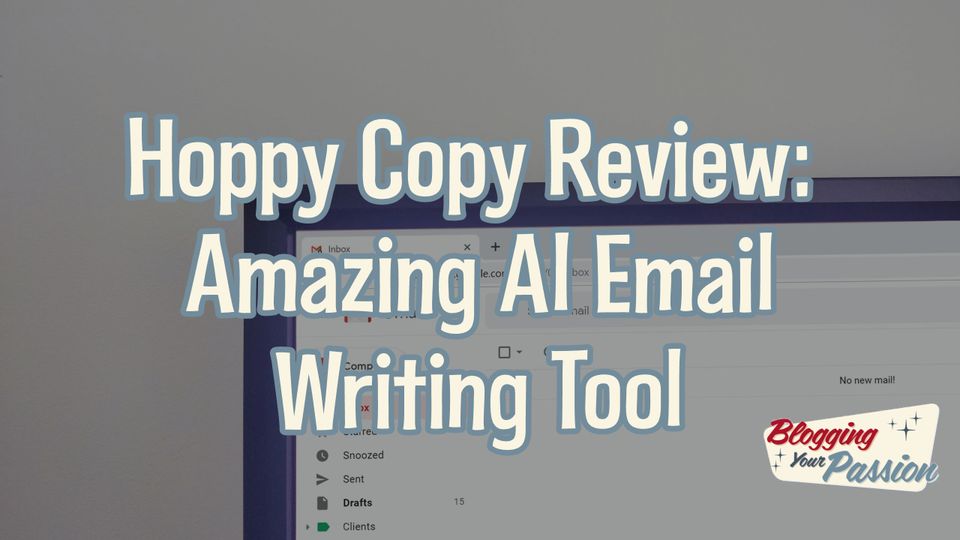 Looking for a copywriting tool that will make your writing hop with creativity? HoppyCopy is here to help!
With its user-friendly interface and powerful features, HoppyCopy makes writing engaging and persuasive content a breeze.
Whether you're a seasoned writer or just starting out, HoppyCopy has got your back. Discover how this innovative tool can take your writing to the next level.
Get ready to become a wordsmith and join the HoppyCopy community today!
Table of Contents (click to expand)
Key Takeaways
HoppyCopy is an AI-powered tool designed specifically for email marketers to create engaging and persuasive emails.
It offers advanced editing tools and seamless integration with popular writing tools, helping streamline the writing process and improve productivity.
With HoppyCopy, users can generate high-quality email content in minutes, analyze and understand their audience better, and craft personalized and targeted email content.
The platform also provides various integrations with website copy optimization, email marketing platforms, AI-powered content management systems, and social media management tools to maximize workflow efficiency.
HoppyCopy Overview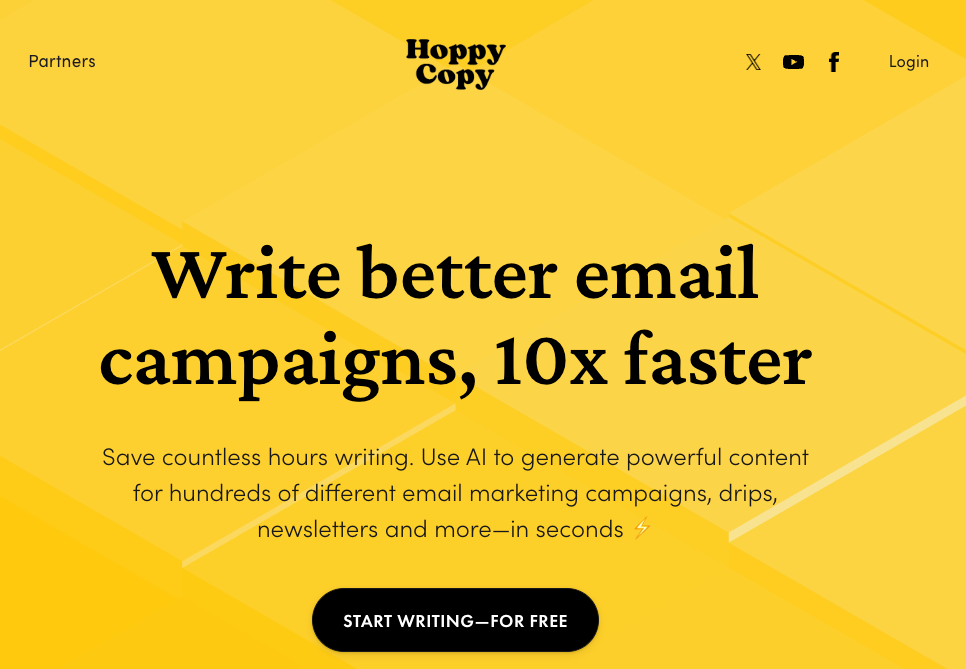 Let's take a look at HoppyCopy and what it has to offer.
HoppyCopy is a powerful tool that allows you to streamline your writing process and improve your productivity.
Key features include:
A user-friendly interface
Advanced editing tools
Seamless integration with other popular writing tools.
What is HoppyCopy?
To understand the capabilities of HoppyCopy, familiarize yourself with its features and functionalities. Here's what you need to know about this AI-powered platform:
AI-Powered Tool: HoppyCopy is an advanced AI copywriter that uses cutting-edge technology to generate compelling email content.
Email Marketers: Designed specifically for email marketers, HoppyCopy helps you create engaging and persuasive emails that capture your audience's attention.
Email Content: With HoppyCopy, you can effortlessly generate high-quality email content in minutes. Say goodbye to writer's block and hello to captivating copy.
AI Copywriter: HoppyCopy's AI copywriter is trained on vast amounts of data, enabling it to produce content that resonates with your target audience, boosting your email marketing performance.
HoppyCopy is the ultimate tool for email marketers who want to create captivating email content with the help of an AI-powered platform. So why not give it a try and elevate your email marketing game?
Key Features and Capabilities
Discover the impressive features and capabilities of HoppyCopy, the AI-powered platform designed to enhance your email marketing efforts.
With HoppyCopy, you can create high-converting emails and maximize the success of your email campaigns. The AI tools integrated into the platform help you analyze and understand your audience better, making it easier to craft personalized and targeted email content.
HoppyCopy also offers advanced editor tools that allow you to customize your emails with ease, ensuring they align with your brand's voice and style.
This platform empowers you to optimize your email marketing strategy and achieve higher open rates. With HoppyCopy, you can confidently engage your audience and build meaningful connections that drive results.
Integrations with Other Tools
You can enhance your email marketing efforts by integrating HoppyCopy with other tools, allowing you to streamline your workflow and maximize your efficiency.
Here are some powerful integrations that can take your content creation and email marketing efforts to the next level:
Website Copy Optimization: HoppyCopy seamlessly integrates with your website, helping you generate compelling copy that engages your audience and boosts conversions.
Email Marketing Platforms: With HoppyCopy's integration with popular email marketing platforms like Mailchimp and Constant Contact, you can create persuasive email campaigns effortlessly.
AI-Powered Content Management Systems: Integrate HoppyCopy with your content management system (CMS) like WordPress or Shopify to automate your content creation process and improve your website's SEO.
Social Media Management Tools: Connect HoppyCopy with social media management tools like Hootsuite or Buffer to effortlessly generate engaging social media posts that drive traffic to your website.
HoppyCopy in Action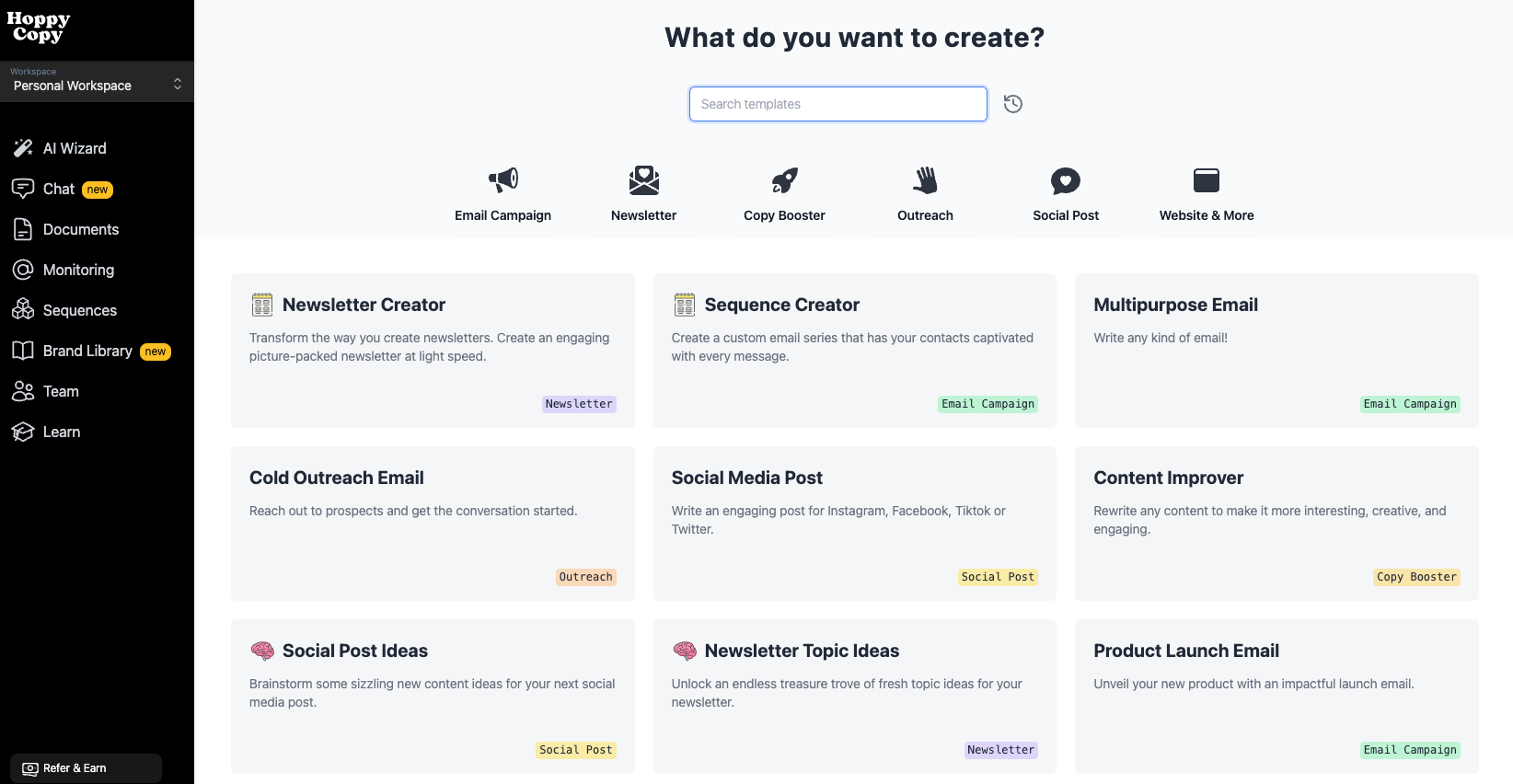 Now, let's see HoppyCopy in action!
In this section, you'll get an editor and feature walkthrough, learn how to create and optimize email campaigns, and discover how to create email sequences.
Get ready to explore the practical aspects of HoppyCopy and learn how to make the most out of this powerful tool.
Editor and Feature Walkthrough
Take a guided tour of the HoppyCopy editor and explore its features in action. The HoppyCopy editor is designed to enhance your writing experience and help you create high-quality content.
Here are some key features you'll find in the editor:
Real-time editing: See your changes appear instantly on the screen as you type, making it easy to review and revise your work.
50+ email AI templates: Use their scientifically proven formulas to generate email copy for all kinds of emails such as welcome emails, product launch emails, newsletter emails, and more!
Grammar and spelling suggestions: Get real-time feedback on grammar and spelling errors, ensuring your writing is clear and professional.
Formatting options: Customize the appearance of your text with a range of formatting options, including font styles, sizes, and colors.
With the HoppyCopy editor, you'll have all the tools you need to write with confidence and produce exceptional content.
Creating and Optimizing Email Campaigns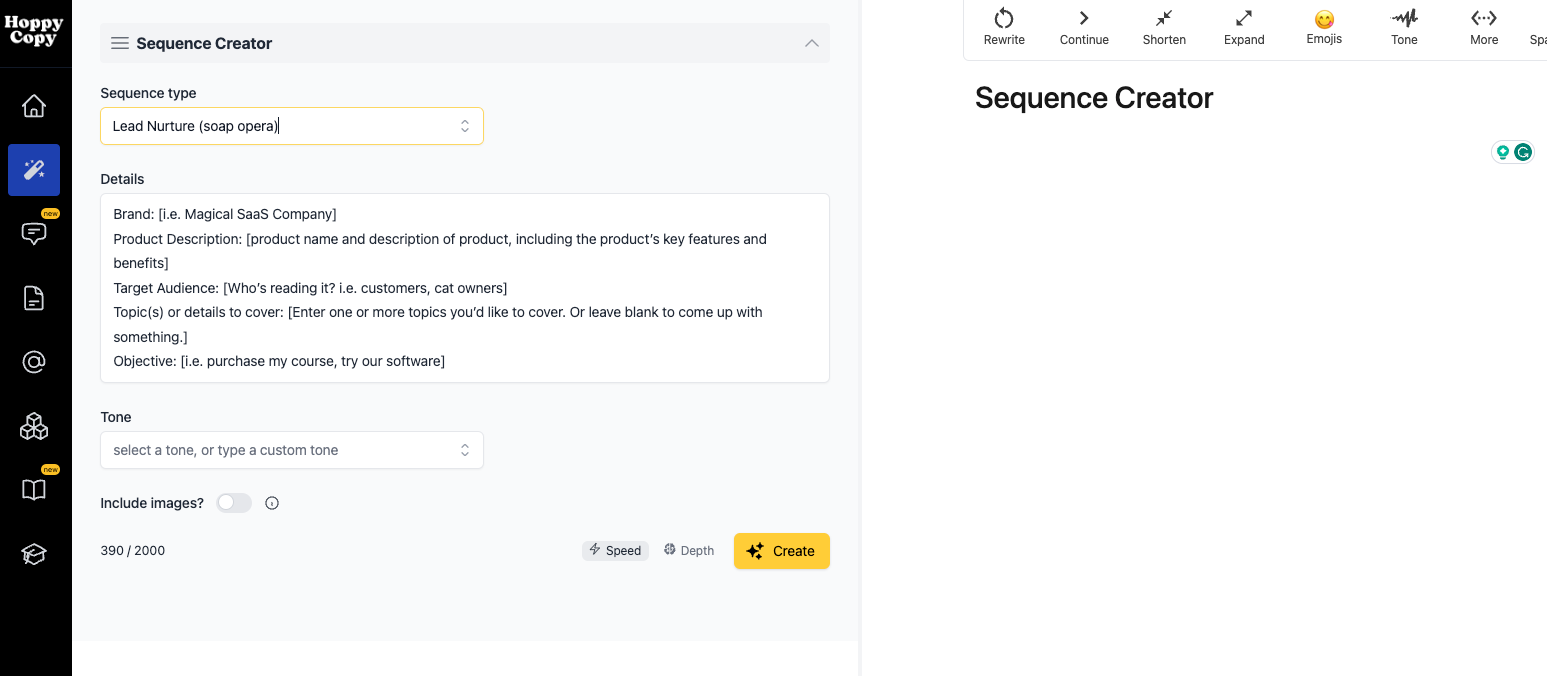 To effectively create and optimize email campaigns using HoppyCopy, harness the power of data-driven insights and tailor your content accordingly.
With HoppyCopy, you can create powerful copy for your marketing content and email marketing copy. This AI-powered email marketing tool analyzes data and provides valuable insights to help you craft compelling and engaging emails that resonate with your audience.
By utilizing this tool, you can improve your conversion rates and drive more success in your email marketing campaigns. HoppyCopy's advanced algorithms and machine learning capabilities ensure that your emails are optimized for maximum impact.
Creating email sequences
To continue seamlessly from the previous subtopic on creating and optimizing email campaigns using HoppyCopy, let's delve into the process of creating email sequences with this powerful tool.
With HoppyCopy, you can easily craft compelling email sequences that captivate your audience and drive them to take action. Here's how HoppyCopy helps you create effective email sequences:
Persuasive Preview Text: HoppyCopy provides you with persuasive preview text suggestions that entice your subscribers to open your emails.
Higher Click-Through Rates: By leveraging HoppyCopy's persuasive language, you can increase your click-through rates and encourage more engagement with your emails.
Content Converter Feature: HoppyCopy's content converter feature allows you to transform your ideas into persuasive and impactful email content effortlessly.
User-Friendly Interface: HoppyCopy's user-friendly interface makes it easy for you to navigate and customize your email sequences, ensuring a seamless experience.
With HoppyCopy, creating engaging email sequences has never been easier. Start using this incredible tool today and watch your email marketing efforts soar.
HoppyCopy Pros and Cons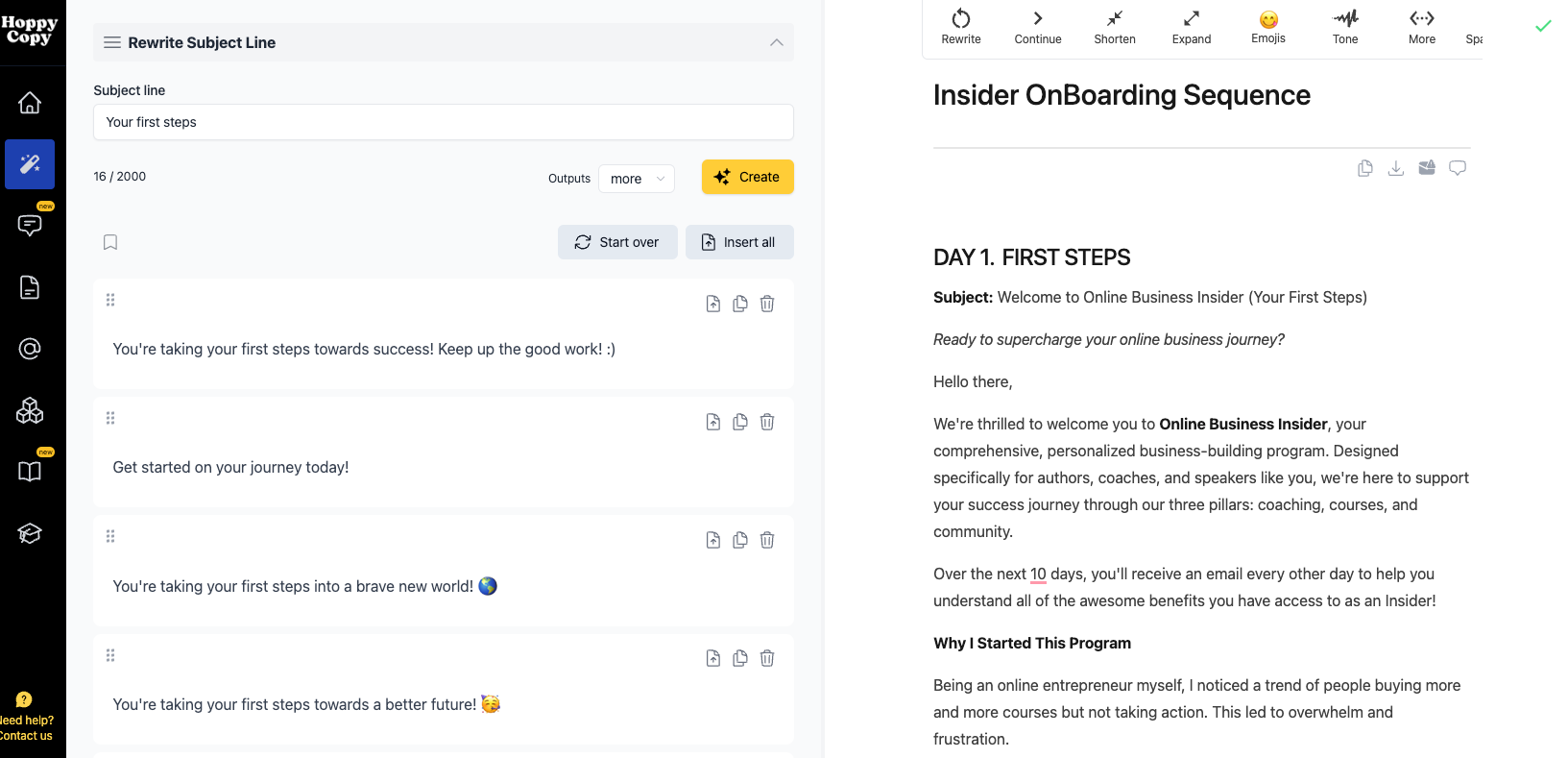 Now let's talk about the pros and cons of using HoppyCopy.
When it comes to the pros, there are several advantages worth considering.
On the other hand, it's important to be aware of the cons as well.
Pros of Using HoppyCopy
When using HoppyCopy, you can benefit from its numerous advantages. Here are some reasons why HoppyCopy is a powerful tool for your content marketing strategy:
Unique Campaign Ideas: HoppyCopy helps you generate creative and innovative ideas for your marketing campaigns, ensuring that your content stands out from the competition.
Copy booster: With HoppyCopy, you can effortlessly improve any content to make it more creative, engaging, and interesting. With proven copywriting formulas and the touch of a button, HoppyCopy will rewrite your bland content and make it sing!
Repurpose Content: HoppyCopy allows you to repurpose existing content into different formats, such as videos, infographics, or social media posts, maximizing its reach and impact.
Target Audience: HoppyCopy helps you identify and understand your target audience better, enabling you to tailor your content to their needs and preferences, fostering a sense of belonging and connection.
With HoppyCopy, you have a versatile tool at your disposal that empowers you to create compelling content, connect with your audience, and achieve your marketing goals.
Cons to Consider
While HoppyCopy offers numerous advantages, it's important to consider the potential drawbacks of using this tool.
One potential drawback is the possibility of using spam keywords. As an AI writing tool, HoppyCopy relies on algorithms to generate content.
Although it provides valuable insights and saves time for small business owners, it's crucial to avoid using spam keywords that may negatively impact search engine rankings or even land your content in junk mail folders.
Therefore, it's essential to carefully review and edit the content generated by HoppyCopy to ensure it aligns with your brand and doesn't come across as spammy.
HoppyCopy Packages and Pricing
Now let's talk about the packages and pricing options offered by HoppyCopy.
They've a free trial option available, allowing you to test out the service before committing to a subscription.
In addition, they offer various monthly subscription plans to choose from, catering to different needs and budgets.
It's important to compare these plans to find the one that best suits your requirements.
Free Trial Option
To access HoppyCopy's free trial option, simply sign up for one of their packages and start experiencing its benefits. With the free trial, you can explore the features of HoppyCopy without any commitment.
Here's what you can expect from this trial:
Unlimited access to create engaging social media posts that captivate your audience.
The ability to write compelling product descriptions that drive sales and conversions.
Crafting attention-grabbing subject lines that increase open rates and click-throughs.
Access to a wide range of templates and tools to streamline your writing process.
By offering a free trial, HoppyCopy understands the importance of allowing potential customers to experience its value firsthand.
Monthly Subscription Plans
Unlock the full potential of HoppyCopy's writing capabilities with their affordable monthly subscription plans.
HoppyCopy offers a range of paid plans that cater to your writing needs.
With a monthly subscription, you can access all the features and benefits that this versatile tool has to offer. Whether you're a professional writer or someone who simply wants to improve their writing skills, HoppyCopy has a plan that suits you.
The pricing is reasonable and flexible, allowing you to choose the plan that fits your budget.
To make the process even more convenient, HoppyCopy accepts various payment methods, including credit card.
Plan Comparison
Compare the packages and pricing of HoppyCopy to find the best plan for your writing needs. Here is a breakdown of the different plans offered:
Here's a current break down of pricing (at the time of this writing):
Free Trial for 7 Days
7-day free trial
No credit card required
Starter - $23/month or $207/year (Save 20%)
Up to 20,000 words generated per month
Monitor up to 10 competitors
Unlimited brand voices & assets
1 user
Best for solopreneurs and creators
Pro (Most Popular) - $39/month or $351/year (Save 20%)
Up to 100,000 words generated per month
Monitor up to 25 competitors
Unlimited brand voices & assets
Up to 3 users
Ideal for small teams
Pro+ - $79/month or $711/year (Save 20%)
Up to 300,000 words generated per month
Monitor up to 50 competitors
Unlimited brand voices & assets
Up to 5 users
Scales for growing teams
Contact us if you need more users/words
With its starter plan, unique features, ease of use, and comprehensive plan comparison, HoppyCopy provides a platform where potential customers can feel a sense of belonging and find the perfect plan for their writing needs.
Use Cases and Alternatives
Now let's talk about the best uses for HoppyCopy and how it compares to its competitors.
HoppyCopy can be a great tool for content creators, marketers, and anyone who needs high-quality written content. It offers a user-friendly interface and a range of features that can help streamline your writing process.
When comparing it to alternatives, consider factors such as pricing, ease of use, and the quality of the generated content.
Best Uses for HoppyCopy
Finding the perfect use cases and alternatives for HoppyCopy can greatly enhance your writing experience. Here are some ways you can make the most out of this AI-powered tool:
Email AI templates: HoppyCopy can generate compelling email templates, saving you time and ensuring your messages stand out in crowded inboxes.
AI email templates: With HoppyCopy, you can create personalized email templates powered by AI, making your communications more engaging and effective.
Generated copy: HoppyCopy can generate high-quality copy for various purposes, such as social media posts, website content, and blog articles, helping you convey your message with clarity and creativity.
Product launches: Use HoppyCopy to craft persuasive product descriptions and launch announcements that captivate your audience and drive sales.
By leveraging HoppyCopy's capabilities, you'll have access to expert writing assistance that elevates your content and enables you to connect with your readers on a deeper level.
Competitor Comparison
If you're looking for alternatives to HoppyCopy and want to see how it stacks up against its competitors in terms of use cases, you'll find that there are several options available.
When it comes to finding a valuable asset for creating high-quality content on different platforms, HoppyCopy stands out. It offers a wide range of features and tools that cater to the needs of content creators.
However, if you're looking for alternatives, there are a few notable competitors worth considering. One such competitor is Copy.ai, which also provides AI-powered writing assistance and supports various use cases.
Another option is Jasper.ai, which specializes in generating marketing copy and offers a user-friendly interface.
Ultimately, the choice between HoppyCopy and its competitors will depend on your specific needs and preferences.
FAQs on HoppyCopy Review
Below you'll find answers to common questions about HoppyCopy.
What is HoppyCopy?
HoppyCopy is an AI assistant that helps you create effective ad copy and marketing materials.
How can HoppyCopy benefit my business?
HoppyCopy can enhance your brand awareness by generating compelling and persuasive content tailored to your specific needs.
Is HoppyCopy suitable for all industries?
Yes, HoppyCopy is designed to assist businesses across various industries, ensuring that it meets the specific requirements of each sector.
Can HoppyCopy replace human copywriters?
While HoppyCopy is a powerful tool, it's meant to support and enhance the work of copywriters, not replace them. Its AI capabilities enable it to generate ideas and suggestions, but human creativity and expertise are still essential for producing high-quality content.
With HoppyCopy, you have a reliable AI assistant that can help you craft impeccable ad copy and marketing materials, boosting your brand awareness and catering to your specific needs.
Conclusion
Overall, HoppyCopy is a versatile and user-friendly tool that can greatly enhance your writing experience. With its intuitive interface and powerful features, it allows you to create compelling and engaging content effortlessly.
While there are a few minor drawbacks, the benefits, such as the variety of packages offered and the availability of alternatives, make HoppyCopy a valuable resource for any writer.
Give it a try and see how it can transform your writing process today!
🚀
Free Video:
How to Build an Online Business as a Writer or Coach (The Low-Tech Way) That Creates Time and Financial Freedom
(Without Feeling Overwhelmed by Technology, Self-Doubt, or Too Many Choices)
Click Here to Watch Now