How to Hire on Upwork and Build Your Dream Team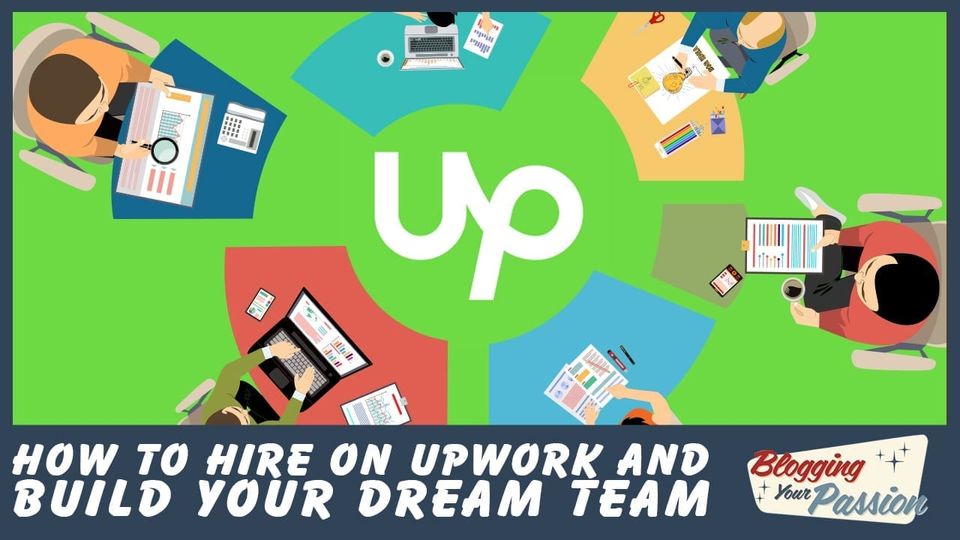 "You are the biggest bottleneck in your business."
When I first heard those words, I was taken aback. As the founder, after all, I want my online business to succeed more than anyone else.
Yet, after I digested that statement, I knew it was true.
Whether you run an online business or the small brick-and-mortar down the street, there comes a point in time when you become the bottleneck to everything.
In order to grow to the next level, you have to change your thinking. Specifically, you'll need to:
Let go of the tight grip you have on everything
Get comfortable with things not being done exactly the way you would do them
Grow your own leadership skills as you lead others
If you are just getting started with this idea of outsourcing, I want to offer you a simple six-step blueprint.
How to Hire on Upwork and Build Your Dream Team
A great place to start your outsourcing journey is Upwork.com. Not only do they have one of the largest databases of available freelancers on the planet, but they also have some awesome built-in tools. Let's walk through the process of how to hire on Upwork.
A few of my favorite features include:
Time tracking of freelancers (including random screenshots)
Weekly pay every Monday to your freelancers (great for budgeting)
Hourly and project pay rates
Handy built-in messaging tool to communicate with your team
Whenever I feel the need to get more help and expand my team, I follow these simple six steps.
Step 1. Create Your Workflows First
Back in 2011, I hired my first virtual assistant. It was a disaster. Afterward, when I analyzed what happened, I had to come to the hard truth. I was the problem. I made the following mistakes:
I tried to hire a superstar to do everything (that wasn't fair)
I expected them to catch what I taught them with no detailed instructions
I expected them to do things exactly like me
A few months later, I re-grouped and decided to try this outsourcing thing again. This time I started by documenting my work first. I took a look at the recurring tasks in my business and wrote out detailed instructions.
I personally use Loom to record the workflow and then store all the links on a Master SOP Google Spreadsheet that I created. When you hire someone, you can give them access to the handful of workflows you want them to do for you.
Step 2. Sketch Out Your Dream Org Chart
Documenting all of your workflows will feel like extra work at first, but it is setting up a foundation for you to take a massive leap forward in the days ahead. After about 90 days of documenting workflows, I began to group them into potential positions to outsource.
This lead me to open up a spreadsheet and begin to envision what a dream team would look like for me. At first, my name was attached to each role on the org chart, but my plan was to slowly change that over time. As I delegated more to others, I was freed up to grow the business.
Step 3. Post Your Job Specifics
Now it's time to post a job on Upwork. The good news is that posting a job is free. Oftentimes, within an hour you will begin to receive applications from qualified freelancers ready to work for you.
We follow this seven-step checklist to create awesome job descriptions:
Attractive headline – Be descriptive, direct, and intriguing with your headline.
Summary – Give a sentence or two that explains the job responsibilities in a succinct manner.
Example tasks – Share specific tasks they will be performing for you. (Get this from your workflows.)
Ideal candidate – List out any software or skills the ideal candidate will possess.
Preferred experience – List any other programs you use to run your business that would be helpful (but not required) for the candidate to know. Maybe you love for them to have experience with Kajabi or ConvertKit.
Personal characteristics – What qualities should the candidate possess for this role? Do you need them to be organized, friendly, positive, and/or detail-oriented?
Time required – Be clear about how many hours you expect per week and what the working conditions would be like.
Below you will find a sample job posting we've used in the past that fits the criteria listed above: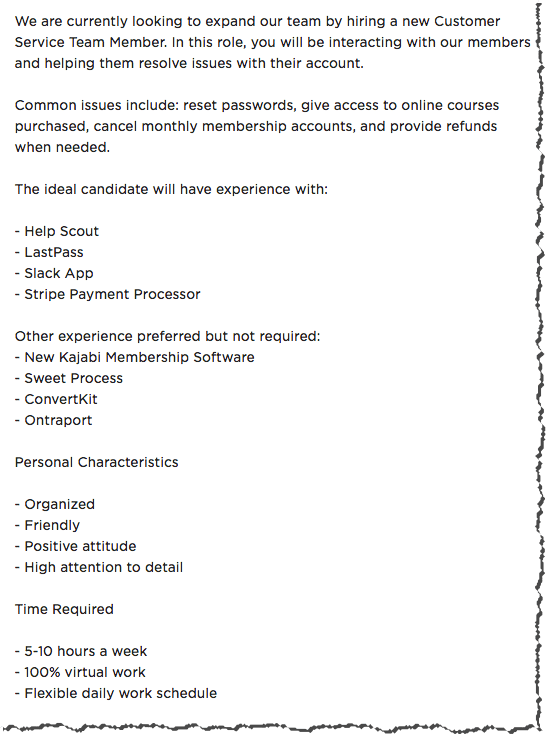 Step 4. Narrow Your Candidate List
Within an hour of posting, you should begin to receive candidate proposals. It's not uncommon to receive proposals from a wide variety of countries and pay level. We usually give it 24-48 hours before trying to narrow down the candidates to a short list.
While Upwork gives you many different ways to filter the candidates that have applied, we typically filter in two primary ways.
Filter by job success percentage – I like to set this at 90% and above. This success rate is determined by the rating system of other clients on Upwork. It's important that I know a candidate values their reputation on Upwork.
Filter by money earned – Upwork will also display for you the total amount a candidate has earned on Upwork. I want to hire people who heavily depend on Upwork as a primary source of their income. This means they are logging in daily to do their work and they will typically be more responsive.
Step 5. Start with a Trial Job
When hiring someone new, it's a good idea to crawl before you walk and walk before you run. See if they would be open to either a trial task or a trial time period (7 days) before you fully integrate them into your team.
Note: Do not take advantage of them with trial tasks. Let them know up front you will pay for their work whether or not you decide to move forward on a more permanent basis.
Step 6. Integrate the Freelancer into Your Team
Once a candidate has proven to be a good fit, take the time to fully integrate them into your team. Here are a few ideas for you:
Put them through an orientation course – I put together a simple five video course that walks them through our mission, core values, our tools, and our team structure.
Create a communication structure – We use Slack to communicate, but you can also use the built-in messaging feature of Upwork, too.
Add them to your project management tool – We have all of our team members on Asana. This gives us a central place to assign projects and tasks.
If you follow the steps I've outlined, you can begin to build your own dream team one position at a time. Remember, slow and steady wins the race. The more you begin to delegate, the less of a bottleneck you become in your own business.
🚀
Free Video:
How to Build an Online Business as a Writer or Coach (The Low-Tech Way) That Creates Time and Financial Freedom
(Without Feeling Overwhelmed by Technology, Self-Doubt, or Too Many Choices)
Click Here to Watch Now