17 Facebook Live Video Tips for Better Results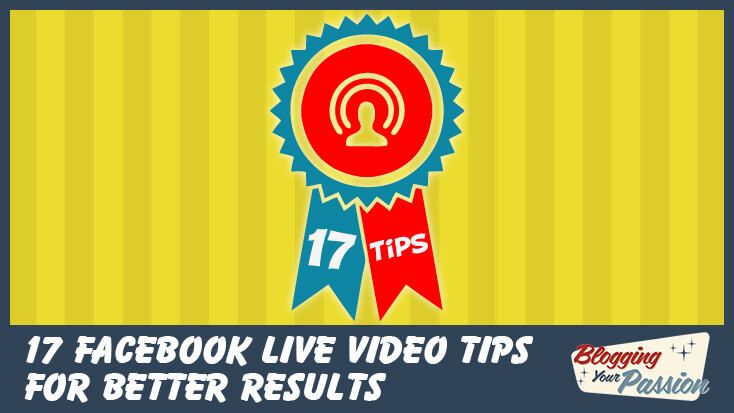 Been on Facebook lately?
Then you've seen it. In fact, you can't miss seeing video after video in your Facebook news feed these days.
If you are a content creator, this can be a good thing. At the time of this writing, Facebook is working very hard to promote the Facebook Live video platform.
There has never been a better time to get your message heard by thousands of people.
Even if you're not a pro at talking on video, this is the perfect platform for you.
To make the process even easier, I've compiled a list of 17 Facebook Live video tips that I've learned through my own experience.
Let's dive in.
17 Facebook Live Video Tips for Better Results
Tip 1. Step back from the camera
This is the biggest problem I see with people using Facebook Live. They are way too close to the camera. Even though you are on video, no one wants to feel like you're crowding their personal space.
Step back just a bit so there is a comfortable space between you and the camera.
Tip 2. Avoid the shaky hand
Your viewers will experience motion sickness if you hold your camera phone out with your hand. Get a tripod, or at the very least a selfie stick to help stabilize your video. Your viewers will appreciate it.
Tip 3. Let your light shine (on your face)
Avoid too much darkness!
Use a back light when possible so your audience can see your pretty face. If that's not an option, look toward a window so the light shines evenly on your face.
Tip 4. Be aware of your background
A dirty laundry pile, messy bed or a stack of dirty dishes behind you is probably not the image you want to betray in your video. Before you go live, take a quick look at your background.
Tip 5. Place the camera lens just above eye level
A common mistake I see is when a user holds their phone below the chin level. It gives the impression you are "looking down" on your viewers. This can also make you appear harsh on camera.
Instead, place the camera just above your eyebrows. When you look slightly up at the camera, not only do you appear slimmer, it's an overall more flattering angle.
Tip 6. Don't let the airplane fly over
Make sure you are framing yourself properly in your video. You don't want too much space over your head.
How do you test this?
Look at yourself on the video before you go live to see how much extra space there is above your head. Can you fly an airplane over it? If so, then move the camera down a bit.
Tip 7. Don't cut off the top of your head
The opposite is not good either. Make sure the top of your head is not cut off in the video. This gives off a feeling of mistrust. It's an old video production technique used in the movie industry for portraying criminals.
Tip 8. Place your notes within direct sight
If you are having a simple conversation or doing a live Q&A, then notes are not necessary. However, if you are wanting to use Facebook Live to deliver content, you'll need a prompt for your notes.
I like to paste a sticky note on my iPhone or place the camera right in front of a whiteboard.
Tip 9. Pick a compelling headline or question for a title
Before you go live, type in either a compelling headline or an intriguing question. You want to capture the viewer's attention so they will want to engage with you.
Tip 10. Promote before you broadcast
You can seed your live broadcast by taking two specific actions. First, post on your Facebook fan page ahead of time and let them know when you'll be going live. Second, send an email to your list.
Tip 11. Syndicate your live video feed
This is an advanced tip, but if you own multiple Facebook fan pages or groups, then you should syndicate your live videos. I use a tool called Live Leap. When I go live on one of my fan pages, Live Leap makes it possible to go live on all my fan pages and groups at the same time.
Tip 12. Have a conversation with live viewers
Facebook Live is an interactive, communication tool. Be sure to engage any live viewers. You can do this by either saying hello when they first join or by answering their questions in the chat.
Tip 13. Share email opt-in or "buy now" links in chat
It's also a good idea to convert your viewers into leads and sales. If you mention a lead magnet, then post the link to it in the comments section. Do the same if you mention a product you have for sale.
Tip 14. Share a text to email opt-in option
Most Facebook users will engage with you using their phones. One smart strategy is to offer a texting option for your lead magnet giveaway.
Tip 15. Boost your posts for more views
At the time of this writing, you can get thousands of targeted views for very little cost. I recently spent $30 to boost one of my Facebook Live videos and reached over 3,900 people.
Tip 16. Save the video recording for YouTube
After you stop the broadcast, Facebook will ask you if you'd like to save your video on your camera roll. Click "yes" and then upload your video to YouTube for even more views.
Tip 17. Participate in comments after the video
One of the most important factors that Facebook is using to show your post to more of your fans is number of comments. After your video is done, go back to your post and extend the conversation with your fans by commenting on the post.
By using these Facebook Live video tips, you'll be a pro in no time.
🚀
Free Video:
How to Build an Online Business as a Writer or Coach (The Low-Tech Way) That Creates Time and Financial Freedom
(Without Feeling Overwhelmed by Technology, Self-Doubt, or Too Many Choices)
Click Here to Watch Now