The Busy Blogger's Weekly Blog Planner Template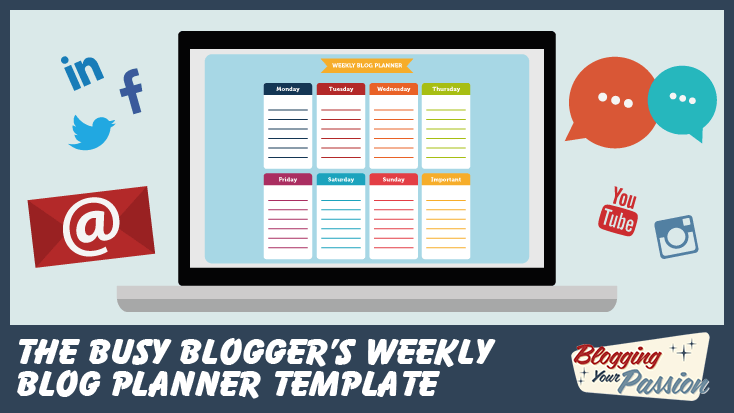 Have you lost focus? Are you frustrated with the lack of progress in your online business? Let's solve that today with a simple 1-page planning tool.
A few months ago, I was determined to create a simple one-page weekly planning tool. I wanted a simple tool that reminded me of the big picture. One of the biggest challenges with living in the technology-era is dealing with distractions. Your level of success is directly tied to your ability to handle distractions.
Just dumping your "to dos" in a task management system does not automatically lead you to ultimate focus and productivity.
Living each day with focus requires you to show up big each and every day.
The Busy Blogger's Weekly Blog Planner Template
The Busy Blogger's Weekly Planner Template helps me see the forrest for the trees.
Having a simple one-page weekly plan will help you:
Spend more time in the areas that matter most in your business (more on this later)
Send more emails to your list thus enhancing the relationship
Plan out your big goals at the beginning of the week before you get lost in the task black hole
And much more!
Let me briefly walk you through this 1-page template so you can see how it works.
Section 1: Weekly Goals
You will find this box in the lower right hand corner of the page. This is where I spend some time brainstorming and planning my goals for the week. I'll start by reviewing my 90 day goals first so I can select goals that are congruent to the bigger picture of my business.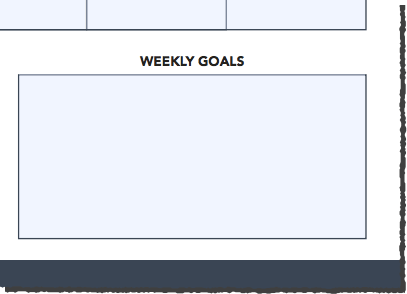 Here's why spending 5 minutes writing down your weekly goals are so important:
It gives you focus – Things come up daily that pull you away from your plan. You can get back to focus quickly be reading over your goals again.
It gives you motivation – After writing down my weekly goals, a sense of motivation comes over me. No longer am I weighed down by mundane tasks but I'm motivated by the bigger picture.
It gives you consistency – suddenly you are showing up more, delivering more value, communicating more with your list, and feeling more productive.
Section 2: The 4 Keystone Habits
In my latest book The 15 Success Traits of Pro Bloggers – The Proven Roadmap to Becoming a Full-Time Blogger, I talk about the 4 keystone habits. If you take a closer look at the most successful bloggers, you will find they spend 90-95% of their week in just 4 key areas:
Create habit – Each week they are creating more value by publishing new content. They are effectively using text, audio or video to get their message out to the masses.
Capture habit – They are religious about building and nurturing an email list. They are always looking for new ways and opportunities to add more subscribers to their list.
Compile habit – This habit alone separates the "hobby" bloggers from the full-time bloggers. Each week they are working on creating new products and services that they plan to sell on their blog and to their email list.
Connect habit – The smart bloggers know the importance of networking with other bloggers in their niche. They attempt to carve out a little time each week to do so.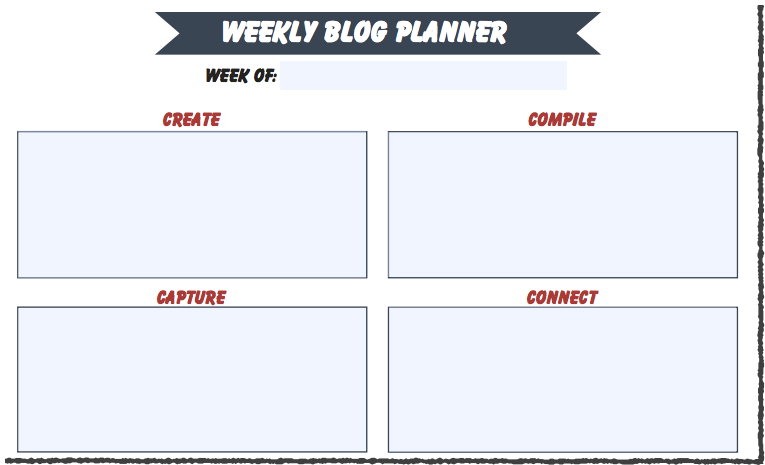 NOTE: I recognize this might feel like a ton of work. While this is true, my challenge to you is to just take baby steps. In the top 4 boxes of the weekly blog planner template, write down one major task in the 4 key areas that you'll get done this week.
If you've been wondering, what's the best way to spend my time as a blogger, it's in these 4 key areas!
Section 3: Emails to Send
One of the greatest challenges for emerging bloggers is emailing their list on a consistent basis. Weeks and months can go by without us even realizing we haven't communicated with our list (Ask me how I know).
The only way to overcome this is through awareness. When I sit down with my weekly planning template, I'm forced to think about communicating to my list.

While we have provided space for emailing Monday – Saturday (I typically don't send broadcast emails on Sunday), I'm certainly not telling you to email every single day. If your list is used to a daily email, then go for it (as long as you are adding value). If you haven't been emailing your list, let's start with 1-3 times a week.
Section 4: Miscellaneous To Dos
As I mentioned earlier, distractions will come up. I use the lower left box as a way to capture the "to dos" I need to get to this week just not right now. The reason so many of us fall prey to distractions is because we give into the "distraction impulse."
We do this because we're afraid if we don't do it right now, we will forget about it. Instead, right down the miscellaneous "to do" and complete it later.
You can also use this box to write down a few of the tasks that are urgent but they don't fit neatly anywhere else on the page.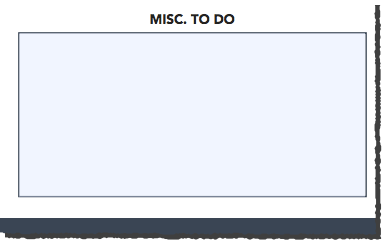 Putting it all together
I truly hope this 1-page blog planner template renews your focus, motivation, and clarity. Print it off and spend ten minutes filling it out.
I typically try to fill mine out on Fridays, while planning out the week before. If not, I'll spend the first ten minutes of my work day on Monday mornings, planning out my week.
🚀
Free Video:
How to Build an Online Business as a Writer or Coach (The Low-Tech Way) That Creates Time and Financial Freedom
(Without Feeling Overwhelmed by Technology, Self-Doubt, or Too Many Choices)
Click Here to Watch Now