301 Blog Topics for College Students (2024)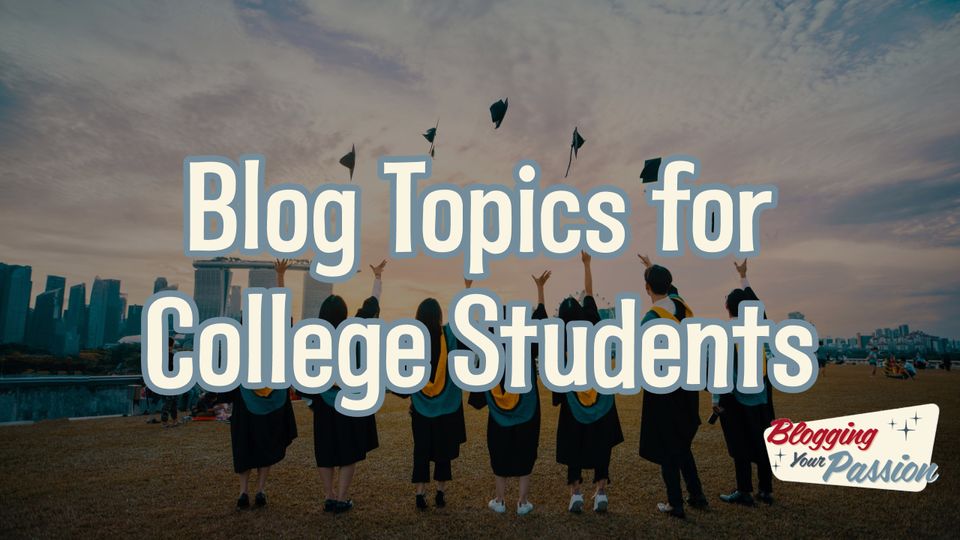 Starting your own blog can be a great way for college students to share valuable information and tips with their peers.
As a current student, you have a unique perspective and personal experience that makes you the perfect college blogger.
Choosing the best blog topics and content ideas to appeal to your target audience of fellow students is an important first step to creating a successful student-focused blog.
In this post, we've curated 301+ of the best blog topic ideas for college student bloggers.
These range from academic life and study tips to college hacks, career opportunities, student life, and more. Whether you're looking for your first blog topic or new ideas for your next posts, this list is a good starting point and reference.
Blogging is an excellent way for students to improve their writing skills while providing relevant topics and valuable information to their audience.
By sharing your own experiences and insights as a current college student, you can connect with and help fellow students in their school journey.
So if you're a college student thinking about starting your own education blog, this post is the right place to begin your search for the best blog topics.
Use this list as inspiration for your student blog niche and let your unique voice shine through. With hard work and consistency, your student-focused blog can become a go-to resource for your peers looking for tips to navigate academic and college life.
Table of Contents
Popular Blog Topics for College Students
The ultimate guide to choosing the right college
How to make new friends in college
Best study tips for college students
Time management tips for college students
How to write the perfect college essay
Pros and cons of online classes in college
How to choose a college major
Best side hustles for college students to make extra money
Guide to getting good grades in college
Best places to study on campus
Tips for college freshmen
Things to pack for your college dorm room
Best ways to get involved on campus
Tips for being a part-time student and working
Things I wish I knew before starting college
Must-have tech for college students
How to transition from high school to college
Tips for being a commuter student
Best free or cheap entertainment options for college students
Finding student discounts you didn't know existed
Dealing with college roommate issues
Best credit cards for college students
Finding the right internship as a college student
Networking tips for college students
Mental health topics relevant to college students
How to handle college rejection
Moving tips for college students
Best laptops for college students
Fun things to do on campus
Choosing classes as a college freshman
Popular Blog Topics About Academics
Study Tips for Different Learning Styles
Pros and Cons of Recording Lectures
Best Note-Taking Methods for College Classes
How to Read a Textbook Effectively
Tips for Taking Online Classes
Choosing Classes as an Undeclared Major
Study Methods to Boost Memorization
Managing Senioritis in Your Final College Semester
Balancing Schoolwork and Social Life
Tips for Commuter Students to Maximize Academics
The Benefits of Study Groups and How to Form One
Turning Group Projects From Annoying to Enjoyable
How to Get the Most Out of Office Hours with Professors
Tricks to Find Cheap Textbooks and Course Materials
Maximizing Libraries and Other Campus Academic Resources
Academic Advice for First-Generation College Students
Deciding Between Pass/Fail and Letter Grades for Classes
Managing Stress, Sleep, and Health During Final Exams
Crafting the Perfect Class Schedule for Optimal Learning
How to Petition a Grade You Feel is Unfair
Study Abroad Academic Tips and Tricks
Internship and Co-op Advice for Maximizing Learning
Navigating Professors Who Don't Speak Your Native Language
The Benefits of Taking Courses Outside Your Major
Tips for Mastering Public Speaking As a Shy Student
Advice on Dropping a Class Mid-Semester
How to Graduate Early or Cram Extra Classes In
Tackling a Tough Class Outside Your Comfort Zone
Preparing for Your First College Midterm Exams
Best Academic Advice for Incoming Freshmen
Popular Blog Topics About College Life
1. A Guide to Getting Involved in Extracurriculars
2. Best Ways to Make New Friends at College
3. Tips for Decorating Your Dorm Room on a Budget
4. A Great Idea: Starting a Club Based on Your Passion
5. Creating a College Bucket List: Ideas and Inspiration
6. How to Balance Academics and a Social Life
7. Things I Wish I Knew Before Freshman Year
8. Advice for Commuter Students on Getting the Full College Experience
9. The Best Hidden Gems On and Around Campus
10. Learning to Live With a Roommate: Communication Tips
11. Best Places to Grab a Bite On Campus
12. Affordable Ideas for Fun Dorm Room Decor
13. Strange College Traditions Explained
14. Tips to Avoid the Freshman 15 Weight Gain
15. Amazing Study Abroad Experiences to Add to Your College Bucket List
16. The Complete Guide to Fraternity and Sorority Rush
17. Easy Ways to Get Involved and Meet New People
18. Making Friends as an Introvert: Tips from a College Student
19. Things to Do When You're Bored on Campus
20. Best Apps for College Students to Save Money and Time
21. Ideas for Fun Dorm Activities With Friends
22. Advice on Finding Your College Niche and Like-Minded Friends
23. Lessons I Learned During My First Semester of College
24. Tips for a Smooth Transition to College Life as a First-Year Student
25. Things to Experience Before Graduation: A College Bucket List
26. Balancing Family Obligations and College Life
27. Making the Most of Your Summers During College
28. Building Your Personal Brand as a College Student Through Blogging
29. Using Affiliate Links to Monetize Your College Blog
30. How to Document Your College Experience Through Blogging
Popular Blog Topics About Money and College
Best Budgeting Tips for College Students
Ways to Earn Extra Money in College
Mistakes to Avoid When Getting Your First Credit Card
Managing Student Loans After Graduation
Finding Hidden Scholarship Opportunities
Negotiating Financial Aid Offers from Different Schools
Choosing Between Dining Hall Meal Plans to Save Money
Tips for Creating a College Budget Spreadsheet
Strategies for Building Your Credit Score as a Student
Best Part-Time Jobs for College Students
How to Access Emergency Funds in College if Needed
Investing for Beginners: Tips for College Students
Managing Tuition Payments Each Semester
Tax Tips for College Students and Recent Grads
How to Split Costs and Save on Textbooks Each Term
Pros and Cons of Using Student Loans to Pay for College
Best Bank Accounts and Credit Cards for Students
Cutting College Costs by Renting Textbooks Online
Finding Free Food, Activities and Entertainment on Campus
The True Costs of Attending College Abroad
Saving for Study Abroad with Affordable Program Options
Benefits of Working a Paid Internship in College
How to Build Good Credit During Your College Years
Asking Parents for Financial Help in College
Creating a Plan to Pay Off Debt After Graduation
Maximizing Scholarship Searches for Transfer Students
Managing Finances After Moving Off-Campus
Handling Unexpected College Costs and Emergencies
Creating a Financial Plan for Graduate School
Strategies to Graduate College Debt-Free
Popular Topics About College Students and Health
Tips for Eating Healthy in the Dining Hall
Best Exercises for a Quick Dorm Room Workout
Dealing with Stress, Anxiety, and Mental Health in College
Getting Enough Sleep as a Busy Student
Avoiding the Freshman 15 with Healthy Habits
Natural Remedies for Common College Ailments
Creating a Self-Care Routine During College
Staying Safe at College Parties
Healthy Snack Ideas for Late Night Studying
Motivation to Use Your Campus Gym and Fitness Classes
Maintaining a Healthy Social Life in College
Steps to Quit Unhealthy Habits Like Smoking or Vaping
Immune-Boosting Foods to Prevent Illness During College
Affordable Ways to Eat Healthy in the Dining Hall
Tips for Managing Specific Dietary Needs or Restrictions in College
Importance of Hydration and Drinking Enough Water in College
Making Time for Daily Movement as a Busy Student
Safely Managing Alcohol Consumption in College
Finding Free Wellness Resources On Campus
Prioritizing Sleep Schedule and Habits in College
Seeking Help for Addiction and Substance Abuse
Supplements to Support Focus, Memory and Mental Performance
Avoiding Germs and Viruses in Shared Spaces on Campus
OTC Medications You Should Have at College
Coping with Food Allergies in College Dining Halls
Campus Resources for Sexual Health and Wellness
Making Healthy Choices to Avoid the "Freshman 15" Weight Gain
First Aid Basics Every College Student Should Know
Handling Sports Injuries, Sprains and Strains in College
Signs of Illness to Take Seriously Rather than Ignore
Popular Topics Related to Tips for Students
1. A Guide to Using Social Media to Enhance Your College Experience
2. Great Ways to Build Your Personal Brand as a Student Blogger
3. Tips for New College Students to Make Friends and Find Their Niche
4. Expert Advice for Getting Good Grades in Your Classes
5. How to Furnish Your Dorm Room on a Budget
6. Making a College Bucket List: Fun Things to Experience Before Graduating
7. Best Life Hacks for Thriving in the Dorms
8. How to Get Through Syllabus Week Successfully
9. Study Tips to Excel in Your Classes From Fellow Students
10. Time Management Advice for Balancing College Life
11. Hacks for Maximizing Small Dorm Room Storage Space
12. Tips to Handle Roommate Conflicts and Communication
13. Finding Affordable Textbooks: Rentals, Ebooks, Sharing, and More
14. What I Wish I Knew Before Starting My Freshman Year of College
15. Insider Tips to Save Money on Food and Dining in College
16. Advice for Commuter Students to Make the Most of College
17. How to Furnish and Decorate Your Dorm or Apartment on a Budget
18. Great Ways to Get Free or Discounted Stuff As a Student
19. Tips for Transfer Students Transitioning to a New College
20. Expert Advice for Course Registration and Scheduling Each Term
21. Hacks and Tips for Surviving Finals Week
22. How to Get Good Grades on Papers and Essays
23. Best Tips for Finding an Internship as a College Student
24. Strategies to Make Friends and Connect with Fellow Classmates
25. Things to Do On and Around Campus When Bored
26. Tips for Taking Online College Classes Successfully
27. Hacks for Getting Better Sleep as a Busy Student
28. Advice for Freshmen on Setting Up Their College Social Life
29. How to Connect with Professors and Tips for Using Office Hours
30. Expert Tips to Improve Time Management and Productivity in College
Popular Blog Topics for Personal Development
1. Time Management Tips for College Students
2. How to Build a Personal Brand as a College Student
3. Best Habits for Academic Success in College
4. Managing Stress and Anxiety as a College Student
5. Top Study Tips for Excelling in College
6. Getting Enough Sleep as a Busy College Student
7. Making Meaningful Connections and Networking in College
8. Choosing the Right Classes and Major For You
9. Balancing Academics and Social Life in College
10. Setting and Achieving Goals in College
11. Taking Care of Your Mental Health in College
12. Creating a Productive Study Space at Home or in Your Dorm
13. Handling Finances and Budgeting as a College Student
14. Finding Mentors and Asking for Help in College
15. Self-Care Ideas for Busy College Students
16. Building Confidence and Self-Esteem in College
17. Finding Internships and Gaining Work Experience in College
18. Figuring Out Your Passions and Interests as a Student
19. Learning Important Life Skills Like Cooking, Cleaning, etc.
20. Making Fitness and Health a Priority in College
21. Joining Clubs and Getting Involved on Campus
22. Financial Aid Tips for College Students and Families
23. Moving Away From Home and Adjusting to College Life
24. Preparing for Important Exams Like Midterms and Finals
25. Surviving Roommate Drama and Conflict in College Housing
26. Deciding Whether to Study Abroad in College
27. Handling Relationships and Dating in College
28. Boosting Creativity as a College Student
29. Planning Your Career After College Graduation
30. Finding Your Community and Support Network in College
Popular Blog Topics About Career Opportunities
1. How to Choose the Right Career Path For You
2. Researching Potential Careers That Fit Your Interests
3. Informational Interviews - Talking to People in Careers You're Interested In
4. The Importance of Internships and Gaining Experience in College
5. Building Your Resume and Skills For the Career You Want
6. Deciding Between Graduate School or Entering the Workforce After College
7. Networking Tips to Help Land Your First Job After Graduation
8. Attending Career Fairs and Making Connections
9. Perfecting Your Elevator Pitch and Interview Skills
10. Using LinkedIn to Connect with Professionals in Your Desired Field
11. Researching Salaries and Job Outlooks for Different Careers
12. Figuring Out the Job Application Process After College
13. Preparing for Your First Day On the Job After Graduation
14. Transitioning From College to a 9-5 Work Schedule
15. Managing Your Finances and Paying Off Debt After College
16. Deciding Between Job Offers and Evaluating Benefits
17. Moving for a Job After Graduation and Living In a New City
18. Networking At Your New Job and Making Work Connections
19. Learning Office Etiquette and Professional Communication
20. Advancing Your Career Through Continued Learning and Development
21. Achieving Work-Life Balance In Your Early Career
22. Dealing with Difficult Bosses and Work Environments
23. Learning How to Negotiate Your Salary and Raises
24. Overcoming Setbacks and Rejection During Your Job Search
25. Managing Up and Making Positive Impressions At Work
26. Developing Mentorships and Sponsors To Help Your Career
27. Identifying When It's Time For a Career Change or Pivot
28. Handling Burnout and Stress At Your First Real World Job
29. Advocating For Yourself As a Young Professional
30. Setting Career Goals and Creating a Path to Advancement
Popular Blog Ideas About College Life Hacks
1. Best Apps for Organizing Your College Life
2. Dorm Room Hacks to Maximize Your Space
3. Buying and Selling Textbooks to Save Money
4. Scheduling Classes to Optimize Your Routine
5. Getting Free or Discounted Software as a Student
6. Finding Deals and Freebies with Your Student Email
7. Easy Meal Prep Ideas for Busy College Weeks
8. Affordable Fashion for College on a Budget
9. DIY Dorm Decor Ideas on the Cheap
10. Studying Smarter Not Harder with Effective Methods
11. Participating in Campus Clubs and Organizations for Connection
12. Landing Leadership Roles on Campus for Your Resume
13. Getting involved in Research and Lab Work as an Undergrad
14. Applying for Scholarships with Tips to Win Them
15. Using the Campus Gym, Library and Other Resources to Save Money
16. Finding a Mentor Professor For Advice and Opportunities
17. Learning to Manage Your Money Wisely in College
18. Building Your Professional Network from the Start
19. Leveraging Your Summers for Jobs and Internships
20. Travel Hacking to Plan Cheap or Free Spring Break Trips
21. Scheduling Classes Strategically to Help or Hurt Your GPA
22. Audit Classes for Free Learning Without the Tests
23.Landing On-Campus Jobs to Earn and Learn
24. Making Strategic Choices for Your Electives
25. Using Office Hours to Stand Out to Professors
26. Unconventional Study Spots Around Campus
27. Scheduling Fun Rewards into Long Study Days
28. Best Websites and Apps For Finding Textbooks Cheap
29. Leveraging Alumni Network for Mentorship and Jobs
30. Maximizing Downtime Between Classes
Popular Blog Topics for Prospective Students
1. Questions to Ask During College Tours
2. Deciding Between Large vs Small Colleges
3. Researching and Visiting Colleges Online
4. Comparing Colleges Side-by-Side
5. Factors to Consider When Choosing a College
6. How to Make the Most of College Visits
7. Building a College Application Resume
8. Writing Strong Admissions Essays and Statements
9. Scholarships and Financial Aid for High School Seniors
10. Inside Tips for Acing the College Interview
11. What to Look For in On-Campus Housing
12. Packing Essentials When Preparing for College
13. Landing Leadership Roles in High School Clubs
14. Getting Involved in Community Service and Volunteering
15. How High School Students Can Start Building a Network
16. SAT/ACT Prep Tips and Strategies
17. Budgeting and Saving Money in High School for College
18. Choosing High School Courses to Prepare for College
19. Researching Potential Majors Before Applying
20. Making the Adjustment from High School to College Academics
21. Why College Visits Should Be on Your Summer Bucket List
Conclusion
Starting a blog as a college student can be a great idea to share tips, experiences, and case studies that provide valuable information to your peers.
By consistently posting on topics ranging from dorm life hacks to internship tips, you can create a successful blog that helps current students navigate higher education.
The most important thing is to choose blog topics and content that speak to the pain points and interests of your target audience.
Share your own experiences as a student to provide insider tips to new students on things like picking classes, getting involved on campus and making the most of your free time.
Use this exhaustive list of student blog topics as a starting point for your own education blog. Then the next steps are to niche down into a specific blogging focus and start creating helpful, engaging content.
Promote your blog on social networks and optimize it for search engines to reach more students over time.
College is the perfect time to start blogging - you have lots of great content ideas from your own student life, and can build an audience among the many students looking for advice on navigating school for the first time.
So pick a blog topic from this list that fits your niche, and start writing posts that provide value to your fellow students.
You've got this!
🚀
Free Video:
How to Build an Online Business as a Writer or Coach (The Low-Tech Way) That Creates Time and Financial Freedom (Without Feeling Overwhelmed by Technology, Self-Doubt, or Too Many Choices).
Click Here to Watch Now