BigScoots Review: Is it Worth the Investment?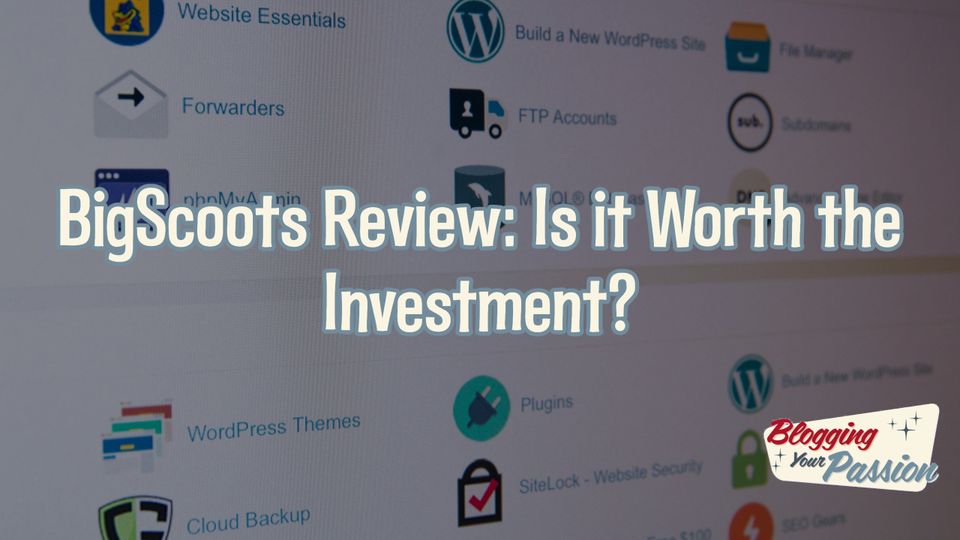 Ever heard of BigScoots hosting?
If you're nodding, this BigScoots review is just for you.
We'll dive deep into what BigScoots offers and how it can benefit your blogging journey.
You'll get a lowdown on the advantages and disadvantages of using their services.
Setting up a blog with Big Scoots? We've got that covered too!
Whether you're a small business or an individual blogger, we aim to help you determine if this is the right hosting service for your needs.
Dedicated plans, great options - everything about BigScoots will be laid bare in this comprehensive review.
A must-read for anyone considering taking their online presence to another level!
What is BigScoots?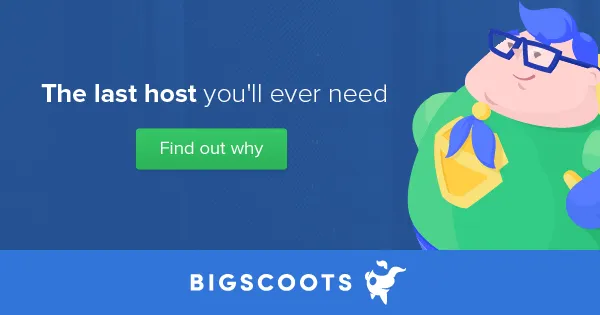 BigScoots is a web hosting company that provides high-quality hosting solutions for various online needs. They offer services such as shared hosting, managed WordPress hosting, VPS hosting, and dedicated servers, catering to a wide spectrum of customers, from beginners to advanced users.
Founded in 2010 by two passionate web enthusiasts, BigScoots has rapidly become a popular choice for bloggers, entrepreneurs, and businesses.
Their primary focus is delivering exceptional performance, reliability, and customer support, ensuring clients' websites run smoothly and efficiently.
By combining cutting-edge technology, personalized services, and a commitment to customer satisfaction, BigScoots has established itself as a competitive player in the web hosting industry.
Their reputation for quality hosting solutions and unparalleled support continues to attract new customers seeking a dependable and transparent hosting provider.
Pros of BigScoots Hosting
When selecting a blog hosting provider, it's crucial to weigh the advantages and disadvantages to make the best choice for your website.
With BigScoots web hosting, several key benefits have resonated with many satisfied users.
These advantages promise top-notch service and help ensure a seamless and hassle-free experience for your business or personal website.
Let's delve into the pros of BigScoots web hosting and see what sets them apart from the competition.
1. Outstanding Customer Support
Personalized and quick response time
BigScoots takes pride in offering personalized customer support with impressively quick response times. They understand how valuable time is for their customers and efficiently address any issues that may arise, ensuring a hassle-free experience for website owners.
Knowledgeable and friendly staff
Their team of experts consists of knowledgeable and friendly staff with a deep understanding of web hosting. They treat clients with warmth and genuine care, providing practical solutions and ensuring they feel valued throughout their interaction.
Availability through multiple channels
BigScoots maintains exceptional customer support through multiple email, phone, and live chat channels. Providing various ways to access support ensures that customers can always find help when needed, allowing for seamless communication and prompt assistance.
2. Impressive Server Performance
High uptime rates
Uptime is critical when choosing a hosting provider, and BigScoots thrives in this department. They are committed to consistently delivering high uptime rates, which translates to less downtime and a more reliable online presence for your website.
Fast loading speeds
BigScoots offers fast loading speeds, significantly impacting your website's user experience and SEO ranking. By leveraging the latest server technologies and optimization techniques, they ensure your site loads quickly, providing a seamless browsing experience for visitors.
Regular monitoring and updates
With regular monitoring and updates, BigScoots maintains top-notch server performance, keeping your website safe and secure. Their proactive approach to server management helps prevent issues and ensures that your site continues to run smoothly, providing peace of mind for website owners.
3. Easy-to-use Control Panel
User-friendly interface
BigScoots offers an intuitive and user-friendly control panel, making it easy for users of all skill levels to manage their websites effectively. The straightforward layout and design ensure seamless navigation and minimize the learning curve for new users.
Wide range of tools and features
The BigScoots control panel has various tools and features that cater to various website management needs. From managing domains and email accounts to keeping track of analytics and security settings, users have access to all the essentials and more.
Easily accessible and customizable
Accessibility and customization are key with BigScoots' control panel. Users can easily find what they need within the dashboard and tailor the settings according to their preferences and requirements. This flexibility allows for a more personalized and efficient website management experience.
4. Scalable Solutions
Variety of hosting options available
BigScoots offers diverse hosting options, including shared hosting, dedicated servers, managed WordPress hosting and VPS hosting. This variety ensures that users can find a solution that suits their specific needs, whether they run a small blog or a large e-commerce site.
Room to grow and expand your website
One of the key advantages of BigScoots is the scalability it provides. You can effortlessly upgrade your hosting plan as your website grows and requires more resources or advanced features. This flexibility ensures that your hosting solution grows along your website without any roadblocks to your long-term success.
Helpful advice on choosing the right plan
BigScoots' support team goes above and beyond to help users determine the best hosting plan. They offer valuable advice and practical recommendations based on your unique requirements, ensuring you choose a plan that will ultimately serve you in the long run.
5. BigScoots Pricing is Affordable
As you consider using BigScoots for your web hosting needs, it's essential to closely examine their pricing structure to find the perfect plan for your blog. BigScoots offers various plans designed to cater to the needs of bloggers at different stages.
Understanding each plan's offerings will help you decide which plan best suits your requirements.
Starter Plan: Ideal for New Bloggers
The Starter Plan offers a cost-effective solution for those just beginning their blogging journey. Priced at $31.46 per month and billed at $377.46 annually, this plan includes:
250K Visits per month
10GB Storage
Free SSL Certificate
Professional Plan: Perfect for Growing Blogs
If your blog is experiencing steady growth, the Professional Plan caters to your increasing traffic and storage needs. Setting you back $89.06 per month or $1,068.66 annually, you can expect the following benefits:
750K Visits per month
30GB Storage
Free SSL Certificates
Business Plan: Geared towards Established Blogs
Well-established blogs with a strong following can benefit from the Business Plan's offerings. At a cost of $224.06 per month or $2,688.66 per year, this plan provides:
1.5 Million Visits per month
200GB Storage
Free SSL Certificates
Enterprise Plan: Customized Solutions for High-Traffic Sites
For bloggers with a massive following and unique requirements, the Enterprise Plan offers customized solutions tailored to your needs. Pricing for this plan is custom and includes:
Millions+ Monthly Visits
450GB+ Storage
Free SSL Certificates
Additional Features and Savings
With all the BigScoots plans, you can enjoy additional benefits like:
Unlimited Free Migrations
45-Day Money-Back Guarantee
No Overages, Throttling, or Unnecessary Upgrades
Daily Backups
Simple Upgrades, Downgrades, and Prorated Refunds
Proactive Monitoring
No Contracts
Remember, you can save 10% on your web hosting costs by opting for yearly billing instead of monthly.
With this detailed breakdown of BigScoots' pricing, you can confidently choose the web hosting plan that aligns with your blog's current needs and future growth.
Start your blogging journey with a strong foundation supported by BigScoots' exceptional value and service.
Transparent and reasonable billing policies
Transparency and honesty are fundamental values at BigScoots. They maintain clear and reasonable billing policies, avoiding hidden charges and ensuring customers understand the costs before committing to a plan. This trust-based approach fosters a loyal and satisfied clientele.
Special offers and discounts available
BigScoots frequently offers special promotions and discounts to make their services more attractive. These offers provide an excellent opportunity for users to try BigScoots hosting at a reduced rate or get a better deal on their hosting plans, thereby maximizing their value for money.
Cons of BigScoots Hosting
While BigScoots hosting undoubtedly provides numerous benefits, it's essential to consider some of the downsides before making a final decision.
Knowing the potential drawbacks can help determine if BigScoots is the best hosting provider for your needs. Look at some cons you might encounter when using BigScoots hosting services.
1. Limited Data Center Locations
Only two data centers available
One drawback of BigScoots hosting is the limited number of data center locations. With only two available data centers, users might not have access to a geographically optimal website location, potentially affecting their site's performance and loading speeds.
May affect performance for users based far from these centers
Limited data center locations might impact website performance, especially for users far from the available centers. Proximity to the data center can affect loading speed and website responsiveness, so it's important to remember this when considering BigScoots as your hosting provider.
2. No Free Domain
Domains must be purchased separately
One downside of BigScoots hosting is that they do not offer a free domain with their hosting plans. While they provide excellent hosting services, users must budget for purchasing a domain separately, which can add to the overall cost of launching and maintaining a website.
Some competitors offer free domains with hosting plans
It's worth noting that some competitors in the hosting industry include free domain registration as part of their hosting packages. This can be an attractive feature for those looking to minimize upfront costs.
However, it's important to consider the overall value and quality of the hosting service itself when making a decision.
3. Limited Payment Options
No other forms of payment available apart from credit cards
BigScoots currently offers limited payment options, only accepting credit cards for payment. This can be a drawback for potential users who prefer alternative payment methods or cannot access a credit card.
The lack of diverse payment options can be an obstacle for some customers looking to sign up for BigScoots hosting services.
Additional payment choices, such as PayPal or direct bank transfers, may cater to a wider audience and provide convenience to prospective clients.
BigScoots Reviews: Recap of Pros and Cons
BigScoots hosting offers several advantages, making it a compelling option for many users.
These include:
Outstanding customer support with personalized and quick responses
Impressive server performance with high uptime rates and fast loading speeds
An easy-to-use control panel with a wide range of tools and features
Scalable solutions allow growth and expansion
And affordable pricing options with competitive rates.
However, it's important to also consider the cons of BigScoots hosting. These include:
Limited data center locations
Potentially affecting performance for users far from these centers
The absence of a free domain with hosting plans compared to some competitors
And the limited payment options, accommodating only credit card payments.
By weighing both the pros and cons of BigScoots hosting, you can make an informed decision that aligns with your specific needs and priorities for your website.
How to Set Up a Blog with BigScoots Hosting
Setting up your blog on BigScoots is a piece of cake.
Step #1: Visit the BigScoots website and click the "Get Started Now" button.
Step #2: Choose your hosting plan; I recommend starting with their shared hosting plans for bloggers, as they provide great value for money.
Step #3: Register a new domain or transfer an existing one. Enter the domain name in its designated area if you already possess one.
Step #4: Fill out account information such as email address, password, and billing details. Make sure all this information is accurate before proceeding further.
Step #5: Review your order summary before finalizing payment. Once all the information is accurate, click 'Checkout' to complete your purchase.
Installing WordPress is essential for blogging, and thankfully, Bigscoot makes this task super simple.
BigScoots Review: Is BigScoots Worth the Investment?
While BigScoots hosting offers several notable advantages, it ultimately comes down to personal preference and specific website requirements.
If you prioritize exceptional customer support, impressive server performance, an easy-to-use control panel, scalability options, and competitive pricing, BigScoots is worth considering.
However, the limited data center locations, absence of a free domain, and restricted payment options may be drawbacks for some individuals.
Before deciding, it's advisable to thoroughly evaluate your hosting needs and consider alternative options.
Consider website size, target audience location, budget, and desired features. Research other hosting providers and read reviews to ensure you make the best choice for your unique circumstances.
Ultimately, the worthiness of investing in BigScoots hosting will depend on how well it aligns with your specific needs and priorities as a website owner.
FAQs About Our BigScoots Review
How Much Does BigScoots Cost?
BigScoots offers various plans to suit your needs, with pricing starting at just $4.95 per month for shared hosting. Assess your blog's requirements and choose the best plan for your budget and goals.
What Does BigScoots Do?
BigScoots is a reliable web hosting company that provides fast, secure, and fully managed hosting solutions. They offer tailored services to bloggers and online businesses to ensure optimal performance.
Which Hosting is Best for WordPress?
As a blogger, you want a hosting provider optimized for WordPress, and BigScoots is an excellent choice. They offer easy WordPress installation, dedicated support, and fast, secure servers to ensure your site runs smoothly.
What is the Uptime for BigScoots?
Bigscoots boasts an impressive 99.99% uptime, meaning your website will rarely experience downtime. This reliability ensures your blog is always accessible to your readers, which is essential for growing your online presence.
How Do I Transfer My Domain to BigScoots?
Transferring your domain to BigScoots is a simple process. First, ensure your domain is unlocked and obtain your current registrar's EPP or authorization code.
Then, submit a transfer request in your BigScoots client area, and their expert team will handle the rest with minimal impact on your website's operations.
BigScoots Review: Final Thoughts
In conclusion, BigScoots hosting is a top choice for beginner bloggers looking to launch their blogging journey with a reliable and user-friendly platform.
The affordable pricing options, easy-to-navigate control panel, and dedicated WordPress support make it an excellent choice for those just starting.
The impressive uptime and fast, secure servers ensure your blog has a solid foundation to grow and thrive.
So, if you're a beginner blogger seeking a dependable web host that offers outstanding value and support, BigScoots is a service you should seriously consider.
Launch your blog today with confidence, knowing you're backed by a web host that truly cares about your success.
Let's get that blog launched and start making money blogging!
Disclaimer: This post contains affiliate links. If you click on a link and make a purchase, we may earn a small commission at no additional cost to you.