The Quick Start Guide to Writing Your First Blog Post: 6 Steps
This post will you give you everything you need for getting started on the right foot. Obviously there are no rules here, but a great place to begin is to let readers know who you are and what to expect.
Once you learn how to start a blog, you need to regularly share your thoughts and advice by way of blog posts.
It's important to do so in a way that is both honest and not too limiting. How do you do that? Keep reading!
The Power of Practice
This may sound counterintuitive, but before publishing your first post, it's a good idea to practice blogging offline for a while. I recommend this for three reasons:
To determine what your writing rhythm will be—how often, where, what time, etc.
To build up a batch of content from which you can draw when you start posting. This decreases both the possibility for really embarrassing errors as well as the anxiety associated with starting to hit "publish."
To get a feel for the kind of content you like to write. As W. H. Auden put it once, "How do I know what I think until I see what I say?"
When you've practiced for a while and have at least a handful of posts ready to launch, you're ready to write and publish your first blog post.
Welcome Us, Your Readers
Just as you greet friends at the front door, welcome your readers. Use the same language you use in real life. Don't say "Greetings!" if you normally would say "Hey!" Let them know you're glad they're visiting.
Tell Us What You'll Focus On
Come right to the point and tell us the topics you plan to cover. You may want to give yourself an out as well by saying some posts may not fit neatly into any of the listed topics. (Pssst, that's okay!)
Give Yourself Some Leeway
Most blogs have a tagline. It's smart to keep this general in the beginning because you can always change it later.
My first tagline was "Exploring Writing, Publishing, Life, and Creativity." After blogging for a year I was able to identify a sharper focus for what I was doing and wanted to do. The tagline became "Find Your Voice. Do Your Art." Now I'm thinking about changing it to something like "Resources and Coaching to Find Your Voice and Do Your Art."
Let Us Know What to Expect
Do you plan to blog every day? Twice a week? Do you anticipate posting in particular formats (for example, interviews, Q & As, or recipes). Your first post is a great place to give readers an idea of what you're planning to do and how often.
Please and Thank You
Not to sound like your mom, but don't forget your manners!
Say please. Ask your readers to be engaged, to let you know what they like and don't like.
Say thank you. Thank your readers for reading. Also, you may want to thank other bloggers or writers who have inspired you and perhaps link to their sites.
My Special Gift to Blogging Your Passion Readers
I put together a resource kit especially for Blogging Your Passion readers, just because I love Jonathan Milligan (and you!) so much. Check out this page on Keys to a Sustainable Blog. Drop your email address, and I'll send you some things I'm preparing specially for you. Here's what you'll get:
A 3-minute video in which I talk about the practices you'll need to sustain your blogging career. If you're going to do this for the long haul, you need practices to nourish you. I'll give them to you.
The 21-Day "Do Your Art" Challenge, which will help you build those practices into your life so you can stay the course and produce your best content.
Thanks so much for reading this post, and don't forget to check out these Keys to a Sustainable Blog.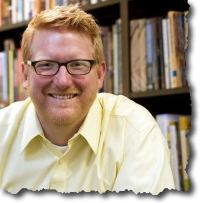 Chad R. Allen is a writer, speaker, editor, and consultant. His mission is to help creative people find their voice and do their art. Author of Do Your Art: A Manifesto on Rejecting Apathy to Bring Your Best to the World, Chad serves as editorial director for Baker Books, where he has worked for over twelve years. He lives with his wife and two young children in Grand Rapids, Michigan. To connect with him click here.