Publish More With a Whiteboard Editorial Calendar
If you know much about me, then you know I have a passion for productivity. I am always trying to figure out how to get more done in a typical work day. I want to give you an inside look into how I have pushed myself to publish more this month than I do on … Publish More With a Whiteboard Editorial
If you know much about me, then you know I have a passion for productivity. I am always trying to figure out how to get more done in a typical work day. I want to give you an inside look into how I have pushed myself to publish more this month than I do on a regular basis.
"If you don't keep pushing publish, you cease to have a blog."
Creating quality content on a regular basis is the best way to build a blog. In fact, in most recent years this strategy has been given a name. It has been coined "content marketing." The idea is simple. Give people your best stuff and build an audience. As they begin to benefit from your teaching, they trust you. People do business with people they know, like, and trust.
Back to my experiment. I am a visual person. As I mentioned in the Simple Blog Business Plan, I want to be able to visually "see" my goals. They hang on a whiteboard just above my computer monitor in my home office. They stare at me and keep me accountable.
Recently, I decided that I should try to do the same thing with my publishing schedule for my blogs. I personally started a few different blogs, but there are 3 in particular I am putting a great deal of effort into right now.
Publish More With a Whiteboard Editorial Calendar
I love whiteboards. I have at least 3 hanging up in my home office and may even add another one soon. I use whiteboards in my office for:
Setting 90 day goals
Mindmapping out ideas
Creating products
Writing out outlines
Drawing visual items
Developing an editorial calendar *NEW*
At the beginning of this month, I decided to use one of my whiteboards and create a visual editorial calendar. This was the logical next step for me after developing a system for collecting blog posts ideas. The "whiteboard" editorial calendar forces me to have some accountability to my blog post ideas.
Here is a recent picture I took of my visual editorial calendar: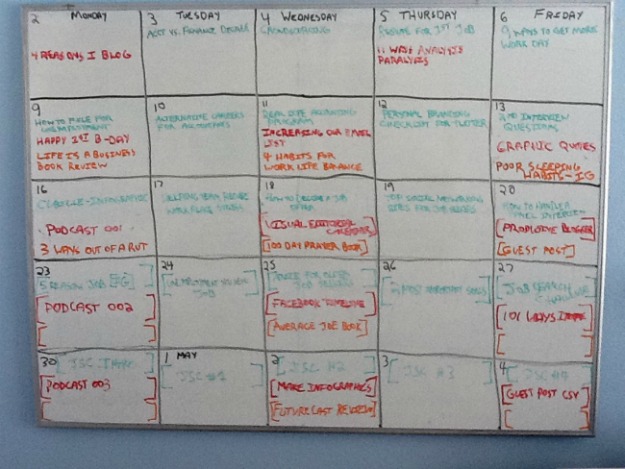 Please keep in mind this is my "rough draft." I know it is not very pretty at the moment. When I get an idea, I am big on speed of implementation. Next month, I am going to buy better markers and even some thin black marking tape to make a more permanent grid.
Here are a few more details on my work flow with this calendar:
I use different colors for different blogs. This gives me an easier visual reference.
I use brackets to indicate my monthly publishing goals. My month is almost all the way filled in at the moment. At the beginning of the month, my board was filled with just brackets as you can see at the bottom of the board in the pic above. The brackets indicate I have a goal of publishing on a particular day.
I fill in the brackets with blog post title ideas. If a title still has [brackets] around it, then that tells me it is still in "draft" mode.
Once I have written and scheduled out a blog post, I erase the brackets. This alone has increased my publishing rate as I am at competition with myself to see how far ahead I can get.
My Takeaways
Obviously, I have only been using this method for a month. Here are some takeaways I have from this experience so far.
It helps me to think through my publishing goals. By placing brackets on days I want to publish blog posts, it forces me to think through how often I want to publish posts in a week. The goal for one of my blogs is 5 times a week, and the other two is 3 times a week.
It forces some accountability on me. I am a visual person. When I walk into my home office and look up at the board, I can immediately see what needs to get done.
It propels me forward. As I mentioned earlier, this visual reference has pushed me to see how far I can get ahead. On one of my blogs I am a full week ahead. This week I am spending the day with my son on his field trip and meanwhile 3 blog posts are going out on 3 different blogs. The whiteboard editorial calendar helped me to see what I needed to get done ahead of time.
It quickly moves ideas into action. In the past, I would let "ideas" for blog posts stay dormant for way too long. Now I quickly move a blog post idea onto the calendar somewhere. This forces me to put a deadline on my idea.
I realize for some this process might overwhelm you a bit. Many of you might just have one blog and have a goal of publishing once a week. There is nothing wrong with that at all. It wasn't long ago I was there.  I still do a good bit of writing because I enjoy it, but I also have some help in maintaining this amount of publishing as well. I have some writers who create content on topics I give them. I also have guest posts I publish from time to time.
Regardless, I want to encourage you to always be pushing your limits. What can you do to publish more, build a bigger audience, and reach your goals?