Online Challenges: 5 Easy Steps to Grow Your Email List Fast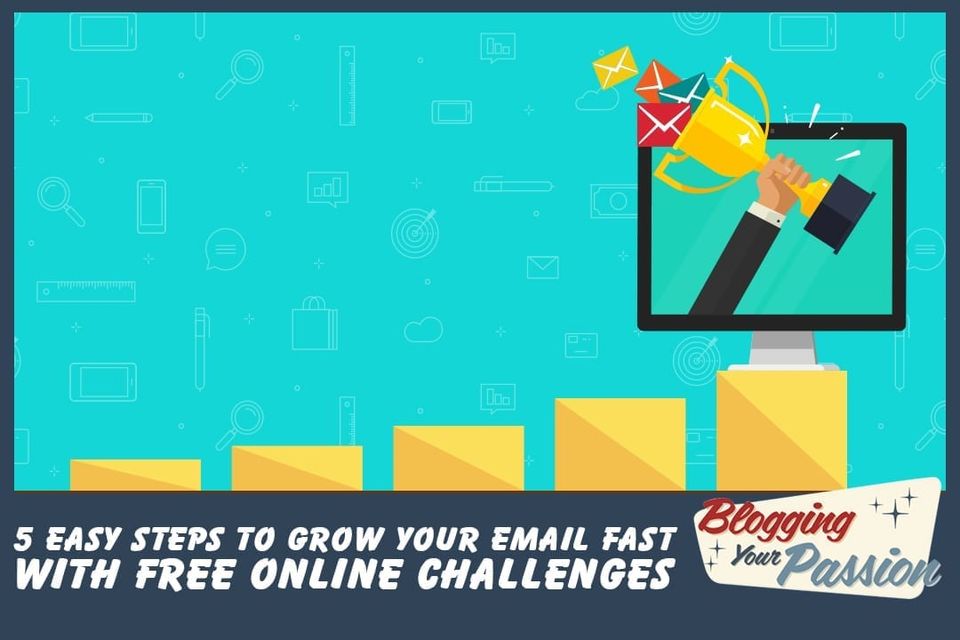 There's a shift happening in our marketplace. Are you aware of it? If you haven't noticed it, here's the reality: your audience is simply overwhelmed with information.
The reason they are not successful is not due to a lack of information. Once you understand this, you can begin to help them. So, what is the solution?
People want transformation, not information.
Once you understand this fundamental difference, you'll begin serving your audience in a better way.
The easiest way for you to make this shift is through online challenges. While you are giving them information, you are incorporating baby steps of action along the way. As they get results, you've just won over a fan for life.
What exactly is a 5-Day Challenge?
The length of your challenge can be anywhere between 3-7 days. You want it to be short enough that they don't get discouraged and quit, but long enough to be of value and get results.
It's a Free Course – Your online challenge should be free for people to participate. This is what makes it attractive. It will feel like going through a mini-online course. You can and should add paid upsells at the end of your challenge, but it's not mandatory to getting started. The main goal here is to build your email list.
It has a specific outcome – Your online challenges should move your readers to a specific result. There should be a goal that they can reasonably accomplish during the challenge. Be sure not to tackle too big of an outcome in the time you are giving for the challenge. We want our audience to experience a "quick win."
Mainly driven through email – Your entire challenge should be delivered through email. For example, if your online challenge is five days long, then a participant will receive a new email each day during the challenge. By doing so, you are conditioning your audience to attribute value anytime they get an email from you. If you want to include a training video each day, just place the link in the email.
Why Do Online Challenges Work So Well?
Before you go and build out your first online challenge, it's important to know why they work so well. There are at least four reasons this strategy works:
It's fun – People love the feeling of making progress, even if it is incremental change.
It's tied to getting a result – Information can be paralyzing, but a simple task can be energizing.
It builds authority – You win a customer for life if you can deliver a "quick win" for them.
It can go viral – Participants will share your free challenge with their friends and on social media
5 Easy Steps to Creating Your Own Online Challenge
Why don't more people use online challenges to build their email list? The biggest reason is they get lost in the details and set-up. The truth is there are only five simple steps you need to take to have your online challenge up and running.
Step 1. Select the right topic for your challenge
To begin, select a topic that is your audience's "first problem." In other words, what's a common first challenge facing the people that you serve? I find that they are often related to one of seven core topics:
Identity – We all want to live lives that matter. What's a challenge you could do to help someone improve their identity?
Health – We want to live with energy and vitality. Hold challenges that improve someone's health report, lack of energy, or inability to follow through on projects.
Wealth – You can focus a challenge on helping people pay off some personal debt, create a savings fund, or put some money away in investing.
Relationships – Host a challenge related to improving dating, marriage, or parenting relationships.
Spirituality – Help your audience with a challenge related to praying more, reading their Bible, or releasing guilt.
Time Management – Everyone struggles with managing time these days. Help them become more productive, learn to say no, or get their daily calendar organized.
As you can see there's an endless amount of ideas that you can turn into an online challenge. Pick one and go for it!
Step 2. Write out your outline
Once you've nailed down the topic and length, you'll need to break your challenge into some simple steps. Here are a few tips to help you organize the content of your challenge:
Do a two-minute brainstorm – Write out everything that comes to mind in order to achieve a successful result. If this takes longer than two minutes, you may need to simplify the outcome of your online challenge.
Think steps – Remember, you are the guide and you only want the participants to be focused on the next step only. Set up your online challenge so that each day is another simple step that builds upon the day before.
Each step should have a simple action – Each day should have an action that only takes 5-15 minutes to complete. Remember, your participants are busy and we don't want them feeling behind.
Step 3. Fill in your content
Next, you'll want to begin the process of writing out your lesson for each day of the challenge. Like I mentioned earlier, each day of your online challenge you'll be delivering it via email. Open up a document on your computer and write out each email for your challenge. A simple format I like to use is:
Announce the theme for the day.
Do some teaching on that theme.
Give a daily "action step" for the day.
Tease what's coming tomorrow.
It really is as simple as that. Each email in your sequence can use that format (see below for an example).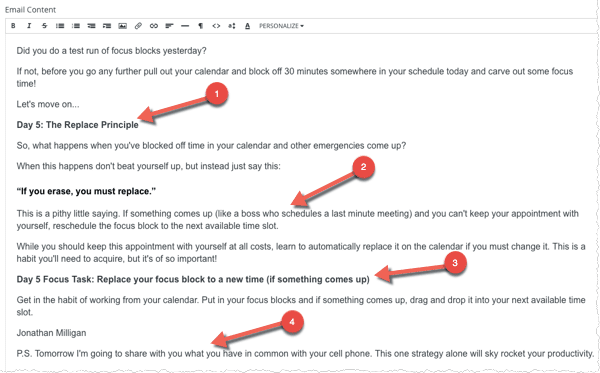 Step 4. Set up Your Tech
In order to make your challenge evergreen, you'll need to set up an email sequence. Sometimes they are called autoresponders, email funnels, etc. I like to use ConvertKit, who calls them email sequences. Creating a sequence is simple in ConvertKit because you can see all of the emails of your challenge in one window (see image).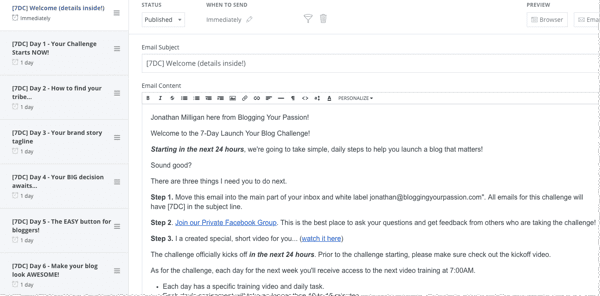 Step 5. Share Your Challenge
Once your tech is set up, be sure to test it. If you can confirm that you are receiving emails, now it's time to promote it. Here are a few of my favorite places to promote your online challenges.
Your email list
The sidebar of your blog
Inside blog posts as a content upgrade
On your social media channels
A Facebook paid ads campaign (to build your email list)
The best part about online challenges is you can create multiple challenges over time. I currently have five online challenges I have created and plan to create more. Each week, I have brand new email subscribers going through my challenges.
If you are struggling to build your email list, put together an online challenge and you'll both serve your current readers and add new ones to your list.
🚀
Free Video:
How to Build an Online Business as a Writer or Coach (The Low-Tech Way) That Creates Time and Financial Freedom
(Without Feeling Overwhelmed by Technology, Self-Doubt, or Too Many Choices)
Click Here to Watch Now