Keyword Winner Review – A Keyword Research Plugin
I recently purchased a fairly new Worpress Plugin called the Keyword Winner. My goal was to do a Keyword Winner Review on Blogging Your Passion so that I can provide for you what I like and don't like about the product. Bob and I have found that many bloggers get tripped up on keyword research. … K
I recently purchased a fairly new Worpress Plugin called the Keyword Winner. My goal was to do a Keyword Winner Review on Blogging Your Passion so that I can provide for you what I like and don't like about the product. Bob and I have found that many bloggers get tripped up on keyword research. The average blogger wants to just write on whatever is on their mind and heart without things getting too technical. Yet, one of the main reasons for our success is the extra 10 minutes we put in optimizing each blog post. This is work that the average blogger never takes time to do.
All that being said, I realize how much time keyword research can take. I still use and love the Keyword Strategy tool. Yet, I know that there is a big learning curve with that tool for beginners. This has led me to search out easier tools that the average blogger can use to still reap the benefits of keyword research.
My Keyword Winner Review – A Keyword Research WordPress Plugin
The Keyword Winner Plugin is a tool developed by Daniel Lew. He has been around the world of Internet Marketing for over 17 years. What initially got my attention was the fact that long time Internet Marketer John Chow has endorsed the Keyword Winner. I still never take things at face value. There are many useless programs out there that claim to "do it all" for you. Still, I thought I would take the dive and see how it works.
I have a blog that has around 1,800 blog posts on it and I see a real opportunity to go back and further optimize some of these posts to rank better in the search engines. The simple way to do this is to find low competition keywords. This is the main purpose of this plugin.
A Keyword Research Tool Integrated Right into WordPress
Probably the best feature of the plugin is that you can simply type in the main topic of your blog post and click "Get Keyword Winner Suggestions." Right inside your WordPress dashboard, the tool goes out and finds at least 10 keyword phrases that relate to your topic. It then will color code the results in three different colors.
Green – Low Competition/Easy to Rank (under 100,000 search results)
Orange – Medium Competition/Harder to Rank (100,000 – 1 million search results)
Red – Hard Competition/Difficult to Rank (1 million+ search results)
You can instantly decide which keyword phrase is best to go after. Your goal should be to find a green keyword phrase that you can use in your blog post title. If you have everything set up correctly, the keyword phrase will also become your URL as well. This is probably my favorite feature of the tool because it is easy to use and does not take long at all.
Easily Add Keywords as Tags, Blog Post Content, and Meta Descriptions
You can also easily add some of the keyword suggestions as tags. There is a link under the keyword phrase that says "add as tag." It is straightforward and easy to do. You also will see the Keyword Winner Icon in your blog editor area. This is the area that list items such as bold, italic, etc. By clicking on the icon, it adds all of the 10 keyword phrases automatically into the text area. It does this so that you can try to add as many of these relevant phrases into the content as possible.
I don't recommend going overboard with this because your blog post may lose some of the initial intent and focus that you had in mind. If you scroll down you will find that the Keyword Winner also adds a meta description area. This is what shows up in Google as a description when it appears in the search results. By just clicking in the title and description area the information is automatically inserted for you.
My Case Study – Diabetic Socks
Ok, so here is a real life case study. I have a general article directory blog where many people add content to on a regular basis. Most of the content on the blog are guest posts. I want to go through and try to optimize this content to rank better in the search engines. So, I spent an afternoon recently going through several posts and seeing how I could make them better.
One of the blog post was about the benefits of diabetic socks. I used the Keyword Winner to search for some good keywords related to this topic. I found that the keyword phrase "Diabetic Socks Walmart" was a good one (see below).

I used the keyword phrase in the title, URL, content, tags, and meta description. I updated the post and gave it 48 hours. As you can see from the Google Keyword Tool the phrase "Diabetic Socks Walmart" gets around 1300 searches a month. Not bad.

When I checked to see if it was beginning to rank (48 hours later), I noticed that my post popped into the #16 and #17 position for "Diabetic Socks Walmart." For those of you that do not know, that is the second page of Google. My ultimate goal is to have it on the 1st page of Google, but these are great results for not having done any type of promotion.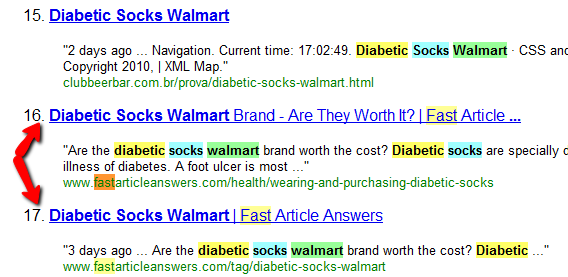 For now, I am very pleased with the Keyword Winner. Like everything, there are things that I wished that it did. For example, it does not share the search volume numbers. The creator's reasoning is that looking at Google Insights and Google Trends is a better indicator than the last 30 days search volume.
I will work more with this tool and report back to you in the days ahead not only my results of using the Keyword Winner, but also exactly how I am using the tool to get better rankings. For now, I give the Keyword Winner thumbs up. I have created a video for you below on how I am using the tool. You can also watch a good 11 minute overview video at KeywordWinner.com
If you cannot see the video above, watch Keyword Winner Review directly on YouTube.