How to Easily Optimize Your Content for the Search Engines
One of the best ways to get traffic to your site is through the search engines (specifically Google). It is one of the best free ways to drive targeted traffic to your blog. People use sites like Google because they are often looking for answers to questions they have. If you have successful answere
One of the best ways to get traffic to your site is through search engines (specifically Google). It is one of the best free ways to drive targeted traffic to your blog. People use sites like Google because they are often looking for answers to questions they have. If you have successfully answered their question and rank well in the search engines, you will get floods of traffic.
Still, I believe that we have often complicated the process of SEO (Search Engine Optimization). I am talking to myself here. My goal today is to just get you started down the road of optimizing your content. This will take you an extra 3 minutes of your time but can give you some great traffic benefits over the long haul.
Why We Like the WordPress SEO Plugin by Yoast
One of those plugins you need is called WordPress SEO by Yoast. Now, there are a lot of things that this little plugin can do for you, but my goal is to just focus on one specific area.
Once you install this plugin, there will be a new feature added just below your content box inside WordPress. This is what allows you to quickly optimize your content.
For example, Let's say I have chosen the keyword phrase "how to become a mechanic." If someone uses that phrase to search in Google, then I want to be on the first page and get traffic. The phrase is actual used over 1,300+ times each month.
After I write or paste my content in WordPress, I scroll down to the WordPress SEO feature. It asks for my focus keyword, so I put in "how to become a mechanic." Now the plugin will tell me either yes or no if my blog post is optimized for the search engines. You can then make some simple changes that the plugin suggests, and then hit publish. See the picture below for a better view.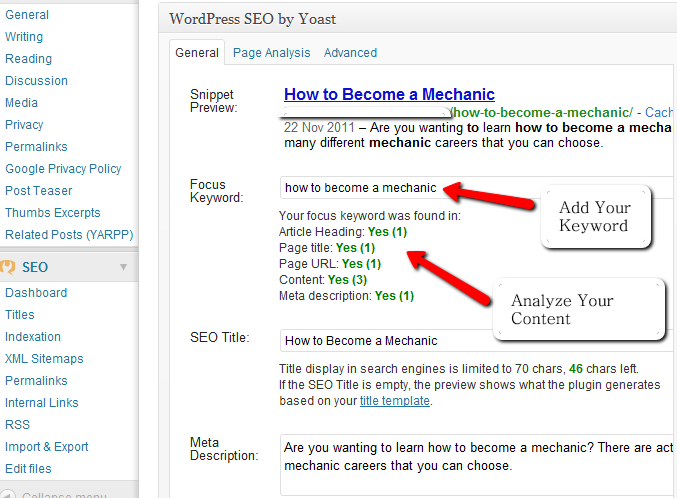 Now, of course, there are some more advanced features to SEO, but what I have just showed you is really all you need. Start using this nifty little plugin and start better optimizing your content for the search engines!