5 Reasons You Should Write an Amazon Kindle Book
More Kindle books are sold than traditional paperback/hardback books on Amazon. Let that sink in for a moment…   In May of 2012, I published my first Amazon Kindle book. I haven't touched it since and yet I continue to earn royalty payments from Amazon every single month. My wife was so curious, she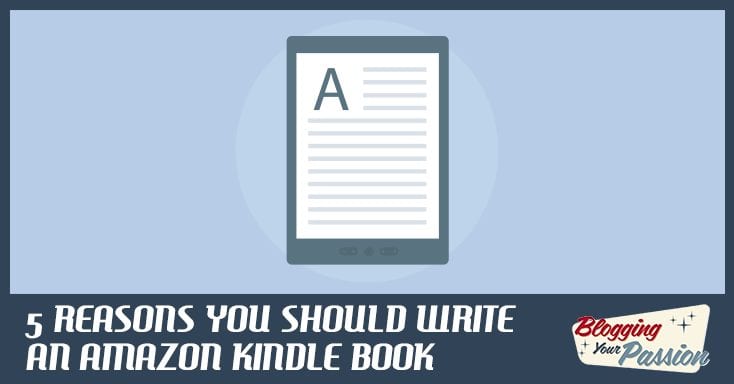 More Kindle books are sold than traditional paperback/hardback books on Amazon. Let that sink in for a moment…
In May of 2012, I published my first Amazon Kindle book. I haven't touched it since and yet I continue to earn royalty payments from Amazon every single month.
My wife was so curious, she decided to do the same. At the time she had yet to earn any money from her blog (she had been blogging less than 6 months).
She took her passion and wrote it into a Kindle book. With no audience, less than 100 people on an email list, she instantly began to earn money from that one book month after month.
While it doesn't earn thousands of dollars every month, she loves getting extra spending money once a month from an effort she took once. By the way, if you want to learn more about making money blogging, be sure to check out our post: How Do Bloggers Get Paid?
1. Because of the impressive statistics on the Kindle.
There are some pretty amazing statistics that go along with the Amazon Kindle. Once I did some research on this, I was convinced without a shadow of a doubt that I need to put some effort into this. Consider these facts:
The Kindle Device is the #1 selling product on Amazon.com (let that sink in)
Amazon.com is the largest online retailer in the world
More Kindle books are sold than traditional paperback/hardback books on Amazon
In December 2011, more than one million Kindle devices were sold PER week!
Those are some impressive stats for sure. This piqued my curiosity and caused me to buckle down and write a book for the Kindle.
2. Because you can benefit from Amazon's existing traffic.
If you have been following the state of SEO at all, then you know that many people are frustrated with Google. In an effort to try and serve up better search results, many people believe Google has done more damage than good. Luckily, both Bob and I have not been all that affected by the changes so far.
That being said, we could easily become the victim of the next update for sure. It is a good idea for you to diversify your traffic if possible. One way to do this is by taking advantage of the existing traffic that is already on Amazon!
You do not have to worry about Google changes, SEO, or even getting backlinks. Just write epic content! Of course, there are some promotion strategies you can do to produce more sales. However, you will get sales just by having a Kindle Book listed on Amazon.
3. Because you can dramatically increase your brand awareness.
As a blogger, you want to put your footprint everywhere. This takes some time to do, but it can be an effective strategy. Have a presence on Facebook, Twitter, Linkedin, and Amazon. Inside your Kindle book, you can place links to your blog, product or mailing list.
I will be talking about this in coming days, but I used the KDP Select Program on Amazon to achieve 744 downloads in 24 hours! Majority of those readers are brand new to my blog and message!
4. Because you can provide amazing social proof to your blog audience.
You can also advertise your Amazon Kindle book on your blog or mailing list. It is amazing what this can do to sky rocket your credibility with people.
Publishing a Kindle book is not difficult once you know what you are doing. It is free to add books (currently), and you can upload your book in a Word Document.
Yet, I have received so many emails from friends and family who are just amazed at what I have done. They jokingly ask for my autograph. Amazon has a great reputation with people. When you publish on Amazon you can gain credibility, as well.
5. Because you can make some extra money each month writing about your passion!
I am sure you thought this should have been mentioned first. Well, it is no mystery you can make decent money publishing on the Amazon Kindle. While it does take effort to write a Kindle Book, you can get paid for your effort for months to come.
I have a friend who has 4-6 Kindle books live on Amazon, and they earn him between $1,000-1,500 monthly. Another friend has grown his Kindle book revenue to nearly $40,000 a month. It's staggering to think about (of course, your results may vary).
Keep in mind these books are much shorter than a traditional book, which is 60,000- 80,000 words. The lower priced Kindle books average between 6,000-12,000 words. Again, my hope is to share more details with you in the near future. My goal today is to get you thinking.
Question: Do you have a book idea you've been holding out on for quite some time? Comment below and let us know about it.