What Publishing a Kindle Book Can Do For a Beginner Blogger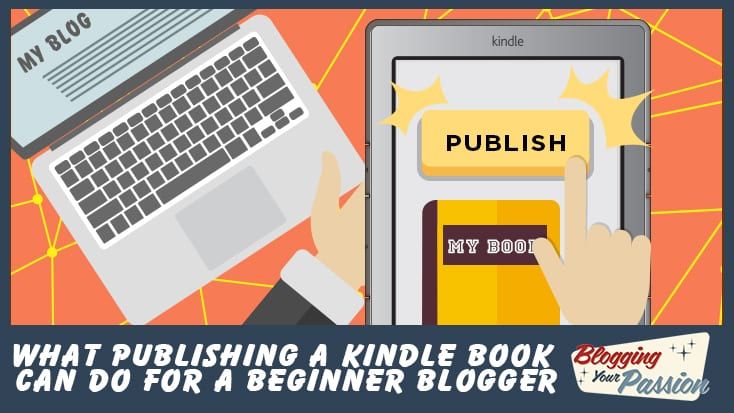 Millions of people want to write a book, but very few ever will. Why is that? Writing and publishing a book is easier than ever before.
Publishing a book used to require you to overcome one of two major obstacles:
Finding a traditional book publisher who was willing to extend a book contract (not easy).
Spending a few thousand dollars to purchase the first 1,500+ copies of your own self-published book (too risky).
Today, the walls have been removed. You don't have to wait for permission to write and publish your own book on Amazon. You can get started today for free by opening your own author account.
The 6 Blogger Benefits of Publishing a Kindle Book
Whether you are a new or seasoned blogger, there are many benefits outside of just collecting that monthly royalty check from Amazon. Have you considered these additional benefits?
Benefit #1: Boost of confidence
There is something addictive about being a "published author". It can be a great confidence booster for you. Sure, many authors publish a book and doubt whether it's "good enough." That is normal for many authors to feel that way.
At the same time, knowing you have a book that is available for the public to purchase and consume is a rewarding feeling. It just might be the boost you need to tackle your next project.
Benefit #2: Enhancement of credibility
Being seen as a published author will enhance your credibility. It's just the way it works. It will also increase your chances of media exposure (which we will discuss later).
When a new visitor comes to your blog, make sure you have an ad on your sidebar featuring your book.  This alone will enhance your credibility. People who publish books on a topic are seen as an expert on the subject.
Benefit #3: Get your message in front of a new audience
Struggling with getting traffic to your blog? The answer is to get in the flow of where the traffic is already flowing. With Amazon being the #2 most visited site on the internet it makes sense to position yourself on Amazon.
Make it easy for people who discover you to find your website. You can do this in two primary ways:
Mention your blog address at the beginning of the book, so it will show up in the book preview
Create an Amazon author page to display a link to your blog and import your blog feed to show your most recent posts
Benefit #4: Increase the number of email subscribers
While you can, and should, earn monthly revenue from your Kindle book, one of the biggest benefits I've received from having Kindle books is gaining new email subscribers. If done correctly, you can get new email subscribers without even selling your book.
As long as your "bonus offer" is in the first 20% of your book, it can be seen by people who use the "book preview" feature. This alone will give you the opportunity to gain email subscribers from the traffic visiting your product page on Amazon.
Benefit #5: Create new media or speaking opportunities
Publishing a book landed me on some of the biggest podcasts in my space. In fact, publishing my last book gave me the opportunity to be interviewed on John Lee Dumas' Entrepreneur on Fire podcast for the second time! At the time, he told me less than twenty entrepreneurs have ever been invited back a second time on his show.
Can you get paid speaking gigs without a book? Sure you can. But, having a book gives you something to sell at the back of the room. With the extra media exposure, a book will increase the chances of an event planner reaching out to you as well.
Benefit #6: Deploy a new income stream for your blog business
I left this benefit for last on purpose. Royalty from your Kindle books should not be your sole focus. Sure, I receive royalty checks every single month from my books, but it is just the tip of the iceberg. You can create a whole suite of integrated products that include:
online courses
membership sites
group coaching
weekend retreats, and more
If you've been blogging for less than two years and still need some traction in your business, then writing and publishing a Kindle book might be just what you need.
🚀
Free Video:
How to Build an Online Business as a Writer or Coach (The Low-Tech Way) That Creates Time and Financial Freedom
(Without Feeling Overwhelmed by Technology, Self-Doubt, or Too Many Choices)
Click Here to Watch Now