How to Use the CoSchedule Editorial Calendar to Grow Your Blog
What are some of the best ways to grow a blog? While you can do many things to grow a blog, there are two things that are absolutely essential: Create great content on a consistent basis. Circulate your content by email and social media outlets. I'll be honest…. It's hard to grow a popular blog … H
What are some of the best ways to grow a blog?
While you can do many things to grow a blog, there are two things that are absolutely essential:
Create great content on a consistent basis.
Circulate your content by email and social media outlets.
I'll be honest….
It's hard to grow a popular blog if you don't do those two steps well.
Introducing the CoSchedule Editorial Calendar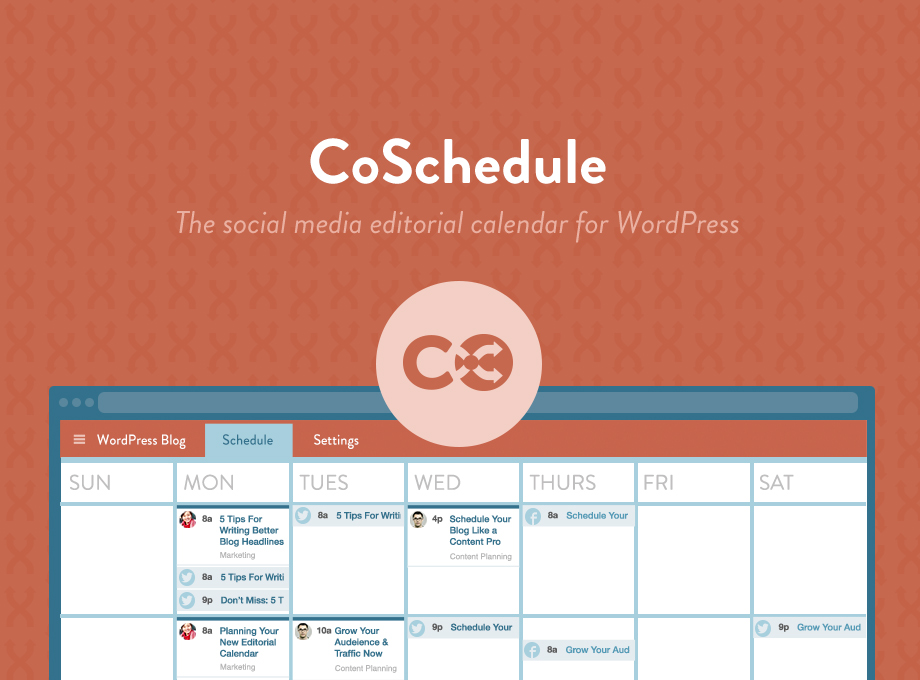 For the past few months, I've been using a new, online editorial calendar that I absolutely love. We here at Blogging Your Passion never recommend tools that we do not personally use.
After months of usage, I have no problem with placing my stamp of approval on this useful tool.
CoSchedule is a drag-and-drop editorial calendar for WordPress that puts your blog posts and social media messages on the same schedule.
A Few Reasons I Love Using CoSchedule
Here are a few personal reasons why I love using Coschedule as my main editorial calendar:
1. The drag-n-drop functionality for blog posts
I love being able to easily move around drafts of my blog posts. If I get behind in my writing, I just drag and drop my future blog post drafts to a new date. Also with one click, I'm in WordPress and able to write my blog post!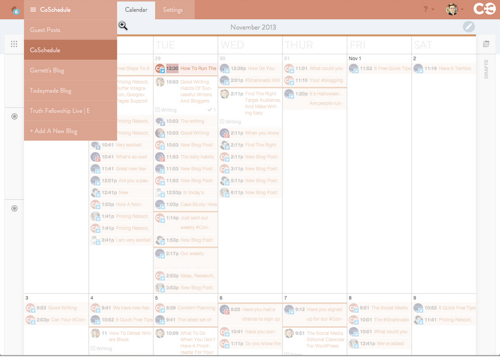 2. The ability to create and schedule many social media messages in one place
Many bloggers struggle with keeping a consistent presence  on Facebook, Twitter, Linkedin, etc. With CoSchedule you can quickly write and schedule social media posts for all your different social media accounts in one place. I love this feature.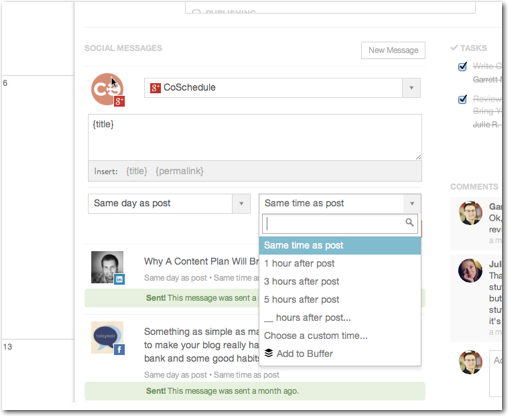 3. Multiple WordPress editorial calendars in one place
I have multiple blogs and absolutely love tools that allow me to streamline the work that is involved. CoSchedule makes it easy to manage more than one blog. I can easily toggle back and forth between my two blogs while being logged in to the same account.
4. The ability to create tasks and comments with other team members
I have a Virtual Assistant who creates and schedules many of my social media posts. Once I publish a new post, I let her know that the new blog post is ready for social media promotion. Later I can easily see the type of content that will go out to my audience before they see it.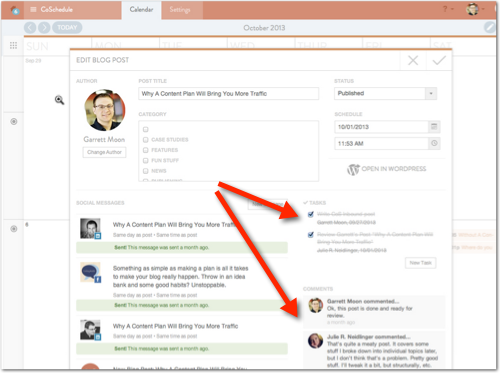 5. Being able to work with CoSchedule right inside your WordPress dashboard if you want
You might be thinking: "All I need is another tool that I have to remember to login and use." I get that. One of the great benefits of CoSchedule is your ability to use your editorial calendar right inside of your WordPress dashboard. Even better – before you publish your blog post, scroll down the page a bit and you can schedule social media messages for that blog post to all of your social media accounts (see pic).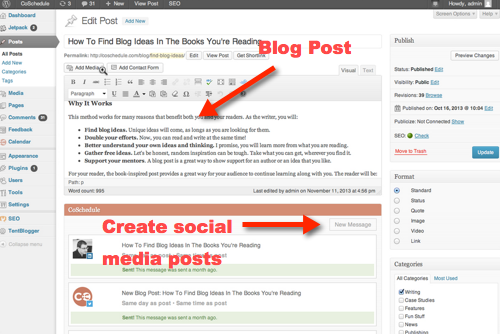 How to Begin a Free Test Drive
CoSchedule offers a free trial. You can also extend your trial for every social media account you link up to CoSchedule. Give it a try and see if it helps you in two key areas – publishing in a more consistent basis and having a bigger presence on social media. Here is a 2 minute video that shows you this tool in action!
Question: How does an editorial calendar help you blog? Comment below…