Successful Blogging in 3 Simple Steps [Podcast]
If you have read this blog for any length of time, then you know how much Bob and I value keywords. For many people finding keywords and targeting keywords makes no sense. They don't understand how this works and why it can benefit your site. You first need to understand how most people find things
If you have read this blog for any length of time, then you know how much Bob and I value keywords.
For many people finding keywords and targeting keywords makes no sense.
They don't understand how this works and why it can benefit your site. You first need to understand how most people find things online. Most people use the search engines to find the information that they are looking for. As a blogger, it really boils down to three steps:
[spp-player]
To subscribe to the podcast
1. Discover the questions that your audience is asking
Your audience uses the search engines in order to ask their questions. Some of the same questions are asked thousands of times every month. As a blogger, wouldn't you like to know the questions that your audience is asking?
You can do this many different ways. One of our favorite methods is a tool called Keyword Researcher. We have written a few posts in the past on how we like to use the tool here and here.
2. Write answers and insights to the questions that are being asked
You get paid handsomely for being a "solution provider." As you discover these keywords phrases, you will then target these keywords in your blog posts and answer the questions that people have. One of the best ways is a "how to" post, where you walk them through a process step by step.
3. Get your blog posts to the 1st page of Google
Once you write your answers to the questions that people have in your niche, you need to rank high in the search engines so that people can find you. How to best do this is a big debate among the experts.
I like to use real data to make decisions on what's most important. To do this, I decided to analyze my top 50 keywords for all of my blogs to see if I see anything in common. If you are just starting out, I may get a bit technical for a minute, but stay with me.
What's in Common with my top 50 keywords?
In order to run this analysis I used two tools: Google Analytics and the LongTail Pro Keyword Tool. LongTail Pro allows me to enter my own keywords to analyze so I just went over to my Google Analytics and found my top 50 keywords.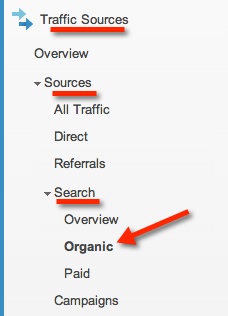 You can find your top keywords by going into your analytics account and navigating to: Traffic Sources > Sources > Search > Organic.
From there I placed my top keywords into the LongTail Pro tool in order to analyze them. I'd also encourage you to check the box on Google title competition as well. I like to see how many other blogs I am competing with for this keyword phrase.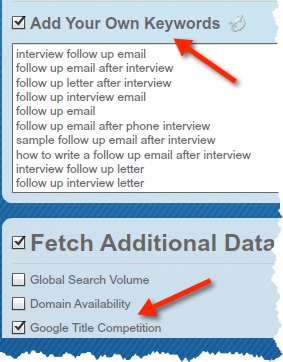 Once the tool does some analysis, you will also want to check the Average KC, which is short for Keyword Competitiveness number. SEO Moz has a great tool that analyzes the competitiveness of a keyword looking at several different factors. The scale is from 0-100. The lower the number the better.

My results from analyzing 3 separate blogs
After analyzing, 3 separate blogs I did notice a trend that I am beginning to use. I'll be sharing the results in more detail on an upcoming blogging webinar where I'll provide some premium training. In a nutshell, here is a synopsis of what determines a great keyword phrase to target.
A GREAT keyword phrase needs to:
Be under 10,000 in Google Title Competition

Be under 35 in (Avg. KC) Keyword Competitiveness
Here is a snapshot example from the tool itself: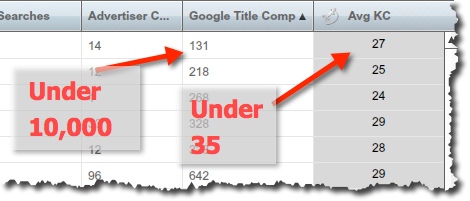 So far, I have been pleased with the results. In 85% of the cases (11 out of 13 new blog posts) I have been able to rank on the 1st page of Google in just a few days and weeks if my keyword phrase met this criteria.
Want to learn more about how to do this?
On Thursday, August 29th, We will be holding a free webinar, which will walk you through these steps in detail. Even if you cannot make the live webinar, sign up so you can get access to the replay. You can register for the webinar by clicking here.