Simple Marketing Tips for Pinterest
Have you heard of pinterest? If I had a nickel for every time I heard that question over the last few months, I'd be a rich man. 🙂 It really is amazing how popular this site has become in a short time frame. Users sit for hours pinning photos and following people. One article said … Simple Marketi
Have you heard of pinterest? If I had a nickel for every time I heard that question over the last few months, I'd be a rich man. 🙂 It really is amazing how popular this site has become in a short time frame. Users sit for hours pinning photos and following people. One article said the average time spent on pinterest is an amazing 63 minutes!
Whether or not that stat is accurate, you should be paying attention to pinterest.com. My wife and her friend just recently started a blog. If I am being honest, I am completely jealous. They have accomplished in the past 30 days with their new blog what took me 6+ months to get to.
Their new blog is called SoLoveThat.com and in some ways it mirrors the phenomenon that is going on with Pinterest. They blog about creative ideas, DIY home projects, and home decor ideas. They already have 50+ blog posts written in little over a month.
One of their main sources of traffic to date has been Pinterest so I decided to take a closer look at what they are doing.
1. You can get traffic from Pinterest when people click on your pic.
While you may not be all that excited about this, I got extremely excited about this feature. Most of the pics on Pinterest are displayed in a thumbnail pic. If you want a closer look, what do you do? Click the pic, of course.
When you click on a pic on Pinterest it redirects you to the site where the pic came from. Talk about easy traffic!
2. Brand your pics by adding your domain name as a watermark.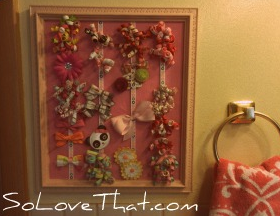 I also noticed that they were doing a good job of branding their pics that they were using on their blog. One of the cool "viral" things that happens on Pinterest is what is called re-pinning. That is similar to a share or like on Facebook. The re-pin gets added to other users' personal collection, which means free advertising for you! See the pic to the right as an example.
3. Follow other Pinterest users who like what you like.
I also liked that they were following and "re-pinning" people just like them. Pinterest users get notified when someone new is following them and they can choose to follow you back. At the very least they might go and see who you are which allows them to see items you have added to Pinterest.
Don't be afraid to re-pin other people that you like on pinterest. If users like your style they will want to follow you whether or not the pic was yours to begin with.
4. Add a Pinterest board to the sidebar of your blog.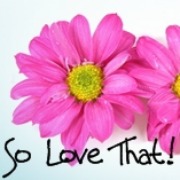 There is a simple Pinterest WordPress Plugin that you can use to better integrate your blog with Pinterest. This is a great way to show off your style and get people to follow you on Pinterest from your blog. All you do is add your Pinterest username to the sidebar widget and it will do the rest. It works just like an RSS feed for a blog. You can even specify how many thumbnail pics to display in your sidebar as well.
More than likely I will be sharing more advanced traffic strategies with Pinterest in the future. However, if you are just getting started, the above marketing tips are a simple place to start.
I'd also encourage you to take a minute and visit SoLoveThat.com to see more examples of how they are using Pinterest and other social media outlets.