Record One Video and Repurpose in 9 Simple Ways
If there is one thing I learned the hard way it's this: I simply don't promote my content enough. It's easy for us as bloggers, podcasters, or vloggers to simple move on to the next thing. Volume doesn't always equal value. You worked hard on that piece of content so why not spend some effort … Rec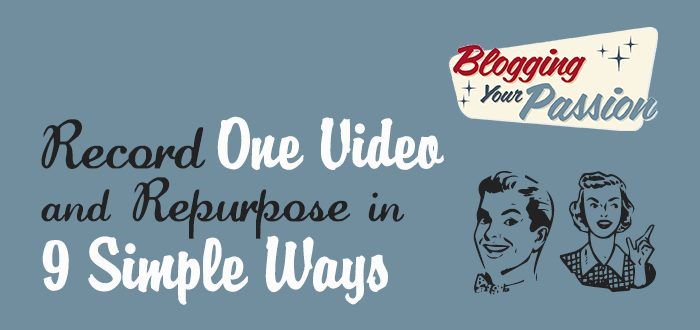 If there is one thing I learned the hard way it's this: I simply don't promote my content enough. It's easy for us as bloggers, podcasters, or vloggers to simple move on to the next thing.
Volume doesn't always equal value. You worked hard on that piece of content so why not spend some effort in getting the word out.
I recently had this epiphany when creating a new training video to go along with a blog post. I use the Screenflow software to record, edit and publish all of my videos.
After getting my video just right, I was ready to publish. I went to the export settings (just like I always do) to upload my video to Wistia.com. However, this time I noticed all the other places I could send my video.
Even though this was nothing new to me, I thought: "Why not also send this same video to YouTube, Facebook, and any others?"
That's when I walked over to my whiteboard and mapped out this video promotion plan.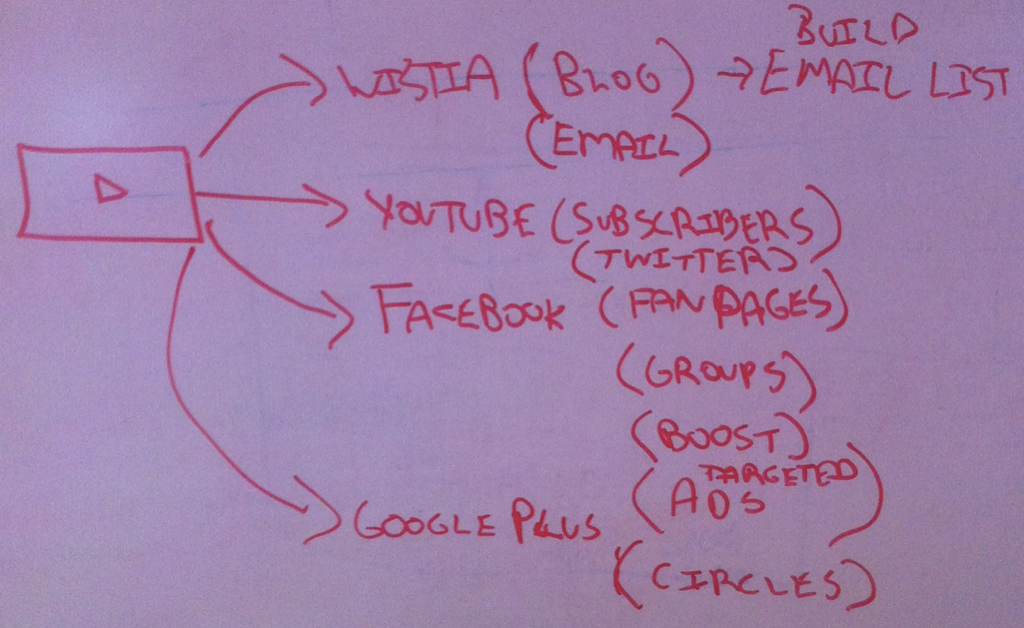 If you want your videos to be seen by more people, then here's a simple 9-step process you can use.

Step 1. Upload Your Video to Post on Your Blog
You have several options here, but some of the more popular ones include YouTube, Vimeo or Wistia. I prefer Wistia for a very specific reason. I can turn on the "turnstile" function and it places an email optin form right over the video.
I'm then able to make this training video an email list builder opportunity.
Step 2. Send the Video to Your Current Email Subscribers
I will do this step along with the publishing of the blog post. My goal is to drive my current email subscribers to the blog post in order to watch the training video.
Step 3. Upload the Video to YouTube
I currently have just over 1,000+ subscribers to my YouTube Channel. I can upload the video to YouTube directly from Screenflow. By uploading to YouTube I get more exposure for my training video since it will notify my YouTube subscribers that a new video is available.
Step 4. Take the YouTube Video and Send to Twitter
For the most part, Twitter and YouTube play nicely together. For that reason, I like to promote my YouTube video over on Twitter. It displays with a play button on Twitter which encourages followers to hit play.
Step 5. Upload Video Directly to Your Facebook Pages
While you could argue to take your YouTube video and just place the link on Facebook, I want to encourage you to try something different. It's been proven that more people will organically see your video if you instead upload directly to Facebook.
Again, I use the export to Facebook function that's already built in to Screenflow. Upload your video to any Facebook Pages you own.
Step 6. Upload or Share Video to Any Facebook Groups
I recommend that you only take this step for Facebook Groups you own or manage. If you are a part of any Facebook groups that other's manage, you need to make sure it's okay for you to promote your own content.
Step 7. Boost Your Video to Your Facebook Pages
While I know everyone is frustrated with the fact that Facebook shows less of our posts to less people, I want you to change your mindset. Facebook has done the hard work of attracting a huge, massive audience. We should be grateful that they allow us to promote our own business at all.
If your video is something you want seen, spend $10+ dollars and get it in front of more of your target audience.
Step 8. Use Facebook Ads to Share Your Video to More People
Paying to boost your video and paying to turn your video into a Facebook ad are two different things. Paying to boost your video is primarily a way to show your video to those who've already liked your Facebook page.
When you turn your video into an ad, the goal is to find a target audience that doesn't already know about you.
Step 9. Promote Your YouTube Video to Google Plus Circles
I know many people wonder if Google Plus will still be around in a year or so. But until then, take a second and promote your YouTube video over on Google Plus.
Since Google owns both, they integrate nicely together. People can watch your video on Google Plus without having to go over to YouTube to watch it.
Which of these strategies have you used in the past to promote videos? Any other strategies you've used that have gotten you results?