How to Get on Podcasts as a Guest: 5 Creative Methods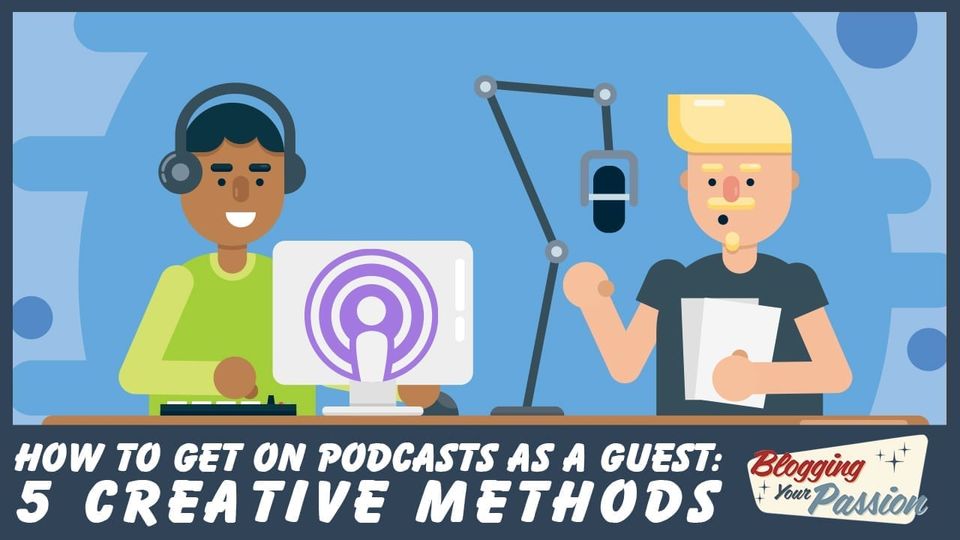 I want to share with you a secret traffic source I've been using for the last few years with great success. Honestly, I'm surprised more people are not using this simple traffic method.
It's called guest podcasting.
Now, before you dismiss this idea as too complicated, hear me out. This is not the same as running your own podcast.
To be a guest on a podcast, you are not required to have:
A huge following or email list
Your own podcast
A bunch of fancy podcasting equipment
Expertise in audio equipment
You only need to have a story, passion, or message you want to share with the world.
That's it.
The good news is there are hundreds of podcasts desperately looking for more guests for their podcast.
So, why is this an "easy" traffic source?
Well, let's compare what you have to do versus the podcast host.
Your responsibility:
Answer questions with a microphone in the comfort of your own home (most of the time you know the questions before the call)
Share the podcast episode either via your email list or on social media
The host's responsibility:
Schedule and prepare the interview
Create a bio to read about you
Come up with the questions ahead of time
Record the podcast episode
Edit the podcast
Add the music to the podcast
Upload the podcast to iTunes with show notes
Promote YOU to their audience
What is the result? New traffic to your site for just 30 minutes of your time sharing your passion.
How to Get on Podcasts as a Guest: 5 Creative Methods
So, you might be thinking that this sounds great, but how do I get started?
Try at least one of the following five methods.
1. Just Ask
Many podcasts depend on having interviews lined up so they can stay on a schedule. When you reach out to request an opportunity to be on their show, most hosts are more receptive than you'd think.
A simple first email you can send them might be:
(The email above is a shortened version of a podcast pitch email template offered in this article here.)
If you don't hear back from them in two or three days, be sure to follow up with them again. Just because you didn't hear back doesn't mean that it was a no.
2. Get Referred from a Past Guest
Another great method is to get past guests to refer you to the show you would like to be featured on. This type of method works great because you get instant credibility by association.
This was a strategy I used to get on the #1 most popular business podcast on iTunes, Entrepreneur on Fire by John Lee Dumas. I had a friend who had previously been a guest on the podcast and asked if she would be open to sending an introduction email. After the connection, I was invited to be a guest on the show. Not only that, but I was invited back a second time!
As you identify podcasts you want to be on, take some time to go through the past episodes and see if there is anyone you know or want to know. A tweak on this strategy is to reach out to past guests, let them know you enjoyed their interview and wanted to see if they would be open to connecting on a quick call.
The purpose of this intro call is not to use them to get the referral. The purpose is to build a relationship with them first. Then, when the opportunity is right, ask for the referral.
3. Join a Guest Podcasting Database
Did you know there are now sites that connect podcast hosts with podcast guests? Yes, some of them have either a one-time charge or a monthly subscription, but this can help you streamline the cold outreach strategy. Most of these sites follow a similar strategy:
You register as a podcast guest and share your website, bio, and other details
You browse podcasts that are looking for guests and submit to be on their show
Doing a simple Google search will give you access to many of these sites, but here's a few to help you get started:
4. Hire a Podcasting PR Agency
If you don't want to do the prospecting yourself, you do have the option to hire an agency to do all the heavy lifting. They will reach out to the host of the podcast for you and secure the interview. All you need to do is show up prepared! This option is a bit more expensive than the previous method, but it can get you some quick results.
A few podcast PR agencies:
5. Attend Podcasting Events
Nothing takes the place of in-person interaction. If you want to ramp up your ability to get on podcasts as a guest, then you should attend podcasting events. The first place to start might be a local meetup of podcasters in your area. Do a quick search on MeetUp.com to see if there are any in your area.
The next option would be to attend a conference for podcasters. Even if you don't have your own podcast, you'll benefit from attending. I've even been interviewed by others while at the conference!
Here are two great conferences I highly recommend:
Bonus Method: Get Interview Requests Sent to Your Inbox
After I was interviewed on a few popular podcasts, my email inbox was flooded with interview requests. It wasn't because I was an amazing guest. It was simply because podcast hosts use other podcasts to find and book their future guests. Like I mentioned earlier, to run a successful interview style podcast, hosts are constantly in need of new guests. Just by being on podcasts, your incoming requests will increase.
So, that's how to get on podcasts as a guest! This can be one of many blog traffic sources you tap into. And you don't need to do all five methods to be successful. Just start with one until you see some success.
🚀
Free Video:
How to Build an Online Business as a Writer or Coach (The Low-Tech Way) That Creates Time and Financial Freedom
(Without Feeling Overwhelmed by Technology, Self-Doubt, or Too Many Choices)
Click Here to Watch Now