7 Ways to Create a Personal Touch Email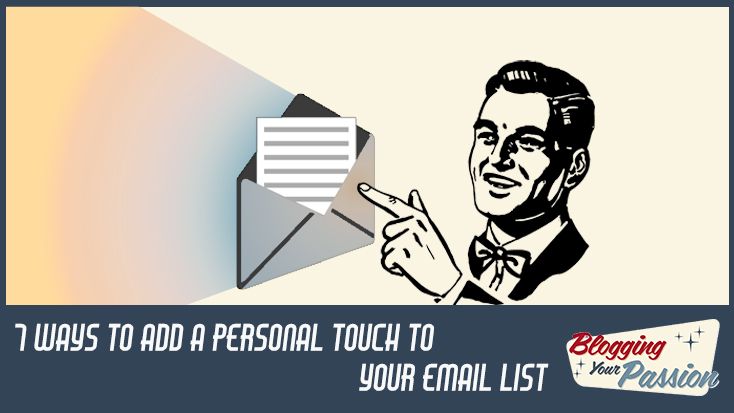 Is your email inbox increasing in size like mine? While email is still one of the most intimate forms of communication an online business owner can have, the way you go about it is changing.
Just like after a while people can become "ad blind" to advertisements on a website, your audience can become "email blind." Impersonal emails, "no reply" email addresses, and cold email templates are being ignored.
In order to build an amazing relationship with your list, you need to stand out differently than everyone else. The best way I know how is to write your emails like you would write to a friend.
1. Use your real name, not your brand name
While we want brand recognition, a brand is not a real person. The social landscape of the internet is becoming more and more personal.
You can follow your favorite celebrities on Twitter, Instagram, and SnapChat. They will share with you where they are, what they are eating for lunch, and what they're working on for the day.
Even with new apps like Periscope, the average person can join in on a video chat with their favorite celebrity. Use your personal name when sending out emails. People want to connect with you, the person.
2. Stop relying on fancy newsletter templates
While it is fun to create a professional email template, I believe you'll connect better with just a plain ol' text email. I've tested this theory and found it to be true. I will almost always archive or delete an email that is in a fancy email template.
I'm not saying that there is never an appropriate time to send an email template. However, what you think is cool might be hurting you.
With over 85% of people reading emails with a mobile device, your cool template might be working against you.
3. Address your subscribers by first name
As much as possible, ask for your subscriber's first name when they are opting into your email list. This will allow you to address future emails in a very personal way. People love to hear and see their names.
Use it in your emails, even in the email subject line when appropriate, to better connect with your subscribers. If you don't have their first name, make the default "Friend."
4. Use a real email address
I know this might scare many bloggers or digital entrepreneurs, but I think your greatest opportunity to connect personally with your email list is to use your real email address.
I know the last thing you want is more emails in your email inbox., but let me challenge you for a moment. There is nothing more important in your business than your relationship with your customers. You cease to exist as a business without them.
Use [email protected] over using [email protected] or [email protected]. Subscribers replying and you replying back not only fosters a personal connection with your list, but it increases your email deliverability percentage and decreases the likelihood of your emails ending up in the spam folder.
5. Ask them often to reply to your emails
More times than not, I'll ask a question at the end of my emails to my list. I do this for two important reasons:
I want them to know this is a personal relationship and I want to have a conversation with them. Email is a communication tool not a broadcasting tool.
It helps with email deliverability. Again, if email replies are happening back and forth you are less likely to be flagged as a spammer.
One of the easiest ways to do this is to simple ask a question in the very first email you send. It will encourage your subscriber to reply and create a personal dialogue and connection with you. Here's the question I ask:
What's ONE THING more than anything else you truly want to know about blogging/online business?
I'm seeing a regular response from new subscribers (see pic below).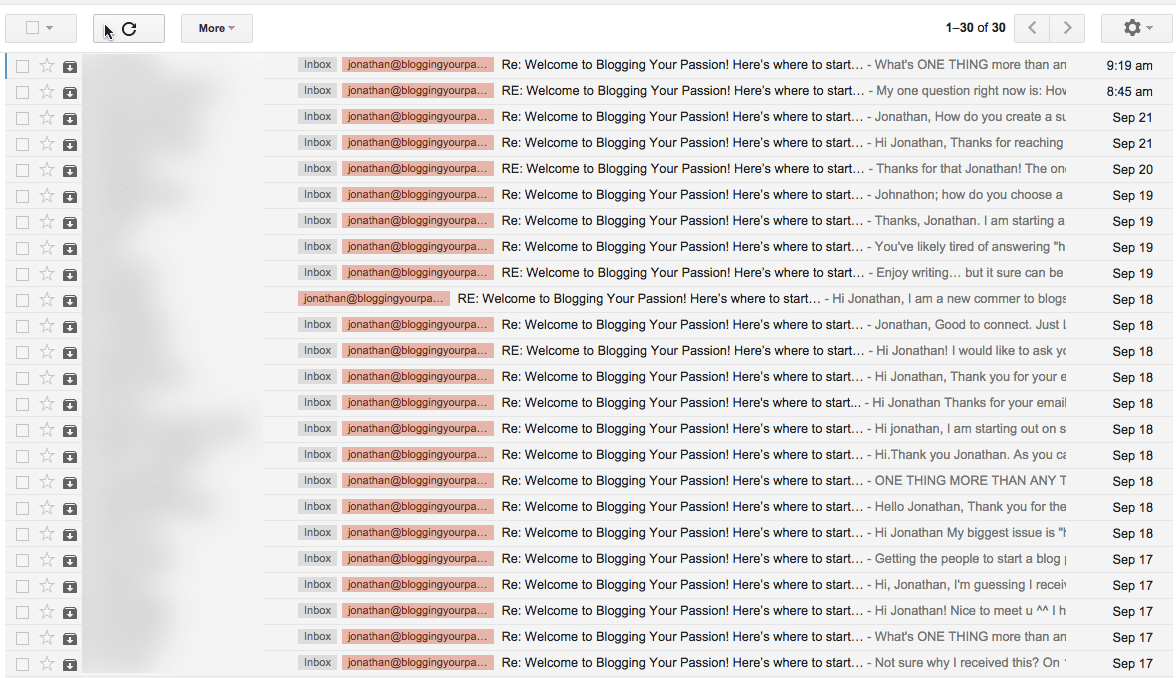 Some might see this as a hassle. I choose to see it:
As a way to better serve my audience
As a way to stay in tune with the goals, passions and struggles of my audience
As a way to collect rich, relevant content ideas
6. Share personal stories at the beginning of your emails
What's happening in your every day life that you could share with your email list? Remember, people connect best with people, not brands. Use the everyday stories in your life to teach a lesson, share a failure, or inspire courage.
Here's two examples of average stories I've used in the past in my emails.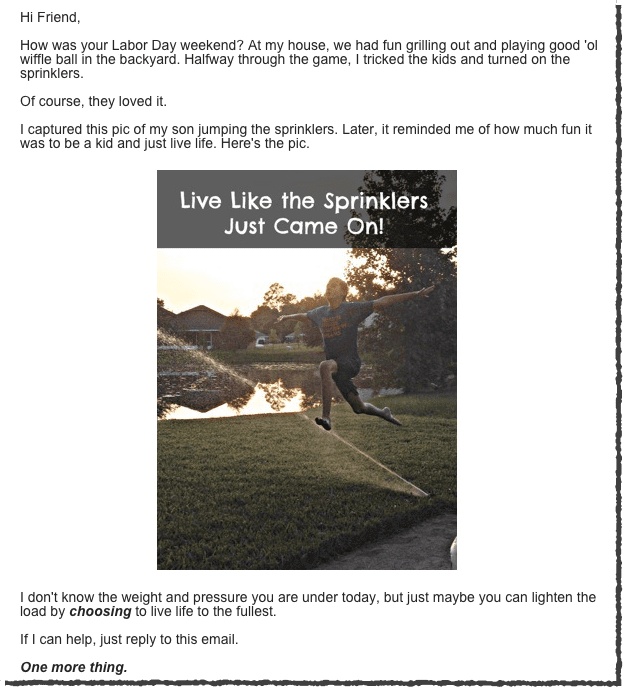 Here's another example…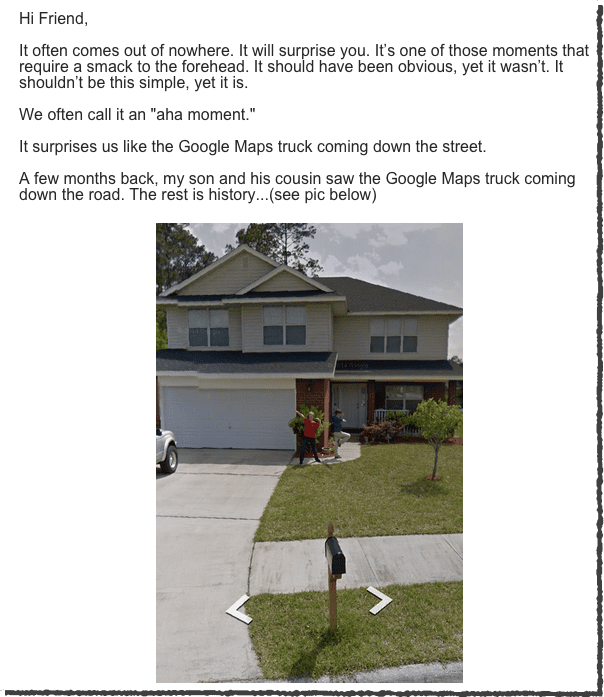 Yes, that's the street view now for our house on Google Maps. 🙂
7. Create a welcome email series that includes personal info
You don't have to share your mobile phone number of your personal home address, but what could you share that makes you more human? People best connect with people they have things in common with.
[Tweet "People best connect with people they have things in common with."]
When you share a bit more about yourself, your background, and your life, you'll better connect. In my welcome email series, I share a few funny pics of my family (including the time I hopped in a dune buggy and let my 10-year old drive). Yes, I survived.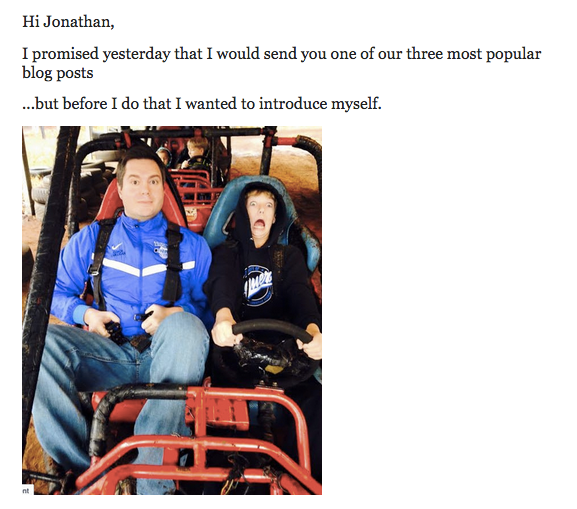 I hope you are getting the point here.
If you want to stand out and differentiate yourself from the competition, be yourself and be personal. Welcome to the connection economy, my friend.
🚀
Free Video:
How to Build an Online Business as a Writer or Coach (The Low-Tech Way) That Creates Time and Financial Freedom
(Without Feeling Overwhelmed by Technology, Self-Doubt, or Too Many Choices)
Click Here to Watch Now