4 Ways to Never Run Out of Blog Post Ideas on Any Topic
Have any of these questions crossed your mind: "I haven't published a blog post in awhile, but I just don't know what to write about." "I don't feel inspired to write." "I'm not good with coming up with ideas on things to write about." We have all faced the blinking cursor syndrome. The only way …
Have any of these questions crossed your mind:
"I haven't published a blog post in awhile, but I just don't know what to write about."
"I don't feel inspired to write."
"I'm not good with coming up with ideas on things to write about."
We have all faced the blinking cursor syndrome. The only way past it is to lean into two fundamental truths:
Just write anyways.
Focus on adding value to the reader always.
Sometimes we don't write because:
We are waiting for something really clever to say
We place too much pressure on writing that viral post
We allow perfectionism to hold us back from hitting the publish button
When you place your focus on just writing and adding value to the reader in some way, things begin to fall in place.
[Tweet "Answering common questions your audience has always adds value."]
How do we add value? You add value to your reader when you consistently answer the common questions they have. A mistake I often see from fellow bloggers is they want to write "peer to peer." By that I mean they often forget how incredibly valuable their writing can be when they write answering the basics.
The basics may seem obvious to you, but they're incredibly helpful and valuable to your audience.
1. Use Yahoo Answers to discover common questions
I think there is a goldmine for every blogger in using Yahoo Answers. The site is set up for your potential audience to ask questions. By using the auto-complete function built into the site, you can come up with several blog post ideas. Just type in your topic and pay attention to the questions that show up (see below).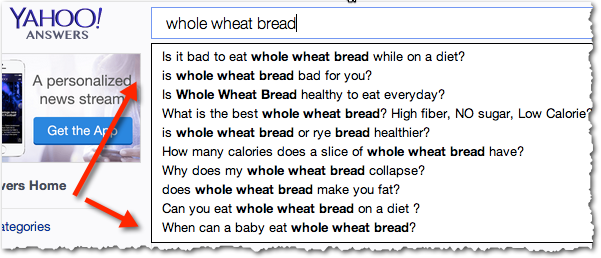 2. Add a question starter with your topic on Google
Another tip I have found useful is to use a question starter like "how, why, when, or where" before my topical keyword. This will give you a whole new list of questions you may not of thought of (see below).

3. Add letters of the alphabet to get even more blog post ideas
Still need more ideas? Place a letter of the alphabet at the end of your search to get even more ideas. You can use any letter of the alphabet. I  will usually start with letter "a" and it will give me more ideas (see below).

I will then move on to the next letter of the alphabet to see what other ideas might come up (see below).

4. Use the Keyword Researcher Tool for even more results
If you want more ideas in a short amount of time, then try out the Keyword Researcher Tool. Ten minutes with this tool might give you more blog post ideas than you have time to write. When I feel as if I'm running short on ideas, I will fire up this tool and let it work its magic.
It basically does everything mentioned above but with more speed and accuracy. What I love about the Keyword Researcher Tool is that it already has the search string ideas ready to go for you. Below is a simple search I did using the keyword "time management."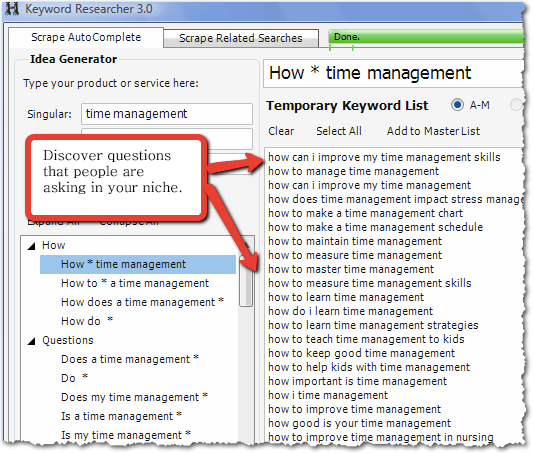 As you can see, your audience has lots of questions. They're just waiting for you to answer them.
Question: What are some of the ways you come up with blog post ideas?